Feature
Vendée Globe by the numbers
Published on March 15th, 2021
Held every four years, the Vendée Globe is a massive test for solo sailors, and arguably the greatest offshore challenge in sailing. Competing non-stop around the world in the 60-foot IMOCA, the class yacht is not easily harnessed, eager to challenge its rider for 80+ days. No wonder that just finishing is seen as a significant achievement.
The Vendée Globe is always an extraordinary adventure, each edition is unique but none more so than this ninth edition in 2020-21 if for no other reason than it actually starting. Organizational COVID-19 protocols, which changed frequently, allowed for the safety of staff, stakeholders, visitors, skippers and teams, culminating in the necessity of a start 'behind closed doors'.
The sailing teams, counting on two pre-Vendée Globe preparatory Transatlantic races, had nonetheless done good training and optimizing work, ensuring boats were competitive and reliable, leading to an unprecedented 76% of the starters finishing the course.
In short, the race stood up to the challenges that the health situation brought, providing an exciting sporting event from first to last, never closer before at the front of the fleet and with multiple races within the race all the way through the record sized fleet, ensuring that no one skipper was out of touch with a rival or rivals for any significant period of time.

BY THE NUMBERS
This ninth edition saw the largest number of candidates (registered potential projects, 37 vs 34 in 2016), the biggest number of starters (33 vs 30 in 2008), and female starters (six women vs none in 2016 race and two in 2012). And there were the greatest number of finishers: 25 classified on the final rankings and two completing the course outside of the race after abandoning.
The women's record for the race was broken by Clarisse Crémer in 87d 02h 24m 25s, 7 days faster than Ellen MacArthur in 2001.
Foils were in their infancy four years ago, considered as experimental. This time they were bigger, and more powerful and offered a more rounded overall performance, or could be designed to engender a specific strength or performance profile.
Unlike 2016, the latest generation of boats were designed around the foils in terms of hull shape and structures. These new generation boats had been proven to be significantly quicker during the preceding two years before the race but they were not as convincing over this entire course, but demonstrated big spikes in speeds in certain conditions.
The latest generation foils did well, Charlie Dalin was the first over the finish line, and Thomas Ruyant finished 4th, before time compensations allocated to Kevin Escoffier's rescuers were applied. These two latest generation IMOCA boats had problems with port foils due to different reasons. On the sections of the race where they could use their starboard foils in favorable sailing conditions, these new foilers were very effective.
Reliability among the newest boats requires time on the water. Some of the last generation foilers were forced to abandon such as Nicolas Troussel – Corum, the only dismasting on this edition; Sébastien Simon – Arkéa Paprec, after hitting a floating object; and Alex Thomson – HUGO BOSS with various structural problems and damaging a rudder.
Others experienced problems which put their races on hold for different periods, such as L'Occitane en Provence of Armel Tripon and DMG Mori of Kojiro Shiraishi. Jérémie Beyou on Charal was forced to return to Les Sables d'Olonne to repair and left again nine days after the others.
Ocean racing with foils is a big topic for future developments and experiments. This Vendée Globe gave teams and designers food for thought.
Older generation boats proved that they can sail very well. Technical teams who had prepared their straight daggerboard boats well were able to make their mark in the Top 10.
More than ever there is scope on the Vendée Globe for projects which have modest budgets but lots of commitment and drive.
But overall there was a succession of weather phenomena which paused or slowed the race at many different points allowing the fleet to re-compress, compacting back into discrete groups.
Contributing to the tightness of the fleet was notably storm Theta at the Cape Verdes, the extension of the Saint Helena High to the very south of the Atlantic which slowed the leaders' exit into the fast lane east, high pressure zones of light winds in the Southern Oceans, very hard, confused seas in the Pacific, and notably a long period of light winds in the Pacific just after Christmas.
All these situations kept the fleet(s) compact with big, big comebacks.
The lowest rate of abandons is noted – only 24% (vs 37% with 9 abandons out of 24 starters in 2000) – and by the good finishing positions of the boats of 2016 and even 2008 generations on the final standings.
Older boats on which skippers were able to harness the full potential showed well:
• On a 2016 foiling boat, Yannick Bestaven (Maître CoQ IV) won the Vendée Globe.
• Louis Burton on Bureau Vallée 2, the 2016 winner as Banque Populaire sailed by Armel Le Cléac'h, took 3rd place.
• Jean Le Cam on Yes We Cam with straight boards from 2008 took 4th place.
• Boris Herrmann, with SeaExplorer – Yacht Club de Monaco, a 2016 foiling boat, would have finished on the Vendée Globe podium if it hadn't hit a fishing boat close to the finish line.
• Damien Seguin, the first skipper with a disability in the history of the race, with his 2008 IMOCA with straight daggerboards took a formidable 7th place, ahead of eighth placed Giancarlo Pedote's first generation foiler, and the ninth placed daggerboard boat of Benjamin Dutreux and Maxime Sorel, 10th.
The field for the 9th edition was deep in terms of skippers' experience and boat ages and designs, but it really also highlighted the diversity of projects and skippers' profiles.
The rescue of Kevin Escoffier by Jean Le Cam with the assistance of Yannick Bestaven, Boris Herrmann, and Sébastien Simon underlined the race's historic and continuing element of self-reliance wherever possible and the solidarity among seafarers whilst in the long run the time compensations allocated to the relevant skippers had a major influence in the final standings on the rankings.
The race finish has never been closer, the level of suspense was extreme until the finish line, and indeed after the first skippers had finished.
• Boris Herrmann became the first German skipper to start and finish the race
• Kojiro Shiraishi became the first Asian and Japanese skipper to finish the race.
• Ari Huusela became the first Finnish and Nordic/Scandinavian skipper to start and finish the race
• In the top 10, there are 2 latest generation foilers, 4 previous generation foilers, and 4 straight daggerboards.
Each year, the Vendée Globe seeks to engage more and more supporters who follow and enjoy the solo round the world nonstop race. This was no small feat for this 9th edition as 2016 – 2017 was a great vintage.
Compared to the 8th edition, the Vendée Globe recorded 1.3 million more visitors to its website and to its mobile applications (11 million users vs. 9.7 million in 2016). Audiences are significantly increased on the same websites and Apps:
• Visitors came more often: + 33% of visits compared to 2016 (115.6 million visits vs. 87 million in 2016)
• They viewed more pages: + 32% of page views compared to 2016 (452 ​​million page views vs. 343 million in 2016)
• They stayed longer: + 24% average session duration (4 min and 25 sec vs 3min33 in 2016).
The virtual race organized by Virtual Regatta reflected the upswing in interest and registered more than a million players (1,068,908), more than double (+ 135%) the number of players of four years ago (456,000 players in 2016).
Although the game recorded 25% of players from abroad – including a very high proportion from Germany and the United Kingdom – it is a French player who won this year (Jean-Claude Goudon) by setting a new record (69 days 22 hours and 16 minutes).
Additionally, there were 4,471 school classes participated in the game, ie 111,775 students, which place the virtual game as an educational support.
The 2021-22 race had a video explosion:
• 115 million videos views (vs. 71 million in 2016): + 44 million views !!
• 63 million videos views on Dailymotion (vs. 24.7 million in 2016)
• 31.5 million videos views on YouTube (vs. 4.6 million in 2016)
• 18 million videos views on Facebook (vs. 41 million in 2016)
• 2.5 million videos views on Instagram (no videos in 2016)
The race also recorded a +54% audience for its programs as 20 million views accumulated for shows on Vendée Globe platforms (vs. 13 million in 2016). Also, a program broadcast on Infosport + (more than 36 hours of broadcasting). Social media continued to offer engagement with 985,000 fans cumulatively (vs 419,800 in 2016; + 135%):
• Facebook: 350,000 fans (vs. 264,000 in 2016)
• Twitter: 107,000 followers (vs. 54,000 in 2016)
• Instagram: 200,000 subscribers (vs 23,800 in 2016)
• LinkedIn: 14,000 subscribers (creation in 2020)
• Youtube: 114,000 subscribers (vs. 12,000 in 2016)
• Newsletter: 200,000 subscribers (vs. 66,000 in 2016)
The media coverage was exceptional despite several elements that did not set a positive backdrop. The Vendée Globe was placed in a news mix dominated by COVID-19, which led news agendas since last March and there were the American elections and the knock on effects.
Despite these elements, the Vendée Globe held a special place in the news with increasingly wider television coverage:
• 190 countries covered the race on 5 continents (identical to 2016);
• 118 channels (vs. 97 in 2016), an increase of 22%, and among them 67 channels are free, which represents 57% of the total channels (vs. 46% in 2016-17);
• Live Start: 41 channels (vs. 33 in 2016): + 24%
• Live Finish 38 channels (vs 28 in 2017): + 36%
In France, there were 193,000 pieces of coverage, all media combined, or + 329%. This represents:
• 269 million euros in advertising equivalent (vs. 198 million in 2016), i.e. + 35%
• 4.28 billion contacts affected
• 66.7% of French people followed the Vendée Globe (vs. 52% in 2016): + 14.7% vs. 2016!
The reputation of the Vendée Globe is stronger than ever as 95.6% of French people know about the race (vs 87% in 2016; + 8.6 points vs 2016).
Internationally, the Vendée Globe made a historic breakthrough, based on a study launched in the United Kingdom, Germany, Spain, Italy and Switzerland: the impact is greater than the French impact on the edition 2016 (reminder: 45,000 pieces of media coverage).
There were 49,000 pieces of coverage, from all different types of media, in these countries, with 63 million euros of advertising equivalent, and 1.35 billion contacts reached, of which 48% are from Germany.
The international version of the vendéeglobe.org site recorded an increase of 6% of its visitors (33% of visitors to the site come from international sources vs. 27% in 2016).
According to the study conducted by Nielsen on behalf of the Vendée Globe, 83% of those polled think that organizing this race gives the Vendée Region an international dimension (vs 75% in 2016; + 8 points).
Final Results (Top 10 of 33)*
1. Yannick Bestaven, Maître CoQ IV – Finished Jan. 28 (03:19:46) – 80:03:44:46
2. Charlie Dalin, Apivia – Finished Jan. 27 (19:35:47) – 80:06:15:47
3. Louis Burton, Bureau Vallee 2 – Finished Jan. 27 (23:45:12) – 80:10:25:12
4. Jean Le Cam, Yes We Cam! – Finished Jan. 28 (19:19:55) – 80:13:44:55
5. Boris Herrmann, Seaexplorer-Yacht Club De Monaco – Finished Jan. 28 (10:19:45) – 80:14:59:45
6. Thomas Ruyant, LinkedOut – Finished Jan. 28 (04:42:01) – 80:15:22:01
7. Damien Seguin, Groupe Apicil – Finished Jan. 28 (11:18:20) – 80:21:58:20
8. Giancarlo Pedote, Prysmian Group – Finished Jan. 28 (12:02:20) – 80:22:42:20
9. Benjamin Dutreux, Omia – Water Family – Finished Jan. 29 (09:05:20) – 81:19:45:20
10. Maxime Sorel, V and B-Mayenne – Finished Jan. 30 (03:50:15) – 82:14:30:15
* Time awards given to Yannick Bestaven, Jean Le Cam, and Boris Herrmann for their participation in the rescue of Kevin Escoffier will be applied when the skippers finish. – Details
Race details – Boat types – Tracker – Ranking – YouTube
The Vendée Globe is the only sailing race round the world that's solo, non-stop, and without assistance, and it was all systems go for the 9th edition on November 8. Beginning in 1989 with 13 entries, and held every four years, the start line in 2020 had 33 skippers taking off from Les Sables d'Olonne, France.
The development of the IMOCA Class toward foiling will see these boats hurl themselves around the world, teetering on carbon skates through inhospitable regions, chasing the record set in 2016-17 by Armel le Cléac'h of 74:03:35:46.
2020-21 Attrition
Nov. 16, 2020 – Nicolas TROUSSEL, CORUM L'EPARGNE – dismasted
Nov. 28, 2020 – Alex THOMSON, HUGO BOSS – rudder damage
Nov. 30, 2020 – Kevin ESCOFFIER, PRB – hull damage (sunk)
Dec. 4, 2020 – Sébastien SIMON, ARKEA PAPREC – foil damage
Dec. 5, 2020 – Sam DAVIES, Initiatives-Cœur – keel damage (collision)
Dec. 11, 2020 – Fabrice AMEDEO, NEWREST – ART & FENÊTRES – computer failure
Jan. 9, 2021 – Isabelle JOSCHKE, MACSF – keel ram failure
Jan. 16, 2021 – Sébastien DESTREMAU, MERCI – autopilot failure
Participation history:
1989-90: 13 boats at the start
1992-93: 15 boats
1996-97: 15 boats
2000-01: 24 boats
2004-05: 20 boats
2008-2009: 30 boats
2012-2013: 20 boats
2016-2017: 29 boats
2020-2021: 33 boats
2020-21 Entries
Fabrice AMEDEO: NEWREST – ART & FENÊTRES
Romain ATTANASIO: PURE – BEST WESTERN
Alexia BARRIER: TSE – 4MYPLANET
Yannick BESTAVEN: MAÎTRE COQ IV
Jérémie BEYOU: CHARAL
Arnaud BOISSIÈRES: LA MIE CÂLINE – ARTISANS ARTIPÔLE
Louis BURTON: BUREAU VALLÉE 2
Didac COSTA: ONE PLANET ONE OCEAN
Manuel COUSIN: GROUPE SÉTIN
Clarisse CREMER: BANQUE POPULAIRE X
Charlie DALIN: APIVIA
Samantha DAVIES: INITIATIVES-CŒUR
Sébastien DESTREMAU: MERCI
Benjamin DUTREUX: OMIA – WATER FAMILY
Kevin ESCOFFIER: PRB
Clément GIRAUD: COMPAGNIE DU LIT / JILITI
Pip HARE: MEDALLIA
Boris HERRMANN: SEA EXPLORER – YACHT CLUB DE MONACO
Ari HUUSELA: STARK
Isabelle JOSCHKE: MACSF
Jean LE CAM: YES WE CAM !
Stéphane LE DIRAISON: TIME FOR OCEANS
Miranda MERRON: CAMPAGNE DE FRANCE
Giancarlo PEDOTE: PRYSMIAN GROUP
Alan ROURA: LA FABRIQUE
Thomas RUYANT: LINKEDOUT
Damien SEGUIN: GROUPE APICIL
Kojiro SHIRAISHI: DMG MORI
Sébastien SIMON: ARKEA – PAPREC
Maxime SOREL: V AND B – MAYENNE
Alex THOMSON: HUGO BOSS
Armel TRIPON: L'OCCITANE EN PROVENCE
Nicolas TROUSSEL: CORUM L'ÉPARGNE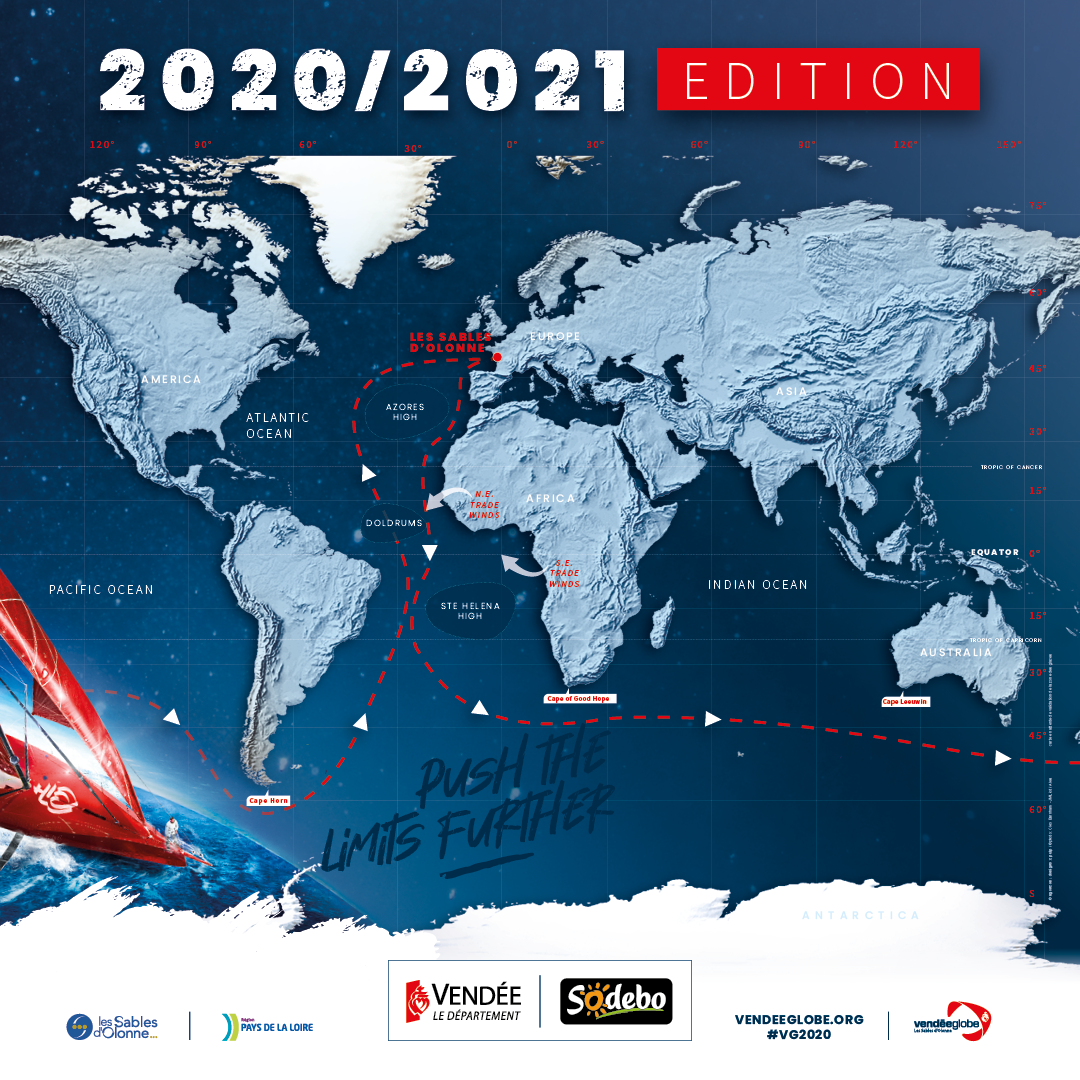 Source: Vendée Globe