Feature
R2AK: This year was a stunner
Published on June 11th, 2019
The 5th edition of the 750 mile Race to Alaska began June 3 with a 40-mile "proving stage" from Port Townsend, WA to Victoria, BC. For those that survived, they started the remaining 710 miles on June 6 to Ketchikan, AK. Here's the June 11 update:
---
It was a five cruise ship day in Ketchikan, and the irony was not lost on those paying attention and all the R2AK fans and families who gathered in the Alaska Fish House that, as the nearest supply of dry and warm, has become the official finish line waiting room for the expectant recipients of a newborn winner of the R2AK.
One dock over, the floating buffet tables were starting to gather their 3,000 plus passengers into their 1,000+ feet of climate controlled consumption. But in the Fish House and down on the docks the faithful were waiting, checking the tracker, and finding fellowship in not knowing what would happen and when.
Despite the sameness of the cruise ship passengers that more than tipped the scale towards fudge and jewelry consumption over celebrating the coming triumph of an unknown victor, the change in Ketchikan was palpable. From the Ketchikan Yacht Club faithful, to the waitresses in nearby cafes, to the slightly annoyed customs officials, the R2AK's uncertain finale was a disturbance in the force in and around Thomas Basin.
There have been four winners crowned in this race's short history, but there has never been a day like this since we started this damned thing. Yes, we've had winners, and yes, while we'd never admit it, we could have told you from the start the 2 to 5 teams that might take it, but there has never been a longer hang time of us sincerely answering, "We don't know who's going to win."
From the time Team Pear Shaped Racing's tracker went dark-side-of-the-moon after clearing Bella Bella, until a sail was sighted 10 miles out and we scrambled a skiff ride to see who it was, no one—not even the teams at the front—knew how it would turn out.
As King 5's TV news crew filmed their approach from a skiff, Team Angry Beaver – Skiff Sailing Foundation broke open their last five beers when their "Who's winning?" was answered with a jubilant "You are!" Whoops of well-done followed as the two-boat flotilla whooped to their now known victory.
Team Angry Beaver (photos by Taylor Barly, Drew Malcolm, and Charley Starr):

For them and the rest of us, it was a shocker. Given the tracker issues and impaired visibility of the rain-obscured reality of the Alaskan summer, the Beavers didn't know they had won the hard fought victory until their final approach. After 700 miles, and with a whoop and two syllables, they learned they were 2 miles of clear sailing from victorious. It was a stunner.
A team of mostly young and ubiquitously solid sailors had sailed the race of their life, and when they hit the dock and rang the bell, became the fastest team on a single hull to earn the R2AK crown. That the traditional shotgun had to fight through a couple misfires before blasting them into the rare air of R2AK champions mattered as little as the rain to them and the hundred or so who Grunden'ed up to be soggily dockside and cheer their triumph.
Beers were had, questions from cameras and microphones gave way to the hearty 'atta boys' between crew and admirers. It was news: A young, fast, but not favored team had pulled ahead and held it to the end. After the media and NASCAR-style shaken-up beer showers, there was well earned and unabashed glory in the 'How did we do it?' questions and answers that echoed around Thomas Basin.
Their time—4 days 3 hours and 56 minutes—beat the record for monohulls by over 8 hours.
Two and a half hours behind them was the body and soul, all-out but not quite enough effort of Team Pear Shaped Racing. Based on boat speed alone, from before the race started they were the ones to beat. A crew of elite sailors with R2AK experience who scoured the earth to find and field a Dragon, a 34-foot Kiwi-built Cochrane foiling tri with speed on the brain and fragile on the lips.
Team Pear Shaped Racing (photos by Drew Malcolm and Charley Starr):

While Team Angry Beaver arrived in the Ketchikan rain with the smirk on a winner, Team Pear Shaped Racing hit the dock in Ketchikan with the gaunt, shivering, and weary gaze of humans who had given it their everything but came up short. Yes, they had won steak knives and added their names and spirit to the annals of R2AK, but the indelible almosts of the race since Victoria weighed heavy and rattled around just behind their eyes.
They were as gracious in defeat as the Beavers were in victory, and both teams offered the sincerest of congratulatory camaraderie. In the warm up session around the fire in the Fish House, both sides drew from the pool of disbelief with the other half of the same whole.
The Beavers with the optional humility born of youth and victory; Pear Shaped's appreciation for their spirit washing away the flinty taste of disappointment one wave at a time. If cold beers and a warm fire were first, the cold comfort of what-ifs came right on their heels.
The obvious came in log form—Pear Shaped Racing hit four, not small and not slowly. The worst was on the last night and brought them from nine knots to instant full stop. "I thought we went aground. It instantly shook everything loose in the cabin." More than the stowables, it made a boxer's nose out of the bow of an ama and jarred loose what was left of their electronics, leaving them to fly their high twitch bird blind for the last 100 miles.
The log was every bit of huge, spanning all three amas and lifting the boat high and dry before it chose to roll under. This was in Hecate Strait, luckily it wasn't on their gust-fueled night run that pegged their boat speed record at 27 knots. With the crew below, it was all Duncan could do to white knuckle it—even while the waves broke over the windward ama and lifted the hinged seat he was sitting in from the force of the waves.
That was bad, but what will haunt their minds is the choice on Day 1 to chase a windline that didn't pan out. The 30 minutes it took them to recover was the 30 minutes they were late to Seymour Narrows and every one catching up for a restart. Who knows about the other million decisions that were the difference between steak knives and full throated glory, but at least by 9 pm, that one still stung a little.
When their stories joined the finish line echoes of Shut Up and Drive, First Federal's Sail Like a Girl, and Educated Guess who crossed into Ketchikan some three to seven hours later. The fellowship of the similarities was palpable. The Hecate gale was real. Seas topped 15+ feet. All the teams' boat speeds topped their best evers even as it strained every stitch of their sails.
Sail Like a Girl hit 17 knots on their Melges 32. Team Educated Guess's Melges 24: 15 knots. Both of them surfed their boat the wrong kind of uncontrolled downwave sideways and broached so hard that their spreaders scraped the water. Team Sail Like a Girl broached at such a speed that it bent the spreader. The waters of Alaska was putting up a fight.
For each of the teams, the finish line was the oddly definitive way of being that had become their wet and cold normal. Tying up the lines was their exhausted goodbye to the singular existence of the sea where there is nothing to do but sleep, and what you are already doing.
They expressed pride in their accomplishments, and the humility that no matter what their ranking, they still weren't doing it in a rowboat. Yes we broached/came in first/survived a log strike at school zone speeds, but those guys in the rowboat are what makes this race special.
Before dawn today, five teams had rung the bell in Ketchikan, and Teams Trickster and Narwhal in the dim hours that followed. All with stories, all with life changing epiphanies of broad and subtle terms—all happening under the liquid layer of at least our share of Ketchikan's 13 feet of annual rainfall. We're all headed for a dryer for our clothes and a pillow for our heads before the next teams roll in. R2AK—out.
Those who have stopped racing:

Race details – Team list – Tracker – Results – Facebook – Instagram
For the second year in a row, a monohull has taken line honors. Here's the history:
2015 – 5 days 1 hour 55 min – Elsie Piddock
2016 – 3 days 20 hour 13 minutes – Mad Dog
2017 – 4 days 3 hour 5 minutes – Freeburd
2018 – 6 days 13 hour 17 minutes – First Federal's Sail Like a Girl
2019 – 4 days 3 hours 56 minutes – Angry Beaver – Sailing Skiff Foundation
One contender turned casualty, Team Givin' the Horns, scrambled in Bella Bella to build a new rudder with found materials in hopes of making the racer party on June 14th. And last year's victors, First Federal's Sail Like a Girl, battled and fell to another fantastic team, Shut Up and Drive.
Still up for grabs is the winner of 20' and under, which for now, looks to be Yankee Peddlers on the slow approach to Bella Bella. First solo is also looking far away, but SoggyKru is crushing it. There are lots of people out there who are keeping their eyes on Team Three Legged Cat, the solo sailor from Bella Bella. Think about it. He will have to sail right past his home and find the determination to keep going. What would you do?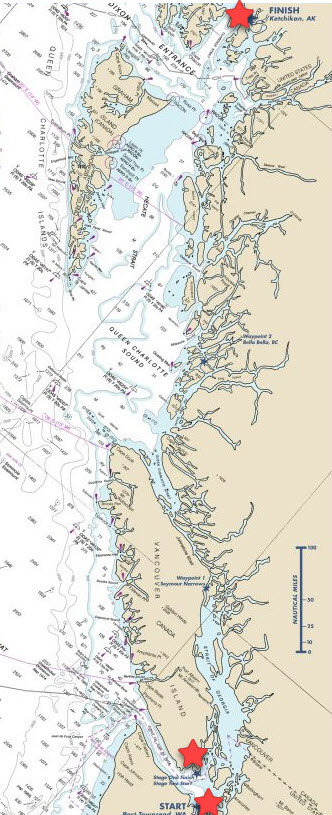 Background:
Race to Alaska, now in its 5th year, follows the same rules which launched this madness. No motor, no support, through wild frontier, navigating by sail or peddle/paddle (but at some point both) the 750 cold water miles from Port Townsend, Washington to Ketchikan, Alaska.
To save people from themselves, and possibly fulfill event insurance coverage requirements, the distance is divided into two stages. Anyone that completes the 40-mile crossing from Port Townsend to Victoria, BC can pass Go and proceed. Those that fail Stage 1 go to R2AK Jail. Their race is done.
Stage 1 Race start: 0500 June 3rd, Port Townsend, Washington
Stage 2 Race start: 1200 June 6th, Victoria, BC
There is $10,000 if you finish first, a set of steak knives if you're second. Cathartic elation if you can simply complete the course. R2AK is a self-supported race with no supply drops and no safety net. Any boat without an engine can enter.
Last year 37 teams were accepted and 21 finished.
Source: Race to Alaska