Feature
Vendée Globe: Healthy and underway
Published on November 8th, 2020
Les Sables d'Olonne, France (November 8, 2020) – A sea mist shrouding the start zone held up the start of the ninth edition of the Vendée Globe, the solo non-stop round the world race, for nearly one hour and 20 minutes.
All of the 33 skippers had previously been given a clean bill of health, passing the PCR COVID-19 tests which were taken 48 hours before the start. Any skipper with a positive test would not have been allowed to start.
Once the mist cleared, the record-sized fleet was rewarded by late autumn sunshine, a near perfect 10-12 knots south easterly breezes, and flat seas when the start gun finally sounded at 1420hrs French time, sending the lone 27 men and 6 women skippers off on their 24,296 nautical miles round the world challenge.
The lone offender at the start was Louis Burton on Bureau Vallée 2 as the third-time Vendée Globe skipper was notably seconds ahead of the gun. He is penalized according to the strict race rules, required to halt his race for five hours – stopping racing and resuming from the same point – before 38°40,000N, so just north of Lisbon.
With two to three months of racing ahead, safe prudent starts were otherwise the order of the day but soon enough the foiling IMOCAs started to build speed on the flat seas.
It was the newest, least proven boat of the eight new 2020 generation builds to line up in this race – the Juan Kouyoumdjian designed Corum L'Épargne sailed by first-timer Nico Troussel, who set the early pace, at the vanguard of an armada heading due west into a complex first week at sea. Pre-race favourite Jérémie Beyou lay second and Britain's Sam Davies was fourth on Initiatives Coeur.
However, as the afternoon wore on and the pace lifted, on the heels of a strengthening breeze, Beyou's Charal held the lead making 26 knots ahead of Charlie Dalin on Apivia in second with Briton Alex Thomson gradually winding up the potent HUGO BOSS after his promised safe, steady start, to lie third at 1600hrs local time.
Looking forward, the fleet is facing a difficult first night at sea with winds over 30 knots after midnight tonight when a first front hits.


With spectators banned from the famous Channel, the pierheads, the docks and the beaches with a vigilant, active police presence, it was a particular, curiously quiet departure on to the ocean.
Charal's Jérémie Beyou commented, "It is my fourth time but I have the same emotions as the first time. It is not easy, not easy. But it is cool to be here with my team I know so well, and with my boat which is well prepared. It is a special thing. I spent a bit of last night looking at the weather and strategy a bit this morning."
England's Sam Davies arrived with her partner Romain Attanasio, smiling, focused, radiant wearing her lucky red tights with white hearts on them. "I am excited, happy to be here with this amazing boat and amazing team. Now hopefully I can go and sail as well as my team has prepared my boat and for the race. I am just really looking forward to it."
By way of contrast Alex Thomson was brisk and business-like, starting to look positively skinny as he stepped on board HUGO BOSS.
"It is going to build but then a bit of a light patch this evening around 6pm," reports Thomson. "Then it will build and we get to a front and try and avoid the light air off Finisterre, before the wind comes back in from the south where we will tack again and go west, with potentially difficult and boat breaking conditions, with big waves up to five metres.
"It is going to be a tough five to six days for all the skippers, lots of sail changes and a complicated routing. It will be tricky. And it will sort the men from the boys.
"For sure, it has been a tough year. It is a shame there is no public. I feel happy, privileged I have done four before and so there is not maybe the same emotion of before. I am 2/4 in terms of my starts, I am a 50%-er, I have to make it 3/5. That is the main objective. Every Vendée Globe is the race of your life, I am just looking forward to taking this boat and seeing what we can do together."
RANKING 16H00 (French time)
1. Jérémie Beyou, Charal – 24,269 miles to go
2. Charlie Dalin, Apivia – 0.7 miles from the leader
3. Alex Thomson, HUGO BOSS – 1.2 miles from the leader
4. Thomas Ruyant, LinkedOut – 1.2 miles from the leader
5. Boris Herrmann, SeaExplorer – Yacht Club de Monaco – 2.2. miles from the leader
Race details – Skippers – Tracker – Ranking – Facebook
The Vendée Globe is the only sailing race round the world that's solo, non-stop, and without assistance, and it is all systems go for the 9th edition on November 8, 2020. Beginning in 1989 with 13 entries, the start line this year has 33 skippers set to take off from Les Sables d'Olonne, France.
The development of the IMOCA Class toward foiling will see these boats hurl themselves around the world, teetering on carbon skates through inhospitable regions, chasing the record set in 2016-17 by Armel le Cléac'h of 74:03:35:46.
Participation history:
1989-90: 13 boats at the start
1992-93: 15 boats
1996-97: 15 boats
2000-01: 24 boats
2004-05: 20 boats
2008-2009: 30 boats
2012-2013: 20 boats
2016-2017: 29 boats
2020-2021: 33 boats
2020-21 Entries
Fabrice AMEDEO: NEWREST – ART & FENÊTRES
Romain ATTANASIO: PURE – BEST WESTERN
Alexia BARRIER: TSE – 4MYPLANET
Yannick BESTAVEN: MAÎTRE COQ IV
Jérémie BEYOU: CHARAL
Arnaud BOISSIÈRES: LA MIE CÂLINE – ARTISANS ARTIPÔLE
Louis BURTON: BUREAU VALLÉE 2
Didac COSTA: ONE PLANET ONE OCEAN
Manuel COUSIN: GROUPE SÉTIN
Clarisse CREMER: BANQUE POPULAIRE X
Charlie DALIN: APIVIA
Samantha DAVIES: INITIATIVES-CŒUR
Sébastien DESTREMAU: MERCI
Benjamin DUTREUX: OMIA – WATER FAMILY
Kevin ESCOFFIER: PRB
Clément GIRAUD: COMPAGNIE DU LIT / JILITI
Pip HARE: MEDALLIA
Boris HERRMANN: SEA EXPLORER – YACHT CLUB DE MONACO
Ari HUUSELA: STARK
Isabelle JOSCHKE: MACSF
Jean LE CAM: YES WE CAM !
Stéphane LE DIRAISON: TIME FOR OCEANS
Miranda MERRON: CAMPAGNE DE FRANCE
Giancarlo PEDOTE: PRYSMIAN GROUP
Alan ROURA: LA FABRIQUE
Thomas RUYANT: LINKEDOUT
Damien SEGUIN: GROUPE APICIL
Kojiro SHIRAISHI: DMG MORI
Sébastien SIMON: ARKEA – PAPREC
Maxime SOREL: V AND B – MAYENNE
Alex THOMSON: HUGO BOSS
Armel TRIPON: L'OCCITANE EN PROVENCE
Nicolas TROUSSEL: CORUM L'ÉPARGNE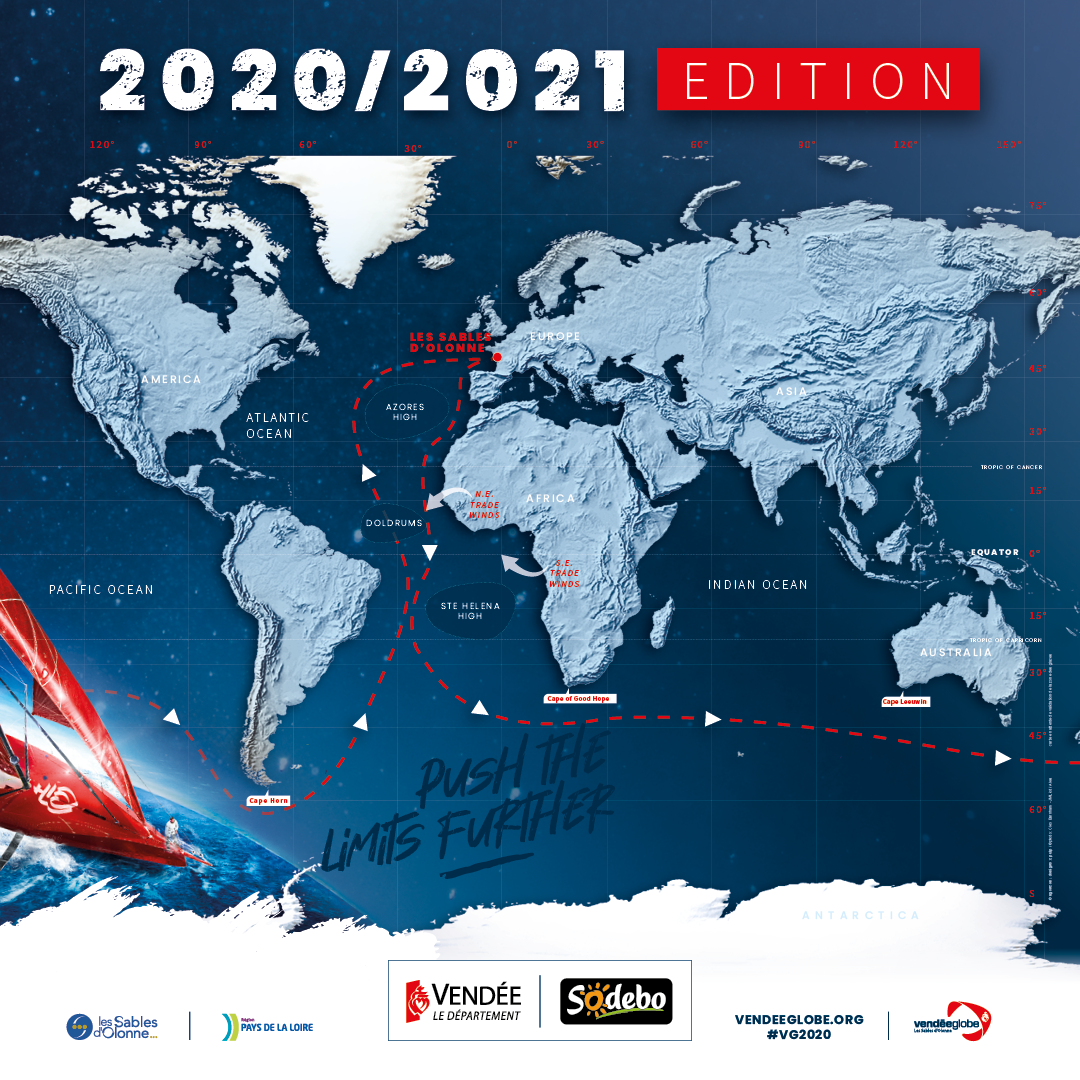 Source: Vendée Globe