News
Vendée Globe: Shooting the curl
Published on November 13th, 2020
(November 13, 2020; Day 6) – With tropical depression Theta in the path of the Vendée Globe fleet, Alex Thomson and Jean Le Cam took the most direct route, and now an increasingly significant split is growing between the top of the race which are flying downwind, and the rest of the fleet.
Alex Thomson was first to deal with the worst of storm Theta at some 250 miles south of the Azores, taking HUGO BOSS as close to the centre of the system as he considered prudent, before a difficult gybe in around 40kts of wind and 5 metre seas around 1330hrs this afternoon.
The reward for the extra risk is sailing fewer miles than the rivals who are chasing him, and now being slingshot out of the low in strong N an NW'ly winds which, all going well, should net him a significant miles on his fast foiling rivals.
Thomson's nearest pursuer is 61 year old Jean Le Cam whose ocean racing history dates back to the 1980s and who won La Solitaire du Figaro three times and finished second in the Vendée Globe in 2004-5. He is sailing a 2007 launched boat with conventional straight daggerboards and leads all of the latest generation foilers other than the radical black HUGO BOSS.
"I see them behind me these foilers," says Le Cam. "But as long they are there papy fait de la resistance (literally grandpa resists ed note 1983 french film)! I am 70 miles from the center of the Theta depression. I am under mainsail alone, I am waiting to see what I am going to do. I always say, do not confuse speed and haste. Here I am calm, the wind rises gradually, it is useless for me to have up sail I won't need in half an hour. That's the worst thing, you put it up you put it down put it up."
With an older boat, Le Cam's early showing has excited race fans. "I'm glad people are with me because this is not an easy adventure. And here I am. I can't not be happy! If I'm not happy there, then I'll never be happy! So I'm happy. I ate a cassoulet this morning, I found the cassoulet to go well with a depression. It does not go with the high pressure but rather with the depression. This is our culture in Brittany. Otherwise, I have sweetbreads to make, but I'll wait a bit."
UPDATE AT 22:32:
Emerging out of storm Theta this evening it is now a race to get south, first recovering from the effects of the last 24 hours and then pressing the pedal down in what will finally be sustained downwind and reaching condition.
Alex Thomson still leads and although his margin on the leaderboard has been cut, some of that is due to the British skipper taking a more westerly course and no doubt just modulating his pace and attack to preserve everything and perhaps deal with any issues caused by the brutal conditions. For sure Alex is not going to be pressurized by the fleet at this stage. But Le Cam has been quick, 16.2kts compared to 14.7kts
Jean Le Cam went closer to the center of the depression. He made a few miles on an IMOCA he has already been round the world on. Some followers will recall Le Cam took his boat further south on a more extreme route during a big Southern Ocean storm last edition taking a more brutal bashing than Yann Eliès, Jérémie Beyou and Jean Pierre Dick in the same system.
Suffice to say Le Cam has storm tested his machine and has the confidence to place himself where he sees a gain. Correspondingly Thomson has not had his boat in these more extreme conditions before and would be taking it as easy as he could.
But not all have such favorable conditions. After Alan Roura (18th) who emerges 220 miles from Alex Thomson, several skippers are stuck in very light wind. Isabelle Joschke (MACSF), Kojiro Shiraihi (DMG MORI Global One), Miranda Merron (Campagne de France), Ari Huusela (Stark) or Alexia Barrier (TSE – 4myplanet) … There are about ten of them with less than 5 knots of wind.
"That should last around ten hours," said Jacques Caraës, the race director. On the other hand, Theta should fade away. "The low will continue to deteriorate and shift eastwards so conditions will be better for the rest of the fleet." And as a result, the gaps will continue to widen greatly between the competitors.
Ranking – 21:00 (GMT)
1. Alex THOMSON, HUGO BOSS – 23057.2 nm DTF
2. Jean LE CAM, Yes We Cam! – 9.18 nm DTL
3. Thomas RUYANT, LinkedOut – 52.69 nm DTL
4. Kevin ESCOFFIER, PRB – 63.39 nm DTL
5. Benjamin DUTREUX, OMIA – WATER FAMILY – 64.14 nm DTL
DTF – Distance to Finish; DTF – Distance to Lead
Race details – Boat types – Tracker – Ranking – YouTube
The Vendée Globe is the only sailing race round the world that's solo, non-stop, and without assistance, and it was all systems go for the 9th edition on November 8, 2020. Beginning in 1989 with 13 entries, the start line this year had 33 skippers taking off from Les Sables d'Olonne, France.
The development of the IMOCA Class toward foiling will see these boats hurl themselves around the world, teetering on carbon skates through inhospitable regions, chasing the record set in 2016-17 by Armel le Cléac'h of 74:03:35:46.
Participation history:
1989-90: 13 boats at the start
1992-93: 15 boats
1996-97: 15 boats
2000-01: 24 boats
2004-05: 20 boats
2008-2009: 30 boats
2012-2013: 20 boats
2016-2017: 29 boats
2020-2021: 33 boats
2020-21 Entries
Fabrice AMEDEO: NEWREST – ART & FENÊTRES
Romain ATTANASIO: PURE – BEST WESTERN
Alexia BARRIER: TSE – 4MYPLANET
Yannick BESTAVEN: MAÎTRE COQ IV
Jérémie BEYOU: CHARAL
Arnaud BOISSIÈRES: LA MIE CÂLINE – ARTISANS ARTIPÔLE
Louis BURTON: BUREAU VALLÉE 2
Didac COSTA: ONE PLANET ONE OCEAN
Manuel COUSIN: GROUPE SÉTIN
Clarisse CREMER: BANQUE POPULAIRE X
Charlie DALIN: APIVIA
Samantha DAVIES: INITIATIVES-CŒUR
Sébastien DESTREMAU: MERCI
Benjamin DUTREUX: OMIA – WATER FAMILY
Kevin ESCOFFIER: PRB
Clément GIRAUD: COMPAGNIE DU LIT / JILITI
Pip HARE: MEDALLIA
Boris HERRMANN: SEA EXPLORER – YACHT CLUB DE MONACO
Ari HUUSELA: STARK
Isabelle JOSCHKE: MACSF
Jean LE CAM: YES WE CAM !
Stéphane LE DIRAISON: TIME FOR OCEANS
Miranda MERRON: CAMPAGNE DE FRANCE
Giancarlo PEDOTE: PRYSMIAN GROUP
Alan ROURA: LA FABRIQUE
Thomas RUYANT: LINKEDOUT
Damien SEGUIN: GROUPE APICIL
Kojiro SHIRAISHI: DMG MORI
Sébastien SIMON: ARKEA – PAPREC
Maxime SOREL: V AND B – MAYENNE
Alex THOMSON: HUGO BOSS
Armel TRIPON: L'OCCITANE EN PROVENCE
Nicolas TROUSSEL: CORUM L'ÉPARGNE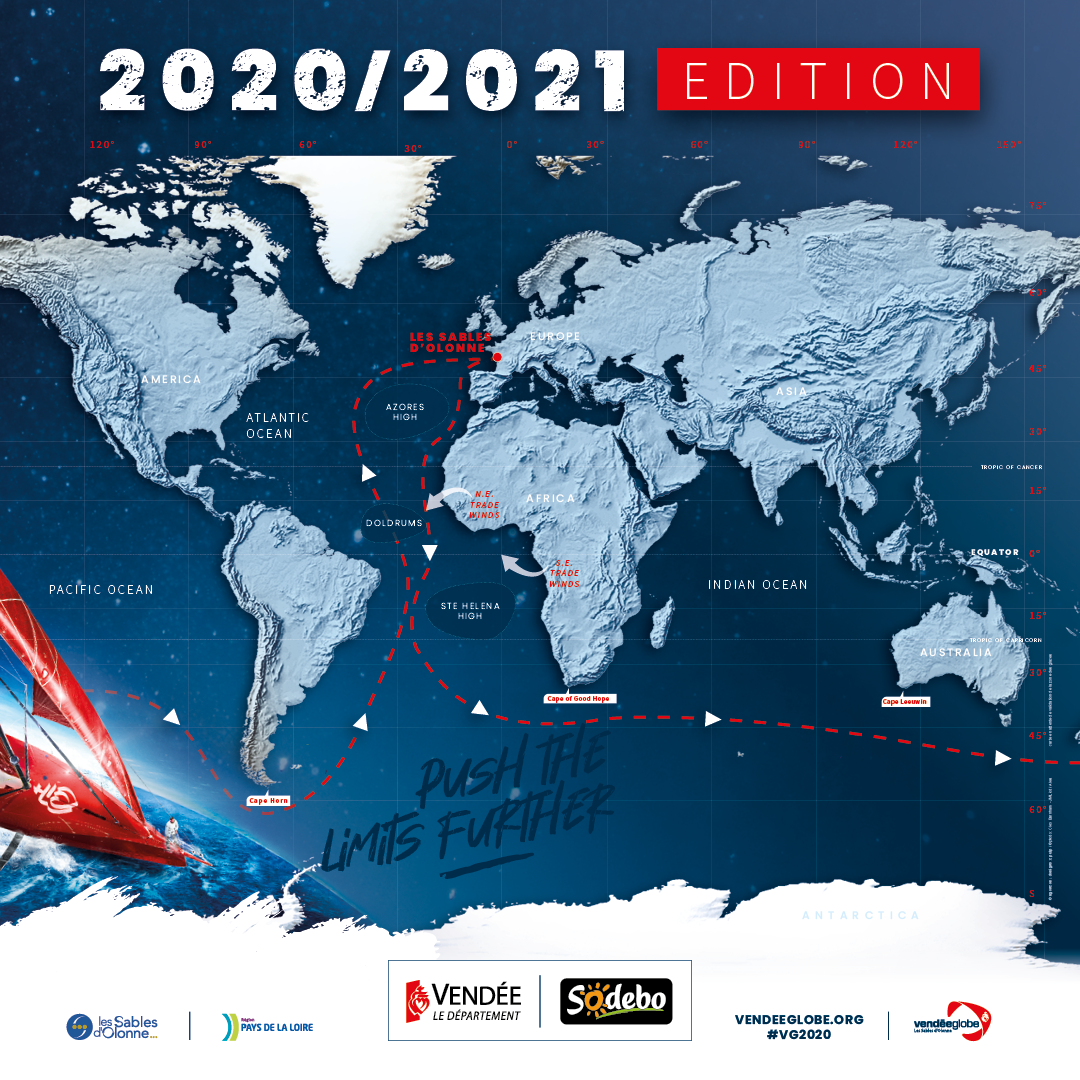 Source: Vendée Globe