Feature
Vendée Globe: Thomson rides the train
Published on November 15th, 2020
(November 15, 2020; Day 8) – As he leads the Vendée Globe onto the trade winds motorway down the Atlantic, between the Canary Islands and the Cape Verdes, British skipper Alex Thomson is expected to increase his lead at the head of the fleet as his foiling Hugo Boss hits its stride.
Accelerating through the day, he has shaken off veteran Jean Le Cam and his 2007 Farr design, averaging two knots faster, and is the only skipper in the race to have sailed more than 380 nautical miles in the last 24 hours.
NEE'ly Trade winds of 20-22 knots are expected to blow for Thomson and the leading peloton over the coming days. One week into the race has offered many skippers in the top group to take essential time to look after themselves, to wash, to make a 'treat' meal or drinks, to change to fresh clothes as they prepare for what will still be a demanding, active period, even if it is a boatspeed drag race on port gybe for several days.
"You can't forget the trade winds are not as stable as you maybe think, the direction still changes ten to fifteen degrees and the wind will go up and down, there are still gusts and so you have to be attentive and there will be a lot of trimming to do," cautioned Seb Josse, who is serving as one of the Vendée Globe's meteo advisers.
Skippers today expressed their admiration for Thomson's race so far.

"Alex is going to take the fast train south and that can quickly turn into a big lead," notes Thomas Ruyant from third placed LinkedOut at over 130 miles behind Thomson. "And Alex is hungry for it, but so am I."
As one of the pre-race favourites, Charlie Dalin is in sixth at 187 miles adrift of HUGO BOSS, a result of his conservative tactics. "My decision to move out west (of T/S Theta) was because the storm was too early on into the race to take any risks and I did the calculation of what I could afford to lose and try and make up. Alex went full on in the Theta depression and that can give him to make a big margin."
HUGO BOSS is due at the latitude of the Cape Verde islands tomorrow and is expected to pass the doldrums on November 17. According to Vendée Globe weather specialist Christian Dumardm, the leaders may be treated to a relatively straightforward crossing into the Southern Hemisphere.
At the Port Olona pontoon in Les Sables d'Olonne, the technical team of experts have been working round the clock onboard Charal, the damaged IMOCA of Jérémie Beyou, aiming to have it ready for Beyou to return to the course. A press conference is planned for 1700hrs CET tomorrow to announce the decision.
Japanese skipper Koji Shiraishi has managed to lower his damaged mainsail on his DMG MORI and is evaluating the options to repair the tear. Shiraishi tore the sail yesterday during a gybe when his autopilot malfunctioned.
Thomas Ruyant (LinkedOut): "What's good is that we're on a direct course towards the doldrums, there won't be a lot of manoeuvres to do. The sequence of systems at the start of the race has worn me out but despite everything, I did sleep well last night.
"Temperatures are starting to warm up and it's perfect. These are real moments of pure surfing are here and it much more pleasant than what we've had so far.
"I've had a few things to sort out, but then I imagine that we all have with the conditions we encountered. I've got a little bit of tinkering to do, I have to find the right conditions to get up the mast because I had a little problem with the windvane. Now I'm on my second windvane. I'd like to have the boat in good shape before getting into the south. I also had a problem with the hook, but it is not stopping me from being able to use my full set of sails.
"I'm glad I didn't take too many risks and am happy that I managed the boat as I did despite the small problems I had, particularly having dropped the sail in the water twice because of my hook problem. I had some minor collateral damage, which I have repaired.
"It is good to be at this point with the boat in the state it now is. I am happy with my position and the start of the race. Now I need to find some rest time get my energy levels back. The conditions that are coming are going to be favorable for that, so it's perfect.
"Alex (Thomson) and Jean (Le Cam) have put on a good show, they went into the storm, but I didn't take that choice. We knew that they would come out with a good lead. If there were two sailors to do that, it was them! Alex is on his 5th Vendée, he has a great boat, he's ready and then he is hungry, but so did I! I want to stay focused on my boat, my trajectory, and try to go fast.
"Alex has a good lead at this stage of the race. I'm going to work hard to get back on track. I have between 16 and 19 knots of north-easterly wind. It's the trade winds, the weather is nice, there are a few clouds, and temperatures are warming up. These are the conditions we and the boats like."
Ranking – 21:00 (GMT)
1. Alex THOMSON, HUGO BOSS – 22345.1 nm DTF
2. Jean LE CAM, Yes We Cam! – 59.62 nm DTL
3. Thomas RUYANT, LinkedOut – 132.62 nm DTL
4. Kevin ESCOFFIER, PRB – 170.66 nm DTL
5. Benjamin DUTREUX, OMIA – WATER FAMILY – 184.63 nm DTL
DTF – Distance to Finish; DTF – Distance to Lead
Race details – Boat types – Tracker – Ranking – YouTube
The Vendée Globe is the only sailing race round the world that's solo, non-stop, and without assistance, and it was all systems go for the 9th edition on November 8. Beginning in 1989 with 13 entries, the start line in 2020 had 33 skippers taking off from Les Sables d'Olonne, France.
The development of the IMOCA Class toward foiling will see these boats hurl themselves around the world, teetering on carbon skates through inhospitable regions, chasing the record set in 2016-17 by Armel le Cléac'h of 74:03:35:46.
Participation history:
1989-90: 13 boats at the start
1992-93: 15 boats
1996-97: 15 boats
2000-01: 24 boats
2004-05: 20 boats
2008-2009: 30 boats
2012-2013: 20 boats
2016-2017: 29 boats
2020-2021: 33 boats
2020-21 Entries
Fabrice AMEDEO: NEWREST – ART & FENÊTRES
Romain ATTANASIO: PURE – BEST WESTERN
Alexia BARRIER: TSE – 4MYPLANET
Yannick BESTAVEN: MAÎTRE COQ IV
Jérémie BEYOU: CHARAL
Arnaud BOISSIÈRES: LA MIE CÂLINE – ARTISANS ARTIPÔLE
Louis BURTON: BUREAU VALLÉE 2
Didac COSTA: ONE PLANET ONE OCEAN
Manuel COUSIN: GROUPE SÉTIN
Clarisse CREMER: BANQUE POPULAIRE X
Charlie DALIN: APIVIA
Samantha DAVIES: INITIATIVES-CŒUR
Sébastien DESTREMAU: MERCI
Benjamin DUTREUX: OMIA – WATER FAMILY
Kevin ESCOFFIER: PRB
Clément GIRAUD: COMPAGNIE DU LIT / JILITI
Pip HARE: MEDALLIA
Boris HERRMANN: SEA EXPLORER – YACHT CLUB DE MONACO
Ari HUUSELA: STARK
Isabelle JOSCHKE: MACSF
Jean LE CAM: YES WE CAM !
Stéphane LE DIRAISON: TIME FOR OCEANS
Miranda MERRON: CAMPAGNE DE FRANCE
Giancarlo PEDOTE: PRYSMIAN GROUP
Alan ROURA: LA FABRIQUE
Thomas RUYANT: LINKEDOUT
Damien SEGUIN: GROUPE APICIL
Kojiro SHIRAISHI: DMG MORI
Sébastien SIMON: ARKEA – PAPREC
Maxime SOREL: V AND B – MAYENNE
Alex THOMSON: HUGO BOSS
Armel TRIPON: L'OCCITANE EN PROVENCE
Nicolas TROUSSEL: CORUM L'ÉPARGNE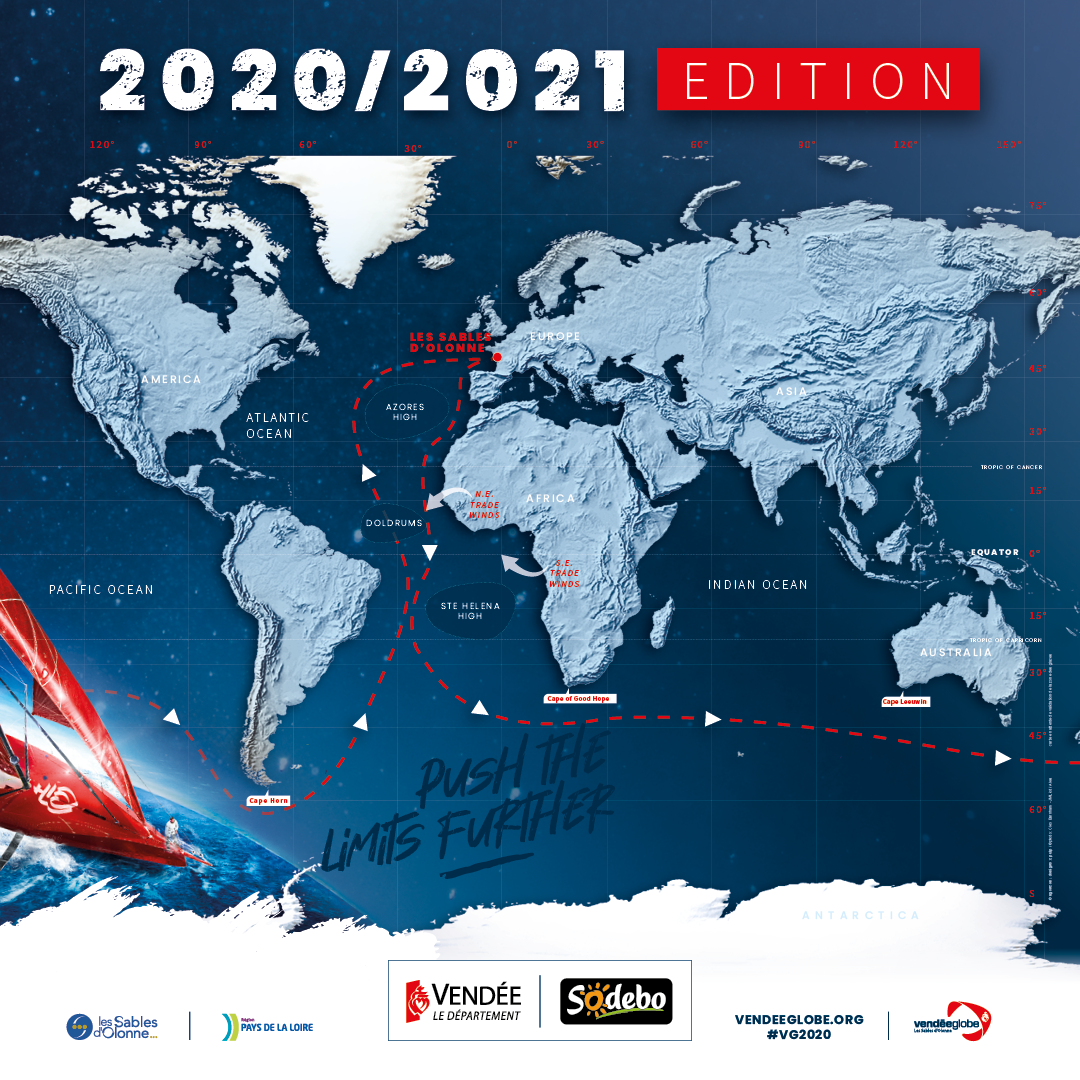 Source: Vendée Globe