Feature
Heat is on for Vendée Globe leaders
Published on November 17th, 2020
(November 17, 2020; Day 10) – While Nicolas Troussel is motoring slowly into a lumpy sea, his Vendée Globe abandoned after his mast was broken early yesterday morning, Jérémie Beyou restarted his race in Les Sables d'Olonne, completing repairs but now some 2,700 nautical miles behind leader Alex Thomson who was negotiating the first hours of his Doldrums passage on HUGO BOSS.
Promised a smooth passage through the 300-350 miles wide Inter Tropical Convergence Zone by the weather gurus, Thomson should be first across the Equator in the middle of tomorrow morning. On current routing models he is likely to be around one day slower than the record he set at 9 days 7 hours when he led the 2016-17 race into the Southern Hemisphere.
There is a certain symmetry compared to the 2016-17 race. Four years ago Thomson led Armel Le Cléac'h by a little more than 50 miles. He is in front again this time but it is the hard driving Thomas Ruyant who has cut the British skipper's margin by 40 miles to around 88 miles at 17:00 today.
Coincidentally at this same time four years ago it was Tanguy De Lamotte whose hopes for his Vendée Globe were dashed by the race's first broken mast.
Beyou was full of hope and positivity when he set off and seemed assured of a fast passage south on the first days of his pursuit of the 31 boat fleet, his nearest 'target' being Fabrice Amedeo at 1000 miles range. At Cape Finisterre he should be able to hook into a low pressure system which will catapult him south to benefit from favourable winds on the east side of the Azores high pressure system.

Meantime Troussel, who this morning had some 180 miles still to motor to Mindelo in the Cape Verde Islands, voiced his misery. He confirmed that he was below decks asleep when his mast crashed down in the gusty trade winds.
"It was just before sunrise and I was asleep and went up on deck and saw the damage. My priority then was to get the mast off and away the boat because the sea was quite choppy. Then you realise that it is all over."
The Doldrums look like they might offer Thomson and the lead group a free pass. The skipper from Gosport and his nearest rival Ruyant have seen their speeds ease to 14-15kts but the zone between the NE'ly and SE'ly trade winds is quite narrow.
"I'm starting to get the first hint of the Doldrums as we approach them," said Ruyant. "We're almost there and already a few squalls can be seen on the satellite images. I am looking at them regularly to try to find a narrow passage through. They don't look too active, but you never know what you're going to get. There is always a surprise each time.
"I'm starting to get really hot. These aren't the conditions I enjoy most. Inside the boat, it quickly becomes a furnace with the generator charging up. But we have a good angle to sail quickly, so it's perfect for sailing now.
"I have 18-20kts and am at 110/120 degrees from the wind. Conditions are pleasant, even if at times it is a bit wild, as we accelerate away quickly. The Doldrums are 300-350 miles wide. So we can hope to get out of there tomorrow evening, if everything falls into place, but it could take much longer. It's complicated getting accurate forecasts."
Sébastien Josse and Christian Dumard, the weather consultants for the Vendée Globe, remind that it's not just a transition between two winds, it's also a transition between two seas. "The seas will not be as smooth as you maybe think. Speeds will be more erratic and courses more varied. To get out of here you have to cross directly at right angles and… stay calm. Each metre gained south is one meter gained towards the exit of the tunnel."
From Madeira to the Doldrums, the 2020 Vendée Globe wagon train spans some 1,600 nm of ocean. Now, finally, almost the entire fleet is in the trade winds and making decent progress. But to the west of the Canaries in a localized 'doldrums' of persistently light winds where five competitors are continuing to have their patience tested.
Ranking – 21:00 (GMT)
1. Alex THOMSON, HUGO BOSS – 21482.5 nm DTF
2. Thomas RUYANT, LinkedOut – 92.2 nm DTL
3. Jean LE CAM, Yes We Cam! – 113.86 nm DTL
4. Charlie DALIN, APIVIA – 126.8 nm DTL
5. Kevin ESCOFFIER, PRB – 197.53 nm DTL
DTF – Distance to Finish; DTF – Distance to Lead
Race details – Boat types – Tracker – Ranking – YouTube
The Vendée Globe is the only sailing race round the world that's solo, non-stop, and without assistance, and it was all systems go for the 9th edition on November 8. Beginning in 1989 with 13 entries, the start line in 2020 had 33 skippers taking off from Les Sables d'Olonne, France.
The development of the IMOCA Class toward foiling will see these boats hurl themselves around the world, teetering on carbon skates through inhospitable regions, chasing the record set in 2016-17 by Armel le Cléac'h of 74:03:35:46.
2020-21 Attrition
Nov. 16, 2020 – Nicolas TROUSSEL, CORUM L'EPARGNE – dismasted
Participation history:
1989-90: 13 boats at the start
1992-93: 15 boats
1996-97: 15 boats
2000-01: 24 boats
2004-05: 20 boats
2008-2009: 30 boats
2012-2013: 20 boats
2016-2017: 29 boats
2020-2021: 33 boats
2020-21 Entries
Fabrice AMEDEO: NEWREST – ART & FENÊTRES
Romain ATTANASIO: PURE – BEST WESTERN
Alexia BARRIER: TSE – 4MYPLANET
Yannick BESTAVEN: MAÎTRE COQ IV
Jérémie BEYOU: CHARAL
Arnaud BOISSIÈRES: LA MIE CÂLINE – ARTISANS ARTIPÔLE
Louis BURTON: BUREAU VALLÉE 2
Didac COSTA: ONE PLANET ONE OCEAN
Manuel COUSIN: GROUPE SÉTIN
Clarisse CREMER: BANQUE POPULAIRE X
Charlie DALIN: APIVIA
Samantha DAVIES: INITIATIVES-CŒUR
Sébastien DESTREMAU: MERCI
Benjamin DUTREUX: OMIA – WATER FAMILY
Kevin ESCOFFIER: PRB
Clément GIRAUD: COMPAGNIE DU LIT / JILITI
Pip HARE: MEDALLIA
Boris HERRMANN: SEA EXPLORER – YACHT CLUB DE MONACO
Ari HUUSELA: STARK
Isabelle JOSCHKE: MACSF
Jean LE CAM: YES WE CAM !
Stéphane LE DIRAISON: TIME FOR OCEANS
Miranda MERRON: CAMPAGNE DE FRANCE
Giancarlo PEDOTE: PRYSMIAN GROUP
Alan ROURA: LA FABRIQUE
Thomas RUYANT: LINKEDOUT
Damien SEGUIN: GROUPE APICIL
Kojiro SHIRAISHI: DMG MORI
Sébastien SIMON: ARKEA – PAPREC
Maxime SOREL: V AND B – MAYENNE
Alex THOMSON: HUGO BOSS
Armel TRIPON: L'OCCITANE EN PROVENCE
Nicolas TROUSSEL: CORUM L'ÉPARGNE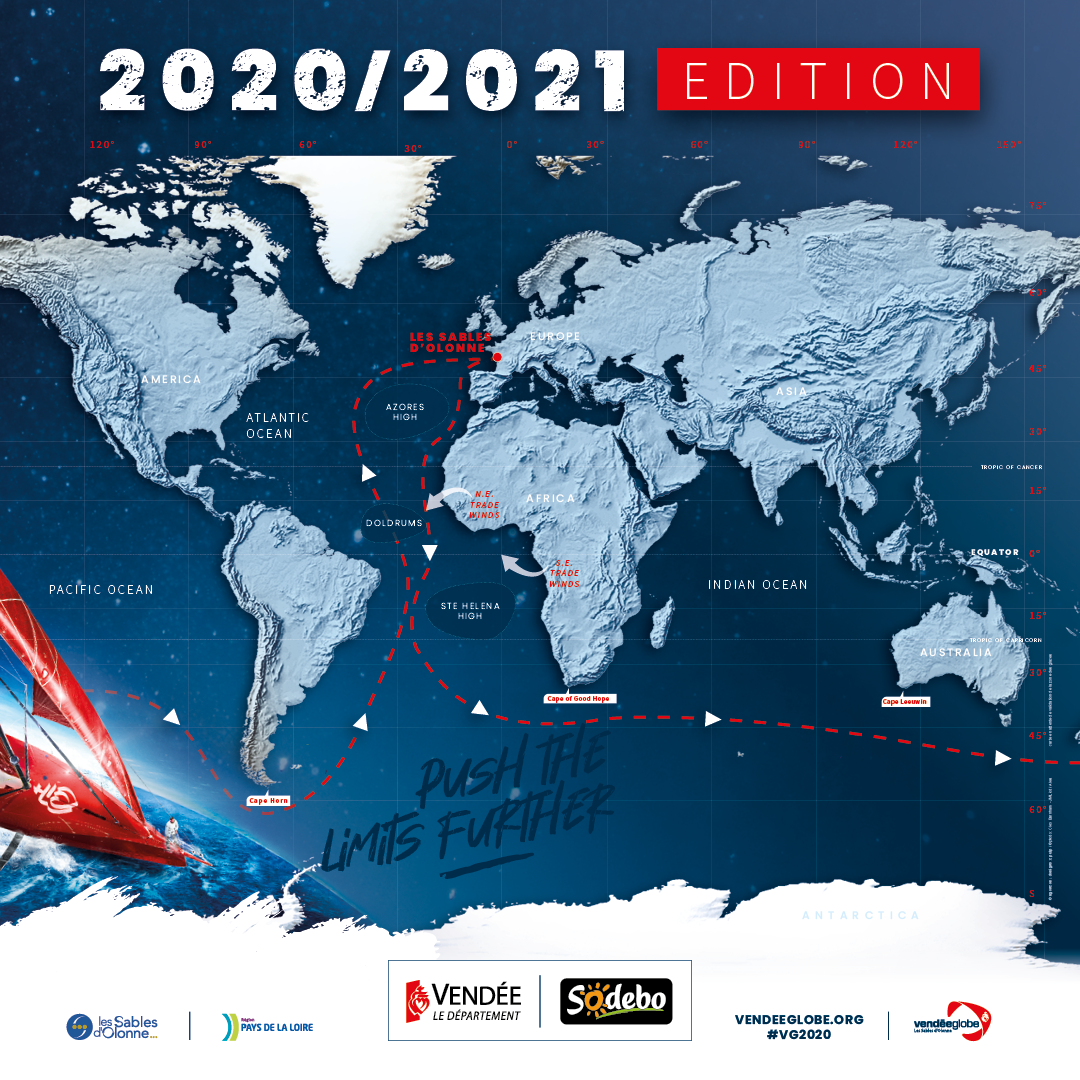 Source: Vendée Globe