Feature
Vendée Globe: Nobody said it'd be easy
Published on November 22nd, 2020
(November 22, 2020; Day 15) – Vendée Globe favorite Alex Thomson (GBR) has today been forced to slow his HUGO BOSS to a crawl as he attempts to make a technical repair to a longitudinal beam in the bow of his IMOCA 60.
Having been in the lead group since the start, Thomson alerted his team to the problem around 1900hrs TU yesterday after a routine inspection raised immediate concerns as he raced south-eastwards towards the Southern Ocean part of the leading trio of boats racing south-eastwards some 850 nautical miles east of Rio de Janeiro, Brasil.
With the imminent requirement to plunge south for more than one month in the inhospitable waters between the Cape of Good Hope and Cape Horn, the 46 year old British skipper will want to have complete faith in the repairs and in his IMOCA. Additional details come from a team statement and direct from Alex Thomson.
Having dropped to second place in the 33 boat fleet yesterday, averaging 16 knots at times and some 25 nautical miles behind leader Thomas Ruyant, Thomson's pause had already cost him 150 miles (as of 18:46 GMT) on Ruyant and Charlie Dalin (Apivia) who passed into second 23 miles to windward of the British skipper around midnight last night.
"Supposing it takes Alex 24 hours to effect a repair and get going again he would rejoin the chasing group with Arkéa Paprec, Initiatives Couer and PRB, he would lose quite a bit as that would put him 1000 miles behind at Cape of Good Hope," suggested Yoann Richomme, winner of the last Route du Rhum in Class40 and double winner of La Solitaire du Figaro.

"But I have been looking at the history of the race as well and remember that last time on the last race he rounded Cape Horn 800 miles behind Armel Le Cléac'h and so I would not call this 'game over'."
Talking about the latest generation of fast foilers, Richomme, renowned as a meticulous technician, explained how these new boats were really tough to sail, really hard to engineer, and are slamming into the waves with a lot of power, which he suspects is most likely happened to Alex.
"What is hard is that we know that they took their feet off the gas a little in the south on the last race to preserve the boats last time, and I think they will be doing that again," note Richomme. "From the scenario we are seeing they need to preserve the boats.
"When these boats start taking off, they were slamming the hulls a little bit further back but now these boats are fully foiling, flying a lot of the time, it is now the bows which are hitting the waves in front, from 2-3m high at times and the impact on the bows is huge and we know a lot of the boats in France had reinforcements in the bow. We saw Corum in September have a two week repair in their bow. They are discovering new problems and we are hoping they have covered off most of them."
At two weeks since the race started off Les Sables d'Olonne on November 8, there are many repairs, small and not so small, critical and almost incidental, that skipper need to make. Contemplating the descent into the Indian Ocean, race leader Thomas Ruyant (LinkedOut) had to climb the 28m mast of his IMOCA after his spare halyard broke.
The two leading IMOCAs, LinkedOut and Apivia are side by side, 10 miles apart setting out on a gybing match up as they drop south-eastwards towards an area of unstable air, described by Dalin as 'mousehole' through which they must pass to get to the Southern Ocean and a fast ride east towards the longitude of the Cape of Good Hope.
Now the Vendée Globe fleet stretches for more than 3000 miles, Jérémie Beyou in 32nd, has lengthened his stride in the south of the Canaries. Listening to the skippers on the daily calls or reading the messages sent from on board, whatever the age of the boat or its position on the Atlantic chessboard, every day brings its share of problems.
Yesterday it was a weather vane for ninth placed Sébastien Simon, today a composite repair on a part of the foil well for Armel Tripon on L'Occitaine and that week long repair to the mainsail of the Japanese Kojiro Shiraishi. Big or small the problems prevail through the fleet.
Armel Tripon, the self-styled philosopher skipper of L'Occitane en Provence, reflects, "The boats want to go fast, the chase their predicted speeds and they are built for that and the teams and the architects are pushing all the time to go fast. Now it's up to each of us to sail with our soul and our own peace of mind."
Ranking – 21:00 (GMT)
1. Thomas RUYANT, LinkedOut – 19603.1 nm DTF
2. Charlie DALIN, APIVIA – 23.73 nm DTL
3. Alex THOMSON, HUGO BOSS – 238.82 nm DTL
4. Jean LE CAM, Yes We Cam! – 261.75 nm DTL
5. Kevin ESCOFFIER, PRB- 299.52 nm DTL
DTF – Distance to Finish; DTF – Distance to Lead
Race details – Boat types – Tracker – Ranking – YouTube
The Vendée Globe is the only sailing race round the world that's solo, non-stop, and without assistance, and it was all systems go for the 9th edition on November 8. Beginning in 1989 with 13 entries, the start line in 2020 had 33 skippers taking off from Les Sables d'Olonne, France.
The development of the IMOCA Class toward foiling will see these boats hurl themselves around the world, teetering on carbon skates through inhospitable regions, chasing the record set in 2016-17 by Armel le Cléac'h of 74:03:35:46.
2020-21 Attrition
Nov. 16, 2020 – Nicolas TROUSSEL, CORUM L'EPARGNE – dismasted
Participation history:
1989-90: 13 boats at the start
1992-93: 15 boats
1996-97: 15 boats
2000-01: 24 boats
2004-05: 20 boats
2008-2009: 30 boats
2012-2013: 20 boats
2016-2017: 29 boats
2020-2021: 33 boats
2020-21 Entries
Fabrice AMEDEO: NEWREST – ART & FENÊTRES
Romain ATTANASIO: PURE – BEST WESTERN
Alexia BARRIER: TSE – 4MYPLANET
Yannick BESTAVEN: MAÎTRE COQ IV
Jérémie BEYOU: CHARAL
Arnaud BOISSIÈRES: LA MIE CÂLINE – ARTISANS ARTIPÔLE
Louis BURTON: BUREAU VALLÉE 2
Didac COSTA: ONE PLANET ONE OCEAN
Manuel COUSIN: GROUPE SÉTIN
Clarisse CREMER: BANQUE POPULAIRE X
Charlie DALIN: APIVIA
Samantha DAVIES: INITIATIVES-CŒUR
Sébastien DESTREMAU: MERCI
Benjamin DUTREUX: OMIA – WATER FAMILY
Kevin ESCOFFIER: PRB
Clément GIRAUD: COMPAGNIE DU LIT / JILITI
Pip HARE: MEDALLIA
Boris HERRMANN: SEA EXPLORER – YACHT CLUB DE MONACO
Ari HUUSELA: STARK
Isabelle JOSCHKE: MACSF
Jean LE CAM: YES WE CAM !
Stéphane LE DIRAISON: TIME FOR OCEANS
Miranda MERRON: CAMPAGNE DE FRANCE
Giancarlo PEDOTE: PRYSMIAN GROUP
Alan ROURA: LA FABRIQUE
Thomas RUYANT: LINKEDOUT
Damien SEGUIN: GROUPE APICIL
Kojiro SHIRAISHI: DMG MORI
Sébastien SIMON: ARKEA – PAPREC
Maxime SOREL: V AND B – MAYENNE
Alex THOMSON: HUGO BOSS
Armel TRIPON: L'OCCITANE EN PROVENCE
Nicolas TROUSSEL: CORUM L'ÉPARGNE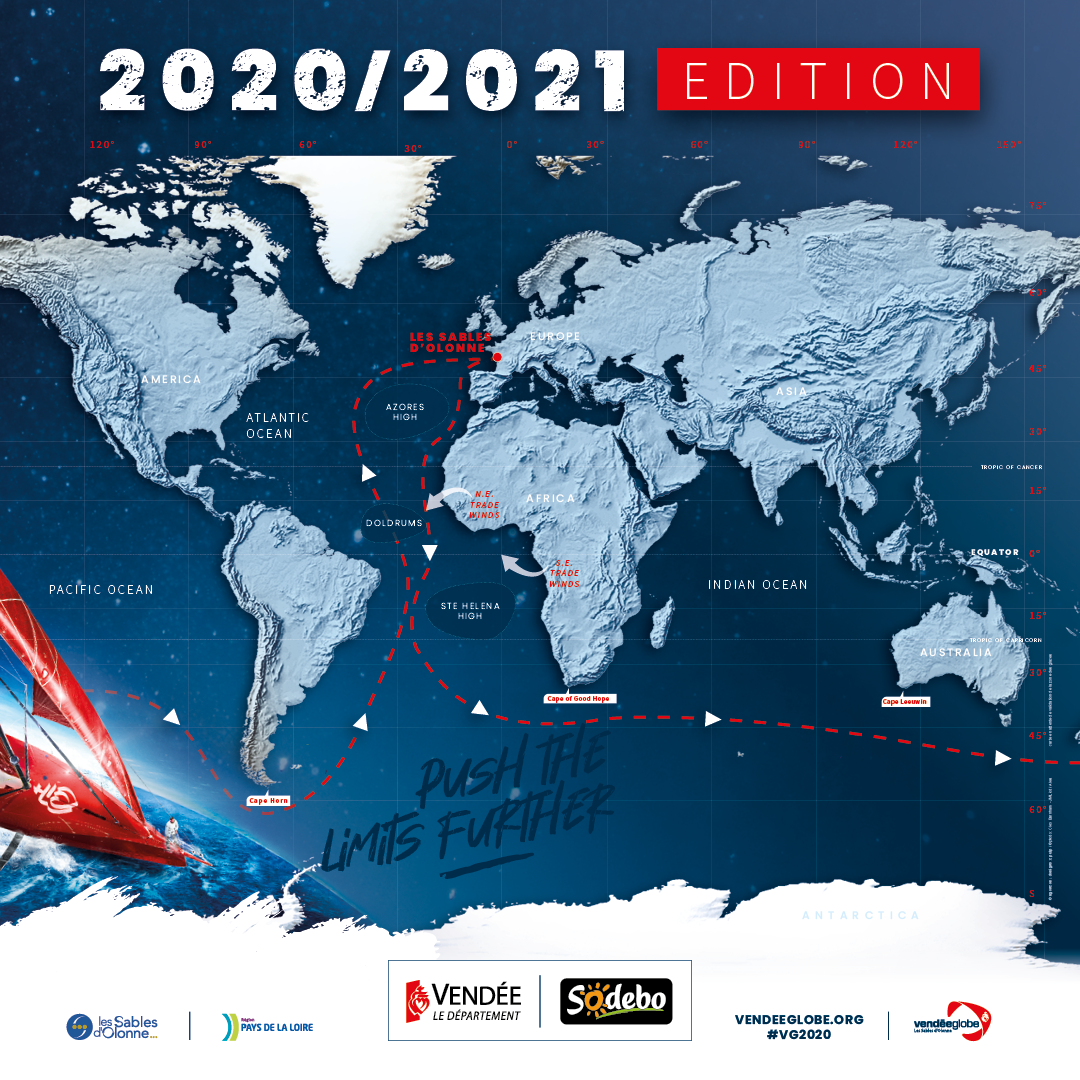 Source: Vendée Globe