News
Vendée Globe: Waiting for the sleighride
Published on November 26th, 2020
(November 26, 2020; Day 19) – Life is not getting any easier for Charlie Dalin, the Vendée Globe leader, as he is still struggling in light breezes as he tries to wriggle free from the sticky clutches of the Saint Helena high pressure which now spans most of the South Atlantic.
In the last 24 hours to 0400hrs UTC this morning, Dalin on the yellow hulled Apivia had only made 130 nautical miles, averaging 5.4 knots. In an area in which he might normally hope to be on a sleighride south averaging four times this speed, this will be frustrating. And according to the weather models this morning, Dalin's patience is going to be tested for at least another 24 to 36 hours.
His lead over second placed Thomas Ruyant (LinkedOut) and to Jean Le Cam (Yes We Cam!) at 350 miles behind remains steady as both are mostly following his wake. That said, the position of the veteran Le Cam, in the north and east, is looking vulnerable as evidenced by his slow speeds and many manoeuvres during the night.
But the group lead by Britain's Sam Davies (Initiatives Coeur) in ninth and Alex Thomson (HUGO BOSS) in eighth look set to make ongoing inroads as they are in downwind and reaching conditions on the west side of the high with a clear pathway in building breezes that should accelerate them south.
Davies in particular seems to have the timing of her trajectory just right and continues to gain with good breeze and a profitable angle south, unlike fourth placed Kevin Escoffier (PRB) who this time yesterday morning admitted he could not decide which way to go. His procrastination seems to have cost him as he is angled on a south westerly course this morning, sailing away from the theoretical best course to the south east.
Armel Tripon (L'Occitane en Provence) took his penalty of four hours yesterday and so he has not yet really caught up again with his target group (Pip Hare, Manuel Cousin, Didac Costa).
The penalty by the Race Jury was due to Tripon moving his propeller axis in anticipation of his safety maneuver at the time of his J3 headsail hook damage (night from November 10 to 11), in a large sea and 35 knots of windy.
In the end it was not necessary to use the engine because he had finally managed, after several vain attempts, to tack on board under mainsail alone thanks to a bigger wave than the rest. However, the jury still awarded the penalty.
Clément Giraud (Compagnie du Lit – Jiliti) was the 28th of the 32 boats racing to enter the Southern Hemisphere last night. The three still in the Northern Hemisphere are Sébastien Destremau, Kojiro Shiraishi, and Jérémie Beyou.
Ranking – 11:00 (GMT)
1. Charlie DALIN, APIVIA – 18855.7 nm DTF
2. Thomas RUYANT, LinkedOut – 106.75 nm DTL*
3. Jean LE CAM, Yes We Cam! – 345.35 nm DTL
4. Boris HERRMANN – SEAEXPLORER-YACHT CLUB DE MONACO – 520.25 DTL
5. Kevin ESCOFFIER, PRB- 520.83 nm DTL
DTF – Distance to Finish; DTF – Distance to Lead
* Ruyant damaged port foil on Nov. 24 at 02:00.
Race details – Boat types – Tracker – Ranking – YouTube
The Vendée Globe is the only sailing race round the world that's solo, non-stop, and without assistance, and it was all systems go for the 9th edition on November 8. Beginning in 1989 with 13 entries, the start line in 2020 had 33 skippers taking off from Les Sables d'Olonne, France.
The development of the IMOCA Class toward foiling will see these boats hurl themselves around the world, teetering on carbon skates through inhospitable regions, chasing the record set in 2016-17 by Armel le Cléac'h of 74:03:35:46.
2020-21 Attrition
Nov. 16, 2020 – Nicolas TROUSSEL, CORUM L'EPARGNE – dismasted
Participation history:
1989-90: 13 boats at the start
1992-93: 15 boats
1996-97: 15 boats
2000-01: 24 boats
2004-05: 20 boats
2008-2009: 30 boats
2012-2013: 20 boats
2016-2017: 29 boats
2020-2021: 33 boats
2020-21 Entries
Fabrice AMEDEO: NEWREST – ART & FENÊTRES
Romain ATTANASIO: PURE – BEST WESTERN
Alexia BARRIER: TSE – 4MYPLANET
Yannick BESTAVEN: MAÎTRE COQ IV
Jérémie BEYOU: CHARAL
Arnaud BOISSIÈRES: LA MIE CÂLINE – ARTISANS ARTIPÔLE
Louis BURTON: BUREAU VALLÉE 2
Didac COSTA: ONE PLANET ONE OCEAN
Manuel COUSIN: GROUPE SÉTIN
Clarisse CREMER: BANQUE POPULAIRE X
Charlie DALIN: APIVIA
Samantha DAVIES: INITIATIVES-CŒUR
Sébastien DESTREMAU: MERCI
Benjamin DUTREUX: OMIA – WATER FAMILY
Kevin ESCOFFIER: PRB
Clément GIRAUD: COMPAGNIE DU LIT / JILITI
Pip HARE: MEDALLIA
Boris HERRMANN: SEA EXPLORER – YACHT CLUB DE MONACO
Ari HUUSELA: STARK
Isabelle JOSCHKE: MACSF
Jean LE CAM: YES WE CAM !
Stéphane LE DIRAISON: TIME FOR OCEANS
Miranda MERRON: CAMPAGNE DE FRANCE
Giancarlo PEDOTE: PRYSMIAN GROUP
Alan ROURA: LA FABRIQUE
Thomas RUYANT: LINKEDOUT
Damien SEGUIN: GROUPE APICIL
Kojiro SHIRAISHI: DMG MORI
Sébastien SIMON: ARKEA – PAPREC
Maxime SOREL: V AND B – MAYENNE
Alex THOMSON: HUGO BOSS
Armel TRIPON: L'OCCITANE EN PROVENCE
Nicolas TROUSSEL: CORUM L'ÉPARGNE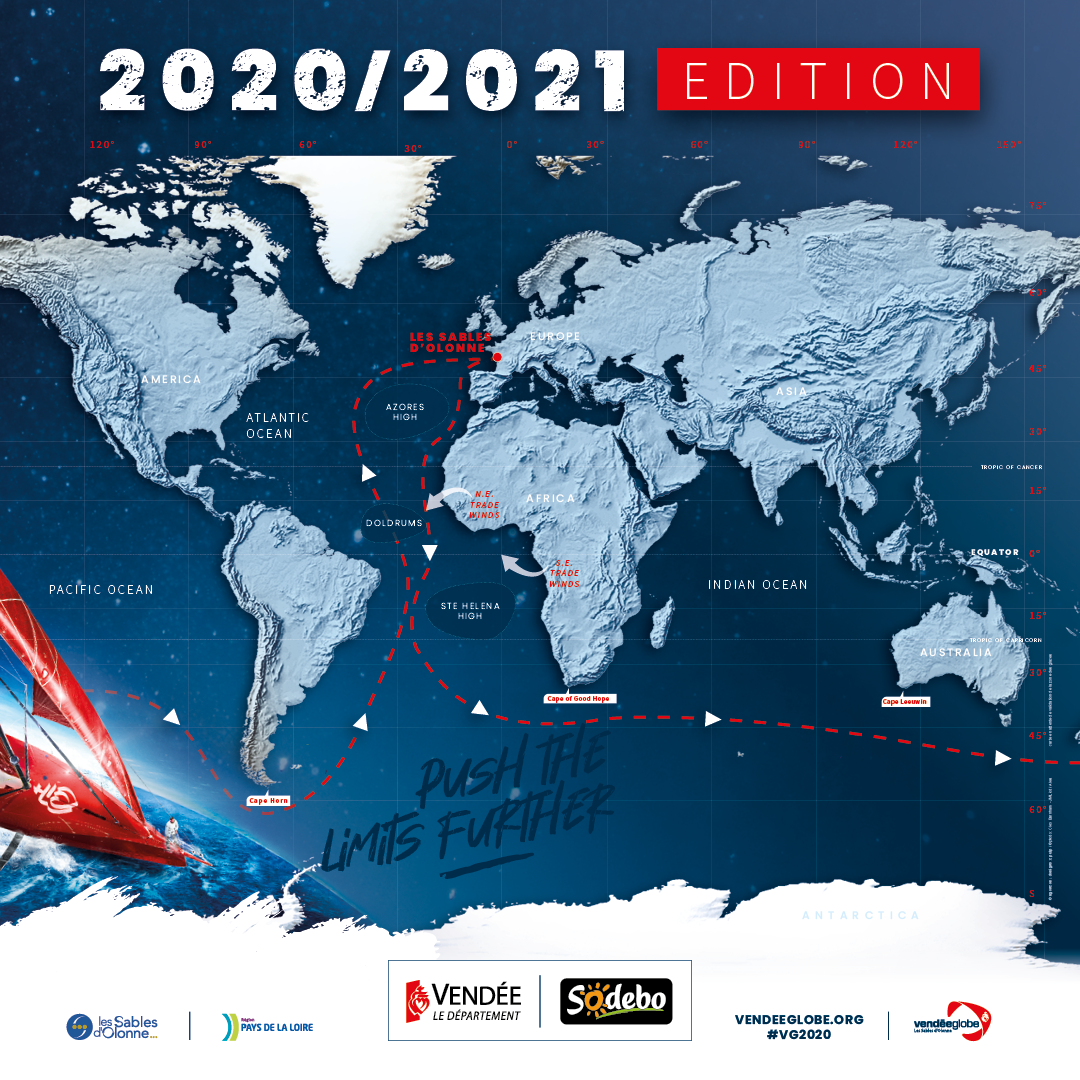 Source: Vendée Globe