Dock Talk
Congressional Cup: Best Monohull Match Racing in the World
Published on April 5th, 2016
Long Beach, CA (April 5, 2016) – With the addition of two final qualifiers from this weekend's Ficker Cup Presented by Porsche regatta, the 2016 Congressional Cup roster is set and ready to rumble. Already, a dozen competitors from around the globe – including ten of the world's top ranked match racing skippers – are in Long Beach, tuning up for matches in Catalina 37s on April 6 through 10.
As the second stop on the World Match Racing Tour, and with the Tour format now using the M32 catamaran, the Congressional Cup is the only Tour event to be using monohulls. With the America's Cup also vested in multihulls, the Congressional Cup may now be the best test of monohull match racing in the world.
The competition promises to be fierce, if the Ficker Cup Presented by Porsche is any indication. Stephen Van Dyck, one of 14 umpires and officials brought in for the World Match Racing Tour event, called last week's racing, "an extremely high level of competition; as great as I've seen in this event." Van Dyck, a winning America's Cup tactician, and involved in the Congressional Cup since its inception, knows great sportsmanship. "It's very impressive, the standards the competitors have risen to," he added.
"It's a very good preview of what's to come next week," concurred Scott Dickson (USA) who earned his berth in the Congressional Cup after three days of tight racing in the Ficker Cup Presented by Porsche.
The excitement steps up a notch Wednesday through Sunday, as two-time Congressional Cup defending champion Taylor Canfield (ISV) returns to hosting Long Beach Yacht Club eager for a hat trick. Previous champions – Ian Williams (GBR), who won in 2011 and 2012, and 2009 winner Johnie Berntsson (SWE) – having worn the Crimson Blazer and tasted victory in Long Beach, are expected to be on the attack, along with Phil Robertson (NZL), who lost match point to Canfield by just two seconds, last year.
Other top ranked skippers in the line-up include: Sally Barkow (USA), Sam Gilmour (AUS), Bjorn Hansen (SWE), Eric Monnin (SUI), Nicolai Sehested (DEN), Chris Steele (NZL), and Keith Swinton (AUS). All-in-all, the field spans eight nations, and two generations, and includes 10 of the world's top 15 skippers, as determined by World Sailing, the world governing body for the sport of sailing.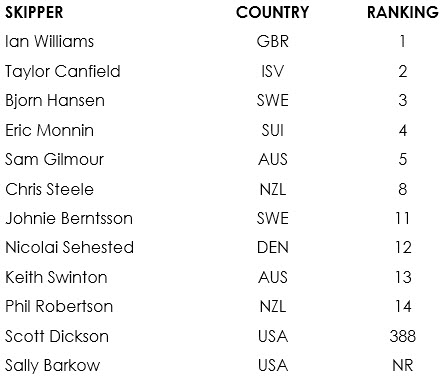 The Congressional Cup offers this unique opportunity to watch world class racing, FREE, from a convenient and accessible vantage point. Races are held directly off the Belmont Veterans Memorial Pier in Long Beach, and begin at roughly 11:30AM. Live commentary explains the ins and outs of match racing and tactics, while spectators also enjoy music and entertainment, refreshments, shaded bleachers, and an enthusiastic crowd of fellow boaters from far and wide.
ABOUT THE CONGRESSIONAL CUP
The 52nd Congressional Cup on April 6-10 features five days of yacht racing at its finest, with the top World Sailing-ranked skippers vying for the esteemed Crimson Blazer – an honor bestowed to sailing icons like Dennis Conner, Dean Barker, Ken Read, Ted Turner, Taylor Canfield and more. Founded in 1965 and pioneering the concept of on-the-water umpiring, The Congressional Cup is regarded as the 'granddaddy of match racing' and is part of the World Match Racing Tour (WMRT). This intense round-the-world circuit kicked off early March in Fremantle, Australia, and concludes in July in Marstrand, Sweden; where one lucky sailor will earn a sizeable purse and bragging rights – as the number one skipper at the pinnacle of the sailing game. http://www.thecongressionalcup.com/
Source: Event media