Feature
Bad ideas make great stories
Published on May 20th, 2019
The Race to Alaska, now in its 5th year, just closed its registration and 46 teams will be at the start line for this foolhardy adventure along 750 cold water miles from Port Townsend, Washington to Ketchikan, Alaska. There were 37 entries accepted in 2018… is foolhardy the new black?
"This is when we start looking at our field on racers for who we think might win and who is going to make a really good story." says Race Boss Daniel Evans. "The stories and achievements are going to be tremendous." Daniel points out that sixteen of the teams are under twenty feet with the smallest coming in at fourteen feet. The size of the boat alone will create exciting times for those teams.
For the June 3rd start, the bio list does seem to be layered with adventure-seeking racers. Alex de Sain of Team Extremely Insain has finished both the world's longest river and inland water races for a stand-up paddleboard.
He hopes to cap his resume with what now has been deemed in the paddler community as the longest open water race for a SUP in the world. He is one of two SUP racers hoping to do what has only been done once, finish the R2AK on a stand-up paddleboard.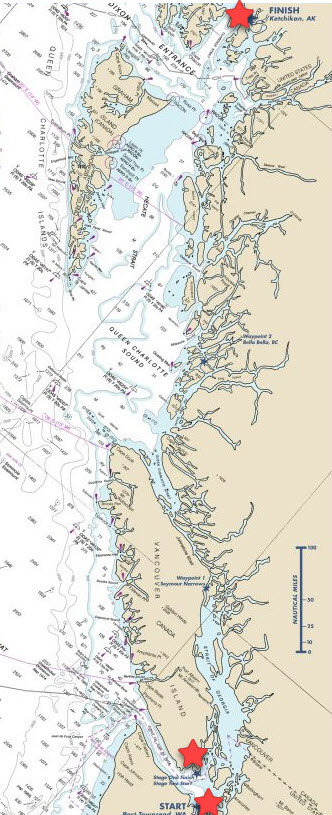 While no pure paddler has ever won, the rules aren't stopping the idea. Pretty much the only things you can't do is motor or have any outside assistance. Other than that, go for it.
In fact, six teams in total are attempting to finish the race on the strength of arms and backs alone; human power only and half of them are in traditional skiffs, like the kind you row to the bar when you are at anchor, except they're rowing to a bar in Ketchikan.
Following in the footsteps of that tradition, Stanford of Team Ziska is just going to row the house to the bar. In this instance, that means racing a 52' gaff-rigged wooden sailboat that weighs around 12 tons.
The race is not without its speed, however. There is a custom racing trimaran out of New Zealand with Team Pear Shaped Racing who is looking for that first place winnings of $10,000. A couple of high octane racing teams—Team Educated Guess and Team Shut Up and Drive—will be pushing stock monohulls with all the skill a crew can muster.
And this year's fast must mention Team Angry Beaver – Skiff Sailing Foundation. Their sailing resume looks like a list of every sailing race you can think of with placements like 1st, 5th, 3rd next to each one on the list.
"Angry Beaver was a very late entry," says Evans, "but they have the knowledge, skill, and boat to defy known physics and rip up the course."
They are sailing a Schock 40 monohull that has things like foiling rudders on both ends and a canting ballast keel; it's like an alien space-boat that goes really, really fast. In fact, this year's boat sizes range from 14 feet to 52, proving there are more ways than one to beat this challenge."
There is no end to the stories this year, and the tracker is a good place to start. The tracker is a free-to-view map available once the race starts that allows online viewers to follow each team and even connects viewers to
teams' social media pages.
Evans and the media film crew will follow the race on a variety of powerboats recording and interviewing the teams as they find their own way to Ketchikan.
"We kind of make it up as we go," said Zach Carver, the creative mind behind most of R2AKs videos. "We go where we have to to get the shots and stay up editing and cutting while the boat moves to the next location. It's a kind of 24 hours a day operation. And it's during that time that we start to see the stories of the race grow and become tangible."
All of the video clips, daily updates, and the tracker can be found online.
Like with the question of who will win, it's anybody's guess what stories will emerge from the brave fleet of racers as they move northward. "One thing is for sure," says Evans. "As these teams sail into the forgotten reaches of our coastal wilderness, the stories that do come out will be incredible."
Race details – Team list – Facebook – Instagram
Background:
Race to Alaska, now in its 5th year, follows the same rules which launched this madness. No motor, no support, through wild frontier, navigating by sail or peddle/paddle (but at some point both) the 750 cold water miles from Port Townsend, Washington to Ketchikan, Alaska.
To save people from themselves, and possibly fulfill event insurance coverage requirements, the distance is divided into two stages. Anyone that completes the 40-mile crossing from Port Townsend to Victoria, BC can pass Go and proceed. Those that fail Stage 1 go to R2AK Jail. Their race is done.
Stage 1 Race start: 0500 June 3rd, Port Townsend, Washington
Stage 2 Race start: 1200 June 6th, Victoria, BC
There is $10,000 if you finish first, a set of steak knives if you're second. Cathartic elation if you can simply complete the course. R2AK is a self-supported race with no supply drops and no safety net. Any boat without an engine can enter.
Last year 37 teams were accepted and 21 finished.
Source: R2AK