Feature
R2AK: Why again are we doing this?
Published on June 13th, 2019
The 5th edition of the 750 mile Race to Alaska began June 3 with a 40-mile "proving stage" from Port Townsend, WA to Victoria, BC. For those that survived, they started the remaining 710 miles on June 6 to Ketchikan, AK. Here's the June 13 update:
---
After a ten-team flurry from the past 24 hours, the R2AK finish line has seemed to take on the same exhausted stance of the teams already in. The finish line bell has been silent for an entire day, the 'Are they here?!?!' panic-driven tracker-checks to get to the docks on time were replaced by the finger drumming musings of when it would be before the next team. Things slowed a beat or two, and on the seventh day, we rested, too.
To surf the lull, the infinite monkeys who write these things are tagging in the other half of R2AK's tag team of non-video storytellers; Angel and Tim from the Boldly Went podcast are off the top turnbuckle and slamming down into R2AK with the voice of the racers themselves. Imagine that: the recorded voice—the promise of the 1870's, today!
You'll hear typing noises coming from the word factory again, but for now go ahead and give your eyes a break. Decant the cognac, tie the sash on your smoking jacket, and settle in fireside.
Or, if you're taking leave from the manor and find yourself at work, throw in the earbuds, open a random spreadsheet, and mouth the words, "I'm on a conference call" to anyone who tries to interrupt. Boldly Went has got the goods and you don't want Brenda from HR to be the reason you miss it.
In this edition, Angel and Tim boldly go and ask R2AK racers the question: "Why Race to Alaska in the first place?" Honestly, we're a little nervous to hear the answer.
Race details – Team list – Tracker – Results – Facebook – Instagram
For the second year in a row, a monohull has taken line honors. Here's the history:
2015 – 5 days 1 hour 55 min – Elsie Piddock
2016 – 3 days 20 hour 13 minutes – Mad Dog
2017 – 4 days 3 hour 5 minutes – Freeburd
2018 – 6 days 13 hour 17 minutes – First Federal's Sail Like a Girl
2019 – 4 days 3 hours 56 minutes – Angry Beaver – Sailing Skiff Foundation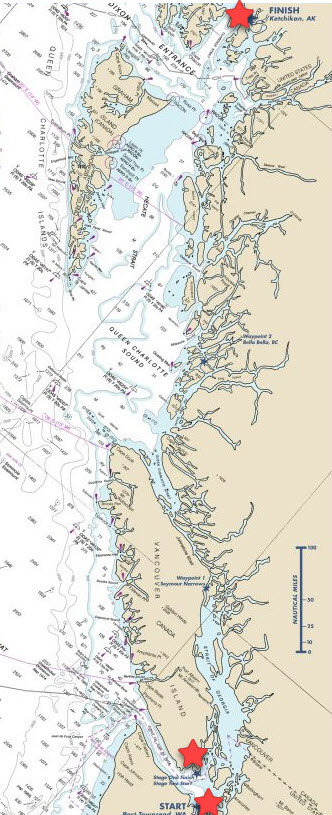 Background:
Race to Alaska, now in its 5th year, follows the same rules which launched this madness. No motor, no support, through wild frontier, navigating by sail or peddle/paddle (but at some point both) the 750 cold water miles from Port Townsend, Washington to Ketchikan, Alaska.
To save people from themselves, and possibly fulfill event insurance coverage requirements, the distance is divided into two stages. Anyone that completes the 40-mile crossing from Port Townsend to Victoria, BC can pass Go and proceed. Those that fail Stage 1 go to R2AK Jail. Their race is done.
Stage 1 Race start: 0500 June 3rd, Port Townsend, Washington
Stage 2 Race start: 1200 June 6th, Victoria, BC
There is $10,000 if you finish first, a set of steak knives if you're second. Cathartic elation if you can simply complete the course. R2AK is a self-supported race with no supply drops and no safety net. Any boat without an engine can enter.
Last year 37 teams were accepted and 21 finished.
Source: Race to Alaska