News
2020 Race to Alaska is cancelled
Published on April 24th, 2020
The sixth edition of the Race to Alaska, a 750-mile adventure race from Port Townsend, Washington to Ketchikan, Alaska, has been rescheduled from 2020 to 2021 due to the COVID-19 pandemic. Here's the update from Race Boss Daniel Evans:
---
Beyond the barrage of fan/hate mail for putting off the decision until now, we've been working behind the scenes, weighing ethical and practical issues and holding hope in a chaotic environment. These days, finding answers is like reading tea leaves while skydiving.
Foregoing the near impossibility of getting leaves to stay in the bottom of a cup, when we did, we were left with answers like, "bird, Aries, purification, wheel"—oddly on par for this virus. In the end, we switched back to coffee and chose to answer the same questions we ask of racers when racing:
• Can we do this? Yes or No.
• Is it worth the risk? Yes or No.
• Can we survive this? Yes or No.
If you haven't guessed, you need a triple affirmative before pushing away from your last success. The first error leading to any great debacle is often a simple decision compounding into a chain of errors leading to a free-fall, tea-leaf dive reading, "spiral, anchor, knots, stop." (Which is apparently bad.)
Race heroics are often race jeopardy, and we refuse to gamble with others' lives without their consent. We could race; there is a route around all the closures, but, like driving with your feet, could isn't should, and it's not worth the risk for racers or communities along the way.
Out of all the scenarios, pandemic was not a culprit calculated to close our races. It's the correct and painful decision whose wake leaves us formulating our next steps. Dates are already set for next year (June 4, 2021) and barring, I don't know, gigantic dinosaur extinguishing comets, we will be on the water in 2021 taking pictures like tourists and high-fiving finishers. We hope to see you all there, and stay tuned for next steps.
In the meantime, we still plan on honoring the humans who registered for 2020 and delighting/angering our fans by completing R2AK bios. Sure, there's no race, but you are still awesome, and people should know about you. We're also working on some other content to keep ourselves busy and the Race nation remotely together.
It's an ironic/dated phrase at this point, but we'll be in touch.
Race details – 2019 Results – Facebook – Instagram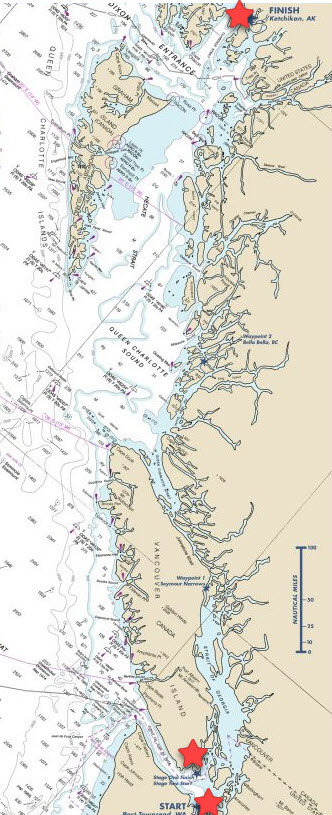 What was to be in 2020:
Race to Alaska, now in its 6th year, follows the same general rules which launched this madness. No motor, no support, through wild frontier, navigating by sail or peddle/paddle (but at some point both) the 750 cold water miles from Port Townsend, Washington to Ketchikan, Alaska.
To save people from themselves, and possibly fulfill event insurance coverage requirements, the distance is divided into two stages. Anyone that completes the 40-mile crossing from Port Townsend to Victoria, BC can pass Go and proceed. Those that fail Stage 1 go to R2AK Jail. Their race is done. Here is the 2020 plan:
Stage 1 Race start: June 8 – Port Townsend, Washington
Stage 2 Race start: June 11 – Victoria, BC
There is $10,000 if you finish first, a set of steak knives if you're second. Cathartic elation if you can simply complete the course. R2AK is a self-supported race with no supply drops and no safety net. Any boat without an engine can enter.
In 2019, there were 48 starters for Stage 1 and 37 finishers. Of those finishers, 35 took on Stage 2 of which 10 were tagged as DNF.
Source: Race to Alaska