Dock Talk
Record fleet for 2020-2021 Vendee Globe
Published on September 4th, 2020
A new record sized fleet will compete in the 2020 edition of the Vendée Globe as 33 competitors are now registered to be on the start line off Les Sables d'Olonne on November 8. The strong entry underlines the continued growing interest in the solo, non-stop round the world race.
The field sees a notable return of women skippers as a record six female solo racers are set to take the line, while there is an almost equal balance between first time rookies and skippers returning for another crack at the ultimate solo ocean racing challenge.
Utilizing the 60-foot IMOCA boats, September 1st was the deadline by which time contenders had to have completed their application files, fulfilling the administrative and medical formalities, and to have completed validated a qualification course.
Entrants have until October 15 to provide a valid, up to date IMOCA class measurement certificate, with this additional time to allow teams to work on their late modifications before finally setting up the configuration of the boat for the race.
A few competitors validated their qualification by finishing the Vendée – Arctique – Les Sables d'Olonne race, so completing their required solo course. Isabelle Joschke (MACSF) and Kojiro Shiraishi (DMG Mori) did this when they crossed the finish line near the legendary Nouch Sud buoy.
They were joined by Clément Giraud who, following his participation in the Vendée Arctic Les Sables d'Olonne, will be able to participate in the Vendée Globe on Erik Nigon's boat as he was unable to raise the necessary funds to be at the start.
Nicolas Troussel (Corum L'Épargne) and Louis Burton (Bureau Vallée 2), two sailors who already have the Transat Jacques Vabre to their credit, qualified with their own Race Direction approved 2000 miles solo course, as did Didac Costa (One Planet One Ocean) recently from his native Catalonia.
Penalized by the breakage of one of his foils in the early hours of the Vendée – Arctique – Les Sables d'Olonne race, Sébastien Simon (Arkéa-Paprec) was able to rely on a replacement route (2,000 miles) to complete his required qualifying miles as a debuting skipper with a new build boat.
Likewise, Armel Tripon (L'Occitane en Provence), who suffered a damage in July, completed his registration file by making a clean passage also on a substitution course.
Sébastien Destremau (Merci) had to complete a solo qualifying course of 2,000 miles, and he had done most of a required passage when a broken spreader base forced him to retire. As a common sense dispensation, the race director suggested that he complete an additional 1,000-mile course before September 15. Destremau, who holds dual French and Australian nationalities, and who completed the Vendée Globe 2016-2017, fulfilled his deal with the race direction on September 3, and so he is 33rd and last registered in this Vendée Globe 2020.
Participation history:
1989-90: 13 boats at the start
1992-93: 15 boats
1996-97: 15 boats
2000-01: 24 boats
2004-05: 20 boats
2008-2009: 30 boats
2012-2013: 20 boats
2016-2017: 29 boats
2020-2021: 33 boats
Sailors registered on the 1st of September:
Fabrice AMEDEO : NEWREST – ART & FENÊTRES
Romain ATTANASIO : PURE – BEST WESTERN
Alexia BARRIER : 4MYPLANET
Yannick BESTAVEN : MAÎTRE COQ IV
Jérémie BEYOU : CHARAL
Arnaud BOISSIÈRES : LA MIE CÂLINE – ARTISANS PÔLE
Louis BURTON : BUREAU VALLEE 2
Didac COSTA : ONE PLANET ONE OCEAN
Manuel COUSIN : GROUPE SETIN
Clarisse CREMER : BANQUE POPULAIRE X
Charlie DALIN : APIVIA
Samantha DAVIES : INITIATIVES-CŒUR
Sébastien DESTREMAU : MERCI
Benjamin DUTREUX : OMIA – WATER FAMILY
Kevin ESCOFFIER : PRB
Clément GIRAUD :
Pip HARE : MEDALLIA
Boris HERRMANN : SEA EXPLORER – YACHT CLUB DE MONACO
Ari HUUSELA : STARK
Isabelle JOSCHKE : MACSF
Jean LE CAM : YES WE CAM !
Stéphane LE DIRAISON : TIME FOR OCEANS
Miranda MERRON : CAMPAGNE DE FRANCE
Giancarlo PEDOTE : PRYSMIAN GROUP
Alan ROURA : LA FABRIQUE
Thomas RUYANT : LINKEDOUT
Damien SEGUIN : GROUPE APICIL
Kojiro SHIRAISHI : DMG MORI
Sébastien SIMON : ARKEA – PAPREC
Maxime SOREL : V and B – MAYENNE
Alex THOMSON : HUGO BOSS
Armel TRIPON : L'OCCITANE EN PROVENCE
Nicolas TROUSSEL : CORUM L'EPARGNE
---
The Vendée Globe is the only sailing race round the world that's solo, non-stop, and without assistance, and it is all systems go for the 9th edition on November 8, 2020. Beginning in 1989 with 13 entries, the start line on November 8th may see up to 35 skippers set off from Les Sables d'Olonne, France.
The development of the IMOCA Class toward foiling will see these boats hurl themselves around the world, teetering on carbon skates through inhospitable regions, chasing the record set in 2016-17 by Armel le Cléac'h of 74:03:35:46.
Race details – Skippers – Facebook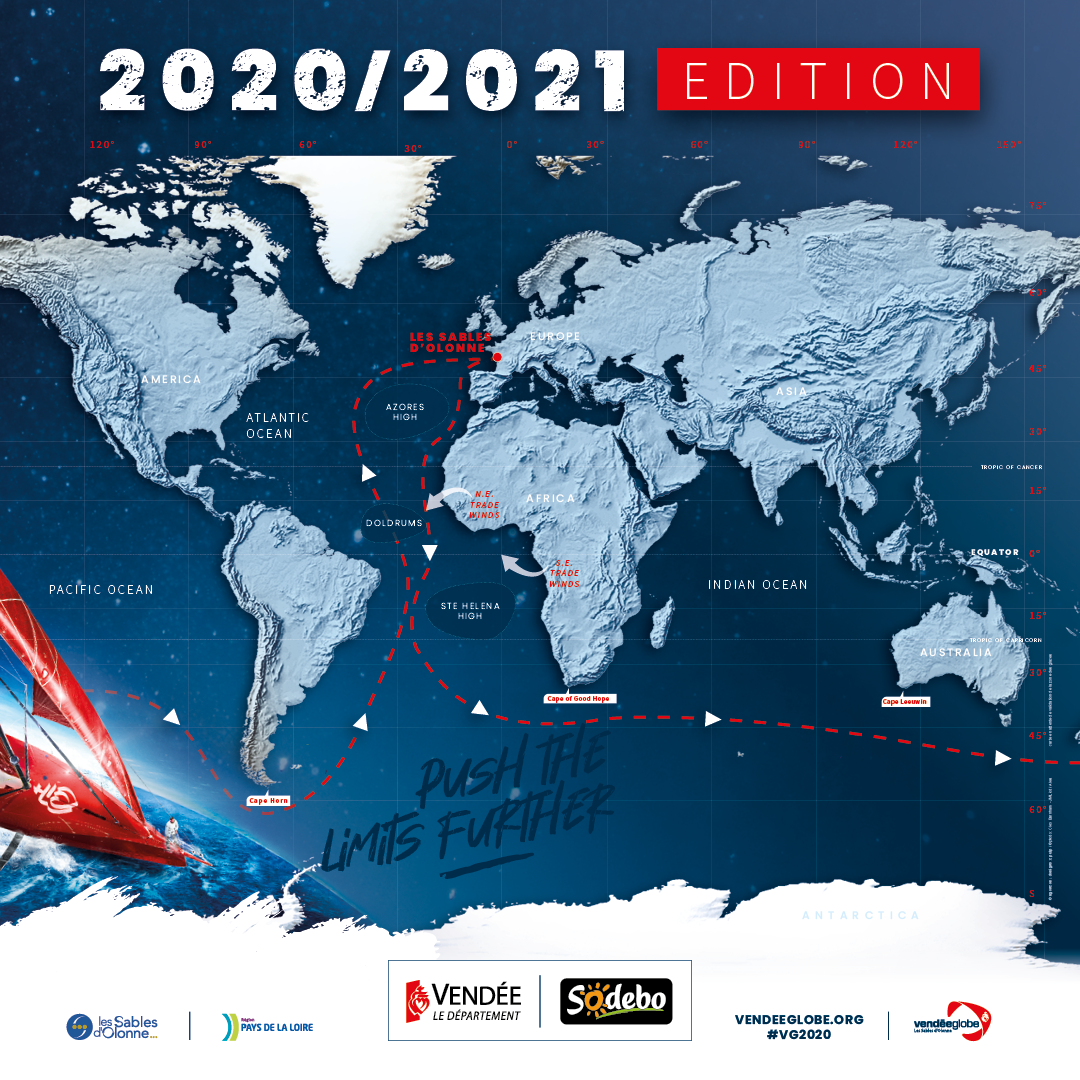 Source: Vendee Globe