Feature
Will Alex Thomson end French streak?
Published on September 8th, 2020
Starting the Vendée Globe for his fifth time, Britain's Alex Thomson has built a global following through his stunts and failures, but now he wants victory too. He has been successively third and then second in the solo, non-stop round the world race, and has returned with a stunning new IMOCA 60 that could top the 33-boat fleet.
Held every four years, the French have won them all, with the 9th edition to start November 8. Will Thomson break the winning streak? Let's meet the skipper…
---
General info
• Date of birth: 18th April 1974
• Place of birth: Bangor (Wales)
• Home town: Gosport (Hampshire, England)
Early sailing?
Your first sailing trip: where, when, circumstances?
I started sailing as a young child. Back then it was not something that would pay the bills so I had to have other jobs. But sailing was always my passion. We always lived close to the water and that's where I was happiest.
How and why did you decide you wanted to be involved in ocean racing?
In 1998 I had the opportunity to compete in the Clipper Round the World race, which is where it all changed for me. It was at that point that I realised I could actually make a career out of sailing and I decided to turn professional. Now I'm fortunate enough to be able to do the thing I love the most, for a living.
At what point exactly did this become the main focus for you in terms of a career?
When I did the Clipper Race, I told myself 'If I win this race, I'll become a professional sailor. If I don't, I'll do something else'. And we won! So that really gave me the confidence to focus all my energy on sailing as a career.

Which result or experience are you most proud of?
There have been a lot of highlights but finishing second in the 2016-17 Vendée Globe is probably the one that stands out. The Vendée Globe is more than just 70+ days at sea; it's four years of planning and preparation, not just by me but by our whole team and all of our partners. To finish that race in second place, fighting all the way to the finish line, despite breaking the foil, is something that I'm very proud of.
What do you see as your main quality?
Resilience. As a team, we have bounced back from some huge knockbacks and returned stronger. I believe that it's when you face your biggest challenges that you find your greatest strength.
And your biggest shortcoming?
I can be a very emotional person. I wear my heart on my sleeve so I have to work hard to manage those emotions when I race.
If you were an animal, what would you be?
An albatross. Free to fly, always close to the water and regularly found in the Southern Ocean!
If you were a film…?
People often say that The KeelWalk, The MastWalk, and The Skywalk are like scenes from a James Bond movie…thanks to BOSS, I certainly have the suit!
What is your favorite color?
Black. We were the first team in the IMOCA class to unveil a black boat. But of course, I'm also now a big fan of pink too!
What do you dream of that would make you happiest?
I have come to learn that success does not necessarily lead to happiness. So while winning the Vendée Globe is my greatest ambition, I believe it's the things that are most important to us in life that really lead to happiness, like spending time with my family and seeing my children grow.
Who is your biggest hero?
Sir Robin Knox Johnston is a hero of mine and has been a great mentor to me. To complete a solo, non-stop circumnavigation back when there were no satellite communications and the skipper had no way of communicating with the rest of the world, let alone their loved ones, is quite remarkable to consider. Sir Robin's achievements have inspired so many and he has continued to have an enormous impact on the world of sailing. I certainly would not be where I was today if it were not for him.
Your favorite saying?
To finish first, first you have to finish.
If you were not an ocean racer, what would you be?
I would have loved to be a helicopter pilot but unfortunately my eyesight is not strong enough.
What are your ambitions in the 2020 Vendée Globe?
To win. For our team, that can be the only goal. After finishing third and second in the past two editions of the race, a win is the only result that will satisfy us.
What could stop you achieving that goal apart from damage to your boat?
I believe one of the biggest challenges in this race is self-management – managing yourself and knowing when to push forwards and when you need to allow yourself to eat or to rest. That is a challenge you must face for 70+ days at sea. We have worked closely with our partners at Nokia Bell Labs to give me a better understanding of my sleep, movement, activity and stress levels when I race. Having access to that real-time data should certainly help me to better understand and manage my own performance.
Your secret weapon?
Experience. Our team brings an enormous amount of experience to this race. We've faced many challenges and setbacks, and so I feel confident in our ability to always find a way past those. When I take to the start line, I certainly take some confidence in the fact that I have been there before and I understand this race.
What would you consider to be a successful Vendée Globe ​for you?
Winning.
Describe the Vendée Globe for you in three words.
Relentless. Brutal. All-consuming.
Three stand out images you have of the Vendée Globe.
• Setting off from Les Sables d'Olonne in 2004 – Nothing could have prepared me for what it would feel like to go down the canal and see and hear the thousands of fans waving the skippers off. It was an incredibly emotional experience and one that I'll never forget.
• My first podium in 2013 – It felt as though all the hard work had paid off, and I think in some ways that was a turning point when we became considered serious contenders in this race.
• Crossing the finish line in 2017 – Although it was bitter sweet because we'd come so close to winning, it was an amazing feeling to bring the boat back to Les Sables d'Olonne, and to see my family, my team and so many thousands of people waiting.
Which skipper inspires you?
Sir Robin Knox Johnston. He is a hero and a great inspiration of mine. It is incredible to consider sailing around the world back then, with no communication with the outside world and none of the technologies that we are fortunate to have at our disposal today.
You would not set off around the world without your…
Photographs of my family.
---
The Vendée Globe is the only sailing race round the world that's solo, non-stop, and without assistance, and it is all systems go for the 9th edition on November 8, 2020. Beginning in 1989 with 13 entries, the start line on November 8th may see up to 35 skippers set off from Les Sables d'Olonne, France.
The development of the IMOCA Class toward foiling will see these boats hurl themselves around the world, teetering on carbon skates through inhospitable regions, chasing the record set in 2016-17 by Armel le Cléac'h of 74:03:35:46.
Race details – Skippers – Facebook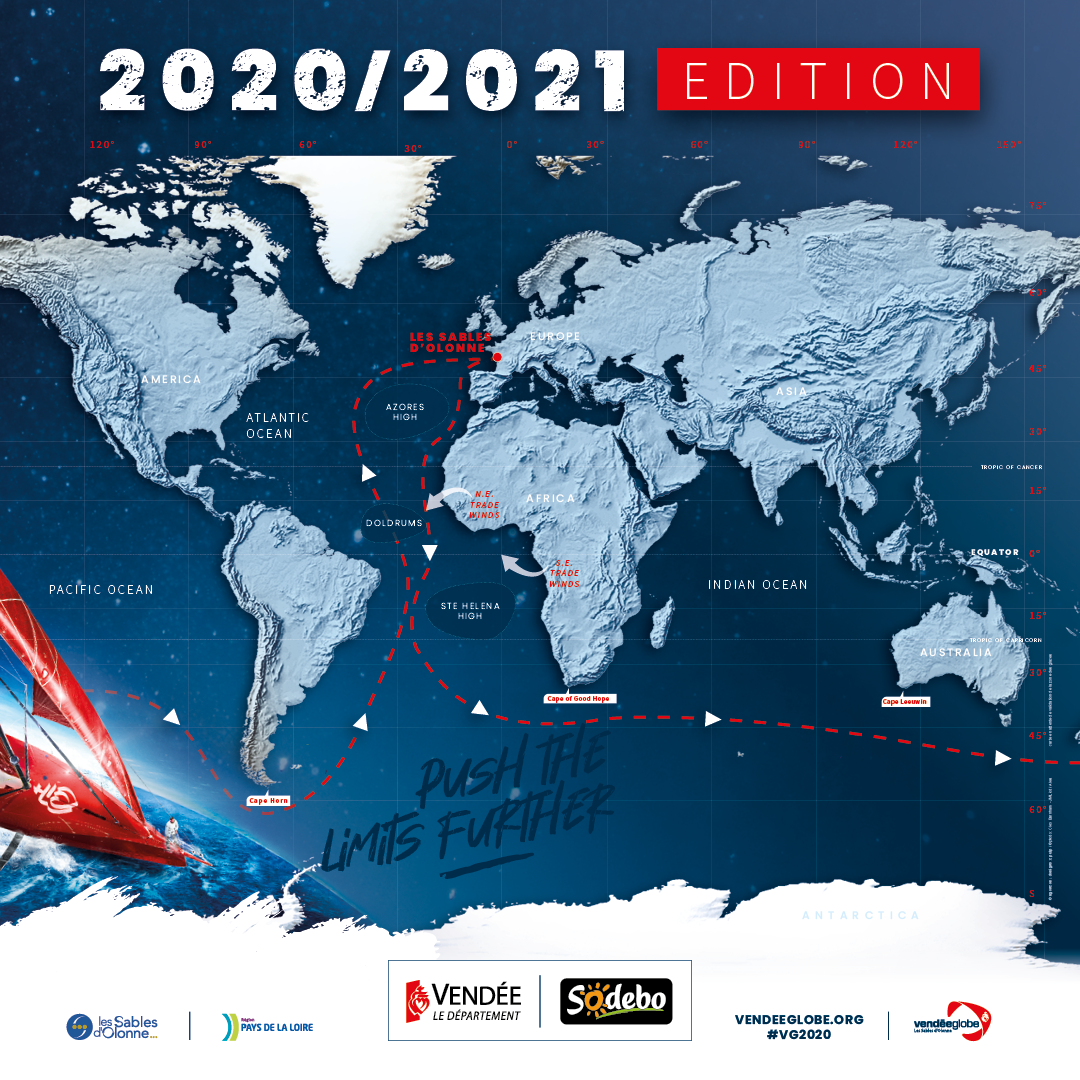 Source: Vendee Globe