Feature
Vendée Globe: Fulfilling the dream
Published on October 21st, 2020
In the latest of a series of preview articles in the lead-up to the solo, non-stop Vendée Globe start on November 8, Ed Gorman talks to Kojiro Shiraishi about his dream of being the first Asian skipper to complete the Vendée Globe.
---
I asked Kojiro Shiraishi what his biggest fear is, as a solo sailor setting out to take on the world alone in the Vendée Globe, and he gave me an answer that I was not expecting – one that indicates the mental strength required of a true single-hander.
"I don't have any fears," he said. "Fear is something your mind creates. I have dismasted during my last Vendée Globe but this is not something I fear. It was just bad luck. I have a strong boat now and I am sure it can be strong enough for this circumnavigation."
Fired with that sort of positive thinking, Shiraishi is aiming to become the first Japanese sailor and the first Asian skipper to complete the Vendée Globe when he sets sail on November, 8 on board DMG MORI, a sistership of Jérémie Beyou's Charal, fitted with Mark 1 foils.
The 53-year-old from Kamakura, a coastal town south of Tokyo who has already sailed around the world on his own three times, is focused on completing the course. "Finishing the Vendée Globe is a great achievement," he explained. "It has been my dream since four years ago when I had to retire from the race and divert to South Africa on board Spirit of Yukoh.
"If I can enjoy myself and enjoy the greatness of the earth during this circumnavigation, that would be a bonus," he added. "But the biggest achievement will be to finish and show everyone who is following me that I can be the first Asian skipper to finish this race."
Sailing is not a major sport in Japan but Shiraishi has attracted interest from young Japanese sailors – some of whom have joined him on board DMG MORI to gain experience of IMOCA sailing – and he works hard to promote the sport in his home country. He says there will be Japanese media covering his departure from Les Sables d'Olonne.

"For this Vendée Globe, there will be two Japanese TV stations that will be broadcasting the race," he explained. "I will do many live interviews and I will try to show the Japanese people how great this race is. I just want to make everyone around me happy through what I am doing. This is my life goal."
Shiraishi took part in the Vendée-Arctique-Les Sables D'Olonne Race in July and was pleased with his 10th position, finishing six hours behind winner Beyou. But he says he has discovered that a new boat – his was launched in 2019 – needs three or four years of testing and proving before it is ready for a race like the Vendée Globe.
"I need to do the best with what I have – that is what I learned from the Vendée-Arctique Race," he said. Since then the boat has had some structural strengthening work, like so many other foilers in the fleet, and Shiraishi has also improved some of the energy systems on board.
"It was a tough race because I felt I repaired things more than I sailed," he said. "So given the context, I think I sailed fine. It was a hard-earned qualification for the Vendée Globe, but it felt great finishing the first race for this boat."
Shiraishi knows the ocean and his abilities as a sailor and says he also discovered during the Vendée-Arctique that if he makes mistakes he is likely to pay a big price for them. "I learned that there are human errors but the ocean doesn't forgive you the errors that you make. The ocean is strong and powerful, so nothing is forgiven," he said.
The pandemic has affected Shiraishi's preparation like everyone else's. A particular sadness for him is that many of his friends and supporters from Japan would normally have come to see him off, but only a handful will now be there. He is hoping that that situation might have improved by the finish and that he will be welcomed at the end by those who couldn't be there at the start.
He acknowledges that keeping the race on track has not been easy for the organizers and is keen to express his gratitude to those who are working to make it happen. "I want to thank everyone from the Vendée Globe and IMOCA and everyone else involved who are making this race possible," he said. "I am sure there are hard decisions to make and I am glad this race is happening."
Shiraishi also says he has loved the reception he has received in France during his preparations. "There are very few skippers from Asia that come to do the Vendée Globe and if another one comes along someday, I ask everyone – skippers or fans – to welcome them like they did me. I have been welcomed so well here in France and I thank everyone who did so," he said.
---
Race details – Skippers – Facebook
The Vendée Globe is the only sailing race round the world that's solo, non-stop, and without assistance, and it is all systems go for the 9th edition on November 8, 2020. Beginning in 1989 with 13 entries, the start line this year has 33 skippers set to take off from Les Sables d'Olonne, France.
The development of the IMOCA Class toward foiling will see these boats hurl themselves around the world, teetering on carbon skates through inhospitable regions, chasing the record set in 2016-17 by Armel le Cléac'h of 74:03:35:46.
Participation history:
1989-90: 13 boats at the start
1992-93: 15 boats
1996-97: 15 boats
2000-01: 24 boats
2004-05: 20 boats
2008-2009: 30 boats
2012-2013: 20 boats
2016-2017: 29 boats
2020-2021: 33 boats
2020-21 Entries
Fabrice AMEDEO: NEWREST – ART & FENÊTRES
Romain ATTANASIO: PURE – BEST WESTERN
Alexia BARRIER: TSE – 4MYPLANET
Yannick BESTAVEN: MAÎTRE COQ IV
Jérémie BEYOU: CHARAL
Arnaud BOISSIÈRES: LA MIE CÂLINE – ARTISANS ARTIPÔLE
Louis BURTON: BUREAU VALLÉE 2
Didac COSTA: ONE PLANET ONE OCEAN
Manuel COUSIN: GROUPE SÉTIN
Clarisse CREMER: BANQUE POPULAIRE X
Charlie DALIN: APIVIA
Samantha DAVIES: INITIATIVES-CŒUR
Sébastien DESTREMAU: MERCI
Benjamin DUTREUX: OMIA – WATER FAMILY
Kevin ESCOFFIER: PRB
Clément GIRAUD: COMPAGNIE DU LIT / JILITI
Pip HARE: MEDALLIA
Boris HERRMANN: SEA EXPLORER – YACHT CLUB DE MONACO
Ari HUUSELA: STARK
Isabelle JOSCHKE: MACSF
Jean LE CAM: YES WE CAM !
Stéphane LE DIRAISON: TIME FOR OCEANS
Miranda MERRON: CAMPAGNE DE FRANCE
Giancarlo PEDOTE: PRYSMIAN GROUP
Alan ROURA: LA FABRIQUE
Thomas RUYANT: LINKEDOUT
Damien SEGUIN: GROUPE APICIL
Kojiro SHIRAISHI: DMG MORI
Sébastien SIMON: ARKEA – PAPREC
Maxime SOREL: V AND B – MAYENNE
Alex THOMSON: HUGO BOSS
Armel TRIPON: L'OCCITANE EN PROVENCE
Nicolas TROUSSEL: CORUM L'ÉPARGNE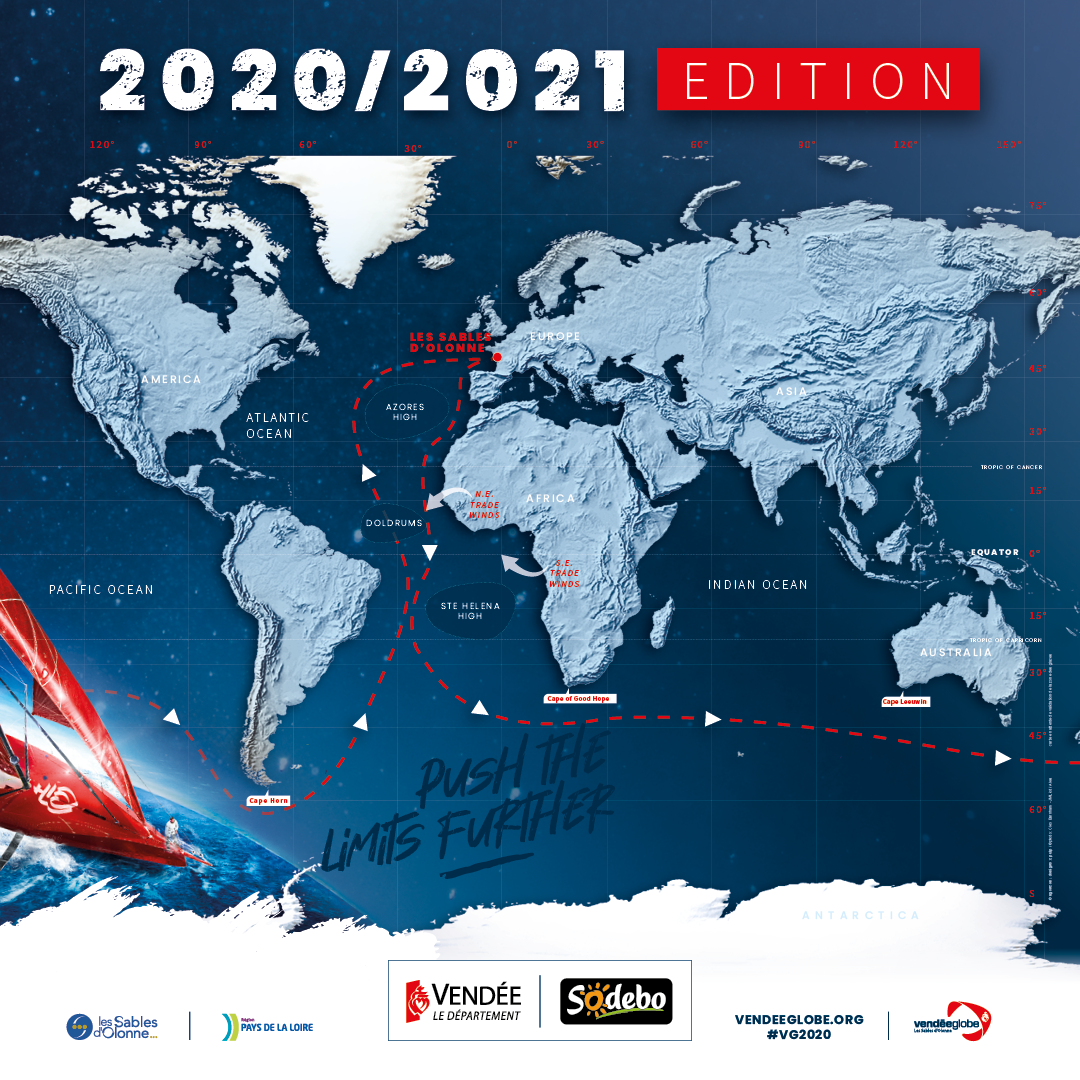 Source: IMOCA