News
Final night before Vendée Globe 2020-21
Published on November 7th, 2020
Les Sables d'Olonne, France (November 7, 2020) – When the ninth edition of the Vendée Globe solo non-stop race around the world starts tomorrow on the French Atlantic coast, the usual, huge partisan local crowds will be absent.
The global pandemic has robbed this year's record entry of 33 skippers of the usual 350,000 visitors who, every four years, flood into the smart seaside resort to bid a noisy farewell to the round the world heroes, with memorable farewell messages such as 2016's 'All you need is globe'. The strict national lockdown means the skippers' morning departures down the famous Les Sables d'Olonne channel into the open Atlantic ocean will be in relative silence.
There is much to be interested in for this edition, partly as there are no outstanding favorite to win. Eight new build, latest generation foiling IMOCA 60 footers have been launched over the last two years representing four different design studios. They reflect a wider diversity of cutting edge design ideas than ever before from a bigger range of designers. 2012's winner Francois Gabart says, "There is a 95 per cent chance the winner will be one of these."
Hydrofoils which 'fly' the 7.5 tonne yachts have grown more than twice the size of the 'chicken wing' foils which first appeared on the 2016-17 race. Consequently top speeds are up to 35 knots and daily 24 hour averages are expected to top 600 nautical miles. Estimates from the top skippers competing suggest 2016's record of 74 days 3 hours 35 minutes should be lowered below 70 days.
However, four sailors stand out having built up the sought after combination of speed and reliability, gained through thousands of training and racing miles.
As soon as he had finished third on the last race Jérémie Beyou launched a program aimed at winning in 2020-21. The VPLP designed Charal was first of the 2020 generation boats.
Already in the water in August 2018, the three times winner of La Solitaire du Figaro, 44 year old Beyou won the preliminary Vendée Arctique race in July, led the Transat Jacques Vabre race before being snared in the Doldrums and finishing third. His boat has done the comprehensive miles to maximize reliability and optimize for high average speeds.
Hotly fancied British challenger Alex Thomson came off second best to winner Armel Le Cléac'h in 2017. Thomson has put his faith in a radical VPLP designed HUGO BOSS designed purely to win the Vendée Globe. The 46 year old from Gosport has only started one race since the boat was launched in August last year, the Transat Jacques Vabre which he was forced to abandon after damaging, and ultimately cutting away the keel.
But the British skipper's program is enriched by many innovations and singular technical choices that many insiders consider should give him a winning edge, if the boat proves reliable enough and the skipper lucky enough to finish the race in good condition.
Among the key technical advances Thomson races the boat entirely from inside using a panorama of screens linked to an array of exterior cameras. His team have developed their own autopilot artificial intelligence system and they have an exclusive sail development program.
But Thomson worries that the new boats, particularly those less proven than his, may not be reliable enough:
"I think none of the teams have done as many miles as they would have liked to. None of the teams have sailed (with the new boats and newer, bigger foils) in conditions like we will see in the Southern Ocean. I worry and sense it will be a war of attrition, most certainly. We have eight new boats and a couple of them are very, very new. It is hard to see how they have prepared enough in that timescale. We believe it takes a year and it has taken us a year. It is hard to see how the ones with less miles will get around the world with less problems."
Charlie Dalin may be a first timer on the race but the 36 year old, who grew up enchanted by the ocean racing giants – men, women and their machines – who mustered every two years for the Transat Jacques Vabre on the docks of his home port of Le Havre, has a dream program with Vendée Globe winning potential.
A Southampton trained naval architect in his own right, Dalin's IMOCA Apivia is designed by a small team led by America's Cup winning architect Guillaume Verdier and the campaign is managed by 2012 winner Francois Gabart's company MerConcept.
Apivia won last year's Transat Jacques Vabre and was second in the Vendée Arctic and Dalin is the tip of Michel Desjoyeaux, the only skipper to have won the Vendée Globe twice.
"For me he is the best guy because he's the only one I know who did four consecutive podiums on La Solitaire du Figaro (ed note, annual French multi stage offshore championship). That is indicative of his very high ability. And what he has shown since the beginning he got his IMOCA up to this high level."
Normandy's 39 year old Thomas Ruyant had to retire from the last race when his boat was nearly split in two in a collision with a floating object west of New Zealand. He is back and widely fancied for the podium with a second Verdier design which has been cleverly optimized. He led at the midpoint of the Vendée Arctic race and is considered a skipper with real talent and staying power and fire in his belly stoked by the disappointment of his abandonment.
Britain's Sam Davies, fourth in 2008-2009, is the standard bearer for a record entry of six female skippers. Over the four years since the last race she has worked tirelessly to improve and optimize her 2010 launched Initiatives Coeur.
The 46 year old French based Englishwoman draws on the accumulated experience of more the 25 years of every type of ocean and offshore racing, not least leading Team SCA on the 2014-15 crewed Volvo Ocean Race round the world. Even armed with latest generation foils her boat will not match the top speeds of the newest generation but her experience and stamina will ensure she should be poised to profit if the newer boats falter.
There is strength in depth all the way through the 33 strong fleet, and more than ever – from front to back – the races within the race will be more engaging than ever. Davies has a tight group of 2012 race vintage boats to contend with including Germany's 39 year old Boris Herrmann (Seaexplorer-Yacht Club de Monaco) and 40 year old Frenchman Kevin Escoffier (PRB). It would not be a surprise to find any one of them on the podium in the middle of next January.
The skippers ages range from Switzerland's Alan Roura who races his second Vendée Globe at the age of 27 to 61 year old Jean Le Cam, back for his fifth consecutive Vendée Globe. The ages of the boats has never been greater 23 years span Alexia Barrier's 1998 launched TSE-4 MyPlanet which is starting its seventh round the world race and the latest foiling flying machines.
Nine nationalities are represented among them Britons Pip Hare, 46 years old from Poole who sails Medallia on her first race and Miranda Merron, 51, who lives in France, also competes on Campgane de France. Japan's 53 year old Kojiro Shiraishi has a cutting edge, new foiler DMG MORI and he is looking to complete a respectable race.
Barcelona fireman Didac Costa, 14th in 2017, returns at 39 years old for a second Vendée Globe on OnePlanet-OneOcean which started life as Ellen MacArthur's Kingfisher. It will be Costa's third racing circumnavigation in five years on the famous IMOCA 60 footer which will celebrate its 21st birthday in February.
Italian Giancarlo Pedote, 44, has progressed up through the classes from Mini 650 in 2013 to now take on the world's toughest solo race on Prysmian Group, his pathway mirrored by 57 year old Finnish airline pilot Ari Huusela who races STARK.
Conditions for the start off look set to be close to perfect 12-15 knots of wind from the south east should ensure flat water for a fast sprint off the start line to one passing mark seven miles from the start line.
The fleet will then reach almost due west at high speeds into the first night as the breeze heads, progressively rotating south then south west as a front arrives. It will bring strong 25 knot winds with gusts to 40 and seas of 4.5 metres.
Then at the back of the front they will be able to race south in a decent northwesterly breeze. The complex question is passing across a ridge of high pressure and light winds before a second front arrives for the leaders on the night between Tuesday and Wednesday (Nov. 10-11)
Germany's Herrmann sums up: "For sure it's a complex weather situation and we will have to throttle back a bit. It would be easy to make errors as some features are not very detailed on the files, so the thing is to see how much the fleet sticks together. But it is for sure not the classic situation you imagine for years and years, beating hard heavily west or we reach to Cape Finisterre then getting downwind, no this time it is much more upwind work. I think, yes, you can lose but there are not many easy gains and you can certainly damage your boat early on in the second front. If the leading pack sticks together I feel the race will really start in the trade winds."
All of the 33 skippers have been given a clean bill of health, passing the PCR COVID-19 tests which were taken 48 hours before the start. No positive COVID-19 tests and no cases among contacts means the 33 skippers, 27 men and 6 women, have escaped the sword of Damocles which has been hanging over their heads for some weeks.
Any skipper with a positive test would not have been allowed to start. So it is a huge relief for the solo sailors and for all involved in these projects, some of which have been operating for four years.
Yves Auvinet, President of the Vendée Globe said: "The health protocol put in place by the Organization has enabled the entire fleet to be kept safe for the start tomorrow. I would like to thank the skippers and the teams for respecting this system which was restrictive but nevertheless necessary in the current period. "
---
Race details – Skippers – Tracker – Ranking – Facebook
The Vendée Globe is the only sailing race round the world that's solo, non-stop, and without assistance, and it is all systems go for the 9th edition on November 8, 2020. Beginning in 1989 with 13 entries, the start line this year has 33 skippers set to take off from Les Sables d'Olonne, France.
The development of the IMOCA Class toward foiling will see these boats hurl themselves around the world, teetering on carbon skates through inhospitable regions, chasing the record set in 2016-17 by Armel le Cléac'h of 74:03:35:46.
Participation history:
1989-90: 13 boats at the start
1992-93: 15 boats
1996-97: 15 boats
2000-01: 24 boats
2004-05: 20 boats
2008-2009: 30 boats
2012-2013: 20 boats
2016-2017: 29 boats
2020-2021: 33 boats
2020-21 Entries
Fabrice AMEDEO: NEWREST – ART & FENÊTRES
Romain ATTANASIO: PURE – BEST WESTERN
Alexia BARRIER: TSE – 4MYPLANET
Yannick BESTAVEN: MAÎTRE COQ IV
Jérémie BEYOU: CHARAL
Arnaud BOISSIÈRES: LA MIE CÂLINE – ARTISANS ARTIPÔLE
Louis BURTON: BUREAU VALLÉE 2
Didac COSTA: ONE PLANET ONE OCEAN
Manuel COUSIN: GROUPE SÉTIN
Clarisse CREMER: BANQUE POPULAIRE X
Charlie DALIN: APIVIA
Samantha DAVIES: INITIATIVES-CŒUR
Sébastien DESTREMAU: MERCI
Benjamin DUTREUX: OMIA – WATER FAMILY
Kevin ESCOFFIER: PRB
Clément GIRAUD: COMPAGNIE DU LIT / JILITI
Pip HARE: MEDALLIA
Boris HERRMANN: SEA EXPLORER – YACHT CLUB DE MONACO
Ari HUUSELA: STARK
Isabelle JOSCHKE: MACSF
Jean LE CAM: YES WE CAM !
Stéphane LE DIRAISON: TIME FOR OCEANS
Miranda MERRON: CAMPAGNE DE FRANCE
Giancarlo PEDOTE: PRYSMIAN GROUP
Alan ROURA: LA FABRIQUE
Thomas RUYANT: LINKEDOUT
Damien SEGUIN: GROUPE APICIL
Kojiro SHIRAISHI: DMG MORI
Sébastien SIMON: ARKEA – PAPREC
Maxime SOREL: V AND B – MAYENNE
Alex THOMSON: HUGO BOSS
Armel TRIPON: L'OCCITANE EN PROVENCE
Nicolas TROUSSEL: CORUM L'ÉPARGNE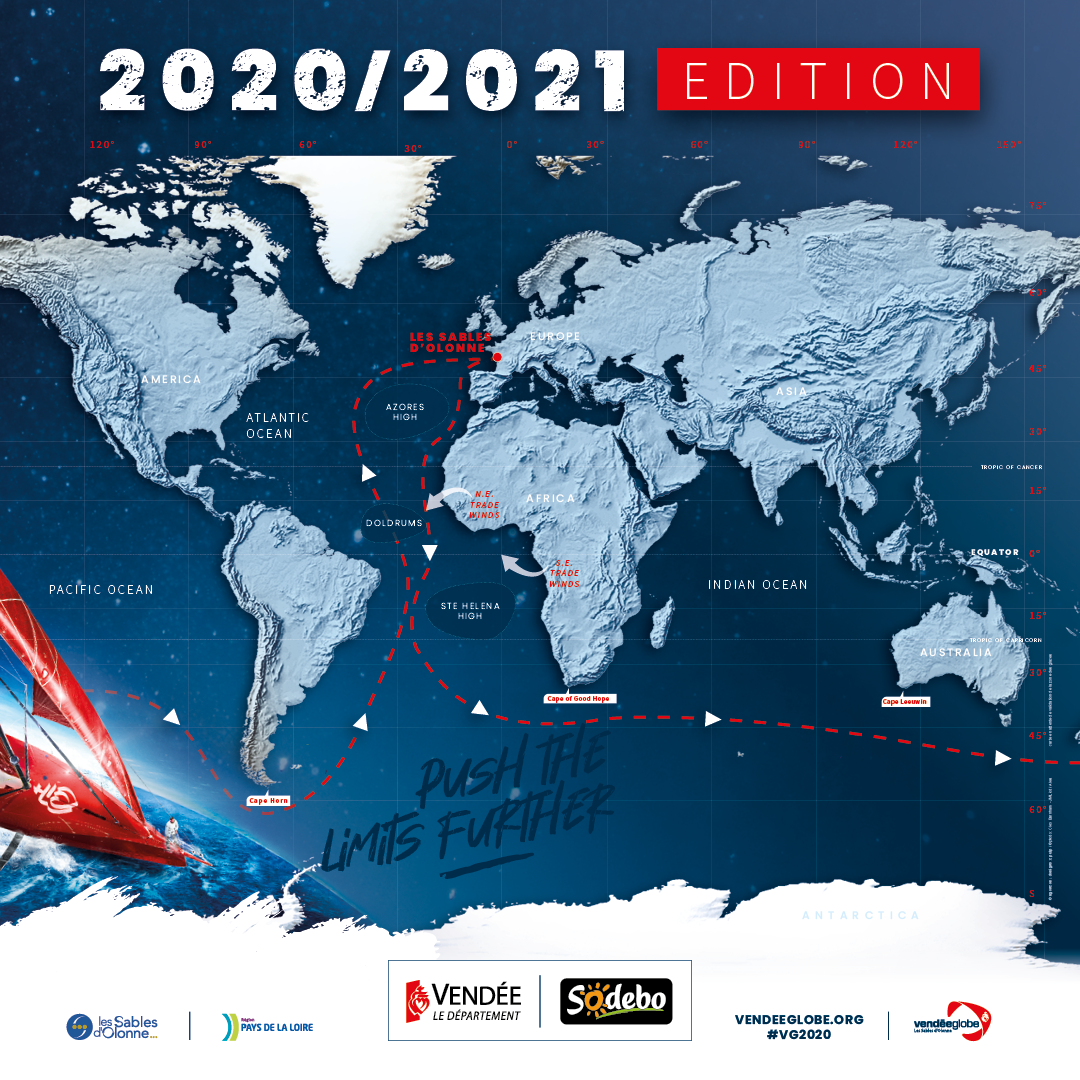 Source: Vendée Globe