Feature
Vendée Globe: Old school still good
Published on November 9th, 2020
(November 9, 2020; Day 2) – France's double Paralympic gold medalist and 2017 winner of the Tour Voile Damien Seguin leads the 33 boat Vendée Globe fleet as the early rankings favor a leading group of older generation IMOCAs as they race south westwards across the Bay of Biscay towards Cape Finisterre.
While the fastest latest generation foiling boats worked a more northwesterly route last night and in the first part of the morning, the lower route by Seguin, Maxime Sorel (V and B Mayenne) and veteran Jean Le Cam (Yes We Cam!) allowed them to gybe south inside the fleet to gain the advantage.
Seguin, who was born without a left hand, has scored successes in pretty much every different inshore and offshore discipline, including Class40, before taking on this Vendée Globe on the boat which Eric Bellion raced to ninth place last time. He has been helped in his round the world preparations by veteran Jean Le Cam, who was some seven miles behind the talented and competitive 41 year old race leader.
Nico Troussel on the Juan K designed Corum L'Épargne continues to be quickest of the fast foilers which are racing on the same angle this afternoon some 50-60 nautical miles to the west and making similar speeds in the sunshine and lighter airs in the high pressure ridge.
Troussel, a double winner of La Soltaire du Figaro, was more than seven miles ahead of Britain's Sam Davies who has been going well on her Initiatives Coeur. Neither skipper seemed to have suffered the first night niggles – small technical problems – which cost miles.
Both Jérémie Beyou (Charal) and Alex Thomson (HUGO BOSS) snagged fishing gear on their various appendages. The British skipper had a night-time battle with his J3 headsail when a sheet detached. Thomas Ruyant (LinkedOut) reported he lost 15 miles when a sail unfurled.

Cape Finisterre on the north west tip of Spain looks set to lure the leaders of the Vendée Globe into a very light and unsettled wind zone. Routings tonight certainly seem to bring the top daggerboard boats inside the TSS Traffic Separation Zone on this notorious corner.
But a lot will depend on how and when the new SW'ly breeze arrives which will allow them to tack west and start to set up for the front which will come through tomorrow night.
There is certainly a sense that skippers, especially of the newer foilers, will dial down their routing to avoid the worst of the seas as much as possible in order to live on at close to 100% to fight harder further down the course.
Indeed there are no trade winds right now, just a series of messy lows and head scratching transition zones on what has been a pretty atypical Vendée Globe opening.
Weather expert Christian Dumard expects gusts in excess of 40 knots are forecast with cross seas and waves building to 5 metres for tomorrow night. "The whole fleet will be changing tack to head towards the SW in the NW'ly air stream ahead of the ridge of high pressure. Winds will become lighter as they advance towards Spain.
"For the leaders, it is going to be important to find their way south without getting becalmed in these calmer conditions. The precise moment at which they change tack will be crucial. There is therefore the choice now of diving south with a higher risk of getting stuck in light airs off Spain, along with the disadvantage of reaching the front after those further west, but on the other hand, conditions will be quieter by then.
"Those who decide to go further west are less likely to be caught in the light airs, but face a more violent front with the risk that entails for their gear. No doubt, they will all be seeking out their own personal compromise between the fastest route, no doubt be tougher on the boat and the skipper and a trajectory to the south, which is likely to be kinder to both."
Damage at the top of his mast added more frustration for Fabrice Amedeo who is expected to return to the race course tomorrow morning after making a U turn and arriving back at the race dock in Les Sables d'Olonne on this morning's 0700hrs tide. A fast pitstop has not been possible after effecting the replacement of a gennaker hook (lock) after additional problems surfaced.
Ranking – 21:00 (GMT)
1. Damien SEGUIN, GROUPE APICI L – 23,988.6 nm DTF
2. Nicolas TROUSSEL, CORUM L'EPARGNE – 4 nm DTL
3. Jean LE CAM, Yes We Cam! – 6.44 nm DTL
4. Jérémie BEYOU, CHARAL – 6.99 nm DTL
5. Maxime SOREL, V and B-MAYENNE – 8.09 nm DTL
DTF – Distance to Finish; DTF – Distance to Lead
Race details – Boat types – Tracker – Ranking – YouTube
The Vendée Globe is the only sailing race round the world that's solo, non-stop, and without assistance, and it is all systems go for the 9th edition on November 8, 2020. Beginning in 1989 with 13 entries, the start line this year has 33 skippers set to take off from Les Sables d'Olonne, France.
The development of the IMOCA Class toward foiling will see these boats hurl themselves around the world, teetering on carbon skates through inhospitable regions, chasing the record set in 2016-17 by Armel le Cléac'h of 74:03:35:46.
Participation history:
1989-90: 13 boats at the start
1992-93: 15 boats
1996-97: 15 boats
2000-01: 24 boats
2004-05: 20 boats
2008-2009: 30 boats
2012-2013: 20 boats
2016-2017: 29 boats
2020-2021: 33 boats
2020-21 Entries
Fabrice AMEDEO: NEWREST – ART & FENÊTRES
Romain ATTANASIO: PURE – BEST WESTERN
Alexia BARRIER: TSE – 4MYPLANET
Yannick BESTAVEN: MAÎTRE COQ IV
Jérémie BEYOU: CHARAL
Arnaud BOISSIÈRES: LA MIE CÂLINE – ARTISANS ARTIPÔLE
Louis BURTON: BUREAU VALLÉE 2
Didac COSTA: ONE PLANET ONE OCEAN
Manuel COUSIN: GROUPE SÉTIN
Clarisse CREMER: BANQUE POPULAIRE X
Charlie DALIN: APIVIA
Samantha DAVIES: INITIATIVES-CŒUR
Sébastien DESTREMAU: MERCI
Benjamin DUTREUX: OMIA – WATER FAMILY
Kevin ESCOFFIER: PRB
Clément GIRAUD: COMPAGNIE DU LIT / JILITI
Pip HARE: MEDALLIA
Boris HERRMANN: SEA EXPLORER – YACHT CLUB DE MONACO
Ari HUUSELA: STARK
Isabelle JOSCHKE: MACSF
Jean LE CAM: YES WE CAM !
Stéphane LE DIRAISON: TIME FOR OCEANS
Miranda MERRON: CAMPAGNE DE FRANCE
Giancarlo PEDOTE: PRYSMIAN GROUP
Alan ROURA: LA FABRIQUE
Thomas RUYANT: LINKEDOUT
Damien SEGUIN: GROUPE APICIL
Kojiro SHIRAISHI: DMG MORI
Sébastien SIMON: ARKEA – PAPREC
Maxime SOREL: V AND B – MAYENNE
Alex THOMSON: HUGO BOSS
Armel TRIPON: L'OCCITANE EN PROVENCE
Nicolas TROUSSEL: CORUM L'ÉPARGNE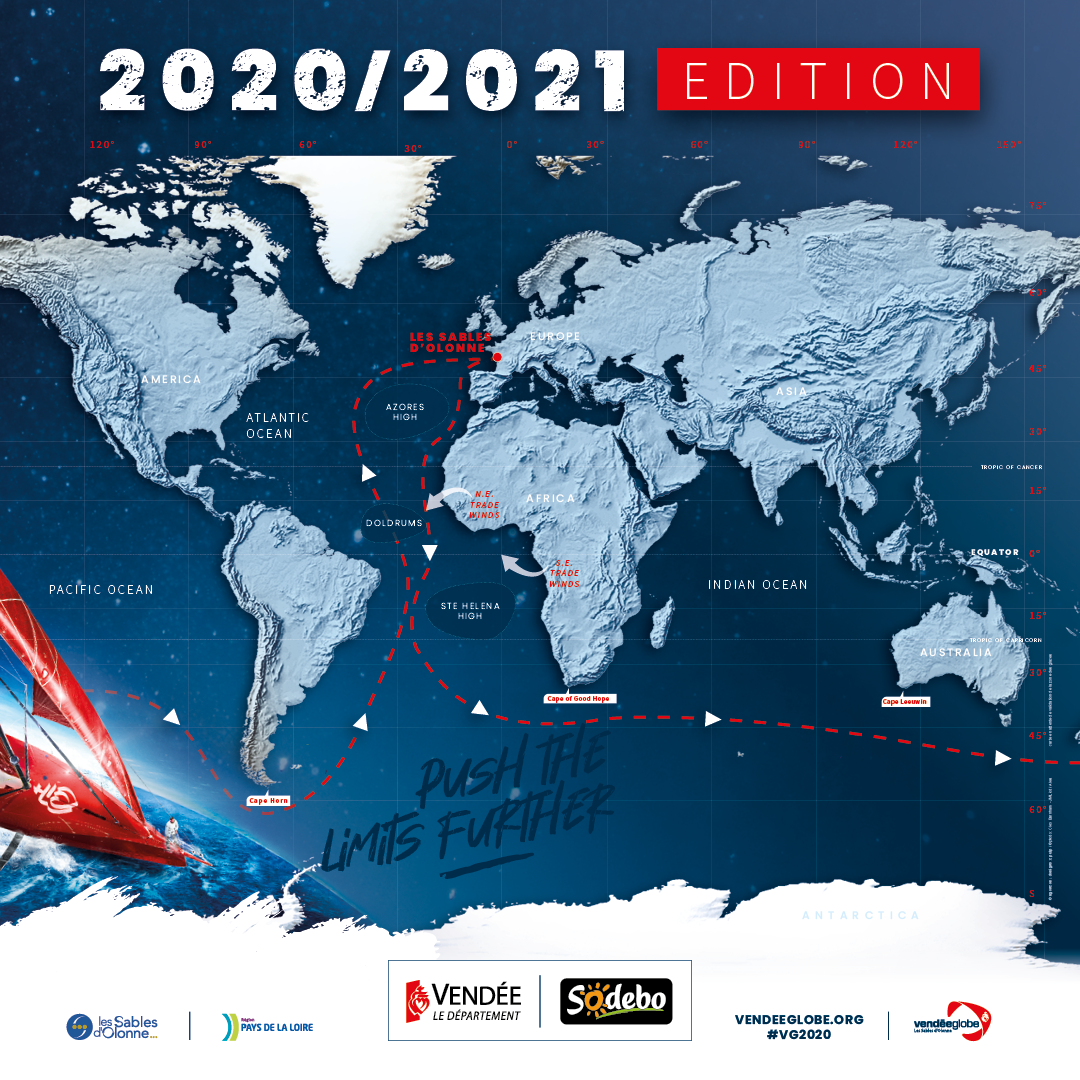 Source: Vendée Globe