Feature
Vendée Globe: Standby for the shift
Published on November 10th, 2020
(November 10, 2020; Day 3) – Heading west this afternoon and encountering building southerly winds, Vendée Globe skippers of the faster foiling IMOCAs are preparing themselves for an overnight pounding, set to last five or six hours, when they punch through an active weather front which is forecast to bring them 40 knot gusts and big seas.
For now, it is the older daggerboard boats that top the ranking, choosing a course closer to the wind that took them inside the Cape Finisterre TSS (Traffic Separation Scheme no go area). While their southerly progress looks good on the scoreboard today, there is a long game at play for the foilers.
With stronger winds offshore to the west, the foilers are eased more for speed, and as long as they can endure the worst of the conditions tonight, by morning they should be able to turn south in the NW'ly wind and make faster miles down the track.
Nothing comes easily on the Vendée Globe and after breaking across a ridge of high pressure the next big question for this group especially will be dealing with Theta, a tropical storm which crosses their path between November 12 and 13.
Routings today show a possible timing which would allow these quickest boats to pass the west side of it in the NW'ly wind but this system is evolving rapidly and being caught in its path is worth avoiding.
After that the tradewinds are still not established and current timings to the equator are some three days behind the record of 9 days 7 hours set by Alex Thomson who led the 2016 race across into the south Atlantic.

"You have to be wise. This is not where the Vendée Globe is won, but this is where it can get lost," says Damien Seguin. The Paralympic champion was speaking after diving to free a fishing net which was caught on the keel of his boat.
"I know that taking the southern option would maybe position me well for the short term and the gain is still there and it is a nice surprise to still be doing well close to the Galician coastline," noted Seguin. "Jean Le Cam and I crossed paths yesterday, and today again, it is great.
"We spent quite a lot of time together when preparing for the race at the boat shed and now we are here again here crossing paths. I feel fine after my dive this morning. I am dry and have had some food and a nap.
"Now I am going to tidy the boat a bit and then going to get another nap in to prepare for the storm tonight. We have had an intensive start to the race with lots of maneuvers and we have to take care. It is not here that you will win the race, but you can lose it."
Fabrice Amedeo remained in port today, having had a composite expert add an additional pad and repair the hairline crack at the top of his mast. "The plan is to leave this evening around 22:15 to rejoin the race, well to start really as we never really got going before!" said Amedeo.
Ranking – 21:00 (GMT)
1. Maxime SOREL, V and B-MAYENNE – 23794.9 nm DTF
2. Benjamin DUTREUX, OMIA – WATER FAMILY – 7.04 nm DTL
3. Jean LE CAM, Yes We Cam! – 12.18 nm DTL
4. Nicolas TROUSSEL, CORUM L'EPARGNE – 16.14 nm DTL
5. Damien SEGUIN, GROUPE APICI L – 24.53 nm DTL
DTF – Distance to Finish; DTF – Distance to Lead
Race details – Boat types – Tracker – Ranking – YouTube
The Vendée Globe is the only sailing race round the world that's solo, non-stop, and without assistance, and it is all systems go for the 9th edition on November 8, 2020. Beginning in 1989 with 13 entries, the start line this year has 33 skippers set to take off from Les Sables d'Olonne, France.
The development of the IMOCA Class toward foiling will see these boats hurl themselves around the world, teetering on carbon skates through inhospitable regions, chasing the record set in 2016-17 by Armel le Cléac'h of 74:03:35:46.
Participation history:
1989-90: 13 boats at the start
1992-93: 15 boats
1996-97: 15 boats
2000-01: 24 boats
2004-05: 20 boats
2008-2009: 30 boats
2012-2013: 20 boats
2016-2017: 29 boats
2020-2021: 33 boats
2020-21 Entries
Fabrice AMEDEO: NEWREST – ART & FENÊTRES
Romain ATTANASIO: PURE – BEST WESTERN
Alexia BARRIER: TSE – 4MYPLANET
Yannick BESTAVEN: MAÎTRE COQ IV
Jérémie BEYOU: CHARAL
Arnaud BOISSIÈRES: LA MIE CÂLINE – ARTISANS ARTIPÔLE
Louis BURTON: BUREAU VALLÉE 2
Didac COSTA: ONE PLANET ONE OCEAN
Manuel COUSIN: GROUPE SÉTIN
Clarisse CREMER: BANQUE POPULAIRE X
Charlie DALIN: APIVIA
Samantha DAVIES: INITIATIVES-CŒUR
Sébastien DESTREMAU: MERCI
Benjamin DUTREUX: OMIA – WATER FAMILY
Kevin ESCOFFIER: PRB
Clément GIRAUD: COMPAGNIE DU LIT / JILITI
Pip HARE: MEDALLIA
Boris HERRMANN: SEA EXPLORER – YACHT CLUB DE MONACO
Ari HUUSELA: STARK
Isabelle JOSCHKE: MACSF
Jean LE CAM: YES WE CAM !
Stéphane LE DIRAISON: TIME FOR OCEANS
Miranda MERRON: CAMPAGNE DE FRANCE
Giancarlo PEDOTE: PRYSMIAN GROUP
Alan ROURA: LA FABRIQUE
Thomas RUYANT: LINKEDOUT
Damien SEGUIN: GROUPE APICIL
Kojiro SHIRAISHI: DMG MORI
Sébastien SIMON: ARKEA – PAPREC
Maxime SOREL: V AND B – MAYENNE
Alex THOMSON: HUGO BOSS
Armel TRIPON: L'OCCITANE EN PROVENCE
Nicolas TROUSSEL: CORUM L'ÉPARGNE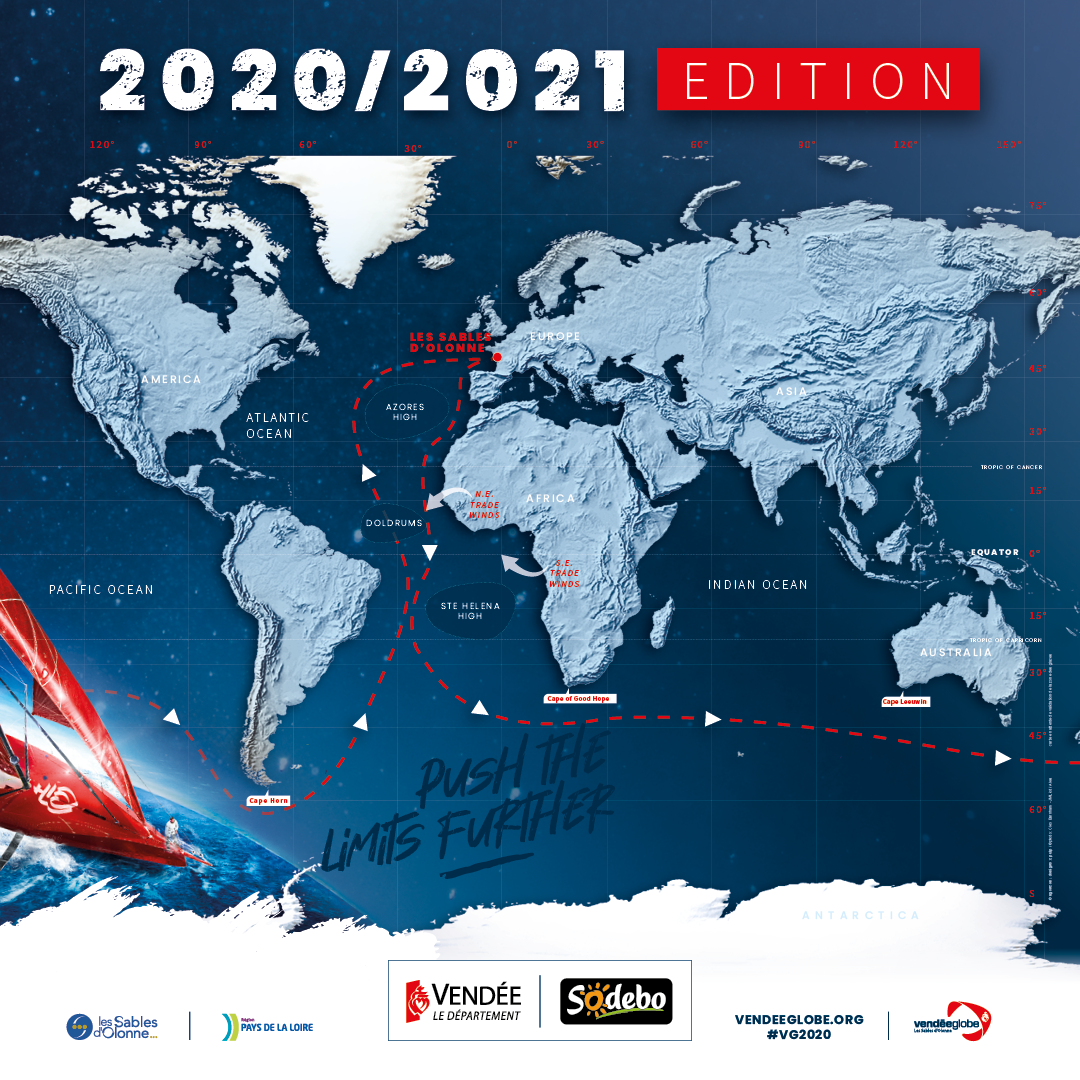 Source: Vendée Globe