Feature
Vendée Globe: Foilers begin to fly
Published on November 11th, 2020
(November 11, 2020; Day 4) – After the first big weather system of the race last night, today the Vendée Globe leaders are making good speeds on a south westerly course 450 miles offshore of the Iberian peninsula. Brutal gusts of more than 45kts and big seas proved especially challenging but seem to have caused on minor damages to the fleet.
After a split which saw the slower, daggerboard boats largely stay to the south closer to the NW corner of Spain on a more prudent option while the faster foiling boats punched west through the system, the two factions are now merging.
While it was just a matter of time before the quicker foiling boats made inroads up the rankings, that time was today as Charlie Dalin (Apivia) has taken the lead with his 2019 Verdier-designed foiler, while Alex Thomson's 2019 VPLP-design HUGO BOSS is up to second as the lead pack slides downwind at speeds between 17 and 19 knots 600 miles north east of the Azores.
Fabrice Amedeo (Newrest Art et Fenêtres) has finally overcome his early setback, completing the repair to a hairline crack at the top of his mast and was able to restart yesterday at 2315hrs local time at the Nouch bouy off Les Sables d'Olonne. However, the tough conditions on the course has sent others scrambling.
The big news was for pre-race favourite Jérémie Beyou which suffered damage and has to return 600 miles to Les Sables d'Olonne. A succession of problems yesterday including rudder damage and a broken backstay were too much to overcome, leading to the decision today to return to port to effect repairs.
The French solo racer launched his boat earliest of the newest generation of foiling IMOCA 60s and most recently won the Vendée Arctique Les Sables warm up course in June. For more details, click here.
Also dealing with adversity is Armel Tripon who this morning turned off course to take his 2020 Sam Manuard design L'Occitaine to the north Spanish coast for repair after a halyard lock hook failed and dropped his J3 to the deck suddenly causing some unspecified damage. However, he has since resumed a southerly course.
Ranking – 21:00 (GMT)
1. Charlie DALIN, APIVIA – 23617.7 nm DTF
2. Alex THOMSON, HUGO BOSS – 10.64 nm DTL
3. Kevin ESCOFFIER, PRB – 17.22 nm DTL
4. Benjamin DUTREUX, OMIA – WATER FAMILY – 18.62 nm DTL
5. Jean LE CAM, Yes We Cam! – 27.27 nm DTL
DTF – Distance to Finish; DTF – Distance to Lead
Race details – Boat types – Tracker – Ranking – YouTube
The Vendée Globe is the only sailing race round the world that's solo, non-stop, and without assistance, and it was all systems go for the 9th edition on November 8, 2020. Beginning in 1989 with 13 entries, the start line this year had 33 skippers taking off from Les Sables d'Olonne, France.
The development of the IMOCA Class toward foiling will see these boats hurl themselves around the world, teetering on carbon skates through inhospitable regions, chasing the record set in 2016-17 by Armel le Cléac'h of 74:03:35:46.
Participation history:
1989-90: 13 boats at the start
1992-93: 15 boats
1996-97: 15 boats
2000-01: 24 boats
2004-05: 20 boats
2008-2009: 30 boats
2012-2013: 20 boats
2016-2017: 29 boats
2020-2021: 33 boats
2020-21 Entries
Fabrice AMEDEO: NEWREST – ART & FENÊTRES
Romain ATTANASIO: PURE – BEST WESTERN
Alexia BARRIER: TSE – 4MYPLANET
Yannick BESTAVEN: MAÎTRE COQ IV
Jérémie BEYOU: CHARAL
Arnaud BOISSIÈRES: LA MIE CÂLINE – ARTISANS ARTIPÔLE
Louis BURTON: BUREAU VALLÉE 2
Didac COSTA: ONE PLANET ONE OCEAN
Manuel COUSIN: GROUPE SÉTIN
Clarisse CREMER: BANQUE POPULAIRE X
Charlie DALIN: APIVIA
Samantha DAVIES: INITIATIVES-CŒUR
Sébastien DESTREMAU: MERCI
Benjamin DUTREUX: OMIA – WATER FAMILY
Kevin ESCOFFIER: PRB
Clément GIRAUD: COMPAGNIE DU LIT / JILITI
Pip HARE: MEDALLIA
Boris HERRMANN: SEA EXPLORER – YACHT CLUB DE MONACO
Ari HUUSELA: STARK
Isabelle JOSCHKE: MACSF
Jean LE CAM: YES WE CAM !
Stéphane LE DIRAISON: TIME FOR OCEANS
Miranda MERRON: CAMPAGNE DE FRANCE
Giancarlo PEDOTE: PRYSMIAN GROUP
Alan ROURA: LA FABRIQUE
Thomas RUYANT: LINKEDOUT
Damien SEGUIN: GROUPE APICIL
Kojiro SHIRAISHI: DMG MORI
Sébastien SIMON: ARKEA – PAPREC
Maxime SOREL: V AND B – MAYENNE
Alex THOMSON: HUGO BOSS
Armel TRIPON: L'OCCITANE EN PROVENCE
Nicolas TROUSSEL: CORUM L'ÉPARGNE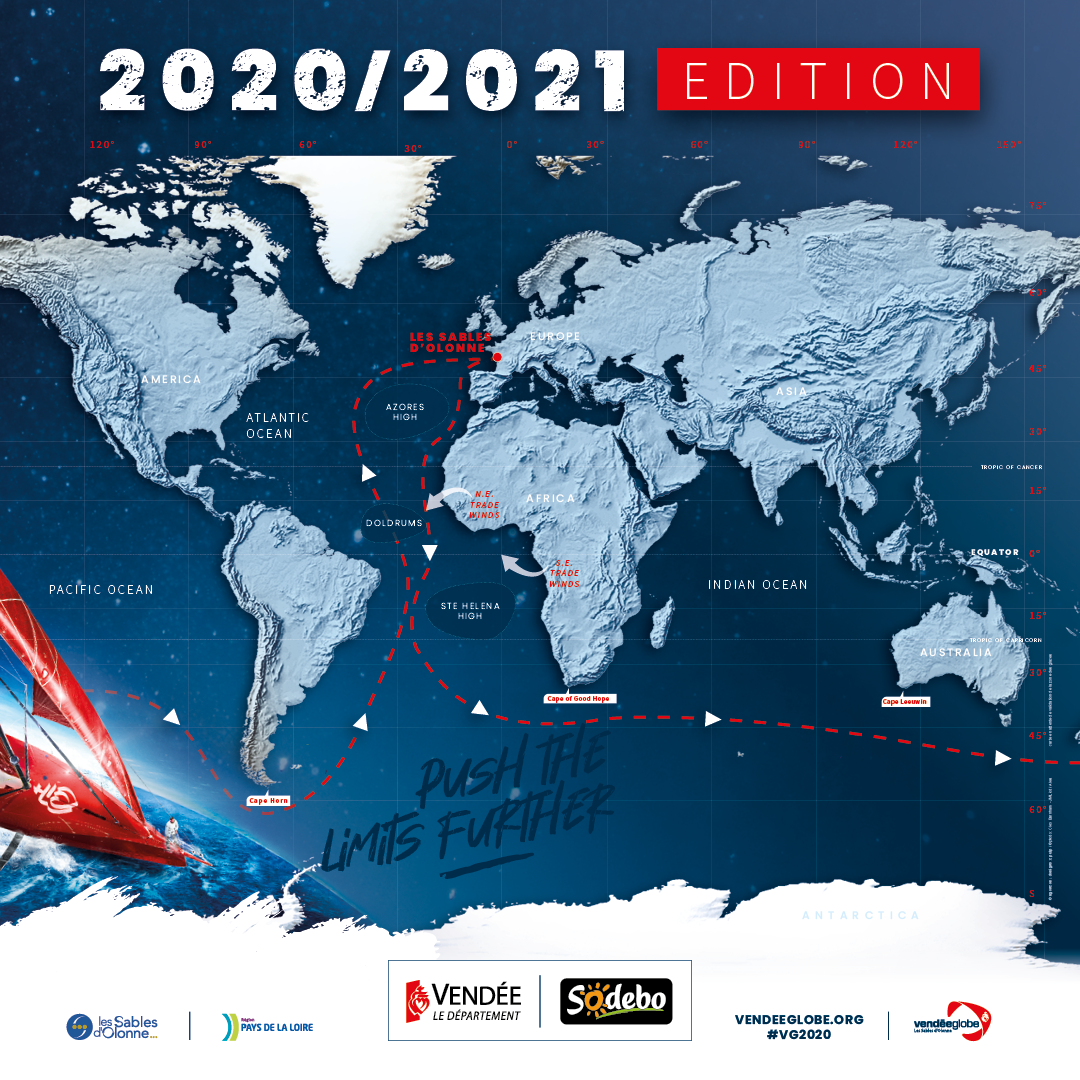 Source: Vendée Globe