Feature
Vendee Globe: Preparing for Theta
Published on November 12th, 2020
(November 12, 2020; Day 5) – Passing the Azores, some 100 miles to the east of São Miguel island, Britain's Alex Thomson leads the Vendée Globe fleet this afternoon on Hugo Boss. He moved south away from his closest rivals on the water early this morning, choosing a time to jibe when he thought they would be at their most tired, perhaps resting, to slide away.
Pacing himself against the newest generation of foilers like his HUGO BOSS, he is just about 25 miles up on Thomas Ruyant (LinkedOut) and Charlie Dalin (Apivia) as the lead group slide south on the western side of a low pressure system, described today as a 'baby low' when compared with tropical low Theta which lies in wait for them from tomorrow.
Five days into the race and the head of the fleet comprises a slightly unexpected mix of the latest foilers intertwined with older generation non foiling boats, such as sailed by the wily 61 year old Jean Le Cam on his fifth Vendée Globe and lying second to Thomson who is also on his fifth race.
Thomson has been no stranger to adversity over his 16 years chasing his holy grail, victory in the Vendée Globe. And so his message of solidarity today for French title favourite Jérémie Beyou, who had to U turn back to Les Sables d'Olonne with rig and rudder damage yesterday, came from the heart.
Dealing with his shattered ambitions of winning, founded on a four year plan which included building a state of the art foiler Charal, launched one year ahead of the rest of the new boats, he spoke to the French media on a recording for the Vendée Globe LIVE show. Beyou's pain was palpable today.
Beyou is expected to reach Les Sables d'Olonne in two days time. His team will make an immediate evaluation of the repairs required and ensure they have the logistics in place.
Sébastien Destremau has survived the stormy hours on his IMOCA MERCI, which he struggled to have ready on time for the race start. Last night, exhausted from the first few days he fell asleep and spent several hours asleep inside the boat heading northwards. His day was then spent tinkering on the deck and climbing the mast to untangle twisted halyards. The list of minor technical issues grows as sailors check the condition of their boats. Maxime Sorel also climbed the mast to retrieve a halyard.
After jumping the start gun by a matter of seconds, Louis Burton completed his five hours penalty last night, losing more than 70 miles in the process. In addition to that the skipper from Saint Malo has had to mop up litres of oil (coming from his keel cylinder) spilled inside his boat before grabbing the grinder to repair a small crack on his bulkhead.
All of the skippers have been making sure they are rested as tomorrow morning they will have to tackle the big tropical depression Theta which blocks their way. Theta, the 29th tropical depression of the year, a record in fact, is foremost in mind for all the sailors. It's a big red ball sitting right in the middle of the map. The solo sailors will have to pass round it to the west.
Those who come in too close could be severely punished, because this subtropical depression contains winds of 50 to 60 knots and waves of 6 meters. Tropical and subtropical depressions are named after the letters of the alphabet, and with 21 letters from the Latin alphabet now passed, we switch to the Greek alphabet. Theta is the 8th.
Ranking – 21:00 (GMT)
1. Alex THOMSON, HUGO BOSS – 23406.7 nm DTF
2. Jean LE CAM, Yes We Cam! – 11.82 nm DTL
3. Benjamin DUTREUX, OMIA – WATER FAMILY – 23.34 nm DTL
4. Charlie DALIN, APIVIA – 25.06 nm DTL
5. Thomas RUYANT, LinkedOut – 25.22 nm DTL
DTF – Distance to Finish; DTF – Distance to Lead
Race details – Boat types – Tracker – Ranking – YouTube
The Vendée Globe is the only sailing race round the world that's solo, non-stop, and without assistance, and it was all systems go for the 9th edition on November 8, 2020. Beginning in 1989 with 13 entries, the start line this year had 33 skippers taking off from Les Sables d'Olonne, France.
The development of the IMOCA Class toward foiling will see these boats hurl themselves around the world, teetering on carbon skates through inhospitable regions, chasing the record set in 2016-17 by Armel le Cléac'h of 74:03:35:46.
Participation history:
1989-90: 13 boats at the start
1992-93: 15 boats
1996-97: 15 boats
2000-01: 24 boats
2004-05: 20 boats
2008-2009: 30 boats
2012-2013: 20 boats
2016-2017: 29 boats
2020-2021: 33 boats
2020-21 Entries
Fabrice AMEDEO: NEWREST – ART & FENÊTRES
Romain ATTANASIO: PURE – BEST WESTERN
Alexia BARRIER: TSE – 4MYPLANET
Yannick BESTAVEN: MAÎTRE COQ IV
Jérémie BEYOU: CHARAL
Arnaud BOISSIÈRES: LA MIE CÂLINE – ARTISANS ARTIPÔLE
Louis BURTON: BUREAU VALLÉE 2
Didac COSTA: ONE PLANET ONE OCEAN
Manuel COUSIN: GROUPE SÉTIN
Clarisse CREMER: BANQUE POPULAIRE X
Charlie DALIN: APIVIA
Samantha DAVIES: INITIATIVES-CŒUR
Sébastien DESTREMAU: MERCI
Benjamin DUTREUX: OMIA – WATER FAMILY
Kevin ESCOFFIER: PRB
Clément GIRAUD: COMPAGNIE DU LIT / JILITI
Pip HARE: MEDALLIA
Boris HERRMANN: SEA EXPLORER – YACHT CLUB DE MONACO
Ari HUUSELA: STARK
Isabelle JOSCHKE: MACSF
Jean LE CAM: YES WE CAM !
Stéphane LE DIRAISON: TIME FOR OCEANS
Miranda MERRON: CAMPAGNE DE FRANCE
Giancarlo PEDOTE: PRYSMIAN GROUP
Alan ROURA: LA FABRIQUE
Thomas RUYANT: LINKEDOUT
Damien SEGUIN: GROUPE APICIL
Kojiro SHIRAISHI: DMG MORI
Sébastien SIMON: ARKEA – PAPREC
Maxime SOREL: V AND B – MAYENNE
Alex THOMSON: HUGO BOSS
Armel TRIPON: L'OCCITANE EN PROVENCE
Nicolas TROUSSEL: CORUM L'ÉPARGNE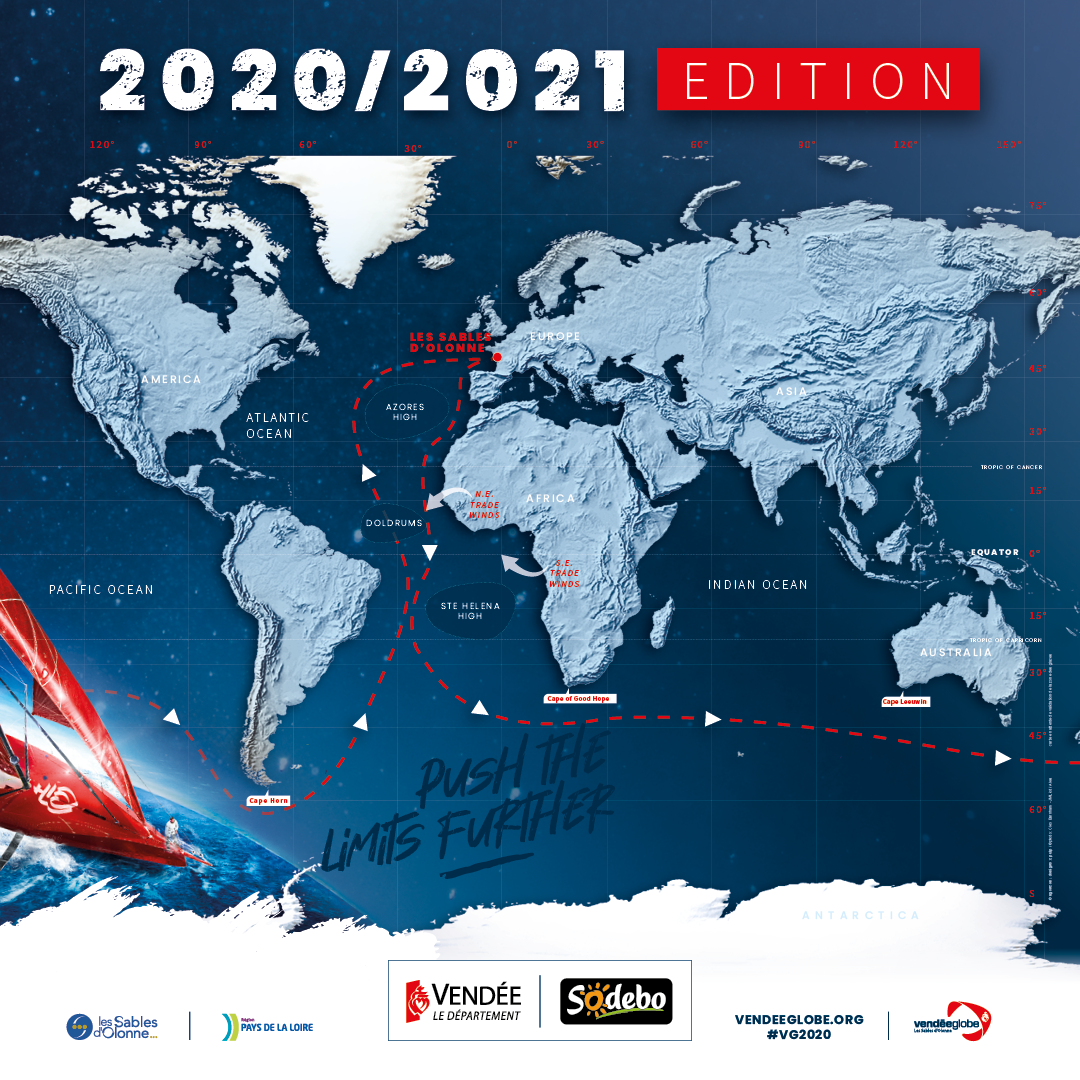 Source: Vendée Globe