News
Vendée Globe: Back but not deterred
Published on November 14th, 2020
(November 14, 2020; Day 7) – Disappointed Charal skipper Jérémie Beyou sailed up the famous Les Sables d'Olonne channel this afternoon to a warm, respectful and supportive welcome from well wishers who lined both sides of the seawalls.
The masked 44 year old skipper, who had to turn back after damage on just the third day of the race seemed especially moved by the messages of support. "Come on Jerem" was the most common but fans also shouted "Go on you repair and you leave", "it's not over".
A diver was already in the water as Charal docked and a thorough evaluation of all aspects of the boat will be made. He remained isolated all the time from the media and will return to a health bubble.
"If the boat can be repaired I want to go back." Beyou emphasized.
"You just have to let go of what you have been concentrating on for four years, so it is really hard. On the trip back I was just trying to concentrate on there not being any further breaks on board or collisions; getting into the dock, speaking to the team and just concentrating on other things. Seeing everyone at the dock is a bit emotional and brings it all back because this is just the last place you want to be.
"You see all these people, but it is sad too and not easy although they give you a lot of energy too. Everyone is aware of what is going on and the race ends. Some people might just say it is sport, but sill it is sport and I have put everything into it for four years, if not longer. This is brutal for me.
"You need to try and step back and be unemotional and be Cartesian and we are going to give ourselves 24 hours to check the boat and the worst of the damage, notably the rudder, the spreaders and then all the things that ensued from the crash, the collateral damage, so we have to check the whole boat over.
"In 24 hours, we will know what is broken, what can be fixed and whether it can be done within the time limit and then, if it can be done, of course I will set off again.
"If technically it can be done, the plan is to go and that is the objective. At sea we will see how it goes, but right now the essential thing is to check the boat and see if we can repair and we will go if it can be repaired.
"It is a mechanical sport, so we rely on the material. I am convinced that we will try and fix it, but the devil is in the detail and I see that everyone is here. The architects, the builders, all the experts and shore team, so we will know within 24 hours and then will take a decision.!
"I really want to go, that is not the issue, I want to maintain that frame of mind. I will be 3,000 miles behind so it is no longer a race, but we will see.
"You go through all forms of emotions and it is something that is extremely hard to deal with but coming back you deal with the practicalities; try and manage the boat, not put too much pressure on the rudder and avoid losing the rig with only the one backstay. You just try to not sail to fast and focus on getting back.
"I was hoping that coming back in January the world would have changed a bit, but after just one week not that much has changed!
"We are just going to have to be patient. I have lived some very tough moments but also some really good ones. That is what is so different and so special about this race.
"Last time I finished third and there may more opportunities. It is a difficult race, and you know it when you sign up. When you go through these difficult the last place you want to be is on your boat and going through it, but you are there because you chose to be there.
"You try and play out the various scenarios that can happen, but a mad one like this one is hard. I have never been so ready to go and then this happens, and it is all over. You have to learn how to live with it otherwise you just do not get over it.
"The race is going on and the leaders are doing brilliantly tactically. Jean Le Cam and the guys who opted for the inshore route was great tactically. The race is wonderful, and we must encourage those who are still racing. It is this contrast that makes this event so incredibly special."
The deadline for Beyou to restart is November 18 at 2 pm.
Race details – Boat types – Tracker – Ranking – YouTube
The Vendée Globe is the only sailing race round the world that's solo, non-stop, and without assistance, and it was all systems go for the 9th edition on November 8, 2020. Beginning in 1989 with 13 entries, the start line this year had 33 skippers taking off from Les Sables d'Olonne, France.
The development of the IMOCA Class toward foiling will see these boats hurl themselves around the world, teetering on carbon skates through inhospitable regions, chasing the record set in 2016-17 by Armel le Cléac'h of 74:03:35:46.
Participation history:
1989-90: 13 boats at the start
1992-93: 15 boats
1996-97: 15 boats
2000-01: 24 boats
2004-05: 20 boats
2008-2009: 30 boats
2012-2013: 20 boats
2016-2017: 29 boats
2020-2021: 33 boats
2020-21 Entries
Fabrice AMEDEO: NEWREST – ART & FENÊTRES
Romain ATTANASIO: PURE – BEST WESTERN
Alexia BARRIER: TSE – 4MYPLANET
Yannick BESTAVEN: MAÎTRE COQ IV
Jérémie BEYOU: CHARAL
Arnaud BOISSIÈRES: LA MIE CÂLINE – ARTISANS ARTIPÔLE
Louis BURTON: BUREAU VALLÉE 2
Didac COSTA: ONE PLANET ONE OCEAN
Manuel COUSIN: GROUPE SÉTIN
Clarisse CREMER: BANQUE POPULAIRE X
Charlie DALIN: APIVIA
Samantha DAVIES: INITIATIVES-CŒUR
Sébastien DESTREMAU: MERCI
Benjamin DUTREUX: OMIA – WATER FAMILY
Kevin ESCOFFIER: PRB
Clément GIRAUD: COMPAGNIE DU LIT / JILITI
Pip HARE: MEDALLIA
Boris HERRMANN: SEA EXPLORER – YACHT CLUB DE MONACO
Ari HUUSELA: STARK
Isabelle JOSCHKE: MACSF
Jean LE CAM: YES WE CAM !
Stéphane LE DIRAISON: TIME FOR OCEANS
Miranda MERRON: CAMPAGNE DE FRANCE
Giancarlo PEDOTE: PRYSMIAN GROUP
Alan ROURA: LA FABRIQUE
Thomas RUYANT: LINKEDOUT
Damien SEGUIN: GROUPE APICIL
Kojiro SHIRAISHI: DMG MORI
Sébastien SIMON: ARKEA – PAPREC
Maxime SOREL: V AND B – MAYENNE
Alex THOMSON: HUGO BOSS
Armel TRIPON: L'OCCITANE EN PROVENCE
Nicolas TROUSSEL: CORUM L'ÉPARGNE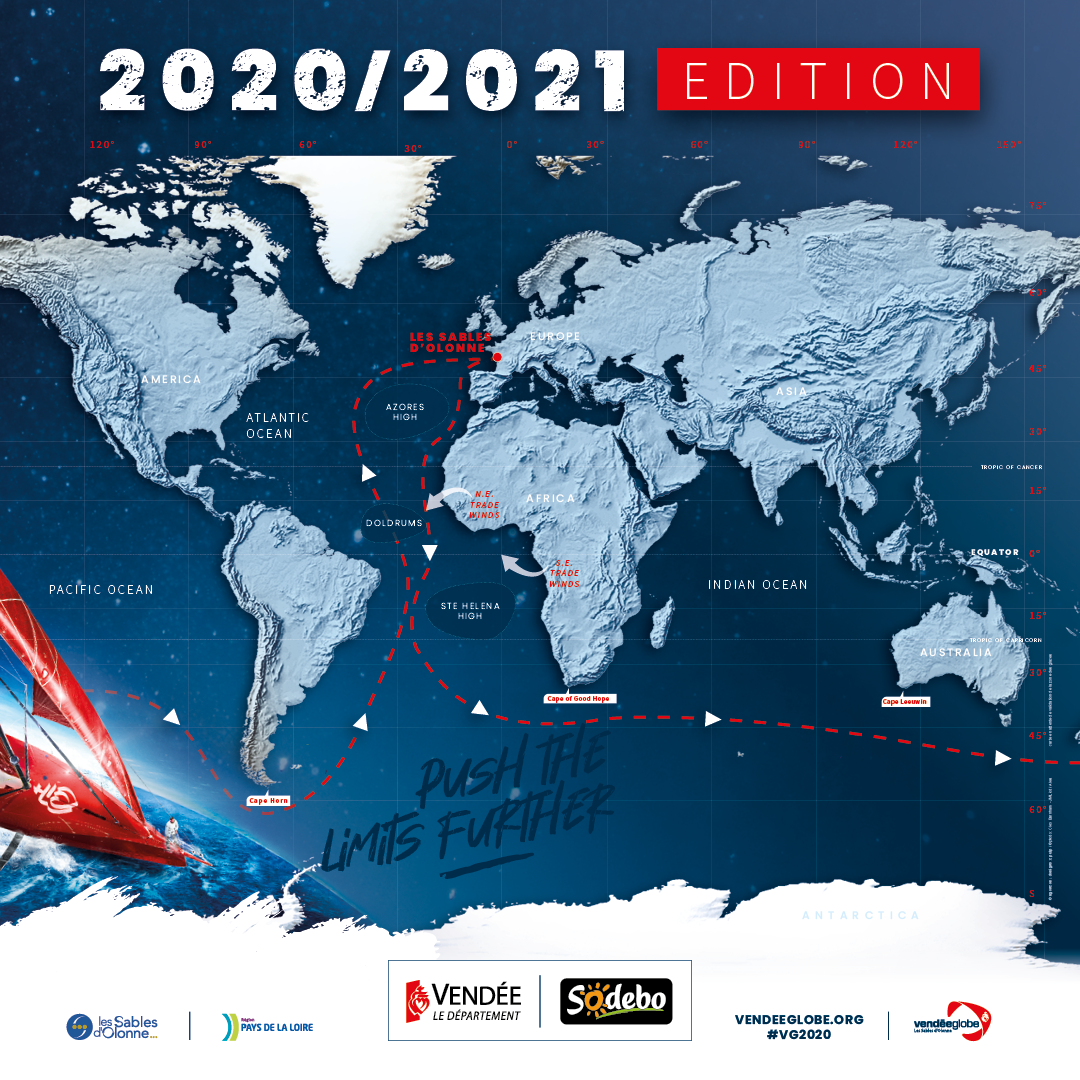 Source: Vendée Globe