Feature
Attrition begins in Vendée Globe
Published on November 16th, 2020
(November 16, 2020; Day 9) – Passing 250 miles west of the Cape Verde islands during last night Alex Thomson has the accelerator down on HUGO BOSS on the fast flight south trying to extend on the Vendée Globe rivals who are chasing him.
After covering 500 miles in 24 hours, Thomas Ruyant on LinkedOut set the distance record so far for this race, and is soon to move up to second place in the standings. The IMOCAs with foils, which now includes four of the top five, are averaging 3 knots faster than the daggerboard boats led by Jean Le Cam's Yes We Cam!
It is certain that Alex Thomson's 24 hours record of 536.81 nautical miles set on the 2017 race will fall but it won't occur between the Canaries and Madeira as 11 IMOCAs are struggling in a high pressure ridge, with Spaniard Didac Costa only covering 108 miles in the last 24 hours.
Abandon
French skipper Nicolas Troussel who was lying in seventh place has dismasted on CORUM L'Épargne this morning. He was racing south in brisk NE'ly trade wind conditions some 260 nautical miles NW of the Cape Verde islands. After having cut the rigging off the boat so as not to damage the hull, he is now heading under engine towards the port of Mindelo in the Cape Verde islands which he should reach in 4 days. – Full report
Collision
Maxime Sorel on V and B Mayenne hit an unidentified object but appears to have survived the collision. "I had a sudden stop. My boat hit something while I was emptying out a ballast tank. Everything jumped. One sail which was stacked on deck jumped 3 meters. I immediately inspected everything, but it seems everything is fine even if my keel is making a little noise. The cap of my diesel tank popped off. I have spent a lot of time cleaning up and now I have a bit of a headache. The smell of diesel has been bad."
Restart
Jérémie Beyou, the 44 year old French skipper who had to sail 600 miles back to Les Sables d'Olonne after damage to his Charal, will re-start the race on November 17. Beyou, who was the outstanding favourite to win the race, hit a floating object on Charal on day three, damaging one of Charal's rudders and its mounting and control mechanisms, plus a backstay broke and there was sundry composite damage to the deck and his mainsheet traveller. – Full report
Ranking – 21:00 (GMT)
1. Alex THOMSON, HUGO BOSS – 21885.7 nm DTF
2. Jean LE CAM, Yes We Cam! – 105.33 nm DTL
3. Thomas RUYANT, LinkedOut – 107.23 nm DTL
4. Charlie DALIN, APIVIA – 168.07 nm DTL
5. Kevin ESCOFFIER, PRB – 197.28 nm DTL
DTF – Distance to Finish; DTF – Distance to Lead
Race details – Boat types – Tracker – Ranking – YouTube
The Vendée Globe is the only sailing race round the world that's solo, non-stop, and without assistance, and it was all systems go for the 9th edition on November 8. Beginning in 1989 with 13 entries, the start line in 2020 had 33 skippers taking off from Les Sables d'Olonne, France.
The development of the IMOCA Class toward foiling will see these boats hurl themselves around the world, teetering on carbon skates through inhospitable regions, chasing the record set in 2016-17 by Armel le Cléac'h of 74:03:35:46.
2020-21 Attrition
Nov. 16, 2020 – Nicolas TROUSSEL, CORUM L'EPARGNE – dismasted
Participation history:
1989-90: 13 boats at the start
1992-93: 15 boats
1996-97: 15 boats
2000-01: 24 boats
2004-05: 20 boats
2008-2009: 30 boats
2012-2013: 20 boats
2016-2017: 29 boats
2020-2021: 33 boats
2020-21 Entries
Fabrice AMEDEO: NEWREST – ART & FENÊTRES
Romain ATTANASIO: PURE – BEST WESTERN
Alexia BARRIER: TSE – 4MYPLANET
Yannick BESTAVEN: MAÎTRE COQ IV
Jérémie BEYOU: CHARAL
Arnaud BOISSIÈRES: LA MIE CÂLINE – ARTISANS ARTIPÔLE
Louis BURTON: BUREAU VALLÉE 2
Didac COSTA: ONE PLANET ONE OCEAN
Manuel COUSIN: GROUPE SÉTIN
Clarisse CREMER: BANQUE POPULAIRE X
Charlie DALIN: APIVIA
Samantha DAVIES: INITIATIVES-CŒUR
Sébastien DESTREMAU: MERCI
Benjamin DUTREUX: OMIA – WATER FAMILY
Kevin ESCOFFIER: PRB
Clément GIRAUD: COMPAGNIE DU LIT / JILITI
Pip HARE: MEDALLIA
Boris HERRMANN: SEA EXPLORER – YACHT CLUB DE MONACO
Ari HUUSELA: STARK
Isabelle JOSCHKE: MACSF
Jean LE CAM: YES WE CAM !
Stéphane LE DIRAISON: TIME FOR OCEANS
Miranda MERRON: CAMPAGNE DE FRANCE
Giancarlo PEDOTE: PRYSMIAN GROUP
Alan ROURA: LA FABRIQUE
Thomas RUYANT: LINKEDOUT
Damien SEGUIN: GROUPE APICIL
Kojiro SHIRAISHI: DMG MORI
Sébastien SIMON: ARKEA – PAPREC
Maxime SOREL: V AND B – MAYENNE
Alex THOMSON: HUGO BOSS
Armel TRIPON: L'OCCITANE EN PROVENCE
Nicolas TROUSSEL: CORUM L'ÉPARGNE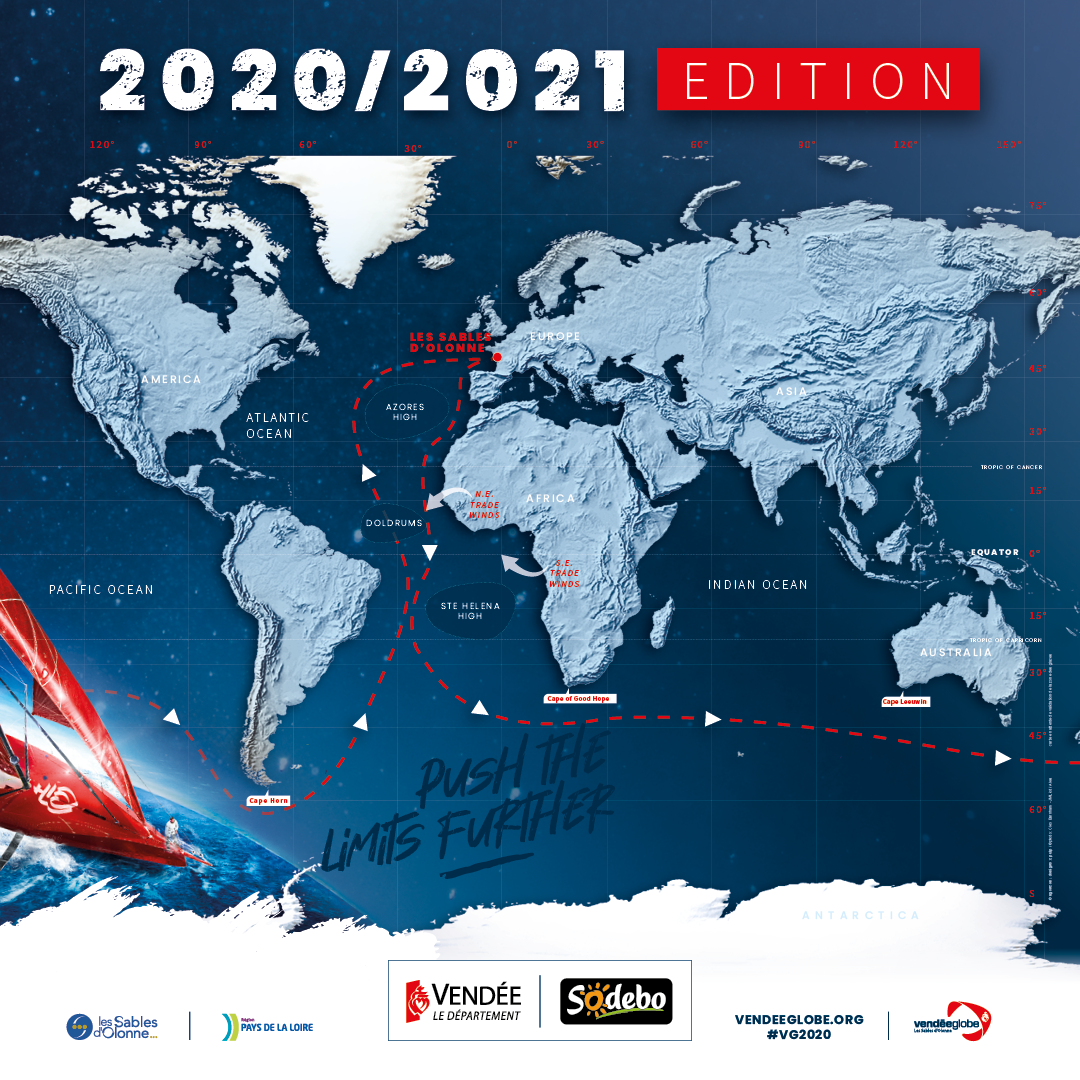 Source: Vendée Globe