Feature
Vendée Globe: Horses for courses
Published on November 19th, 2020
(November 19, 2020; Day 12) – Alex Thomson continues to lead the 32 boat Vendée Globe fleet but has steadily been bleeding miles on his 2019 VPLP-designed HUGO BOSS as the leaders slog south-westward, beam reaching into choppy, slamming seas.
Now 130 nm off the Brazilian coastline, Thomson saw his cushion shrink on the rankings today to less than ten miles, some of that due to the way the theoretical route is calculated on the official charting. His margin enlarged again this afternoon after the moving waypoint to which the leaders are racing, was recalibrated slightly west.
It is Thomas Ruyant on his 2019 Verdier-designed LinkedOut which has made it a race again, with his programme manager Marcus Hutchinson noting how his skipper has found a sweet spot in the South Atlantic.
"Every one of these new boats has a slightly different sail and rig set up, different foil packages, different hull shapes and so each will have its strengths and weaknesses and we are all just learning about these boats in different conditions as are the skippers themselves.
"I don't think Alex has any problems on board right now, some boats will be quicker in some conditions, some boats in others. Right now it is about staying close.
"You will see the Figaro one design sailors like Charlie Dalin are keen to stay with the pack and play the long game, whereas maybe Alex and Thomas (Ruyant) are prepared to do their own thing sometimes. This is much more about risk management right now."
For Dalin, adjusting to the conditions is key to maintaining pace. "Yesterday and today have been the hottest days of the trip so far. The sea is not flat, but it is not too uncomfortable. To sleep, I have put away my mattress and now have my beanbag again. I (also) have my little humidifying fan."
Nico Troussel, who lost the mast of CORUM L'Épargne on November 16, finally reached a mooring in Mindelo in the Cape Verde Islands this morning.
Ranking – 21:00 (GMT)
1. Alex THOMSON, HUGO BOSS – 20905.8 nm DTF
2. Thomas RUYANT, LinkedOut – 12.26 nm DTL
3. Charlie DALIN, APIVIA – 47.37 nm DTL
4. Jean LE CAM, Yes We Cam! – 150.34 nm DTL
5. Kevin ESCOFFIER, PRB – 199.47 nm DTL
DTF – Distance to Finish; DTF – Distance to Lead
Race details – Boat types – Tracker – Ranking – YouTube
The Vendée Globe is the only sailing race round the world that's solo, non-stop, and without assistance, and it was all systems go for the 9th edition on November 8. Beginning in 1989 with 13 entries, the start line in 2020 had 33 skippers taking off from Les Sables d'Olonne, France.
The development of the IMOCA Class toward foiling will see these boats hurl themselves around the world, teetering on carbon skates through inhospitable regions, chasing the record set in 2016-17 by Armel le Cléac'h of 74:03:35:46.
2020-21 Attrition
Nov. 16, 2020 – Nicolas TROUSSEL, CORUM L'EPARGNE – dismasted
Participation history:
1989-90: 13 boats at the start
1992-93: 15 boats
1996-97: 15 boats
2000-01: 24 boats
2004-05: 20 boats
2008-2009: 30 boats
2012-2013: 20 boats
2016-2017: 29 boats
2020-2021: 33 boats
2020-21 Entries
Fabrice AMEDEO: NEWREST – ART & FENÊTRES
Romain ATTANASIO: PURE – BEST WESTERN
Alexia BARRIER: TSE – 4MYPLANET
Yannick BESTAVEN: MAÎTRE COQ IV
Jérémie BEYOU: CHARAL
Arnaud BOISSIÈRES: LA MIE CÂLINE – ARTISANS ARTIPÔLE
Louis BURTON: BUREAU VALLÉE 2
Didac COSTA: ONE PLANET ONE OCEAN
Manuel COUSIN: GROUPE SÉTIN
Clarisse CREMER: BANQUE POPULAIRE X
Charlie DALIN: APIVIA
Samantha DAVIES: INITIATIVES-CŒUR
Sébastien DESTREMAU: MERCI
Benjamin DUTREUX: OMIA – WATER FAMILY
Kevin ESCOFFIER: PRB
Clément GIRAUD: COMPAGNIE DU LIT / JILITI
Pip HARE: MEDALLIA
Boris HERRMANN: SEA EXPLORER – YACHT CLUB DE MONACO
Ari HUUSELA: STARK
Isabelle JOSCHKE: MACSF
Jean LE CAM: YES WE CAM !
Stéphane LE DIRAISON: TIME FOR OCEANS
Miranda MERRON: CAMPAGNE DE FRANCE
Giancarlo PEDOTE: PRYSMIAN GROUP
Alan ROURA: LA FABRIQUE
Thomas RUYANT: LINKEDOUT
Damien SEGUIN: GROUPE APICIL
Kojiro SHIRAISHI: DMG MORI
Sébastien SIMON: ARKEA – PAPREC
Maxime SOREL: V AND B – MAYENNE
Alex THOMSON: HUGO BOSS
Armel TRIPON: L'OCCITANE EN PROVENCE
Nicolas TROUSSEL: CORUM L'ÉPARGNE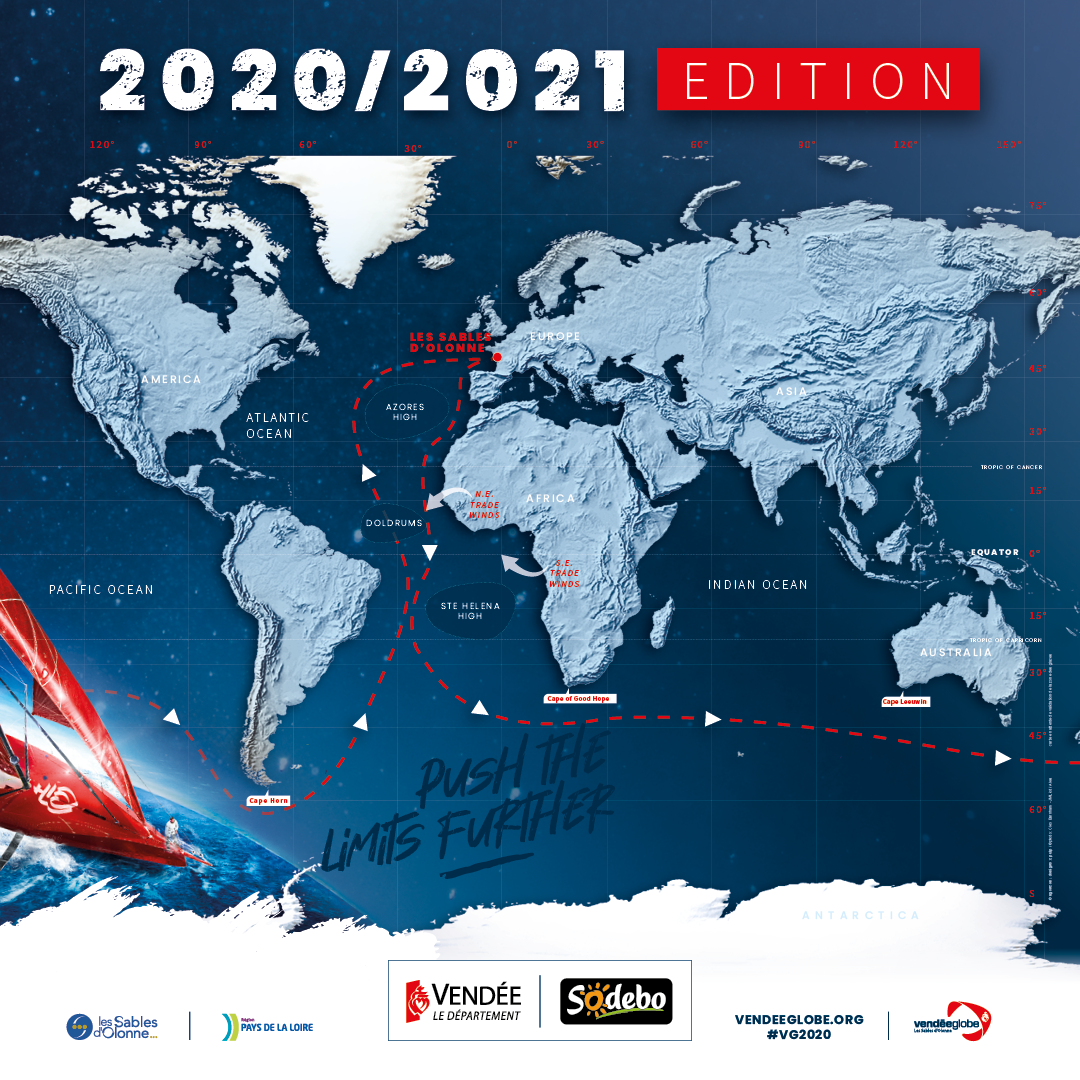 Source: Vendée Globe