Feature
Kevin Escoffier: From damage to rescue
Published on December 1st, 2020
(December 1, 2020; Day 24) – It was a dramatic rescue today for Vendée Globe skipper Kevin Escoffier who was forced to abandon his 2009 VPLP-Verdier designed PRB yesterday in strong winds and big seas 840 nautical miles SW of Cape Town.
Deemed to be catastrophic hull failure, Escoffier's boat was one of five competing that were launched from 2007 to 2010 and were originally designed with straight daggerboards, but were modified to use the side foils. The other skippers are Samantha Davies, Isabelle Joschke, Arnaud Boissières, and Alan Roura.
Escoffier explains how he went from third place to now being onboard Jean Le Cam's Yes We Cam!
The damage
"It's unbelievable what happened. The boat folded up on a wave at 27 knots. I heard a bang, but to be honest, I didn't need to hear that to know what had happened. I looked at the bow. It was at 90°. In a few seconds, there was water everywhere. The stern was under water and the bow was pointing up to the sky. The boat split in half in front of the mast bulkhead. It was as if she folded up. I promise. I'm not exaggerating. There was an angle of 90° between the stern and the bow."

Mayday
"I didn't have time to do anything. I just had time to send a message to my team. I'm sinking… I'm not joking. MAYDAY. Between the moment when I was out on deck trimming the sails and when I found myself in my survival suit, barely two minutes had passed. It all happened extremely quickly."
Organizing my survival
"I came out of the boat and put on my survival suit. I could see smoke. The electronics were burning. Everything went off. My only reflex was to grab my telephone to send the message and pick up the survival suit which I never stow away. I wanted to pick up the grab bag, but I couldn't get to it with the water rising. I grabbed the liferaft at the stern. Once open, I couldn't get into it as it was three metres under the water. The water was up to the door in the cockpit."
Jumping in the raft
"I would have liked to have stayed a bit longer on board, but I could see it was all happening quickly and a big breaker came and I was in the water with the liferaft. At that point I was not feeling very confident. Being in a raft in 35 knots of wind is not reassuring. I was only reassured when I saw Jean. But the problem was to find a way to get on board with him. We said a few words. It was a real battlefield out on the water. He was forced to move away, but I could see he remained close by. I stayed in the raft until early this morning."
The recovery
"I didn't know whether the weather would ease enough to carry out a maneuver. He was 2 metres from me. He sent me a line, but it was difficult to stop the boat. In the end I managed to reach some tubing and lift myself aboard. The sea was still heavy with 3.5m high waves. It is hard in such conditions to climb aboard a 60-foot boat, particularly as it is hard in the survival suit. It's lucky I'm in good shape physically, as I can promise you it is not easy."
Aboard Yes We Cam!
"When I found myself on board with Jean, we hugged each other. He said to me, 'Sh#t you're aboard. That was tricky!' I replied, 'I have spoilt your race. You were doing so well.' He replied, 'That doesn't matter. Last time it was me who upset Vincent's race."
What next?
"For the moment, I don't know what will happen. We'll sort that out with the Race Directors. I have just slept for two hours and am well rested. I have eaten something. I did all I could with the boat. I reinforced her and did everything. So I don't have any regrets about what I did."
Race details – Boat types – Tracker – Ranking – YouTube
The Vendée Globe is the only sailing race round the world that's solo, non-stop, and without assistance, and it was all systems go for the 9th edition on November 8. Beginning in 1989 with 13 entries, the start line in 2020 had 33 skippers taking off from Les Sables d'Olonne, France.
The development of the IMOCA Class toward foiling will see these boats hurl themselves around the world, teetering on carbon skates through inhospitable regions, chasing the record set in 2016-17 by Armel le Cléac'h of 74:03:35:46.
2020-21 Attrition
Nov. 16, 2020 – Nicolas TROUSSEL, CORUM L'EPARGNE – dismasted
Nov. 28, 2020 – Alex THOMSON, HUGO BOSS – damaged rudder
Participation history:
1989-90: 13 boats at the start
1992-93: 15 boats
1996-97: 15 boats
2000-01: 24 boats
2004-05: 20 boats
2008-2009: 30 boats
2012-2013: 20 boats
2016-2017: 29 boats
2020-2021: 33 boats
2020-21 Entries
Fabrice AMEDEO: NEWREST – ART & FENÊTRES
Romain ATTANASIO: PURE – BEST WESTERN
Alexia BARRIER: TSE – 4MYPLANET
Yannick BESTAVEN: MAÎTRE COQ IV
Jérémie BEYOU: CHARAL
Arnaud BOISSIÈRES: LA MIE CÂLINE – ARTISANS ARTIPÔLE
Louis BURTON: BUREAU VALLÉE 2
Didac COSTA: ONE PLANET ONE OCEAN
Manuel COUSIN: GROUPE SÉTIN
Clarisse CREMER: BANQUE POPULAIRE X
Charlie DALIN: APIVIA
Samantha DAVIES: INITIATIVES-CŒUR
Sébastien DESTREMAU: MERCI
Benjamin DUTREUX: OMIA – WATER FAMILY
Kevin ESCOFFIER: PRB
Clément GIRAUD: COMPAGNIE DU LIT / JILITI
Pip HARE: MEDALLIA
Boris HERRMANN: SEA EXPLORER – YACHT CLUB DE MONACO
Ari HUUSELA: STARK
Isabelle JOSCHKE: MACSF
Jean LE CAM: YES WE CAM !
Stéphane LE DIRAISON: TIME FOR OCEANS
Miranda MERRON: CAMPAGNE DE FRANCE
Giancarlo PEDOTE: PRYSMIAN GROUP
Alan ROURA: LA FABRIQUE
Thomas RUYANT: LINKEDOUT
Damien SEGUIN: GROUPE APICIL
Kojiro SHIRAISHI: DMG MORI
Sébastien SIMON: ARKEA – PAPREC
Maxime SOREL: V AND B – MAYENNE
Alex THOMSON: HUGO BOSS
Armel TRIPON: L'OCCITANE EN PROVENCE
Nicolas TROUSSEL: CORUM L'ÉPARGNE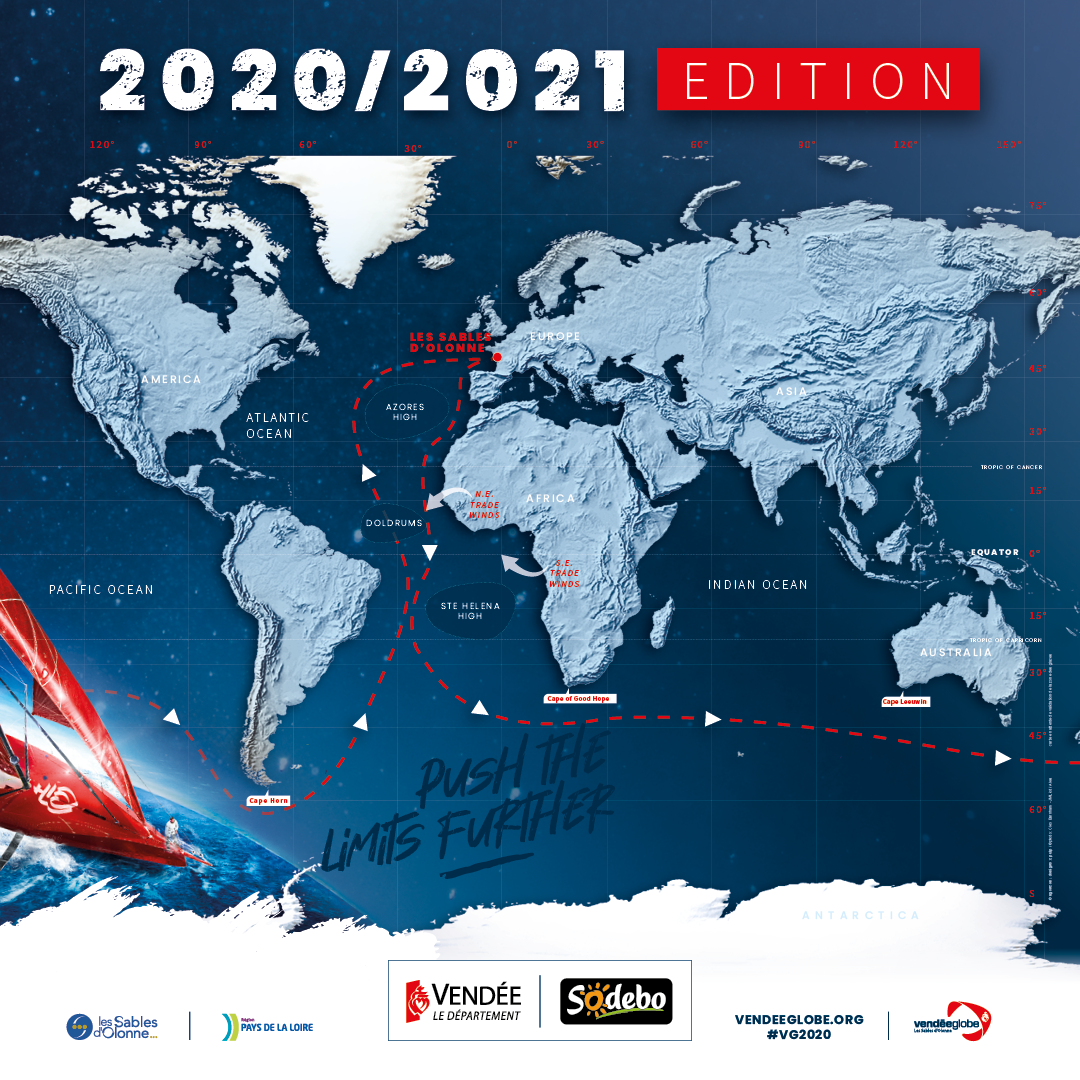 Source: Vendée Globe