Feature
Vendée Globe: Story of Escoffier's rescue
Published on December 1st, 2020
(December 1, 2020; Day 24) – After eleven and a half hours in his liferaft since being forced to abandon his 2009 VPLP-Verdier designed PRB in strong winds and big seas 840 nautical miles SW of Cape Town, Vendée Globe skipper Kevin Escoffier was dramatically rescued by fellow competitor Jean Le Cam at around 0118hrs UTC this morning.
Escoffier was racing in third place on the 22nd day (Nov. 30) of the Vendée Globe solo round the world race in 25-30kts SWly winds and big seas when his boat nosedived into a wave and, he reported after his rescue, literally broke in two, giving him minutes to grab his survival suit and take to his liferaft.
His boat's emergency distress beacon was automatically activated. The emergency signal was transmitted to CROSS Griz Nez which immediately alerted Vendée Globe Race Direction in Les Sables d'Olonne.
At the same time, 40 year old Escoffier from Saint Malo, a very experienced southern ocean racer who has won the crewed Volvo Ocean Race and held the Trophée Jules Verne record for the crewed speed record round the world, called his technical team with the terse message: "I need assistance. I am sinking. This is not a joke."
Race Direction called on Jean Le Cam, the racer closest to PRB's position, to divert his course immediately to the zone. The veteran 61 year old who is on his fifth Vendée Globe race, arrived at around 1615hrs UTC (Nov. 30) and located Escoffier's liferaft, establishing visual and voice contact despite the big, unruly seas and winds gusting to 35kts.

But Le Cam's repeated initial efforts failed and Race Direction had to escalate the operation.
Recalled Le Cam, "Because I had a good position. I told him I will be back as there was no need to rush things. I had just the main with two reefs in 30-32 knots with the rough seas and it was not easy to maneuver. I came back to the spot where I left him but there was no one there.
"I went there (looking for him) five or six times which means I had to tack five or six times because of the mishaps that happened all the time, the sea state and so on, I ended up going backwards and lost sight of him."
Because of the pitch black night and the bad wind and sea conditions, Race Direction requested three other skippers to divert to the rescue zone: Boris Herrmann (Seaexplorer-Yacht Club de Monaco), Yannick Bestaven (Maître CoQ IV), and Sébastien Simon (ARKEA PAPREC).
Race Direction drew up a search protocol using Meteo France's MOTHY (Modèle Océanique de Transport d'HYdrocarbures) drift prediction program and engaged the three solo skippers in a triangle search pattern. However, they had intermittent distress beacon signals which appeared to follow no pattern.
"We always had a signal," explained Race Director Jacques Caraës. "But the only position we were getting was the MOB and we did not know if it was attached to Kevin as it appeared to be quite random and moving a lot from one place to another. And so we did not know if the EPIRB was in the liferaft or close to the boat or what.
"At some point we thought we thought the EPIRB could be in the liferaft, it could be with him, the EPIRB could be drifting in the water or it could be attached to the IMOCA (yacht). And so it was not easy. But when we saw that the EPIRB position was lining up with the drift prediction track we sent Jean to that point.
"We had organized a triangle search scan pattern with Yannick Bestaven, who went seven miles away, then Boris was closer, and Sébastien was closer. They did seven miles across by 0.3 of a mile apart on each scan. They sailed with three reefs. Jean Le Cam recommended that because it was a battle. The wind was dropping a bit. But at the beginning when Jean saw Kevin the weather was bad. Jean did seven scans."
Remarkably it was hours later, only when Escoffier appeared in the background of a video call that Le Cam had left running through the entire procedure, that Race Direction fully realized Le Cam had rescued the stricken solo racer.
Said Le Cam, after losing sight of Escoffier, "I told myself I would stay on standby and wait for daylight. Then I thought that in the dark it might be easier to see his light. One moment when I was on deck I saw a flash, but in fact it was a reflection that glinted off a wave. But the more I got closer to the light I saw it more and more. It is amazing because you switch from despair to an unreal moment in an instant.
"I put myself to windward of him, I saw Kevin. Kevin asked me, 'Will you be back?' I said, 'No we are doing this now!' Then at one point the boat was falling backwards too fast in reverse and he was just there, two metres off the stern, and thank goodness I had prepared the red life ring that is usually in the cockpit. I threw him the life ring. And he caught it and then he managed to pull himself in to catch the transmission bar (rudder link arm). And that was it."
Escoffier described the moment the boat literally folded from the bow, "You see the images of shipwrecks? It was like that, but worse. In four seconds the boat nosedived, the bow folded at 90°. I put my head down in the cockpit, a wave was coming. I had time to send one text before the wave fried the electronics. It was completely crazy. It folded the boat in two. I've seen a lot before but this one…"
Caraës praised his team and the collaboration of the rescue authorities and Jean-Jacques Laurent, CEO of PRB, a long time sponsor of entries into the Vendée Globe who was at Race HQ all night, assisting and supporting the mission.
"It is the outcome we were hoping for," said Caraës. "It was pitch black, not easy conditions but finally the outcome is almost a miracle. It was not easy to pick Kevin up in the middle of the night, Jean is an extremely experienced sailor and he always followed our instructions to the letter.
"And we were lucky enough to have experts helping us on all sides, Meteo France with their drift simulation program that corresponded with our EPIRB tracking. But we had lots of unknowns, lots of different positions. We had to be positive all the time and believe in things. We were lucky, luck was on our side. It is a very happy outcome and we at Race Direction are very happy."
This rescue reverses roles played out between 5th and 6th January 2009, during the 2008-2009 Vendée Globe. Vincent Riou, then the skipper of PRB, rescued Jean Le Cam from his upturned IMOCA 60 which had capsized 200 miles west of Cape Horn. Le Cam was trapped inside his upturned VM Materiaux for 16 hours during which time it was not known for certain if Le Cam was safe inside his boat or not.
Asked this morning if he was scared or worried during his ordeal in his liferaft, Escoffier replied, "No. As soon as I had seen Jean I was sure I would be saved."
Race details – Boat types – Tracker – Ranking – YouTube
The Vendée Globe is the only sailing race round the world that's solo, non-stop, and without assistance, and it was all systems go for the 9th edition on November 8. Beginning in 1989 with 13 entries, the start line in 2020 had 33 skippers taking off from Les Sables d'Olonne, France.
The development of the IMOCA Class toward foiling will see these boats hurl themselves around the world, teetering on carbon skates through inhospitable regions, chasing the record set in 2016-17 by Armel le Cléac'h of 74:03:35:46.
2020-21 Attrition
Nov. 16, 2020 – Nicolas TROUSSEL, CORUM L'EPARGNE – dismasted
Nov. 28, 2020 – Alex THOMSON, HUGO BOSS – damaged rudder
Participation history:
1989-90: 13 boats at the start
1992-93: 15 boats
1996-97: 15 boats
2000-01: 24 boats
2004-05: 20 boats
2008-2009: 30 boats
2012-2013: 20 boats
2016-2017: 29 boats
2020-2021: 33 boats
2020-21 Entries
Fabrice AMEDEO: NEWREST – ART & FENÊTRES
Romain ATTANASIO: PURE – BEST WESTERN
Alexia BARRIER: TSE – 4MYPLANET
Yannick BESTAVEN: MAÎTRE COQ IV
Jérémie BEYOU: CHARAL
Arnaud BOISSIÈRES: LA MIE CÂLINE – ARTISANS ARTIPÔLE
Louis BURTON: BUREAU VALLÉE 2
Didac COSTA: ONE PLANET ONE OCEAN
Manuel COUSIN: GROUPE SÉTIN
Clarisse CREMER: BANQUE POPULAIRE X
Charlie DALIN: APIVIA
Samantha DAVIES: INITIATIVES-CŒUR
Sébastien DESTREMAU: MERCI
Benjamin DUTREUX: OMIA – WATER FAMILY
Kevin ESCOFFIER: PRB
Clément GIRAUD: COMPAGNIE DU LIT / JILITI
Pip HARE: MEDALLIA
Boris HERRMANN: SEA EXPLORER – YACHT CLUB DE MONACO
Ari HUUSELA: STARK
Isabelle JOSCHKE: MACSF
Jean LE CAM: YES WE CAM !
Stéphane LE DIRAISON: TIME FOR OCEANS
Miranda MERRON: CAMPAGNE DE FRANCE
Giancarlo PEDOTE: PRYSMIAN GROUP
Alan ROURA: LA FABRIQUE
Thomas RUYANT: LINKEDOUT
Damien SEGUIN: GROUPE APICIL
Kojiro SHIRAISHI: DMG MORI
Sébastien SIMON: ARKEA – PAPREC
Maxime SOREL: V AND B – MAYENNE
Alex THOMSON: HUGO BOSS
Armel TRIPON: L'OCCITANE EN PROVENCE
Nicolas TROUSSEL: CORUM L'ÉPARGNE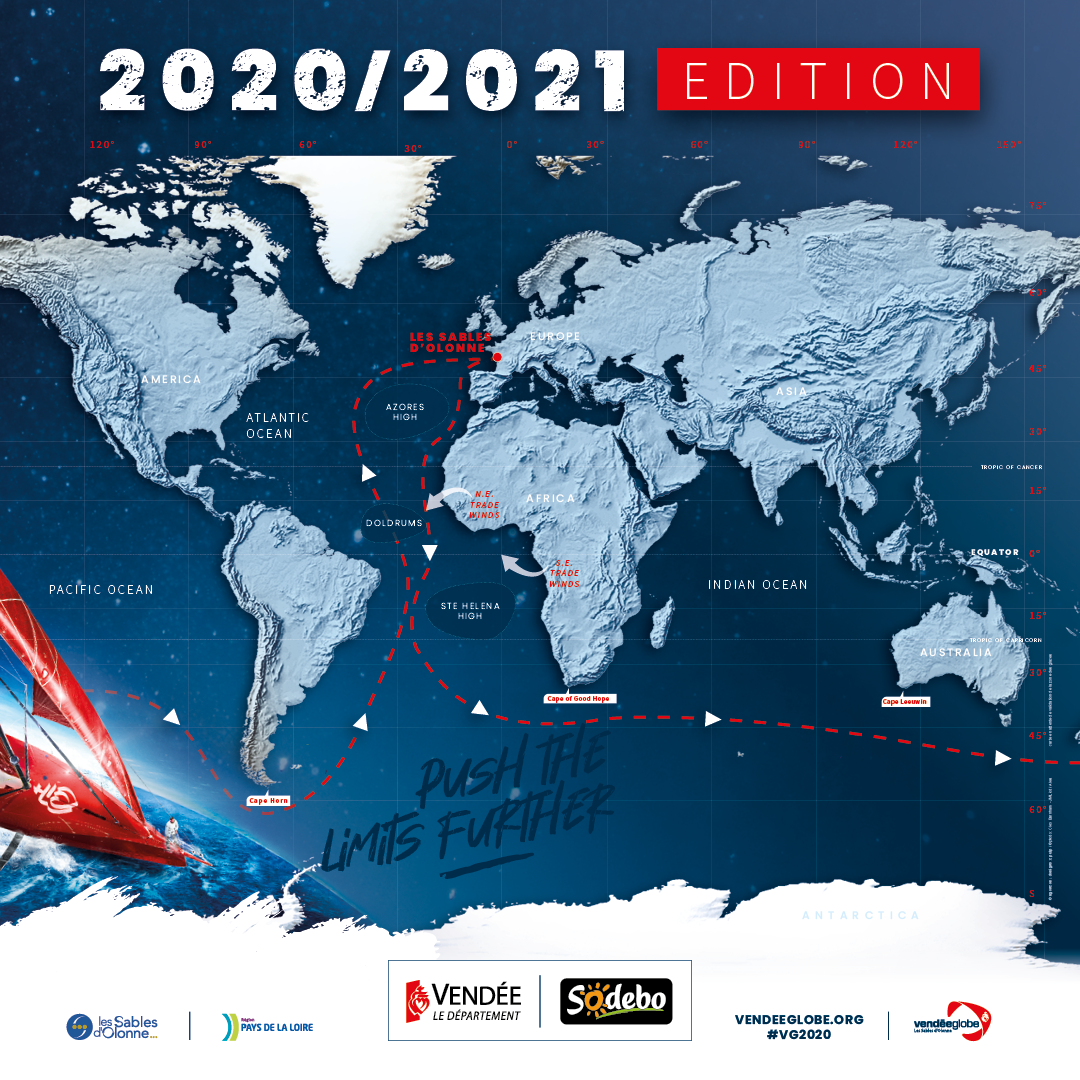 Source: Vendée Globe