Feature
Vendée Globe: Dark red spot is coming
Published on December 6th, 2020
(December 6, 2020; Day 29) – With five skippers now retired from the Vendée Globe, the 28-boat fleet continues to be led by Charlie Dalin who rides the new north-westerly breeze which heralded the arrival of an active low pressure system.
Thomas Ruyant and Louis Burton have been taking turns at second, with Burton losing pace because of autopilot and other unspecified issues, with his autopilot issues requiring him to helm his Bureau Vallée for long periods before finally effecting a fix in collaboration with his technical team.

"I'm pretty burnt out and I admit that I came close to having to abandon," reported Burton. "Now the strategy is to try and stay ahead of the front. We are on it early. I have lost a bit of ground so I am not sure where I am but the idea is to go fast and as far as possible on this port gybe.
"Either I manage to stay ahead of this front, which is going to be very strong and which would be good, or it goes over us in about two days and then it will be a starboard gybe to just carry on the course. I have not seen the files from midnight, but those at 1800hrs show a transition that did not look great around the Kerguelen Islands.
"It could be pretty amazing if we can do it all on one tack ahead of the front, but there are going to be quite lot of maneuvers. What I have to absolutely do is tidy the boat before I get some sleep. Having a mess just leads to more problems, accidents. I am then going to just go as fast as possible. I tell myself that the others must also have issues to deal with and you just have to hang in there."
Their dilemma, indeed that of all the lead group, is a front which arrives in two days, a dark red spot on the weather maps yielding 45-50 knots and 7.5 meters wave troughs. Tomorrow they will have to make a choice.
"Either they go through the front and find themselves in the heart of the storm, or they slow down and the front will go faster than them," explains Sébastien Josse, Vendée Globe meteo consultant.
Leader Charlie Dalin seems to be taking the more conservative option, as might be expected of a skipper with a 200 mile lead and a boat believed to be still close to 100 percent of its potential as the fastest, newest most proven foiling boat which has already won last year's Transat Jacques Vabre. He appeared to already have slowed down today.
Ranking – 21:00 (GMT)*
1. Charlie DALIN, APIVIA – 15581.4 nm DTF
2. Thomas RUYANT, LinkedOut – 188.46 nm DTL**
3. Louis BURTON, BUREAU VALLEE 2 – 197.47 nm DTL
4. Damien SEGUIN, GROUPE APICIL – 302.8 nm DTL
5. Yannick BESTAVEN, Maître CoQ IV – 333.49 nm DTL
DTF – Distance to Finish; DTF – Distance to Lead
* Four skippers assisted in the rescue of Kevin Escoffier which began on Nov. 30. Their ranking order that day as of 14:00 was Escoffier (3rd), Jean Le Cam (4th), Yannick Bestaven (6th), Sébastien Simon (7th), and Boris Herrmann (8th). The Race Jury will now determine the credit for each skipper to reestablish their ranking in the race.
** Ruyant damaged port foil on Nov. 24 at 02:00.
Race details – Boat types – Tracker – Ranking – YouTube
The Vendée Globe is the only sailing race round the world that's solo, non-stop, and without assistance, and it was all systems go for the 9th edition on November 8. Beginning in 1989 with 13 entries, the start line in 2020 had 33 skippers taking off from Les Sables d'Olonne, France.
The development of the IMOCA Class toward foiling will see these boats hurl themselves around the world, teetering on carbon skates through inhospitable regions, chasing the record set in 2016-17 by Armel le Cléac'h of 74:03:35:46.
2020-21 Attrition
Nov. 16, 2020 – Nicolas TROUSSEL, CORUM L'EPARGNE – dismasted
Nov. 28, 2020 – Alex THOMSON, HUGO BOSS – rudder damage
Nov. 30, 2020 – Kevin ESCOFFIER, PRB – hull damage (sunk)
Dec. 4, 2020 – Sébastien SIMON, ARKEA PAPREC – foil damage
Dec. 5, 2020 – Sam DAVIES, Initiatives-Cœur – keel damage (collision)
Participation history:
1989-90: 13 boats at the start
1992-93: 15 boats
1996-97: 15 boats
2000-01: 24 boats
2004-05: 20 boats
2008-2009: 30 boats
2012-2013: 20 boats
2016-2017: 29 boats
2020-2021: 33 boats
2020-21 Entries
Fabrice AMEDEO: NEWREST – ART & FENÊTRES
Romain ATTANASIO: PURE – BEST WESTERN
Alexia BARRIER: TSE – 4MYPLANET
Yannick BESTAVEN: MAÎTRE COQ IV
Jérémie BEYOU: CHARAL
Arnaud BOISSIÈRES: LA MIE CÂLINE – ARTISANS ARTIPÔLE
Louis BURTON: BUREAU VALLÉE 2
Didac COSTA: ONE PLANET ONE OCEAN
Manuel COUSIN: GROUPE SÉTIN
Clarisse CREMER: BANQUE POPULAIRE X
Charlie DALIN: APIVIA
Samantha DAVIES: INITIATIVES-CŒUR
Sébastien DESTREMAU: MERCI
Benjamin DUTREUX: OMIA – WATER FAMILY
Kevin ESCOFFIER: PRB
Clément GIRAUD: COMPAGNIE DU LIT / JILITI
Pip HARE: MEDALLIA
Boris HERRMANN: SEA EXPLORER – YACHT CLUB DE MONACO
Ari HUUSELA: STARK
Isabelle JOSCHKE: MACSF
Jean LE CAM: YES WE CAM !
Stéphane LE DIRAISON: TIME FOR OCEANS
Miranda MERRON: CAMPAGNE DE FRANCE
Giancarlo PEDOTE: PRYSMIAN GROUP
Alan ROURA: LA FABRIQUE
Thomas RUYANT: LINKEDOUT
Damien SEGUIN: GROUPE APICIL
Kojiro SHIRAISHI: DMG MORI
Sébastien SIMON: ARKEA – PAPREC
Maxime SOREL: V AND B – MAYENNE
Alex THOMSON: HUGO BOSS
Armel TRIPON: L'OCCITANE EN PROVENCE
Nicolas TROUSSEL: CORUM L'ÉPARGNE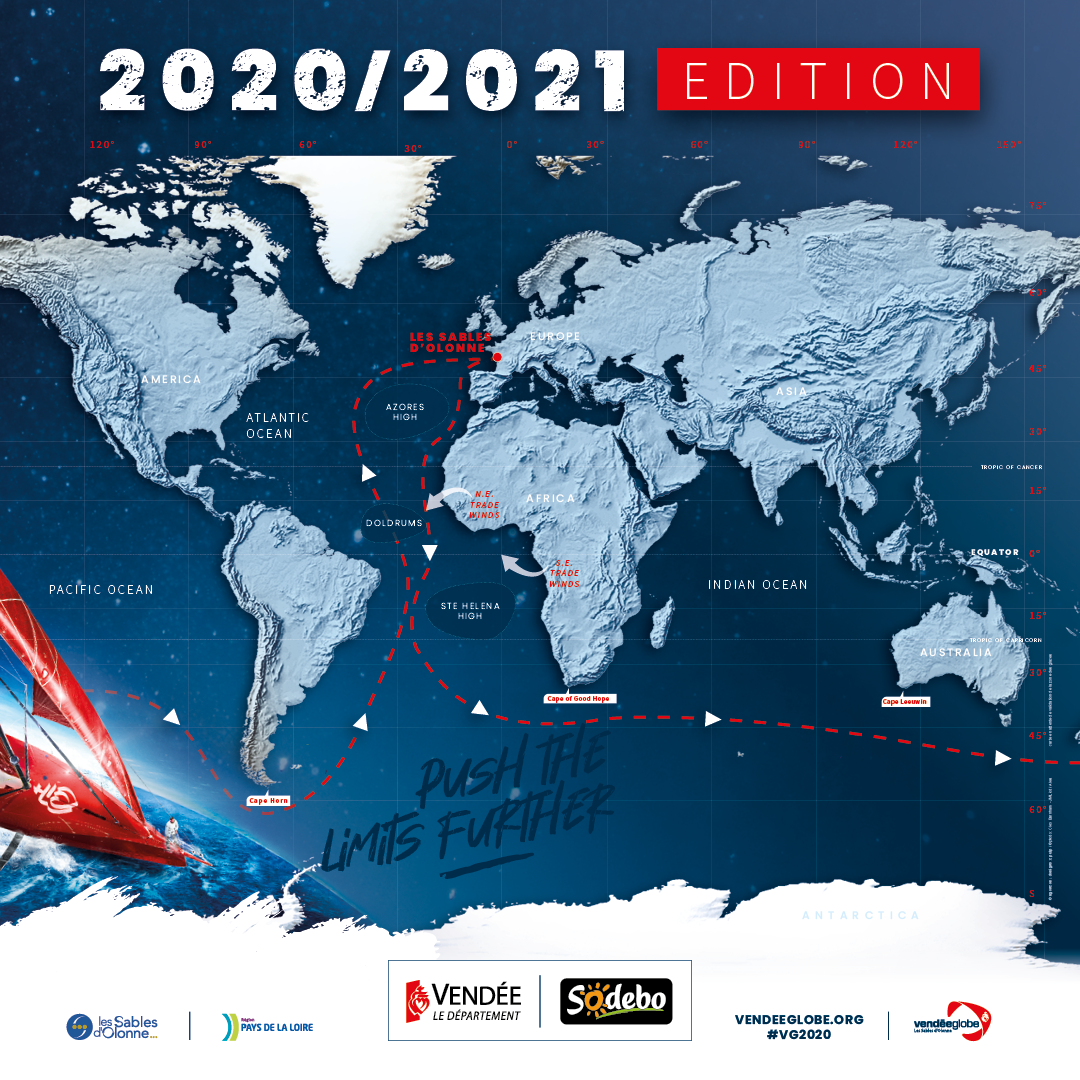 Source: Vendée Globe