Feature
Vendée Globe: Enduring the big south
Published on December 7th, 2020
(December 7, 2020; Day 30) – Having endured a painful week in the Indian Ocean fighting to keep themselves, their boats, and equipment intact in big, crossed seas and very gusty winds to 35-40kts, Vendée Globe leaders Charlie Dalin (Apivia) and Thomas Ruyant (LinkedOut) are finally finding a fast route east on the leading face of a fast moving low pressure system.
With flat water and strong North Westerly winds, they are in ideal conditions which Vendée Globe meteo consultant and three times Vendée Globe racer Seb Josse believes might see Alex Thomson's world 24 hours record run of 536 miles – set on the last race – fall.
If they can continue to keep pace with the front which is moving at around 25kts eastwards, they could then catch a moderate wind flow from a high pressure at Cape Leeuwin to complete a dream sequence that could open them a massive lead on their pursuers. They have indeed maintained high averages since last night, more than 20kts and so that means often surfing at 28-30kts. Ruyant has been on port gybe and so not missing the foil he had to cut away.
"The weather is almost sunny, it's rather a good day," said Dalin, though 600 miles back in the fiery depths of the low pressure system it is very windy with big seas, much more like the Dante-esque vision of the Southern Ocean.
"We have 45 knots and horizontal rain," reports Damien Seguin in sixth place (as of 21:00 ranking). Maxime Sorel (11th) agrees, "I have never seen a sea like this, it is rough, it is very hard to go forwards, it catches the boat, the boat accelerates forwards surging to 29 knots but if you are too slow, the waves will catch up and explode on the transom; it is hideous."
The nine boats sailing in Dalin and Ruyant's wake were overtaken by the front which had 50 knots in squally gusts. With huge confused seas racing is on hold and self-preservation become the most important challenge.
"The big South is an endurance race that slowly wears you out." summarizes Josse.
Ranking – 21:00 (GMT)*
1. Charlie DALIN, APIVIA – 15215.4 nm DTF
2. Thomas RUYANT, LinkedOut – 199.11 nm DTL**
3. Louis BURTON, BUREAU VALLEE 2 – 268.7 nm DTL
4. Yannick BESTAVEN, Maître CoQ IV – 337.75 nm DTL
5. Jean LE CAM, Yes We Cam! – 352.47 nm DTL
DTF – Distance to Finish; DTF – Distance to Lead
* Four skippers assisted in the rescue of Kevin Escoffier which began on Nov. 30. Their ranking order that day as of 14:00 was Escoffier (3rd), Jean Le Cam (4th), Yannick Bestaven (6th), Sébastien Simon (7th), and Boris Herrmann (8th). The Race Jury will now determine the credit for each skipper to reestablish their ranking in the race.
** Ruyant damaged port foil on Nov. 24 at 02:00.
Race details – Boat types – Tracker – Ranking – YouTube
The Vendée Globe is the only sailing race round the world that's solo, non-stop, and without assistance, and it was all systems go for the 9th edition on November 8. Beginning in 1989 with 13 entries, the start line in 2020 had 33 skippers taking off from Les Sables d'Olonne, France.
The development of the IMOCA Class toward foiling will see these boats hurl themselves around the world, teetering on carbon skates through inhospitable regions, chasing the record set in 2016-17 by Armel le Cléac'h of 74:03:35:46.
2020-21 Attrition
Nov. 16, 2020 – Nicolas TROUSSEL, CORUM L'EPARGNE – dismasted
Nov. 28, 2020 – Alex THOMSON, HUGO BOSS – rudder damage
Nov. 30, 2020 – Kevin ESCOFFIER, PRB – hull damage (sunk)
Dec. 4, 2020 – Sébastien SIMON, ARKEA PAPREC – foil damage
Dec. 5, 2020 – Sam DAVIES, Initiatives-Cœur – keel damage (collision)
Participation history:
1989-90: 13 boats at the start
1992-93: 15 boats
1996-97: 15 boats
2000-01: 24 boats
2004-05: 20 boats
2008-2009: 30 boats
2012-2013: 20 boats
2016-2017: 29 boats
2020-2021: 33 boats
2020-21 Entries
Fabrice AMEDEO: NEWREST – ART & FENÊTRES
Romain ATTANASIO: PURE – BEST WESTERN
Alexia BARRIER: TSE – 4MYPLANET
Yannick BESTAVEN: MAÎTRE COQ IV
Jérémie BEYOU: CHARAL
Arnaud BOISSIÈRES: LA MIE CÂLINE – ARTISANS ARTIPÔLE
Louis BURTON: BUREAU VALLÉE 2
Didac COSTA: ONE PLANET ONE OCEAN
Manuel COUSIN: GROUPE SÉTIN
Clarisse CREMER: BANQUE POPULAIRE X
Charlie DALIN: APIVIA
Samantha DAVIES: INITIATIVES-CŒUR
Sébastien DESTREMAU: MERCI
Benjamin DUTREUX: OMIA – WATER FAMILY
Kevin ESCOFFIER: PRB
Clément GIRAUD: COMPAGNIE DU LIT / JILITI
Pip HARE: MEDALLIA
Boris HERRMANN: SEA EXPLORER – YACHT CLUB DE MONACO
Ari HUUSELA: STARK
Isabelle JOSCHKE: MACSF
Jean LE CAM: YES WE CAM !
Stéphane LE DIRAISON: TIME FOR OCEANS
Miranda MERRON: CAMPAGNE DE FRANCE
Giancarlo PEDOTE: PRYSMIAN GROUP
Alan ROURA: LA FABRIQUE
Thomas RUYANT: LINKEDOUT
Damien SEGUIN: GROUPE APICIL
Kojiro SHIRAISHI: DMG MORI
Sébastien SIMON: ARKEA – PAPREC
Maxime SOREL: V AND B – MAYENNE
Alex THOMSON: HUGO BOSS
Armel TRIPON: L'OCCITANE EN PROVENCE
Nicolas TROUSSEL: CORUM L'ÉPARGNE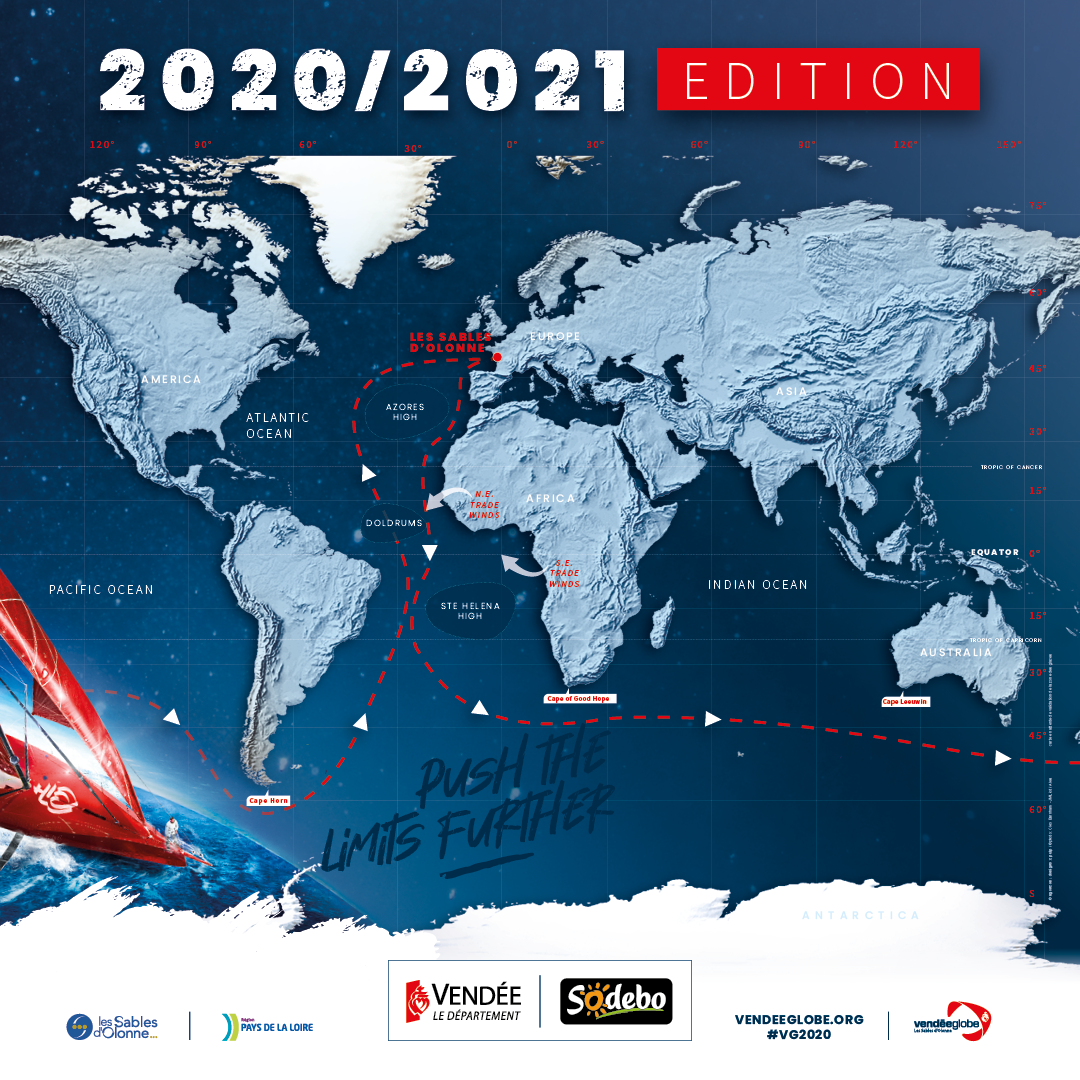 Source: Vendée Globe