Feature
Vendée Globe: Rewarded for surviving
Published on December 10th, 2020
(December 10, 2020; Day 33) – The Vendée Globe's leading duo Charlie Dalin and Thomas Ruyant are into a period of quieter winds as they recover from the big Indian Ocean storm which hit them two nights ago with gusts to 55 knots of wind and big seas.
Dalin, 35, admitted he felt he and his boat had been very close to their limits and that at times he has turned down the wind fields on his navigation systems as the sea of red on the screen was only making him more anxious. "I feel like I have earned my Southern Ocean spurs," chuckled Dalin who had never raced south of Itajai, Brazil before this race.
The leading pair on their Verdier designed IMOCAs are just 200 nautical miles apart, both making less than 12 knots in lighter airs. With a relatively straightforward passage to Cape Leeuwin, Dalin expects to pass within the next four days.

Holding third is Yannick Bestaven on Maître Coq which is notable as Bestaven, along with Boris Hermmann (Seaexplorer-Yacht Club de Monaco) and Jean Le Cam (Yes We Cam!), have yet to receive their time allocation – redress – for the time and distance lost by them during and subsequent to their efforts to rescue Kevin Escoffier.
At 47 years old, Bestaven has 20 years of ocean racing experience under his belt. He served his apprenticeship with the legendary French technical innovator and Vendée Globe racer Yves Parlier, winning the IMOCA class' Tour of Europe series in 1999 with Ellen MacArthur and Parlier on his Acquitaine Innovations before self building a Mini 650 in 2001 and convincingly winning the 2001 MiniTrasnat.
In terms of sustainable power sources, Bestaven was a long way ahead of others' thinking when he started the 2008-09 Vendée Globe on a boat which used only renewable energy sources but unfortunately he dismasted on the fourth day of racing in a big Biscay storm.
Since then he has built the Watt & Sea hydrognerator business, the water powered charging systems currently used on 99 per cent of the Vendée Globe boats.
Bestaven's VPLP-Verdier boat, built as Safran in 2014 for Morgan Lagravière, did not make it this far on the 2016-17 race, retiring into Cape Town with steering problems. The poultry foodstuffs sponsors took on the boat early after the last race and picked Bestaven as their skipper.
As they reach a spell of more settled weather now, and particularly in a couple of weeks time in the longer, rolling swells of the Pacific, it will be interesting to see actually how much the fast new gen foilers are pushed.
When there was talk before the start of 500 plus mile days and the probability that Alex Thomson's 2016 24 hour record of 536 nautical miles would fall, to date only four skippers have broken the 500 mile 24 hour day and all of them – Ruyant (515.3nms), Sébastien Simon (508.9), Charlie Dalin (505.5), and Alex Thomson (501.8) – were on November 20-21.
Ranking – 21:00 (GMT)*
1. Charlie DALIN, APIVIA – 14290.5 nm DTF
2. Thomas RUYANT, LinkedOut – 197.39 nm DTL**
3. Yannick BESTAVEN, Maître CoQ IV – 250.86 nm DTL
4. Louis BURTON, BUREAU VALLEE 2 – 296.59 nm DTL
5. Benjamin DUTREUX, OMIA-WATER FAMILY – 303.798 nm DTL
DTF – Distance to Finish; DTF – Distance to Lead
* Four skippers assisted in the rescue of Kevin Escoffier which began on Nov. 30. Their ranking order that day as of 14:00 was Escoffier (3rd), Jean Le Cam (4th), Yannick Bestaven (6th), Sébastien Simon (7th), and Boris Herrmann (8th). The Race Jury will now determine the credit for each skipper to reestablish their ranking in the race.
** Ruyant damaged port foil on Nov. 24 at 02:00.
Race details – Boat types – Tracker – Ranking – YouTube
The Vendée Globe is the only sailing race round the world that's solo, non-stop, and without assistance, and it was all systems go for the 9th edition on November 8. Beginning in 1989 with 13 entries, the start line in 2020 had 33 skippers taking off from Les Sables d'Olonne, France.
The development of the IMOCA Class toward foiling will see these boats hurl themselves around the world, teetering on carbon skates through inhospitable regions, chasing the record set in 2016-17 by Armel le Cléac'h of 74:03:35:46.
2020-21 Attrition
Nov. 16, 2020 – Nicolas TROUSSEL, CORUM L'EPARGNE – dismasted
Nov. 28, 2020 – Alex THOMSON, HUGO BOSS – rudder damage
Nov. 30, 2020 – Kevin ESCOFFIER, PRB – hull damage (sunk)
Dec. 4, 2020 – Sébastien SIMON, ARKEA PAPREC – foil damage
Dec. 5, 2020 – Sam DAVIES, Initiatives-Cœur – keel damage (collision)
Participation history:
1989-90: 13 boats at the start
1992-93: 15 boats
1996-97: 15 boats
2000-01: 24 boats
2004-05: 20 boats
2008-2009: 30 boats
2012-2013: 20 boats
2016-2017: 29 boats
2020-2021: 33 boats
2020-21 Entries
Fabrice AMEDEO: NEWREST – ART & FENÊTRES
Romain ATTANASIO: PURE – BEST WESTERN
Alexia BARRIER: TSE – 4MYPLANET
Yannick BESTAVEN: MAÎTRE COQ IV
Jérémie BEYOU: CHARAL
Arnaud BOISSIÈRES: LA MIE CÂLINE – ARTISANS ARTIPÔLE
Louis BURTON: BUREAU VALLÉE 2
Didac COSTA: ONE PLANET ONE OCEAN
Manuel COUSIN: GROUPE SÉTIN
Clarisse CREMER: BANQUE POPULAIRE X
Charlie DALIN: APIVIA
Samantha DAVIES: INITIATIVES-CŒUR
Sébastien DESTREMAU: MERCI
Benjamin DUTREUX: OMIA – WATER FAMILY
Kevin ESCOFFIER: PRB
Clément GIRAUD: COMPAGNIE DU LIT / JILITI
Pip HARE: MEDALLIA
Boris HERRMANN: SEA EXPLORER – YACHT CLUB DE MONACO
Ari HUUSELA: STARK
Isabelle JOSCHKE: MACSF
Jean LE CAM: YES WE CAM !
Stéphane LE DIRAISON: TIME FOR OCEANS
Miranda MERRON: CAMPAGNE DE FRANCE
Giancarlo PEDOTE: PRYSMIAN GROUP
Alan ROURA: LA FABRIQUE
Thomas RUYANT: LINKEDOUT
Damien SEGUIN: GROUPE APICIL
Kojiro SHIRAISHI: DMG MORI
Sébastien SIMON: ARKEA – PAPREC
Maxime SOREL: V AND B – MAYENNE
Alex THOMSON: HUGO BOSS
Armel TRIPON: L'OCCITANE EN PROVENCE
Nicolas TROUSSEL: CORUM L'ÉPARGNE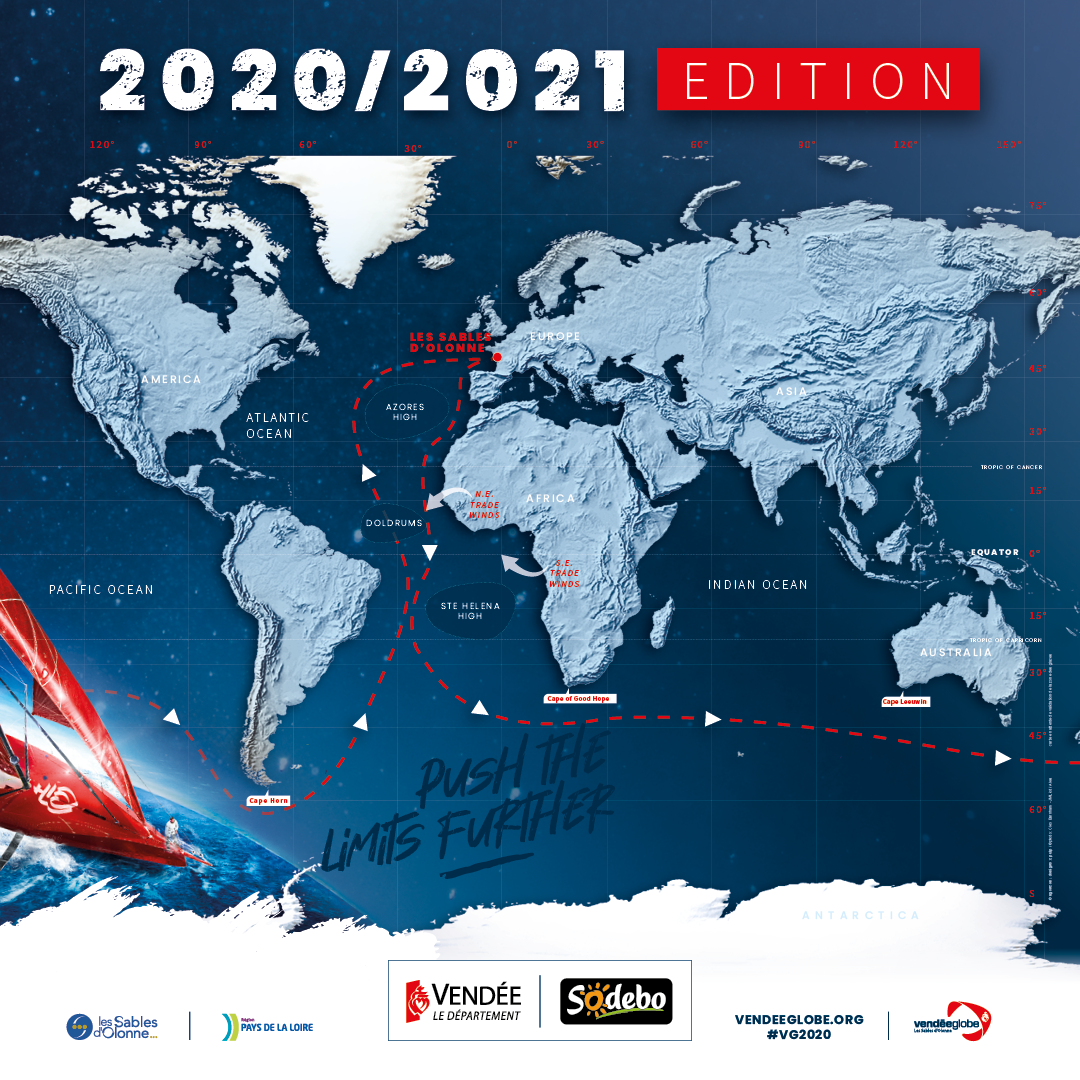 Source: Vendée Globe