News
Vendée Globe: Light winds tighten ranks
Published on December 11th, 2020
(December 11, 2020; Day 34) – Vendée Globe Leader Charlie Dalin has seen his margin more than halved in the last 36 hours as he negotiates a high pressure zone of lighter airs some 630 nautical miles west of the longitude of Australia's Cape Leeuwin.
The perils of being first to break into gentler winds are obvious as he sees his lead drop to under 100 nm, albeit partly as he repositioned himself further to the south. But while some have been questioning if Dalin is hiding damage which might account for his slower speeds, the 35 year old who originates from Le Havre has been sailing into the lightest wind of any of the top 15 boats.
"Charlie is facing an area of lighter winds for a few hours, those chasing after him are sailing in 15-25 knot SW'ly winds, offering them high speeds and allowing them to narrow the gap," explained weather supplier Christian Dumard. "The first fourteen boats from Apivia to L'Occitane en Provence (Armel Tripon) are today sailing in the same weather system with the Mascarene High stretching out across the whole of the Indian Ocean."
Added Vendée Globe veteran Jean Pierre Dick, "The leaders do tend to keep quiet about any issues they might have, to not give away anything to those chasing that might give them a chance to use it against them. That has often been the strategy of past leaders such as François Gabart, Armel Le Cléach or Michel Desjoyeux. I think that Charlie Dalin is in this area of light winds."
Of life in the barren South Jean Pierre recalls, "I have spent nearly six months in the Southern Ocean over the course of the racing I have done and what impresses me the most is the sense of vastness and desolation. Over the course of the six months there, I never once saw a boat. The only one was PRB in 2008 when we nearly hit each other. It is so vast, savage and then seeing the albatross is a true honour to be there.
"Then there is a form of optimism when you know about the climate change, the earth warming up and the pollution, being down there at one in nature and not seeing a living being for that long, you feel that you are in the one part of the world that you breathe, and that the world somehow heals itself from our urban excesses.
"What strikes me the most when I see the images sent back is the human isolation and the sporting battle one has with oneself. How to stay zen in the face of all the problems you have. It is not always to ensure to have less sail than you might like, as a competitor, but you have to also look ahead when winds change so suddenly from 15 to say 30."
Dalin continues to play the long game in an assured fashion. He is without doubt measuring the threat from those behind him in the knowledge that his boat, assuming it to be at 100 per cent or close to it, should be the fastest of those in the top 11.
"He will be looking at the threat from behind and knowing that he should be able to be fastest," observed four times Vendée Globe racer Mike Golding. "I think he is very much controlling the fleet, knowing he can match them if he is at his best.
"That said we are still not seeing the averages we should have been seeing from these foiling boats and I wonder whether everyone is being generally quite cautious. For Charlie his biggest worry would maybe be in the South Atlantic climbing north again and that threat might come from Yannick Bestaven who is going well and Louis Burton who continues to impress me.
"But that is a long way off. There are some very good sailors in this group. But in terms of speeds so often it is down to the wave patterns. In the 2012 race in the Indian Ocean it was like this, there was never just the time to get the boat really rumbling for long periods."
Suffering from a breakdown of his backup computer – his first, main computer failed off Cape Finisterre – Fabrice Amedeo confirmed he will abandon his Vendée Globe in Cape Town. This afternoon he had just over 130 miles to sail to the South African haven. Journalist turned round the world racer, Amedeo finished 11th on the 2016-17 race but had to restart this race two days after the start due to a hairline crack at the top of his mast.
In second, Thomas Ruyant (LinkedOut) can't exploit all the potential of his IMOCA because of its damaged port foil, and this situation is likely to last a few days as the winds forecast are not looking favourable for gybing to port, and he will have to wait at least until Cape Leeuwin.
"I passed the last obstacle 24 hours ago," said Ruyand. "It feels good to know that ahead of us, the conditions are pretty nice. It also gives me a chance to solve the little problems on board, to take some time for myself, to eat well. I slept well last night. The wind is still a little irregular, but I have blue skies!
"In any case, it's good to have a little break because since the beginning of the Indian Ocean, the weather has really given us something to think about. I had two mainsail battens to change yesterday; I was without my mainsail for around 2-3 hours, but it went pretty fast because I had the experience from 2016 under my belt. There are always things to do on these boats in terms of maintenance, but I am working well and LinkedOut is too!
"Now I'm sailing on my truncated foil and these are the kind of conditions where I really miss it! But hey, it's like that and it's going to be like that until the end of the race. I'm not complaining but I'm losing about 20% of the boat's potential on this starboard tack. In the breeze, it's a bit less noticeable, but in certain conditions like we have at the moment, it's five extra knots that just go up in smoke. There's still some sea to play with, but it is at least in the right direction: the swell could make me start to make the foil work.
"Tactically, I'm heading South-East to reposition myself in front of my competitors, but I don't have much choice as I've got a W'ly wind for the moment! I'm heading towards the Ice Exclusion Zone, which we're all going to follow for a little while but it's a bit of a compulsory tack as well.
"The sailing conditions to come are great because there are no gales forecast, except for a small passage behind a low, and even then: that can change and the timing can change too. But what I'm seeing all the way to New Zealand is just starboard tack! It doesn't suit me very much… But I'm making do with it: I'm trying to find the boat's proper functioning even with my damaged port foil.
"And we're still going quite quickly eastwards and the time difference is significant: every day we're jetlagged! You have to be able to follow the rhythm of the sun in order to sleep well…".
Ranking – 21:00 (GMT)*
1. Charlie DALIN, APIVIA – 14005.2 nm DTF
2. Thomas RUYANT, LinkedOut – 88.56 nm DTL**
3. Yannick BESTAVEN, Maître CoQ IV – 101.59 nm DTL
4. Louis BURTON, BUREAU VALLEE 2 – 215.99 nm DTL
5. Jean LE CAM, Yes We Cam! – 217.84 nm DTL
DTF – Distance to Finish; DTF – Distance to Lead
* Four skippers assisted in the rescue of Kevin Escoffier which began on Nov. 30. Their ranking order that day as of 14:00 was Escoffier (3rd), Jean Le Cam (4th), Yannick Bestaven (6th), Sébastien Simon (7th), and Boris Herrmann (8th). The Race Jury will now determine the credit for each skipper to reestablish their ranking in the race.
** Ruyant damaged port foil on Nov. 24 at 02:00.
Race details – Boat types – Tracker – Ranking – YouTube
The Vendée Globe is the only sailing race round the world that's solo, non-stop, and without assistance, and it was all systems go for the 9th edition on November 8. Beginning in 1989 with 13 entries, the start line in 2020 had 33 skippers taking off from Les Sables d'Olonne, France.
The development of the IMOCA Class toward foiling will see these boats hurl themselves around the world, teetering on carbon skates through inhospitable regions, chasing the record set in 2016-17 by Armel le Cléac'h of 74:03:35:46.
2020-21 Attrition
Nov. 16, 2020 – Nicolas TROUSSEL, CORUM L'EPARGNE – dismasted
Nov. 28, 2020 – Alex THOMSON, HUGO BOSS – rudder damage
Nov. 30, 2020 – Kevin ESCOFFIER, PRB – hull damage (sunk)
Dec. 4, 2020 – Sébastien SIMON, ARKEA PAPREC – foil damage
Dec. 5, 2020 – Sam DAVIES, Initiatives-Cœur – keel damage (collision)
Dec. 11, 2020 – Fabrice AMEDEO, NEWREST – ART & FENÊTRES – computer failure
Participation history:
1989-90: 13 boats at the start
1992-93: 15 boats
1996-97: 15 boats
2000-01: 24 boats
2004-05: 20 boats
2008-2009: 30 boats
2012-2013: 20 boats
2016-2017: 29 boats
2020-2021: 33 boats
2020-21 Entries
Fabrice AMEDEO: NEWREST – ART & FENÊTRES
Romain ATTANASIO: PURE – BEST WESTERN
Alexia BARRIER: TSE – 4MYPLANET
Yannick BESTAVEN: MAÎTRE COQ IV
Jérémie BEYOU: CHARAL
Arnaud BOISSIÈRES: LA MIE CÂLINE – ARTISANS ARTIPÔLE
Louis BURTON: BUREAU VALLÉE 2
Didac COSTA: ONE PLANET ONE OCEAN
Manuel COUSIN: GROUPE SÉTIN
Clarisse CREMER: BANQUE POPULAIRE X
Charlie DALIN: APIVIA
Samantha DAVIES: INITIATIVES-CŒUR
Sébastien DESTREMAU: MERCI
Benjamin DUTREUX: OMIA – WATER FAMILY
Kevin ESCOFFIER: PRB
Clément GIRAUD: COMPAGNIE DU LIT / JILITI
Pip HARE: MEDALLIA
Boris HERRMANN: SEA EXPLORER – YACHT CLUB DE MONACO
Ari HUUSELA: STARK
Isabelle JOSCHKE: MACSF
Jean LE CAM: YES WE CAM !
Stéphane LE DIRAISON: TIME FOR OCEANS
Miranda MERRON: CAMPAGNE DE FRANCE
Giancarlo PEDOTE: PRYSMIAN GROUP
Alan ROURA: LA FABRIQUE
Thomas RUYANT: LINKEDOUT
Damien SEGUIN: GROUPE APICIL
Kojiro SHIRAISHI: DMG MORI
Sébastien SIMON: ARKEA – PAPREC
Maxime SOREL: V AND B – MAYENNE
Alex THOMSON: HUGO BOSS
Armel TRIPON: L'OCCITANE EN PROVENCE
Nicolas TROUSSEL: CORUM L'ÉPARGNE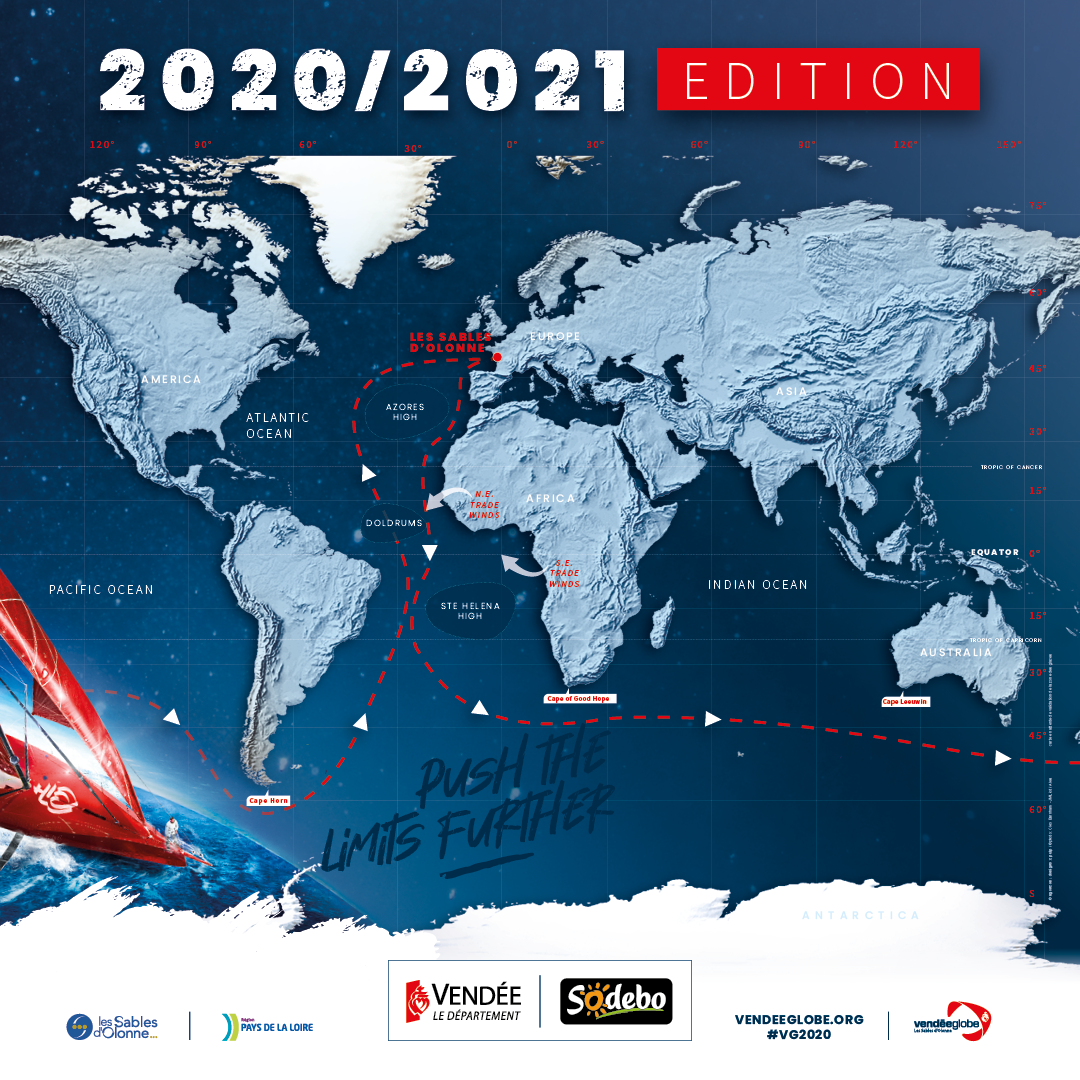 Source: Vendée Globe