Feature
New leader for Vendée Globe
Published on December 15th, 2020
(December 15, 2020; Day 38) – Charlie Dalin, having been slowed since around 1800hrs UTC yesterday evening to evaluate and then today to make some kind of repair to his port side foil system of APIVIA, has dropped to third in the Vendée Globe and lost over 120 miles to his two nearest rivals Thomas Ruyant and Yannick Bestaven.
But Dalin, race leader for 23 days up until last night, appears to be back in race mode this afternoon, making over 14kts south eastwards towards the south Pacific Ocean.
His team have so far only shared scant details about the problem, saying that the damage is not thought to have been caused by a collision with an object.
"The port foil remains whole," said the team. "The damage is to the lower support, where the foil rests as it leaves the boat. Charlie has therefore been focusing on strengthening the foil attachment to make sure the casing remains secure."
Meanwhile Ruyant, who himself has no working port foil on LinkedOut, has taken over the race lead again with a small margin of around 10 miles over Bestaven's Maître CoQ as the leading group broad reach south eastwards towards the Antarctic Exclusion Zone before gybing to parallel the ice boundary and accelerate into the Pacific Ocean later tomorrow or the following day.

Over three hundred miles behind the leading trio, after 36 days and very nearly half of the 24,410 nautical miles course, five IMOCAs are racing just 20nm apart in high pressure conditions more akin to the Mediterranean than 47 degrees south, some 1000 miles south of Adelaide, Australia.
"It has been such an amazing day," noted Boris Herrmann in fifth. "I really had to jump on my pilot to not crash into Damien (Seguin), we were kind of converging like magnets pulling the boats one to each other. Of course we were observing for a long time but I really didn't want to touch my pilot because my boat was on the perfect set up for going fast.
"Now I can see four lights around in the total darkness, and this is pretty amazing, five boats inside half way around – this has never happened before! I was so close to Damian that I could talk to him boat to boat and look closely inside his cockpit and so on…And then we also chatted on WhatsApp… it's really nice – no more loneliness. My dream day!
"It was warm… part of the day I was working outside without a jacket: I made the stern of the boat my workbench and I was playing with the grinder and the drill and this and that… and gluing the sail back together. A really fun day for a change, with distractions and nice things to do. The boat was going nicely by itself while I was working!
'Still a bit to overtake them but let's see how tonight goes. Not sure what happens with Apivia, seems like he has a problem with the foil case… but yeah, the Vendée Globe is always good for surprises!
Herrmann's objective for the day, to work through his job list while the benevolent conditions prevailed, was mirrored elsewhere in the fleet, although some jobs were achieved through sheer necessity rather than because of the conditions.
Bestaven was ecstatic to have climbed his mast and patched his J2 headsail leech to make his workhorse sail serviceable again before the Pacific and therefore render his Maître CoQ back to 100% efficiency again.
"It is good for our little group as we never stopped," said Bestaven. "We're going to get wind as we advance and we we'll get more wind along the ice exclusion zone limit. We're going to continue to build the gap on the group behind; that's the aim.
"I had seen that the area of light pressure was catching up with us, that's why I used the little gennaker, a bit on the limit, it wasn't comfortable, and I had to be careful. I had to follow so as not to be caught up in the light patch with no wind behind.
"I did not know about Charlie (Dalin) but I could see he was slowing down. I'm not surprised! They are faster boats; they should have better averages than me. I suspected he had a problem, but I think Thomas (Ruyant) is doing well anyway. My foils aren't very big, but they are strong!"
Ranking – 21:00 (GMT)*
1. Thomas RUYANT, LinkedOut – 12505.6 nm DTF**
2. Yannick BESTAVEN, Maître CoQ IV – 9.66 nm DTL
3. Charlie DALIN, APIVIA – 135.52 nm DTL
4. Jean LE CAM, Yes We Cam! – 444.7 nm DTL
5. Boris HERRMANN, SEAEXPLORER – YACHT CLUB DE MONACO – 449.03 nm DTL
DTF – Distance to Finish; DTF – Distance to Lead
* Four skippers assisted in the rescue of Kevin Escoffier which began on Nov. 30. Their ranking order that day as of 14:00 was Escoffier (3rd), Jean Le Cam (4th), Yannick Bestaven (6th), Sébastien Simon (7th), and Boris Herrmann (8th). The Race Jury will now determine the credit for each skipper to reestablish their ranking in the race and reveal their decision on December 16, 2020.
** Ruyant damaged port foil on Nov. 24 at 02:00.
Race details – Boat types – Tracker – Ranking – YouTube
The Vendée Globe is the only sailing race round the world that's solo, non-stop, and without assistance, and it was all systems go for the 9th edition on November 8. Beginning in 1989 with 13 entries, and held every four years, the start line in 2020 had 33 skippers taking off from Les Sables d'Olonne, France.
The development of the IMOCA Class toward foiling will see these boats hurl themselves around the world, teetering on carbon skates through inhospitable regions, chasing the record set in 2016-17 by Armel le Cléac'h of 74:03:35:46.
2020-21 Attrition
Nov. 16, 2020 – Nicolas TROUSSEL, CORUM L'EPARGNE – dismasted
Nov. 28, 2020 – Alex THOMSON, HUGO BOSS – rudder damage
Nov. 30, 2020 – Kevin ESCOFFIER, PRB – hull damage (sunk)
Dec. 4, 2020 – Sébastien SIMON, ARKEA PAPREC – foil damage
Dec. 5, 2020 – Sam DAVIES, Initiatives-Cœur – keel damage (collision)
Dec. 11, 2020 – Fabrice AMEDEO, NEWREST – ART & FENÊTRES – computer failure
Participation history:
1989-90: 13 boats at the start
1992-93: 15 boats
1996-97: 15 boats
2000-01: 24 boats
2004-05: 20 boats
2008-2009: 30 boats
2012-2013: 20 boats
2016-2017: 29 boats
2020-2021: 33 boats
2020-21 Entries
Fabrice AMEDEO: NEWREST – ART & FENÊTRES
Romain ATTANASIO: PURE – BEST WESTERN
Alexia BARRIER: TSE – 4MYPLANET
Yannick BESTAVEN: MAÎTRE COQ IV
Jérémie BEYOU: CHARAL
Arnaud BOISSIÈRES: LA MIE CÂLINE – ARTISANS ARTIPÔLE
Louis BURTON: BUREAU VALLÉE 2
Didac COSTA: ONE PLANET ONE OCEAN
Manuel COUSIN: GROUPE SÉTIN
Clarisse CREMER: BANQUE POPULAIRE X
Charlie DALIN: APIVIA
Samantha DAVIES: INITIATIVES-CŒUR
Sébastien DESTREMAU: MERCI
Benjamin DUTREUX: OMIA – WATER FAMILY
Kevin ESCOFFIER: PRB
Clément GIRAUD: COMPAGNIE DU LIT / JILITI
Pip HARE: MEDALLIA
Boris HERRMANN: SEA EXPLORER – YACHT CLUB DE MONACO
Ari HUUSELA: STARK
Isabelle JOSCHKE: MACSF
Jean LE CAM: YES WE CAM !
Stéphane LE DIRAISON: TIME FOR OCEANS
Miranda MERRON: CAMPAGNE DE FRANCE
Giancarlo PEDOTE: PRYSMIAN GROUP
Alan ROURA: LA FABRIQUE
Thomas RUYANT: LINKEDOUT
Damien SEGUIN: GROUPE APICIL
Kojiro SHIRAISHI: DMG MORI
Sébastien SIMON: ARKEA – PAPREC
Maxime SOREL: V AND B – MAYENNE
Alex THOMSON: HUGO BOSS
Armel TRIPON: L'OCCITANE EN PROVENCE
Nicolas TROUSSEL: CORUM L'ÉPARGNE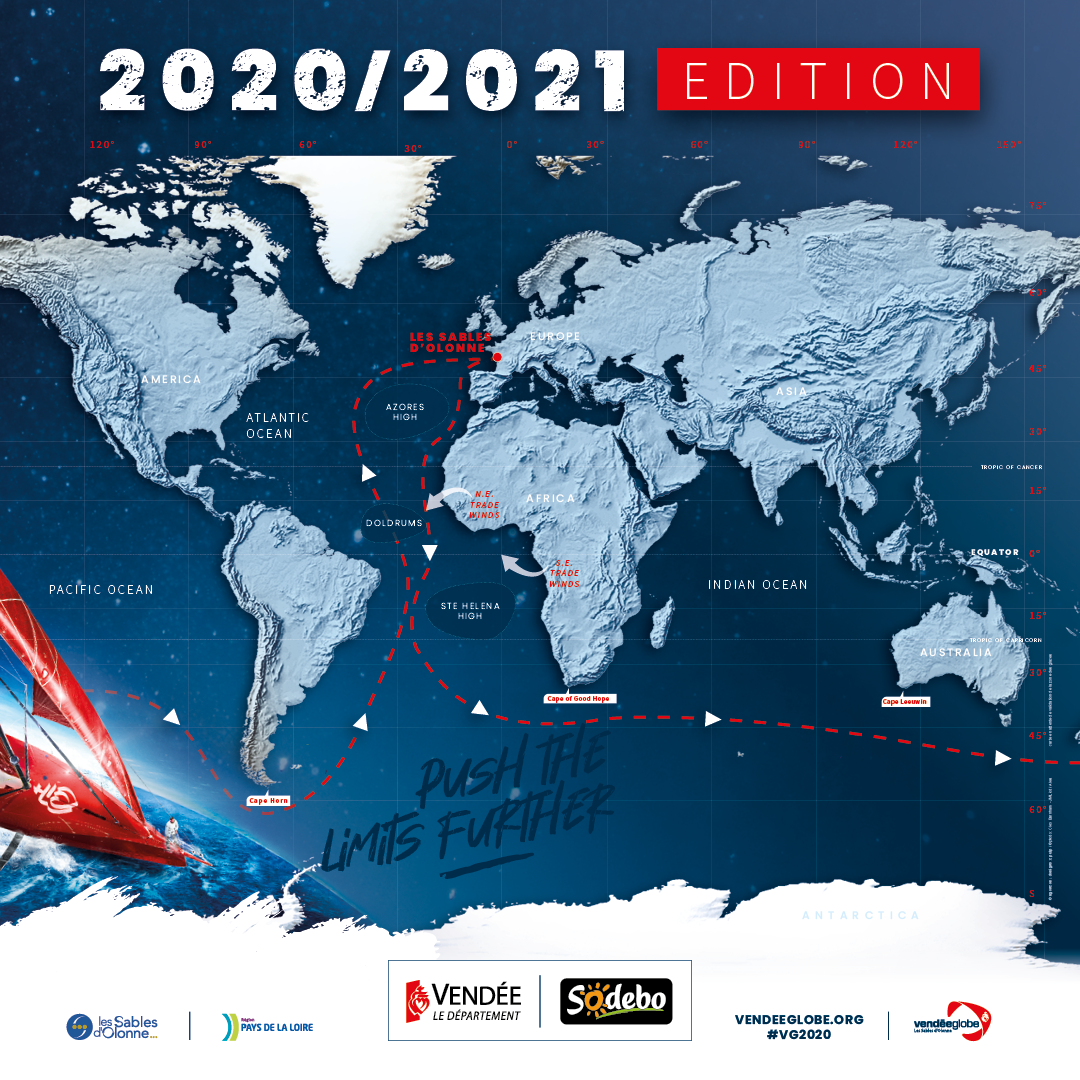 Source: Vendée Globe