News
Vendée Globe: Hardly a warm welcome
Published on January 1st, 2021
(January 1, 2021; Day 55) – Waves as high as a three story building and winds gusting to 55 knots are expected over a ferocious ten hour period for Vendée Globe leaders Yannick Bestaven and Charlie Dalin as they both seek to double the Horn, the last of the course's three Great Capes, for the first time.
"A drop for me, a drop for the boat, a drop for Neptune, hoping he might be lenient with us," said second placed Dalin, celebrating his arrival into 2021 by sprinkling the cockpit of his yellow hulled IMOCA Apivia with a splash of champagne, after having allowed himself a tiny sip of fizz to celebrate the New Year.
At 400 nm from Cape Horn, Bestaven along with Dalin have made good a very successful but hard-won escape from their nearest challengers. A big jump in the last 48 hours should allow them to throttle right back, settle into survival mode, and miss the worst of the malicious low pressure system which should be at its peak during tomorrow afternoon.
"It feels like it has been a very long time this South," admitted LinkedOut skipper Thomas Ruyant. "I'm glad it'll all be done soon. Cape Horn will be an important passage in my head. If I can get round in 3rd position, that would be great."
Leading the chasing posse, Ruyant is sailing behind the low, in a freezing SW'ly wind flow that has seen the whole group accelerate this afternoon. And the pace is as unrelenting as ever once more and the distances between boats in this group are tiny.
To finish any Vendée Globe is a victory in itself, but with this peleton group which is of unprecedented size – 150 nm between fourth and ninth today – and a truly exceptional level of competitiveness within that hard pressing pack, right now every mile, every place won and lost is big boost to morale. Conversely, in the freezing cold, unsettled winds behind the low, it is hard to accept losses and to constantly look only to the long game.
And at this stage all in the top ten or eleven can realistically still harbor hopes of winning, or being on the podium. But what would be the most common measure of success for this group? Podiums speak for themselves and would be the perfect result but probably most of this group left Les Sables d'Olonne with a place in the top five as their realistic target.
And right at this point – because it is so tight – there is as much chance of a place in the top five as there is finishing tenth. In this field on this race fifth would be an exceptional result. But of course just as every Vendée Globe is different so every fifth place is a unique yardstick and the way it looks now the time deltas between third and tenth can be very small.
In 1996 Briton Pete Goss was fifth in 126 days from six finishers in a time of 126 days, 21 days after the winner Christophe Augin. In 2000 Dominique Wavre was fifth from 15 finishers, 12 days after the winner, the Swiss skipper having an elapsed time of 105 days. Sébastien Josse was fifth in 2004 but missed fourth by nine hours. Thirteen boats finished and his elapsed time was 93 days.
Britain's Sam Davies was fifth from 11 in 2008 but missed fourth by 20 minutes. At 95 days she was 11 days behind Michel Desjoyeaux. In 2012 it was Jean Le Cam who was fifth from 11 finishers taking 88 days for his lap of the planet, 10 days slower than Francois Gabart. But Mike Golding missed fifth by six hours. And in 2016 when there were 19 finishers it was Yann Eliès who was fifth in 80 days, six days after winner Armel Le Cléac'h. And this time, recall that Le Cam missed fifth by 30 minutes.
Ranking – 17:00 (GMT)*
1. Yannick BESTAVEN, Maître CoQ IV – 7435.33 nm DTF
2. Charlie DALIN, APIVIA – 139.66 nm DTL
3. Thomas RUYANT, LinkedOut – 472.83 nm DTL**
4. Damien SEGUIN, GROUPE APICIL – 527.26 DTL
5. Benjamin DUTREUX, OMIA – WATER FAMILY – 627.15 nm DTL
DTF – Distance to Finish; DTL – Distance to Lead
* Time awards given to Yannick Bestaven, Jean Le Cam, and Boris Herrmann for their participation in the rescue of Kevin Escoffier will be applied when the skippers finish. – Details
** Damaged port foil on Nov. 24 at 02:00.
Race details – Boat types – Tracker – Ranking – YouTube
The Vendée Globe is the only sailing race round the world that's solo, non-stop, and without assistance, and it was all systems go for the 9th edition on November 8. Beginning in 1989 with 13 entries, and held every four years, the start line in 2020 had 33 skippers taking off from Les Sables d'Olonne, France.
The development of the IMOCA Class toward foiling will see these boats hurl themselves around the world, teetering on carbon skates through inhospitable regions, chasing the record set in 2016-17 by Armel le Cléac'h of 74:03:35:46.
2020-21 Attrition
Nov. 16, 2020 – Nicolas TROUSSEL, CORUM L'EPARGNE – dismasted
Nov. 28, 2020 – Alex THOMSON, HUGO BOSS – rudder damage
Nov. 30, 2020 – Kevin ESCOFFIER, PRB – hull damage (sunk)
Dec. 4, 2020 – Sébastien SIMON, ARKEA PAPREC – foil damage
Dec. 5, 2020 – Sam DAVIES, Initiatives-Cœur – keel damage (collision)
Dec. 11, 2020 – Fabrice AMEDEO, NEWREST – ART & FENÊTRES – computer failure
Participation history:
1989-90: 13 boats at the start
1992-93: 15 boats
1996-97: 15 boats
2000-01: 24 boats
2004-05: 20 boats
2008-2009: 30 boats
2012-2013: 20 boats
2016-2017: 29 boats
2020-2021: 33 boats
2020-21 Entries
Fabrice AMEDEO: NEWREST – ART & FENÊTRES
Romain ATTANASIO: PURE – BEST WESTERN
Alexia BARRIER: TSE – 4MYPLANET
Yannick BESTAVEN: MAÎTRE COQ IV
Jérémie BEYOU: CHARAL
Arnaud BOISSIÈRES: LA MIE CÂLINE – ARTISANS ARTIPÔLE
Louis BURTON: BUREAU VALLÉE 2
Didac COSTA: ONE PLANET ONE OCEAN
Manuel COUSIN: GROUPE SÉTIN
Clarisse CREMER: BANQUE POPULAIRE X
Charlie DALIN: APIVIA
Samantha DAVIES: INITIATIVES-CŒUR
Sébastien DESTREMAU: MERCI
Benjamin DUTREUX: OMIA – WATER FAMILY
Kevin ESCOFFIER: PRB
Clément GIRAUD: COMPAGNIE DU LIT / JILITI
Pip HARE: MEDALLIA
Boris HERRMANN: SEA EXPLORER – YACHT CLUB DE MONACO
Ari HUUSELA: STARK
Isabelle JOSCHKE: MACSF
Jean LE CAM: YES WE CAM !
Stéphane LE DIRAISON: TIME FOR OCEANS
Miranda MERRON: CAMPAGNE DE FRANCE
Giancarlo PEDOTE: PRYSMIAN GROUP
Alan ROURA: LA FABRIQUE
Thomas RUYANT: LINKEDOUT
Damien SEGUIN: GROUPE APICIL
Kojiro SHIRAISHI: DMG MORI
Sébastien SIMON: ARKEA – PAPREC
Maxime SOREL: V AND B – MAYENNE
Alex THOMSON: HUGO BOSS
Armel TRIPON: L'OCCITANE EN PROVENCE
Nicolas TROUSSEL: CORUM L'ÉPARGNE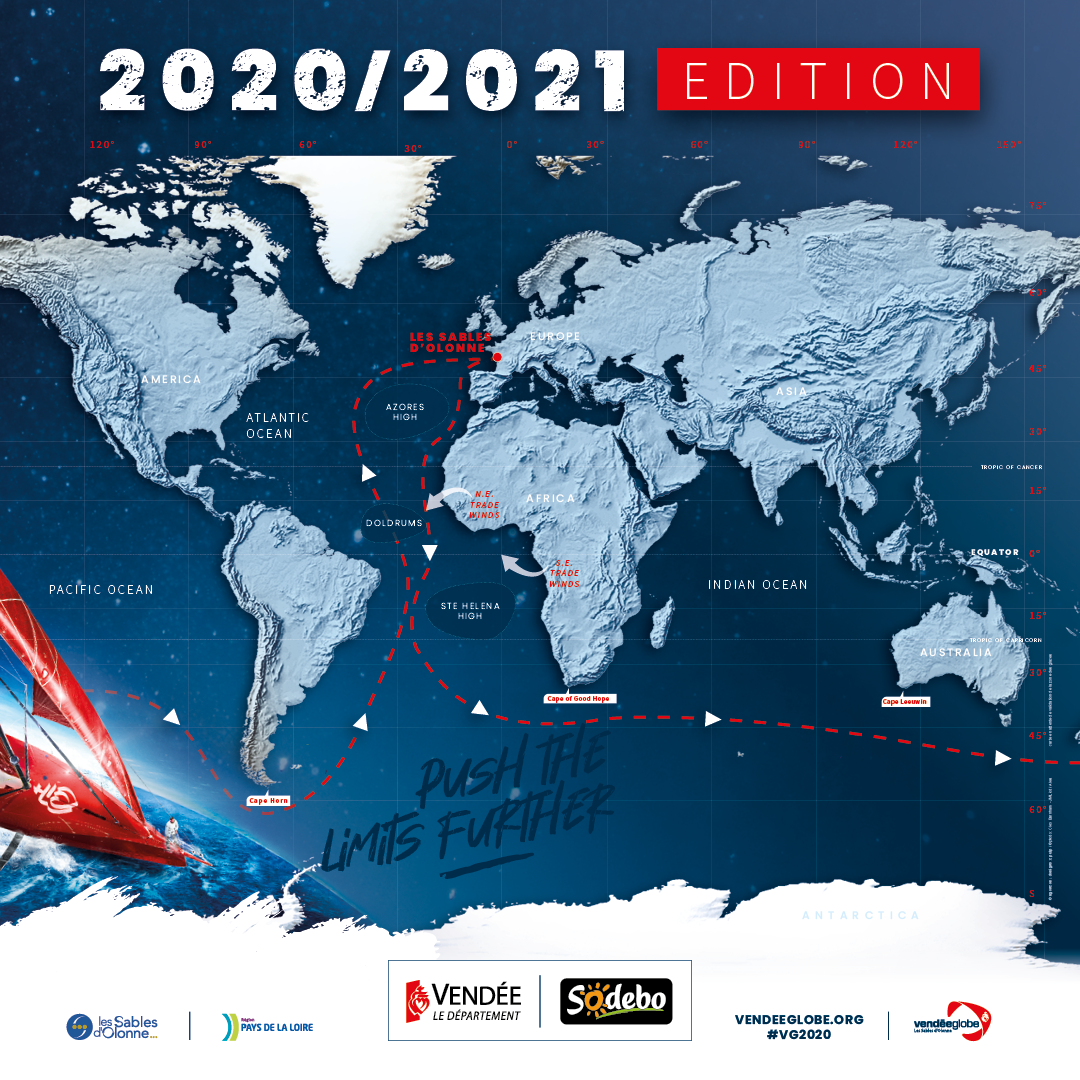 Source: Vendée Globe