Feature
Vendée Globe: Chutes, ladders, and sleep
Published on January 6th, 2021
(January 6, 2021; Day 60) – The climb up the Atlantic has gotten interesting for the Vendée Globe leaders as a high pressure system has led to differing opinion on how best to negotiate its light air trappings.
However, Maître CoQ IV skipper Yannick Bestaven appears to have broken the code, securing his lead as the only competitor to have escaped the system's grasp and get into new East-South-East flow of wind which will soon be reinforced by his hooking into a low pressure system.
While perennial podium jockeys Charlie Dalin and Thomas Ruyant match race to the west in hopes of better winds, it has allowed Damien Seguin to move up to second in the rankings, benefiting from his more northerly course. But while Seguin's better VMG offers this immediate benefit, it might be short-lived if he cannot sufficiently maintain his speed over the next 24 hours.

Back in the fleet, with 1100 nm to sail to Cape Horn, British skipper Pip Hare is faced with an autopilot system compromised due to the lack of true wind direction and strength data input, Hare is having to constantly adjust her course manually using the pilot's remote keypad which means she is on high alert all the time, leaving her little time to sleep and eat.
But the 46 year old from Poole in England remains totally resolute, determined to look after her 20 year old IMOCA Medallia in order that the evergreen raceboat which is on its fifth round the world racing circumnavigation in turn looks after her.
Racing behind a South Pacific low pressure system in 35-45 knots of wind and big, crossed seas, Hare is focused on a pinprick of light at the end of the long tunnel to her first Cape Horn rounding. Forecasts suggest that there will be no let up in the strong winds between now and the remote cape.
"It is hard for me just now because the course is very downwind, and so I can't just put the pilot on and have a snooze,"explained Hare. "If I surf down a big wave or the wind changes direction then there is a crash gybe. And so I have the autopilot control always attached to me, no matter what I do. I am so sensitive to everything.
"But we are going OK. The down side right now is that I don't sleep. I have done ten minutes here and there, dozes but I am hoping in six hours it will die down a bit, I will gybe and return back up a bit, then get south again on a more stable angle and I will get a snooze. We are doing alright. I just have to keep doing what I am doing."
Her race – and her colorful and factual communication of it – has won her legions of fans and followers of all ages and all around the globe, increasingly in France.
"The thing is that I have so many friends who are not sailing and people following us who are not into sailing who have no understanding of what I am doing out here, it is good to be able to share the experience."
Ranking – 21:00 (GMT)*
1. Yannick BESTAVEN, Maître CoQ IV – 5847.6 nm DTF
2. Damien SEGUIN, GROUPE APICIL – 297.0 DTL
3. Charlie DALIN, APIVIA – 319.08 nm DTL
4. Thomas RUYANT, LinkedOut – 333.24 nm DTL**
5. Louis BURTON, BUREAU VALLEE 2 – 387.63 nm DTL
DTF – Distance to Finish; DTL – Distance to Lead
* Time awards given to Yannick Bestaven, Jean Le Cam, and Boris Herrmann for their participation in the rescue of Kevin Escoffier will be applied when the skippers finish. – Details
** Damaged port foil on Nov. 24 at 02:00.
Race details – Boat types – Tracker – Ranking – YouTube
The Vendée Globe is the only sailing race round the world that's solo, non-stop, and without assistance, and it was all systems go for the 9th edition on November 8. Beginning in 1989 with 13 entries, and held every four years, the start line in 2020 had 33 skippers taking off from Les Sables d'Olonne, France.
The development of the IMOCA Class toward foiling will see these boats hurl themselves around the world, teetering on carbon skates through inhospitable regions, chasing the record set in 2016-17 by Armel le Cléac'h of 74:03:35:46.
2020-21 Attrition
Nov. 16, 2020 – Nicolas TROUSSEL, CORUM L'EPARGNE – dismasted
Nov. 28, 2020 – Alex THOMSON, HUGO BOSS – rudder damage
Nov. 30, 2020 – Kevin ESCOFFIER, PRB – hull damage (sunk)
Dec. 4, 2020 – Sébastien SIMON, ARKEA PAPREC – foil damage
Dec. 5, 2020 – Sam DAVIES, Initiatives-Cœur – keel damage (collision)
Dec. 11, 2020 – Fabrice AMEDEO, NEWREST – ART & FENÊTRES – computer failure
Participation history:
1989-90: 13 boats at the start
1992-93: 15 boats
1996-97: 15 boats
2000-01: 24 boats
2004-05: 20 boats
2008-2009: 30 boats
2012-2013: 20 boats
2016-2017: 29 boats
2020-2021: 33 boats
2020-21 Entries
Fabrice AMEDEO: NEWREST – ART & FENÊTRES
Romain ATTANASIO: PURE – BEST WESTERN
Alexia BARRIER: TSE – 4MYPLANET
Yannick BESTAVEN: MAÎTRE COQ IV
Jérémie BEYOU: CHARAL
Arnaud BOISSIÈRES: LA MIE CÂLINE – ARTISANS ARTIPÔLE
Louis BURTON: BUREAU VALLÉE 2
Didac COSTA: ONE PLANET ONE OCEAN
Manuel COUSIN: GROUPE SÉTIN
Clarisse CREMER: BANQUE POPULAIRE X
Charlie DALIN: APIVIA
Samantha DAVIES: INITIATIVES-CŒUR
Sébastien DESTREMAU: MERCI
Benjamin DUTREUX: OMIA – WATER FAMILY
Kevin ESCOFFIER: PRB
Clément GIRAUD: COMPAGNIE DU LIT / JILITI
Pip HARE: MEDALLIA
Boris HERRMANN: SEA EXPLORER – YACHT CLUB DE MONACO
Ari HUUSELA: STARK
Isabelle JOSCHKE: MACSF
Jean LE CAM: YES WE CAM !
Stéphane LE DIRAISON: TIME FOR OCEANS
Miranda MERRON: CAMPAGNE DE FRANCE
Giancarlo PEDOTE: PRYSMIAN GROUP
Alan ROURA: LA FABRIQUE
Thomas RUYANT: LINKEDOUT
Damien SEGUIN: GROUPE APICIL
Kojiro SHIRAISHI: DMG MORI
Sébastien SIMON: ARKEA – PAPREC
Maxime SOREL: V AND B – MAYENNE
Alex THOMSON: HUGO BOSS
Armel TRIPON: L'OCCITANE EN PROVENCE
Nicolas TROUSSEL: CORUM L'ÉPARGNE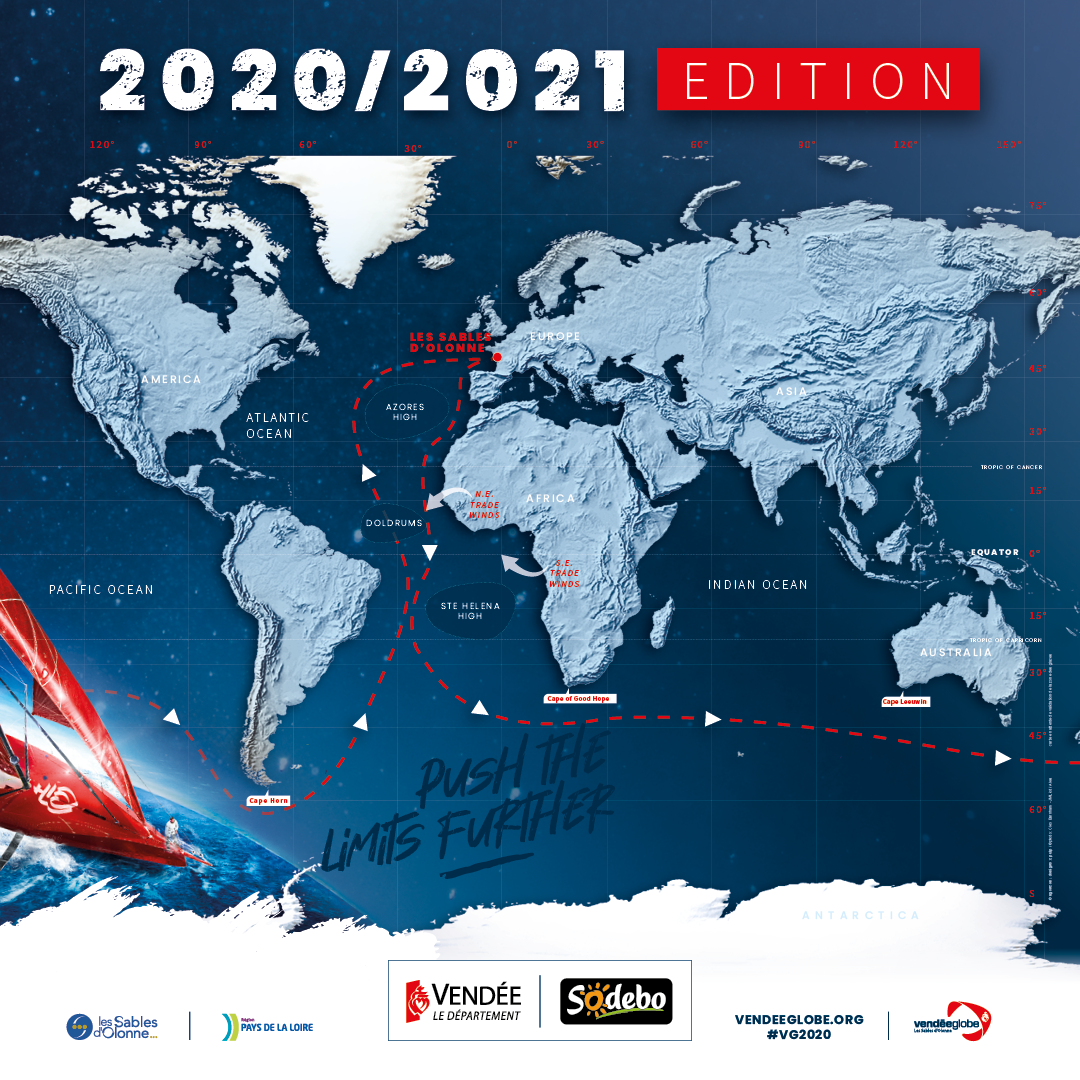 Source: Vendée Globe