News
Vendée Globe: Testing the human spirit
Published on January 8th, 2021
(January 8, 2021; Day 62) – Yannick Bestaven, the Vendée Globe leader since Christmas Day, has been slowed in a high pressure zone and although still climbing north he has been closely monitoring the faster speeds of his two nearest rivals – Charlie Dalin on Apivia in second and Thomas Ruyant on LinkedOut in third.
The catch up of Dalin and Ruyant continued through the day, with the two skippers and their 2019 Verdier-designed IMOCAs matching speed just 30 nm apart, positioned in a loose cover to the north of the fleet.
Further back, Pip Hare overcame recent adversity to successfully replace her port rudder in the depths of the South Pacific. Here is her update:
---
Every part of my body aches. I have bloody knuckles on every finger, bruises all down my legs and muscles I didn't know I had that hurt but YES!!!!! The new rudder is in and Medallia is back in the game.
Alan Roura had to replace a rudder on this boat, in a fairly similar place, when he was racing it as La Fabrique in the 2016 Vendee Globe. I talked to Alan about this story and it always amazed me that he was actually able to change a rudder in the Southern Ocean, I couldn't imagine how hard it must have been.
But on the strength of his story, I had a spare rudder built for my race and Joff (boat captain Joff Brown) and I practiced the procedure for changing the rudders over just two weeks before the start in Le Sables D'Olonnes. But every time I thought of Alan changing the rudders over in the Southern Ocean there was doubt in my mind as to whether I would be able to do it.
Yesterday I was scared and apprehensive. The conditions were far from ideal, a big swell and a forecast for a light patch between gales. I talked through the procedure with Joff and with Paul, the main concern was slowing the boat down enough to get the rudder in and then the boat landing on the rudder stock and doing damage to either.
Eventually, with a drogue out of the back and under bare poles in 16-18 knots of breeze, I went for it. I think the whole procedure took about an hour and a half with many hours of preparation and packing up before and after.
My heart was in my mouth for the whole time. I ran around the cockpit, winding winches, pulling ropes, sliding over to the back of the boat to grab, yank, manhandle, rudder ropes and anchor chain. Once I was committed to doing it there was nothing that was going to get in my way.
There were some tough moments and I had to plead with my boat and the ocean a couple of times but when that new rudder stock finally came shooting up through the deck level bearing the out loud whooping that came from me could easily have been heard for miles around.. if anyone had been there to hear it.
I'm now back in the game, the breeze has filled in and Medallia is humming along at 15 knots and I can't quite believe that I did that.
I have always said one of the things that attracts me to solo sailing as a sport is that it allows me to become the best version of myself. When alone in the middle of an ocean there is no easy option. You must face every problem head on and find the solution from within.
This race challenges every aspect of what it means to be a human being, on every level we are forced to perform and do extraordinary things. You can see this across the whole fleet, as each skipper deals with their own problems after 60 days of racing, all of us fighting to stay in the game. I am proud to be one of this number. I am proud to be a solo sailor competing in the Vendee Globe.
Now can I please have a pass out of the Southern Ocean? I think I am done here now.
Ranking – 21:00 (GMT)*
1. Yannick BESTAVEN, Maître CoQ IV – 5300.1 nm DTF
2. Charlie DALIN, APIVIA – 380.5 nm DTL
3. Thomas RUYANT, LinkedOut – 402.76 nm DTL**
4. Damien SEGUIN, GROUPE APICIL – 462.13 DTL
5. Louis BURTON, BUREAU VALLEE 2 – 574.01 nm DTL
DTF – Distance to Finish; DTL – Distance to Lead
* Time awards given to Yannick Bestaven, Jean Le Cam, and Boris Herrmann for their participation in the rescue of Kevin Escoffier will be applied when the skippers finish. – Details
** Damaged port foil on Nov. 24 at 02:00.
Race details – Boat types – Tracker – Ranking – YouTube
The Vendée Globe is the only sailing race round the world that's solo, non-stop, and without assistance, and it was all systems go for the 9th edition on November 8. Beginning in 1989 with 13 entries, and held every four years, the start line in 2020 had 33 skippers taking off from Les Sables d'Olonne, France.
The development of the IMOCA Class toward foiling will see these boats hurl themselves around the world, teetering on carbon skates through inhospitable regions, chasing the record set in 2016-17 by Armel le Cléac'h of 74:03:35:46.
2020-21 Attrition
Nov. 16, 2020 – Nicolas TROUSSEL, CORUM L'EPARGNE – dismasted
Nov. 28, 2020 – Alex THOMSON, HUGO BOSS – rudder damage
Nov. 30, 2020 – Kevin ESCOFFIER, PRB – hull damage (sunk)
Dec. 4, 2020 – Sébastien SIMON, ARKEA PAPREC – foil damage
Dec. 5, 2020 – Sam DAVIES, Initiatives-Cœur – keel damage (collision)
Dec. 11, 2020 – Fabrice AMEDEO, NEWREST – ART & FENÊTRES – computer failure
Participation history:
1989-90: 13 boats at the start
1992-93: 15 boats
1996-97: 15 boats
2000-01: 24 boats
2004-05: 20 boats
2008-2009: 30 boats
2012-2013: 20 boats
2016-2017: 29 boats
2020-2021: 33 boats
2020-21 Entries
Fabrice AMEDEO: NEWREST – ART & FENÊTRES
Romain ATTANASIO: PURE – BEST WESTERN
Alexia BARRIER: TSE – 4MYPLANET
Yannick BESTAVEN: MAÎTRE COQ IV
Jérémie BEYOU: CHARAL
Arnaud BOISSIÈRES: LA MIE CÂLINE – ARTISANS ARTIPÔLE
Louis BURTON: BUREAU VALLÉE 2
Didac COSTA: ONE PLANET ONE OCEAN
Manuel COUSIN: GROUPE SÉTIN
Clarisse CREMER: BANQUE POPULAIRE X
Charlie DALIN: APIVIA
Samantha DAVIES: INITIATIVES-CŒUR
Sébastien DESTREMAU: MERCI
Benjamin DUTREUX: OMIA – WATER FAMILY
Kevin ESCOFFIER: PRB
Clément GIRAUD: COMPAGNIE DU LIT / JILITI
Pip HARE: MEDALLIA
Boris HERRMANN: SEA EXPLORER – YACHT CLUB DE MONACO
Ari HUUSELA: STARK
Isabelle JOSCHKE: MACSF
Jean LE CAM: YES WE CAM !
Stéphane LE DIRAISON: TIME FOR OCEANS
Miranda MERRON: CAMPAGNE DE FRANCE
Giancarlo PEDOTE: PRYSMIAN GROUP
Alan ROURA: LA FABRIQUE
Thomas RUYANT: LINKEDOUT
Damien SEGUIN: GROUPE APICIL
Kojiro SHIRAISHI: DMG MORI
Sébastien SIMON: ARKEA – PAPREC
Maxime SOREL: V AND B – MAYENNE
Alex THOMSON: HUGO BOSS
Armel TRIPON: L'OCCITANE EN PROVENCE
Nicolas TROUSSEL: CORUM L'ÉPARGNE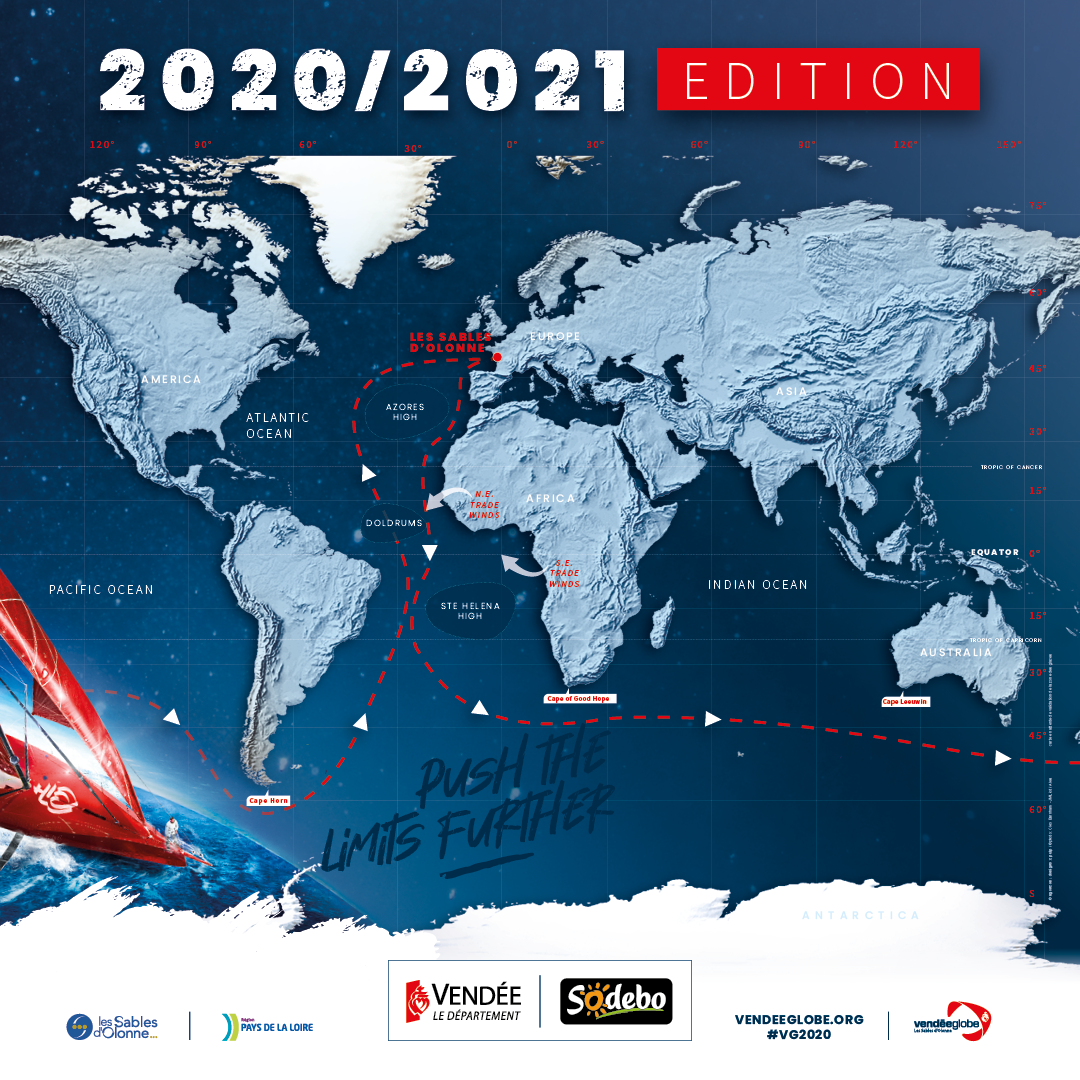 Source: Vendée Globe