News
Vendée Globe: Mean, nasty, angry
Published on January 9th, 2021
(January 9, 2021; Day 63) – The Pacific is proving particularly unrelenting for the Vendée Globe racers still racing eastwards towards Cape Horn. There might be the odd pause for a few hours before the next low pressure system kicks them along the course towards deliverance, and the big left turn out of the Southern Ocean and into the more sheltered waters of the Atlantic.
The next wagon train of IMOCA 60s presently routing their approach to the Horn is led by Alan Roura, with Arnaud Boissières and Briton Pip Hare all close behind. These three musketeers should pass between tomorrow night and and the following afternoon.
Roura, 27 years old, heading for his second consecutive Vendée Globe Cape Horn rounding and Boissières his fourth, have gained miles against Hare today as the British skipper stays a little bit conservative after her rudder problems and conserves her energy for the final push which will be in strong winds on a big low pressure system.
At the front of it today the two foilers, La Fabrique of Roura and La Mie Caline-Artisans Artipole, have been three or four knots quicker than Hare's Medallia.
One hundred and fifty miles further astern both Didac Costa, the Spanish skipper of One Planet-One Ocean and Stéphane Le Diraison on Time For Oceans, have had their toughest time of the race so far with gusts over 50kts at times.
"I think I got the worst of it with winds reaching 60 knots and waves with troughs of six to eight metres," said Le Diraison. "The memory of it will stay with me for life. I have this image of a squall in 60 knots of wind, breaking waves, no sail up, the boat on its side in a snowstorm with the wind howling in the rig with a total sense of powerlessness in the face of these crazy conditions.
"It is mad to watch the sea which is white, almost like frothing milk and spray coming from all angles. It is just quite incredible. I am happy to have experienced it, it is quite an experience on a human level to have come through this, particularly physically, because it is so cold, but also on a mental and stress level, it is extremely demanding.
"It is so cold, you just wrap up with all you have, it is just four degrees inside the cabin and then you hear the waves breaking on deck or being knocked down by a wave and you have to get dressed in the wet clothes and go out in the middle of the night. It is then that you have to just not think about it or question yourself.
"That is why I like that expression you just have to disconnect your brain, to concentrate on what needs to be done. Get out of the bunk, get dressed and go through the list of things that need to be done and leave the analysis of it all for later."
By way of sharp contrast in the South Atlantic off the coasts of Argentina, Uruguay, and the south of Brazil it is hot for leader Yannick Bestaven (Maître Coq IV) in more ways than one. He has seen his lead shrink from 435 nautical miles to less than 200 miles this evening.
In second place, Charlie Dalin is pushing the 2019 Verdier design Apivia very hard in near ideal foiling conditions, flat seas and 15-17 knots of breeze, constantly making 23-25kts averages to be 50 miles ahead of third placed Thomas Ruyant (LinkedOut)
"I have good conditions to go fast, I currently have 22-23 knots of boatspeed for 15 knots of wind," said Dalin. "So I am on the right foil. The sea state is getting flatter and I can feel the distance between Yannick and me shrinking so I hope that carries on for as long as possible. It is not going to be a straight line for me onwards, but there is an opportunity here and I am on it."
Compared to Bestaven's 2015 VPLP-Verdier design, Dalin notes how conditions are improving for the new generation boats.
"It is a lot related to the wind stability," describes Dalin. "If it is a very gusty day you cannot carry as much sail as if the wind was more stable. And also the sea state, the sea state was the biggest problem in the south. In the Indian and part of the Pacific we just could not push. The sea state did not permit it.
"But yesterday I was still under my speed polars because I was in a 2m seaway. And when I was reaching speeds of 30kts then the slamming is too much. The sea state is such a factor. Obviously you push less hard than you do in training. You cannot be trimming, on the sheets all the time, you have to be able to leave the boat to go when you are sleeping. You run a few percent below what the boat could do. Sea state and wind stability."
Of the wind conditions and strategy ahead, Dalin is hopeful. "Dealing with the high pressure which will pass behind Thomas and I, there will be transitions and the trade winds and this high pressure which is really, really complicated with a big area of no wind. It is changing all the time on the GRIB files. It is going to be a tough ascent to tackle I see there is an opportunity to catch up. So hopefully it will go okay."
UPDATE: The Franco-German skipper Isabelle Joschke has been forced to abandon her Vendée Globe on the 62nd day of racing after a further failure of the keel canting system on board her IMOCA MACSF. – Full report
Ranking – 21:00 (GMT)*
1. Yannick BESTAVEN, Maître CoQ IV – 5076.92 nm DTF
2. Charlie DALIN, APIVIA – 176.81 nm DTL
3. Thomas RUYANT, LinkedOut – 246.45 nm DTL**
4. Damien SEGUIN, GROUPE APICIL – 322.29 DTL
5. Louis BURTON, BUREAU VALLEE 2 – 446.16 nm DTL
DTF – Distance to Finish; DTL – Distance to Lead
* Time awards given to Yannick Bestaven, Jean Le Cam, and Boris Herrmann for their participation in the rescue of Kevin Escoffier will be applied when the skippers finish. – Details
** Damaged port foil on Nov. 24 at 02:00.
Race details – Boat types – Tracker – Ranking – YouTube
The Vendée Globe is the only sailing race round the world that's solo, non-stop, and without assistance, and it was all systems go for the 9th edition on November 8. Beginning in 1989 with 13 entries, and held every four years, the start line in 2020 had 33 skippers taking off from Les Sables d'Olonne, France.
The development of the IMOCA Class toward foiling will see these boats hurl themselves around the world, teetering on carbon skates through inhospitable regions, chasing the record set in 2016-17 by Armel le Cléac'h of 74:03:35:46.
2020-21 Attrition
Nov. 16, 2020 – Nicolas TROUSSEL, CORUM L'EPARGNE – dismasted
Nov. 28, 2020 – Alex THOMSON, HUGO BOSS – rudder damage
Nov. 30, 2020 – Kevin ESCOFFIER, PRB – hull damage (sunk)
Dec. 4, 2020 – Sébastien SIMON, ARKEA PAPREC – foil damage
Dec. 5, 2020 – Sam DAVIES, Initiatives-Cœur – keel damage (collision)
Dec. 11, 2020 – Fabrice AMEDEO, NEWREST – ART & FENÊTRES – computer failure
Participation history:
1989-90: 13 boats at the start
1992-93: 15 boats
1996-97: 15 boats
2000-01: 24 boats
2004-05: 20 boats
2008-2009: 30 boats
2012-2013: 20 boats
2016-2017: 29 boats
2020-2021: 33 boats
2020-21 Entries
Fabrice AMEDEO: NEWREST – ART & FENÊTRES
Romain ATTANASIO: PURE – BEST WESTERN
Alexia BARRIER: TSE – 4MYPLANET
Yannick BESTAVEN: MAÎTRE COQ IV
Jérémie BEYOU: CHARAL
Arnaud BOISSIÈRES: LA MIE CÂLINE – ARTISANS ARTIPÔLE
Louis BURTON: BUREAU VALLÉE 2
Didac COSTA: ONE PLANET ONE OCEAN
Manuel COUSIN: GROUPE SÉTIN
Clarisse CREMER: BANQUE POPULAIRE X
Charlie DALIN: APIVIA
Samantha DAVIES: INITIATIVES-CŒUR
Sébastien DESTREMAU: MERCI
Benjamin DUTREUX: OMIA – WATER FAMILY
Kevin ESCOFFIER: PRB
Clément GIRAUD: COMPAGNIE DU LIT / JILITI
Pip HARE: MEDALLIA
Boris HERRMANN: SEA EXPLORER – YACHT CLUB DE MONACO
Ari HUUSELA: STARK
Isabelle JOSCHKE: MACSF
Jean LE CAM: YES WE CAM !
Stéphane LE DIRAISON: TIME FOR OCEANS
Miranda MERRON: CAMPAGNE DE FRANCE
Giancarlo PEDOTE: PRYSMIAN GROUP
Alan ROURA: LA FABRIQUE
Thomas RUYANT: LINKEDOUT
Damien SEGUIN: GROUPE APICIL
Kojiro SHIRAISHI: DMG MORI
Sébastien SIMON: ARKEA – PAPREC
Maxime SOREL: V AND B – MAYENNE
Alex THOMSON: HUGO BOSS
Armel TRIPON: L'OCCITANE EN PROVENCE
Nicolas TROUSSEL: CORUM L'ÉPARGNE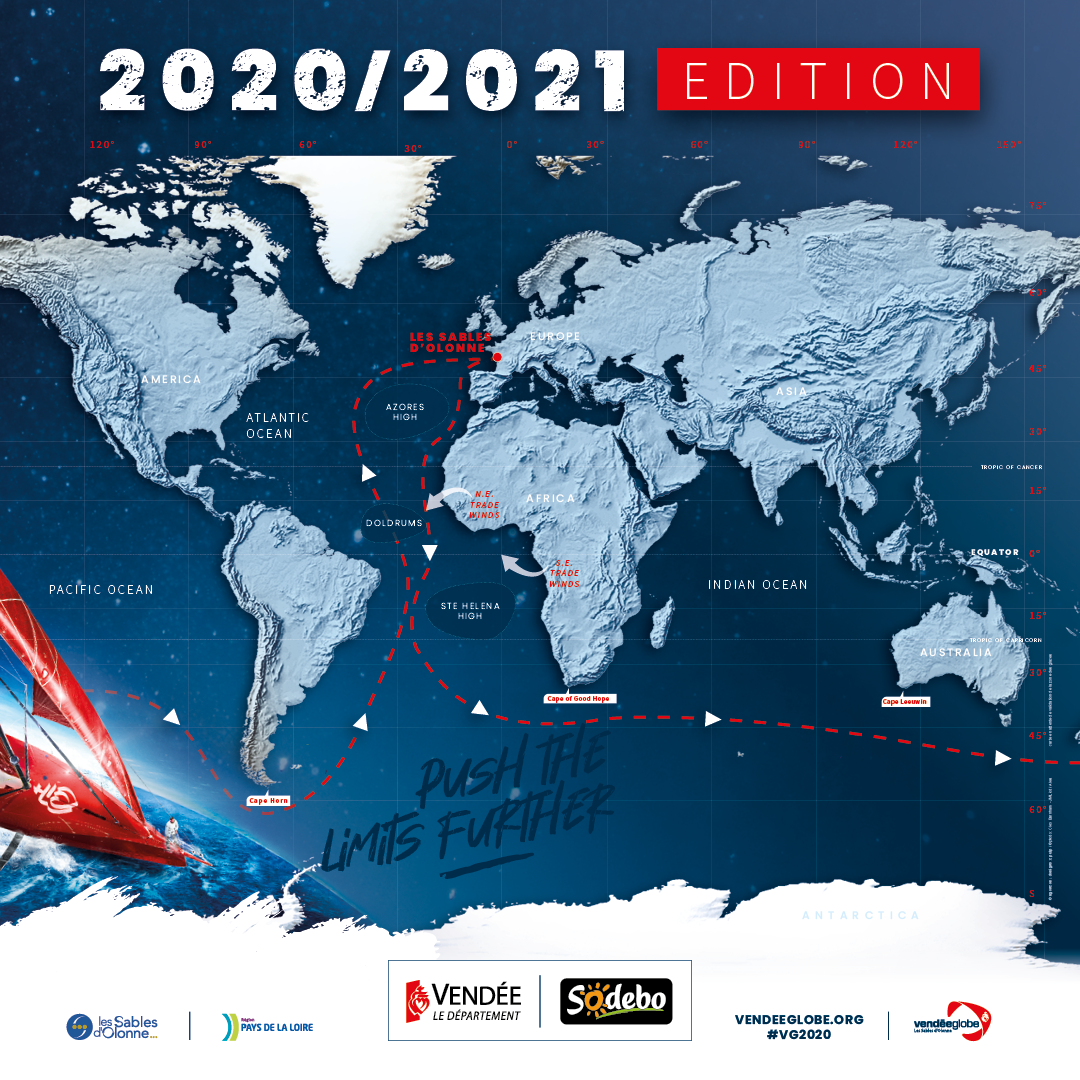 Source: Vendée Globe