Feature
Vendée Globe: Sprint or fade away
Published on January 13th, 2021
(January 13, 2021; Day 67) – With nothing more than a handful of small miles separating them, the leaders of the Vendée Globe are engaged on a straight head-to-head northerly speed test which may yet prove decisive, and which may finally show the ultimate value of a fully functioning latest generation foil package.
At 200 nm off the Brazilian coast, it is likely to be a reaching drag race past Recife, 600 miles to the north of leader Charlie Dalin (Apivia), and the actual speed potential – the combination of a working foil and J2 headsail – could deliver the key advantage which might then be carried into a North Atlantic sprint finish that presently looks relatively fast and straightforward.
Dalin, from his position about 60 miles to the East of Yannick Bestaven, has managed to eke out a gain to be 10 miles ahead Maître Coq, sailing a faster angle with slightly more wind pressure. Louis Burton, who has been steadily working his way through the fleet, narrowly pulled ahead of Bestaven in the latest ranking to now sit in second.

In terms of the various packages, Maître Coq has smaller less powerful foils as does Burton on Bureau Vallée 2. However, with the boats on starboard tack, it is not completely clear if Dalin's port side (leeward) foil is compromised because of his repair to the box bearing.
In fourth, Thomas Ruyant is most certainly disadvantaged with his truncated port foil, while Boris Herrmann has pulled up to sixth with big, new generation foils fitted to his 2016-17 boat and is chasing down Damien Seguin's Groupe APICIL, the first daggerboard boat which is tracking furthest to the East.
"I am normally a humble person but here I would say in theory our boat should have the best potential for the next eight days on starboard tack where I have a proper full port side foil, which should be better and more efficient than Louis Burton and Maître Coq," said Herrmann.
"I suppose, I don't know how Apivia will go, it may be the fastest but we have really good potential in this boat, but it is now really in the hands of the weather scenario as well, how much the bungee stretches out and in what sequence and if we find the wind to use the foil and when. If it is 11-12kts and 13-14kts then we are onto the foil and can zoom up to the others."
The challenge, noted IMOCA Class president Antoine Mermod, is to know what the real state of each boat is. "It is sure you need to have the best package for the next eight days on starboard tack, that means a good foil working well and a J2 (main genoa headsail) working well.
"I think for Thomas Ruyant we know he can't use it and then I think it will be painful for him. And for Maître Coq close to the lead he is ready to do well, though with a small foil but with a good overall package. And from that point of view Boris with big foils and a J2 is in a good position. Remember that a one or two knot speed differential over 24 hours represents a big gain in this context."
And while it is mostly going to be a speed race in the trade winds to the Doldrums at least, closer to the Brazilian coast there is more potential for disruptive rain squalls and also lighter spells of wind especially at night and in the early morning. This may especially be the case close in to Recife.
But in the North Atlantic there seems to be the potential reward of a low pressure system for the leaders to hook into fast SW'ly winds which might offer a record paced passage from the equator to Les Sables d'Olonne.
According to Vendée Globe weather consultant Christian Dumard, although there have been long sections of what would be considered atypical weather on this race – not least a complicated descent into the Roaring 40s and a long spell of light weather in the Pacific – it appears the North Atlantic might finally deliver a climb back to France direct from the roadbooks, the NE'ly trades transitioning straight to a low pressure system.
"We could be looking at long starboard tack in the NE'ly trade winds up to the Canaries, a depression to hang on and a good SW'ly flow to reach Les Sables d'Olonne. It could be quick," noted Dumard.
Ranking – 21:00 (GMT)*
1. Charlie DALIN, APIVIA – 4303.54 nm DTF
2. Louis BURTON, BUREAU VALLEE 2 – 18.25 nm DTL
3. Yannick BESTAVEN, Maître CoQ IV – 19.36 nm DTL
4. Thomas RUYANT, LinkedOut – 32.93 nm DTL**
5. Damien SEGUIN, GROUPE APICIL – 54.1 nm DTL
DTF – Distance to Finish; DTL – Distance to Lead
* Time awards given to Yannick Bestaven, Jean Le Cam, and Boris Herrmann for their participation in the rescue of Kevin Escoffier will be applied when the skippers finish. – Details
** Damaged port foil on Nov. 24 at 02:00.
Race details – Boat types – Tracker – Ranking – YouTube
The Vendée Globe is the only sailing race round the world that's solo, non-stop, and without assistance, and it was all systems go for the 9th edition on November 8. Beginning in 1989 with 13 entries, and held every four years, the start line in 2020 had 33 skippers taking off from Les Sables d'Olonne, France.
The development of the IMOCA Class toward foiling will see these boats hurl themselves around the world, teetering on carbon skates through inhospitable regions, chasing the record set in 2016-17 by Armel le Cléac'h of 74:03:35:46.
2020-21 Attrition
Nov. 16, 2020 – Nicolas TROUSSEL, CORUM L'EPARGNE – dismasted
Nov. 28, 2020 – Alex THOMSON, HUGO BOSS – rudder damage
Nov. 30, 2020 – Kevin ESCOFFIER, PRB – hull damage (sunk)
Dec. 4, 2020 – Sébastien SIMON, ARKEA PAPREC – foil damage
Dec. 5, 2020 – Sam DAVIES, Initiatives-Cœur – keel damage (collision)
Dec. 11, 2020 – Fabrice AMEDEO, NEWREST – ART & FENÊTRES – computer failure
Jan. 9, 2021 – Isabelle JOSCHKE, MACSF – keel ram failure
Participation history:
1989-90: 13 boats at the start
1992-93: 15 boats
1996-97: 15 boats
2000-01: 24 boats
2004-05: 20 boats
2008-2009: 30 boats
2012-2013: 20 boats
2016-2017: 29 boats
2020-2021: 33 boats
2020-21 Entries
Fabrice AMEDEO: NEWREST – ART & FENÊTRES
Romain ATTANASIO: PURE – BEST WESTERN
Alexia BARRIER: TSE – 4MYPLANET
Yannick BESTAVEN: MAÎTRE COQ IV
Jérémie BEYOU: CHARAL
Arnaud BOISSIÈRES: LA MIE CÂLINE – ARTISANS ARTIPÔLE
Louis BURTON: BUREAU VALLÉE 2
Didac COSTA: ONE PLANET ONE OCEAN
Manuel COUSIN: GROUPE SÉTIN
Clarisse CREMER: BANQUE POPULAIRE X
Charlie DALIN: APIVIA
Samantha DAVIES: INITIATIVES-CŒUR
Sébastien DESTREMAU: MERCI
Benjamin DUTREUX: OMIA – WATER FAMILY
Kevin ESCOFFIER: PRB
Clément GIRAUD: COMPAGNIE DU LIT / JILITI
Pip HARE: MEDALLIA
Boris HERRMANN: SEA EXPLORER – YACHT CLUB DE MONACO
Ari HUUSELA: STARK
Isabelle JOSCHKE: MACSF
Jean LE CAM: YES WE CAM !
Stéphane LE DIRAISON: TIME FOR OCEANS
Miranda MERRON: CAMPAGNE DE FRANCE
Giancarlo PEDOTE: PRYSMIAN GROUP
Alan ROURA: LA FABRIQUE
Thomas RUYANT: LINKEDOUT
Damien SEGUIN: GROUPE APICIL
Kojiro SHIRAISHI: DMG MORI
Sébastien SIMON: ARKEA – PAPREC
Maxime SOREL: V AND B – MAYENNE
Alex THOMSON: HUGO BOSS
Armel TRIPON: L'OCCITANE EN PROVENCE
Nicolas TROUSSEL: CORUM L'ÉPARGNE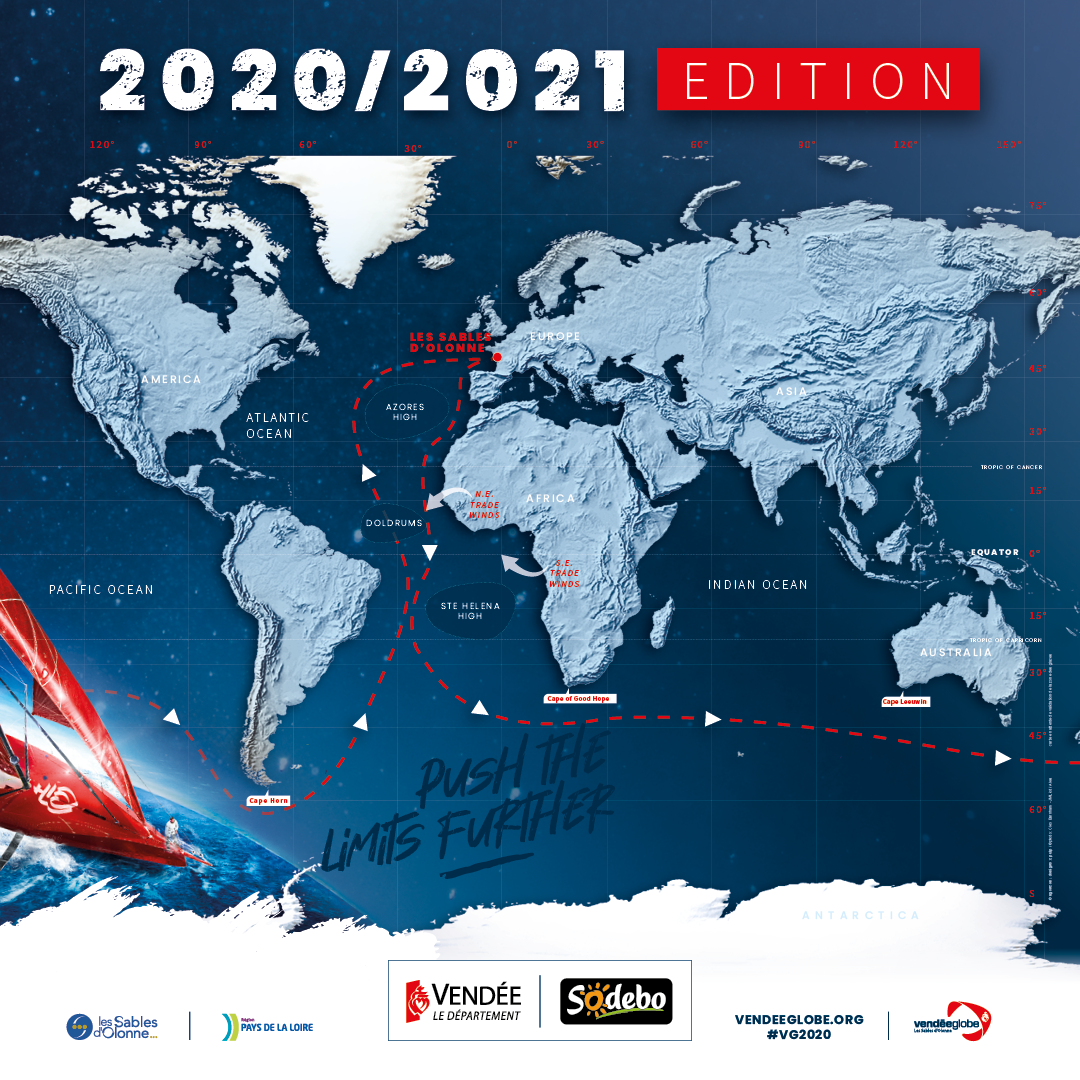 Source: Vendée Globe