Feature
Vendée Globe: Keeping it in perspective
Published on January 14th, 2021
(January 14, 2021; Day 68) – As the Vendée Globe leaders pass the Brazilian port of Salvador de Bahia, there are no options in terms of strategy and choices on the northwards climb up the Atlantic for the tightly matched fleet, but the conditions are difficult and tiring.
The E'ly tradewinds shift in direction, and more particularly in strength, is proving especially wearing, with squalls and gusts which make setting the optimum sail are difficult on the close reach.
Apivia skipper Charlie Dalin has led now for two days and is 23 miles ahead of second placed Louis Burton on Bureau Vallée 2. The pair have been consistently quicker than the four other key rivals round about them.
One month ago when he was SW of Tasmania, Dalin had to repair the bearing which secures the foil as it enters the hull aperture on his port side. He is paying a price for not having full use of the large hydrofoil as he tries to get away from Burton who is racing a 2016 generation boat, but the leading skipper remains objective,

"I have to fight with the weapons I have," said Dalin, the French Offshore Champion in 2014 and 2016. "One month ago I came close to abandoning so I am just glad to be here, but we will be on starboard for a long time for sure and it has already started. I'm not sure we don't have to tack in the Doldrums because it looks rather interesting and challenging right now.
"There will be a lot of sail changes to be made, reefing, reefing so that will inevitably play out. But overall there is a lot of starboard tack in the trade winds of the northern hemisphere. The routing of the Doldrums appears to be quicker and easier in theory than in reality so we have to be wary of any timings.
"I cannot fully deploy my foil but I can press on it at a certain heeling angle and more so I have a little bit of downforce but nothing like I would normally have had if it were fully deployed. The speeds that I could be at without this compromise are nothing like those I am sailing at now.
"But let's keep it in perspective because my Vendée Globe could have stopped in Australia or New Zealand but here I am one month on, leading the race. This is just a bonus! It is great! I am very happy and I will do everything to keep the lead and get to the end."
For all that, Dalin has been quicker during today making 16kts, only outpaced by Germany's Boris Herrmann who is steadily coming into his own now as the winds build to more consistent foiling conditions. The sailor from Hamburg is up to fifth place and was making 17kts this afternoon, but at the same northing, the same latitude, as former leader Yannick Bestaven who lost 435 miles to the chasing pack in the transition through the Cabo Frio cold front, and is sixth this afternoon.
"Being fifth is a bit nominal, north-south Yannick and I are in the same position," explained Herrmann. "It must be tough for Yannick, I feel a bit sorry for him, but I hope he catches up and we all make it a good race together, exciting. Thomas Ruyant said he can see us all finishing on the same day, that would be really cool!
"Last night was really bad. I had a 26 knot gust and was afraid of breaking stuff and so I feel a bit knackered, tired. It is not as warm as two days ago when it was super warm, unbearable. During the daytime in the bunk I don't sleep, I just get a headache.
"There are little things to complain about, but the race is absolutely amazing, fantastic. You almost wish to accelerate this game, like a time-lapse to see what happens. I am hoping to keep making miles but that is not so, so much in my hands. Some good wind tomorrow should allow me to foil towards the front."
Weather routings have the leaders crossing the Equator in two days before breaking into the NE'ly trades. A transition zone around the south of the Azores high pressure could be the only minor pothole on what looks to be a quick passage to Les Sables d'Olonne.
After making her repair to the boot seal around the lower bearing of her port rudder, and taking a 150 minute penalty (visible to those tracker addicts) as she lost her liferaft and additional penalty for a broken seal, Britain's Pip Hare is back on track on 18th placed Medallia, chasing 17th placed Stéphane Le Diraison, 140 miles in front of her. Miranda Merron is just under 900 miles to Cape Horn on Campagne de France and should make her first solo passage of the rock at the weekend.
Ranking – 21:00 (GMT)*
1. Charlie DALIN, APIVIA – 3979.33 nm DTF
2. Louis BURTON, BUREAU VALLEE 2 – 23.37 nm DTL
3. Thomas RUYANT, LinkedOut – 51.66 nm DTL**
4. Damien SEGUIN, GROUPE APICIL – 64.51 nm DTL
5. Boris HERRMANN, SEAEXPLORER – YACHT CLUB DE MONACO – 72.71 nm DTL
DTF – Distance to Finish; DTL – Distance to Lead
* Time awards given to Yannick Bestaven, Jean Le Cam, and Boris Herrmann for their participation in the rescue of Kevin Escoffier will be applied when the skippers finish. – Details
** Damaged port foil on Nov. 24 at 02:00.
Race details – Boat types – Tracker – Ranking – YouTube
The Vendée Globe is the only sailing race round the world that's solo, non-stop, and without assistance, and it was all systems go for the 9th edition on November 8. Beginning in 1989 with 13 entries, and held every four years, the start line in 2020 had 33 skippers taking off from Les Sables d'Olonne, France.
The development of the IMOCA Class toward foiling will see these boats hurl themselves around the world, teetering on carbon skates through inhospitable regions, chasing the record set in 2016-17 by Armel le Cléac'h of 74:03:35:46.
2020-21 Attrition
Nov. 16, 2020 – Nicolas TROUSSEL, CORUM L'EPARGNE – dismasted
Nov. 28, 2020 – Alex THOMSON, HUGO BOSS – rudder damage
Nov. 30, 2020 – Kevin ESCOFFIER, PRB – hull damage (sunk)
Dec. 4, 2020 – Sébastien SIMON, ARKEA PAPREC – foil damage
Dec. 5, 2020 – Sam DAVIES, Initiatives-Cœur – keel damage (collision)
Dec. 11, 2020 – Fabrice AMEDEO, NEWREST – ART & FENÊTRES – computer failure
Jan. 9, 2021 – Isabelle JOSCHKE, MACSF – keel ram failure
Participation history:
1989-90: 13 boats at the start
1992-93: 15 boats
1996-97: 15 boats
2000-01: 24 boats
2004-05: 20 boats
2008-2009: 30 boats
2012-2013: 20 boats
2016-2017: 29 boats
2020-2021: 33 boats
2020-21 Entries
Fabrice AMEDEO: NEWREST – ART & FENÊTRES
Romain ATTANASIO: PURE – BEST WESTERN
Alexia BARRIER: TSE – 4MYPLANET
Yannick BESTAVEN: MAÎTRE COQ IV
Jérémie BEYOU: CHARAL
Arnaud BOISSIÈRES: LA MIE CÂLINE – ARTISANS ARTIPÔLE
Louis BURTON: BUREAU VALLÉE 2
Didac COSTA: ONE PLANET ONE OCEAN
Manuel COUSIN: GROUPE SÉTIN
Clarisse CREMER: BANQUE POPULAIRE X
Charlie DALIN: APIVIA
Samantha DAVIES: INITIATIVES-CŒUR
Sébastien DESTREMAU: MERCI
Benjamin DUTREUX: OMIA – WATER FAMILY
Kevin ESCOFFIER: PRB
Clément GIRAUD: COMPAGNIE DU LIT / JILITI
Pip HARE: MEDALLIA
Boris HERRMANN: SEA EXPLORER – YACHT CLUB DE MONACO
Ari HUUSELA: STARK
Isabelle JOSCHKE: MACSF
Jean LE CAM: YES WE CAM !
Stéphane LE DIRAISON: TIME FOR OCEANS
Miranda MERRON: CAMPAGNE DE FRANCE
Giancarlo PEDOTE: PRYSMIAN GROUP
Alan ROURA: LA FABRIQUE
Thomas RUYANT: LINKEDOUT
Damien SEGUIN: GROUPE APICIL
Kojiro SHIRAISHI: DMG MORI
Sébastien SIMON: ARKEA – PAPREC
Maxime SOREL: V AND B – MAYENNE
Alex THOMSON: HUGO BOSS
Armel TRIPON: L'OCCITANE EN PROVENCE
Nicolas TROUSSEL: CORUM L'ÉPARGNE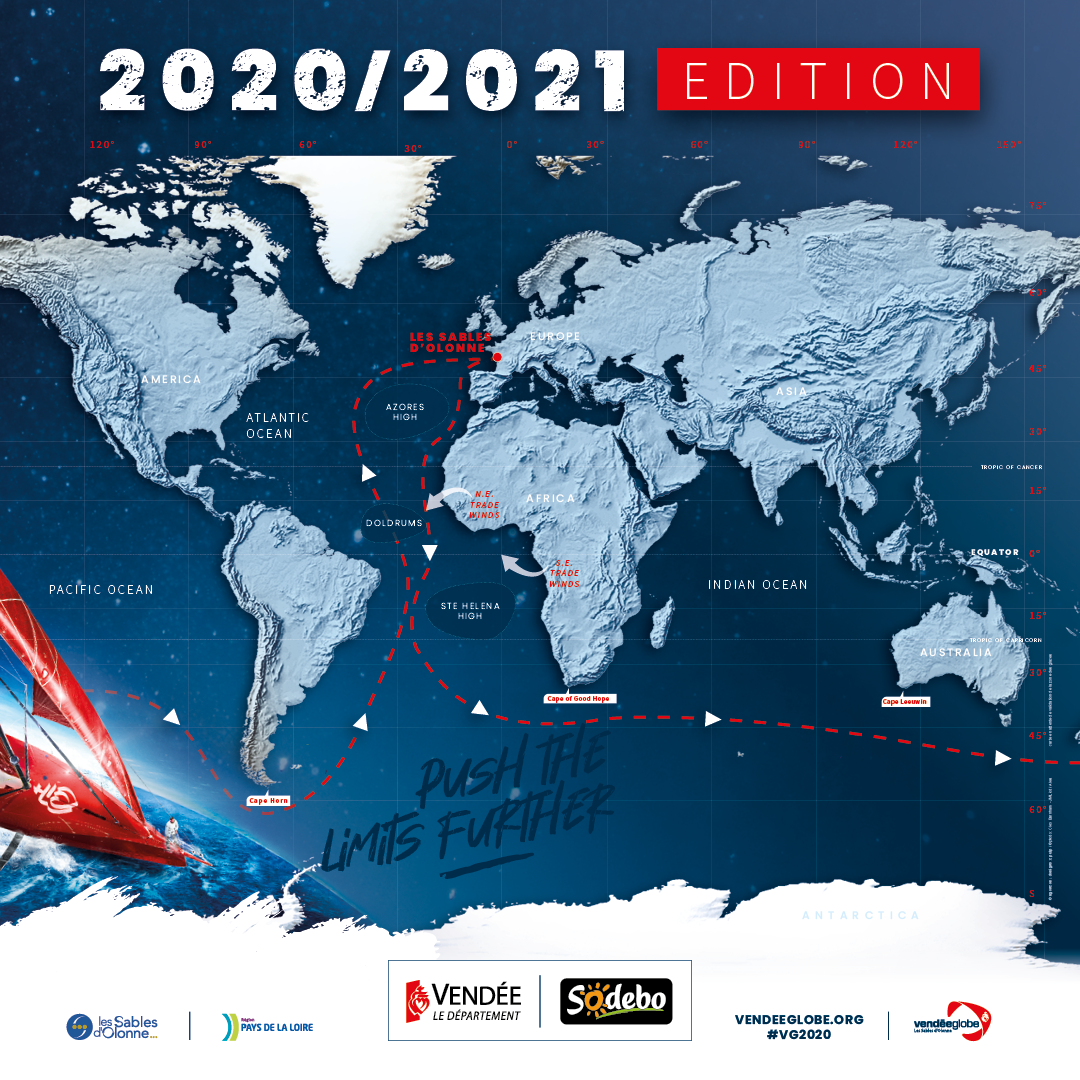 Source: Vendée Globe