Feature
Vendée Globe: A time to focus
Published on January 21st, 2021
(January 21, 2021; Day 74) – The relative silence from among the Vendée Globe leaders speaks volumes. Increasingly background activities are pared back to only what is necessary as the solo skippers focus on weather strategy, staying fast, and managing their energy reserves for what promises to be a final push in the pursuit of Vendée Globe victory.
Some skippers have made it be known, after 74 days, they want a few days respite from telling their stories to focus entirely on racing, to remain in the zone. Others like third placed Thomas Ruyant yesterday showed the stress and frustration of not being able to race the last 2200 miles sprint at full competitive capacity due his missing port foil.
As for sixth placed Yannick Bestaven, who was the longtime leader in the south, he's happy to assert that, after repairs to his furlers and other damage, he will be back at close to 100% for the final sprint.
"Thomas is first and foremost a competitive animal who wants to be able to be giving it everything in these final days so it is frustrating to be compromised like this when you are in the heart of the battle," said Marcus Hutchinson, Ruyant's team manager. "And knowing that the podium positions might be decided on compensated time weighs heavily in his mind. It is not at all easy for him."

Bestaven is aiming for a top five finish, which will be helped by the time bonus he will be given at the finish. "The result will also depend on the capacity of the boats downwind, I don't know if everyone will be 100% in these conditions."
The Maître Coq IV skipper confirmed he is missing his J2 and FRO but still has his spinnaker, a big and a small gennaker and a J3 so he will be much less handicapped downwind. As the same time he issued a reminder how important it will be to stay in the 'normal' rhythm as long as possible to avoid burning out before the finish. Considering that the decisive miles across the Bay of Biscay can be downwind in more than 30 knots, a wipe out due to a momentary lapse of concentration could be fatal.
Charlie Dalin (Apivia) has seen his lead shrink to 63 miles as meteo expert Sébastien Josse finds there to be a small advantage for Louis Burton (Bureau Vallée) who is furthest west and north.
"Louis can sneak around the edge and hook into a very localized corridor of southerly wind, it is quite narrow and local, but the slower Louis is the narrower the channel of wind is and the faster he is then the wider it is," explained Josse who is convinced Burton is the only one in the leading group to be able to benefit from this.
But Josse adds, "It is important to correlate what is forecast on the weather files and what is happening on the water. There are still clouds, squalls, fronts and rain. You have to be eyes out of the boat, watching what is happening and sailing by feeling. It's on the deck you really see these things evolve."
Ranking – 21:00 (GMT)*
1. Charlie DALIN, APIVIA – 2034.49 nm DTF
2. Louis BURTON, BUREAU VALLEE 2 – 62.52 nm DTL
3. Boris HERRMANN, SEAEXPLORER – YACHT CLUB DE MONACO – 64.74 nm DTL
4. Thomas RUYANT, LinkedOut – 83.62 nm DTL**
5. Damien SEGUIN, GROUPE APICIL – 106.13 nm DTL
DTF – Distance to Finish; DTL – Distance to Lead
* Time awards given to Yannick Bestaven, Jean Le Cam, and Boris Herrmann for their participation in the rescue of Kevin Escoffier will be applied when the skippers finish. – Details
** Damaged port foil on Nov. 24 at 02:00.
Race details – Boat types – Tracker – Ranking – YouTube
The Vendée Globe is the only sailing race round the world that's solo, non-stop, and without assistance, and it was all systems go for the 9th edition on November 8. Beginning in 1989 with 13 entries, and held every four years, the start line in 2020 had 33 skippers taking off from Les Sables d'Olonne, France.
The development of the IMOCA Class toward foiling will see these boats hurl themselves around the world, teetering on carbon skates through inhospitable regions, chasing the record set in 2016-17 by Armel le Cléac'h of 74:03:35:46.
2020-21 Attrition
Nov. 16, 2020 – Nicolas TROUSSEL, CORUM L'EPARGNE – dismasted
Nov. 28, 2020 – Alex THOMSON, HUGO BOSS – rudder damage
Nov. 30, 2020 – Kevin ESCOFFIER, PRB – hull damage (sunk)
Dec. 4, 2020 – Sébastien SIMON, ARKEA PAPREC – foil damage
Dec. 5, 2020 – Sam DAVIES, Initiatives-Cœur – keel damage (collision)
Dec. 11, 2020 – Fabrice AMEDEO, NEWREST – ART & FENÊTRES – computer failure
Jan. 9, 2021 – Isabelle JOSCHKE, MACSF – keel ram failure
Jan. 16, 2021 – Sébastien DESTREMAU, MERCI – autopilot failure
Participation history:
1989-90: 13 boats at the start
1992-93: 15 boats
1996-97: 15 boats
2000-01: 24 boats
2004-05: 20 boats
2008-2009: 30 boats
2012-2013: 20 boats
2016-2017: 29 boats
2020-2021: 33 boats
2020-21 Entries
Fabrice AMEDEO: NEWREST – ART & FENÊTRES
Romain ATTANASIO: PURE – BEST WESTERN
Alexia BARRIER: TSE – 4MYPLANET
Yannick BESTAVEN: MAÎTRE COQ IV
Jérémie BEYOU: CHARAL
Arnaud BOISSIÈRES: LA MIE CÂLINE – ARTISANS ARTIPÔLE
Louis BURTON: BUREAU VALLÉE 2
Didac COSTA: ONE PLANET ONE OCEAN
Manuel COUSIN: GROUPE SÉTIN
Clarisse CREMER: BANQUE POPULAIRE X
Charlie DALIN: APIVIA
Samantha DAVIES: INITIATIVES-CŒUR
Sébastien DESTREMAU: MERCI
Benjamin DUTREUX: OMIA – WATER FAMILY
Kevin ESCOFFIER: PRB
Clément GIRAUD: COMPAGNIE DU LIT / JILITI
Pip HARE: MEDALLIA
Boris HERRMANN: SEA EXPLORER – YACHT CLUB DE MONACO
Ari HUUSELA: STARK
Isabelle JOSCHKE: MACSF
Jean LE CAM: YES WE CAM !
Stéphane LE DIRAISON: TIME FOR OCEANS
Miranda MERRON: CAMPAGNE DE FRANCE
Giancarlo PEDOTE: PRYSMIAN GROUP
Alan ROURA: LA FABRIQUE
Thomas RUYANT: LINKEDOUT
Damien SEGUIN: GROUPE APICIL
Kojiro SHIRAISHI: DMG MORI
Sébastien SIMON: ARKEA – PAPREC
Maxime SOREL: V AND B – MAYENNE
Alex THOMSON: HUGO BOSS
Armel TRIPON: L'OCCITANE EN PROVENCE
Nicolas TROUSSEL: CORUM L'ÉPARGNE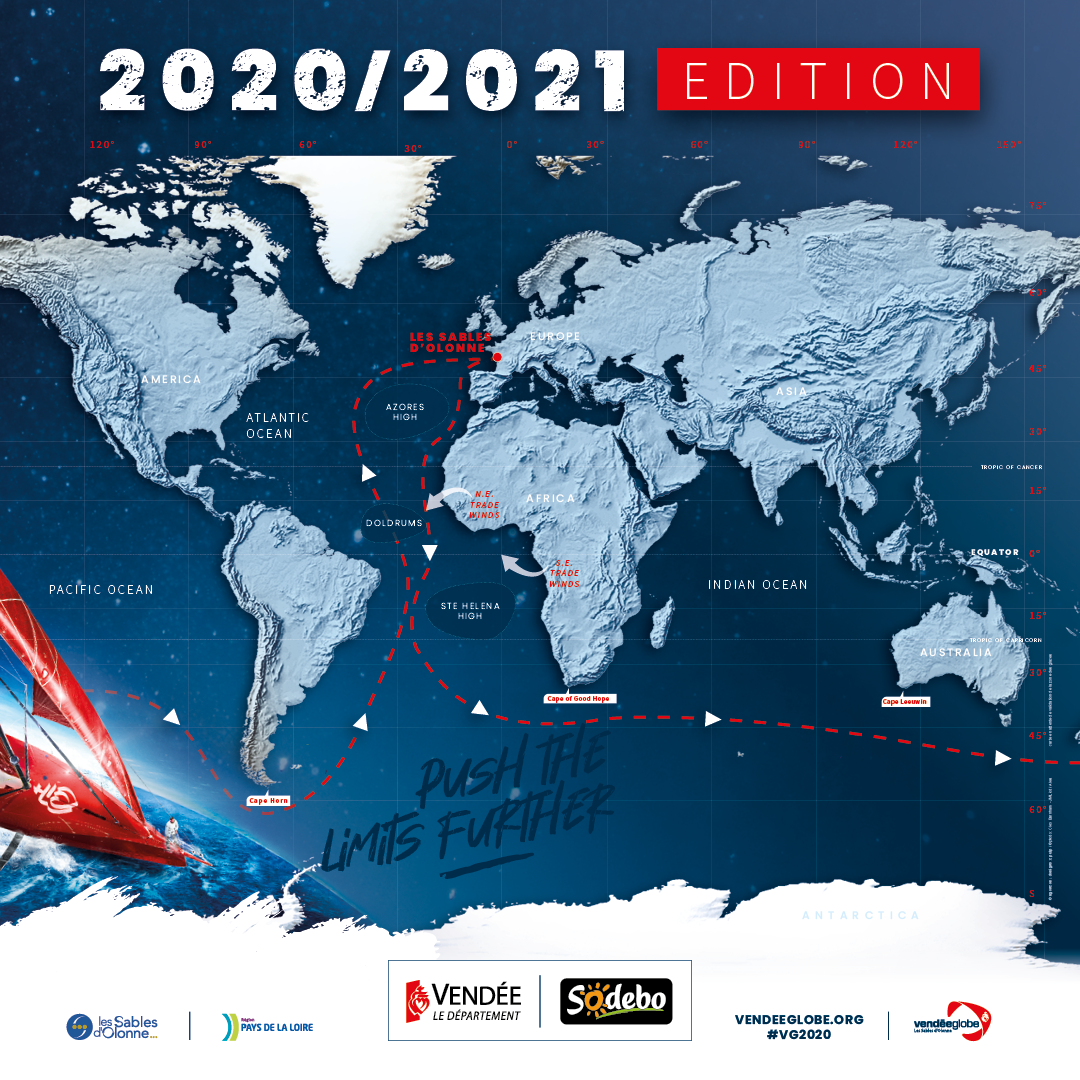 Source: Vendée Globe