News
Vendée Globe: Action at the Azores
Published on January 23rd, 2021
(January 23, 2021; Day 76) – The margin of victory on this Vendée Globe may be down to minutes rather than hours, and while there seems to be a more remote chance the actual winner will be decided on corrected time – after time compensation for being involved in the rescue of stricken skipper Kevin Escoffier – the projected time margins for the podium places are extremely tight.
The closest differential in recent editions was when François Gabart won the 2012-13 Vendée Globe by 3hrs and 17 minutes from Armel Le Cléac'h. Current projections based on the accurately assumed speed predictions for the leading boats seem to confirm that this race will be decided by less than that.
That 2012-13 duel was settled at the Azores when Gabart had a lead of 100 miles before a sprint across the Bay of Biscay in 40-45kts of wind. Approaching the Azores tonight, the decisive match is three cornered right now with Charlie Dalin (Apivia) holding 18 miles of an advance over Louis Burton (Bureau Vallée 2) while Germany's Boris Herrmann (Seaexplorer-Yacht Club de Monaco) is 42 miles behind and has been catching distance over the course of the day.
Burton's track this morning showed notable deviations, perhaps revealing he has had further technical issues with headsails or possibly his pilots which gave him problems in the big south.
"Between5:30 am and 8:30 am, we noticed that Louis Burton's course was not as straight as that of Charlie Dalin," reports Race Director Jacques Caraës. "We called to check all was okay and got no reply. So it might have been a change of sail, was he operating under spinnaker, is his anemometer still performing as well, it might possibly have been a wrap in the spinnaker which often happens when the pilot is not getting the best wind information."
Burton has since picked up speed with the strategic question to be when the leaders gybe this evening or overnight at the Azores. Increasingly it looks like all three will pass south and gybe east of the island group.
As soon as Dalin gybes, he will be on to his favored side, able to lift off his starboard and finally get his Verdier design back up to maximum potential after more than one week on starboard gybe. He should then be able to extend on Burton.
"For sure Charlie is in Figaro mode now, making sure he is keeping everything regular and looking to be in the best shape for the final push," said Caraës. "You don't see too much change in his course and his approach; he is super regular and consistent in the way he sails."
In eighth at 504 miles behind the leader, win, lose or draw, Jean Le Cam is undoubtedly the hero of this Vendée Globe and will be afforded the warmest acclaim on his return to Les Sables d'Olonne. As the older daggerboard boats progressively lost time and distance on the leading group, so Le Cam's chances of finishing on the podium – even with his 16 hours and 15 minutes time award – are slipping slowly.
And the 61 year old recognizes that fact and but is unlikely to press any harder than he feels necessary.
"Jean's strategy is always perfect for his boat and for him that is what it is all about, the way he sails and to remain clean and smart matters to him, making his gybes in the right place and not giving anything away," observes Caraës, a past crew-mate and long time friend of Le Cam's. "If he feels he is not having a place on the podium, he likely won't over press himself or the boat to try and achieve anything. He is already pleased and content
Outside of the race Sam Davies passed round Cape Horn at 1617hrs UTC this afternoon
NOTE: At 200 miles from the finish line, the race trackers will be updated every 30 minutes and then every 5 minutes from 60 miles from the crossing.
Ranking – 21:00 (GMT)*
1. Charlie DALIN, APIVIA – 1296.21 nm DTF
2. Louis BURTON, BUREAU VALLEE 2 – 18.36 nm DTL
3. Boris HERRMANN, SEAEXPLORER – YACHT CLUB DE MONACO – 42.6 nm DTL
4. Thomas RUYANT, LinkedOut – 76.62 nm DTL**
5. Yannick BESTAVEN, Maître CoQ IV – 159.93 nm DTL
DTF – Distance to Finish; DTL – Distance to Lead
* Time awards given to Yannick Bestaven, Jean Le Cam, and Boris Herrmann for their participation in the rescue of Kevin Escoffier will be applied when the skippers finish. – Details
** Damaged port foil on Nov. 24 at 02:00.
Race details – Boat types – Tracker – Ranking – YouTube
The Vendée Globe is the only sailing race round the world that's solo, non-stop, and without assistance, and it was all systems go for the 9th edition on November 8. Beginning in 1989 with 13 entries, and held every four years, the start line in 2020 had 33 skippers taking off from Les Sables d'Olonne, France.
The development of the IMOCA Class toward foiling will see these boats hurl themselves around the world, teetering on carbon skates through inhospitable regions, chasing the record set in 2016-17 by Armel le Cléac'h of 74:03:35:46.
2020-21 Attrition
Nov. 16, 2020 – Nicolas TROUSSEL, CORUM L'EPARGNE – dismasted
Nov. 28, 2020 – Alex THOMSON, HUGO BOSS – rudder damage
Nov. 30, 2020 – Kevin ESCOFFIER, PRB – hull damage (sunk)
Dec. 4, 2020 – Sébastien SIMON, ARKEA PAPREC – foil damage
Dec. 5, 2020 – Sam DAVIES, Initiatives-Cœur – keel damage (collision)
Dec. 11, 2020 – Fabrice AMEDEO, NEWREST – ART & FENÊTRES – computer failure
Jan. 9, 2021 – Isabelle JOSCHKE, MACSF – keel ram failure
Jan. 16, 2021 – Sébastien DESTREMAU, MERCI – autopilot failure
Participation history:
1989-90: 13 boats at the start
1992-93: 15 boats
1996-97: 15 boats
2000-01: 24 boats
2004-05: 20 boats
2008-2009: 30 boats
2012-2013: 20 boats
2016-2017: 29 boats
2020-2021: 33 boats
2020-21 Entries
Fabrice AMEDEO: NEWREST – ART & FENÊTRES
Romain ATTANASIO: PURE – BEST WESTERN
Alexia BARRIER: TSE – 4MYPLANET
Yannick BESTAVEN: MAÎTRE COQ IV
Jérémie BEYOU: CHARAL
Arnaud BOISSIÈRES: LA MIE CÂLINE – ARTISANS ARTIPÔLE
Louis BURTON: BUREAU VALLÉE 2
Didac COSTA: ONE PLANET ONE OCEAN
Manuel COUSIN: GROUPE SÉTIN
Clarisse CREMER: BANQUE POPULAIRE X
Charlie DALIN: APIVIA
Samantha DAVIES: INITIATIVES-CŒUR
Sébastien DESTREMAU: MERCI
Benjamin DUTREUX: OMIA – WATER FAMILY
Kevin ESCOFFIER: PRB
Clément GIRAUD: COMPAGNIE DU LIT / JILITI
Pip HARE: MEDALLIA
Boris HERRMANN: SEA EXPLORER – YACHT CLUB DE MONACO
Ari HUUSELA: STARK
Isabelle JOSCHKE: MACSF
Jean LE CAM: YES WE CAM !
Stéphane LE DIRAISON: TIME FOR OCEANS
Miranda MERRON: CAMPAGNE DE FRANCE
Giancarlo PEDOTE: PRYSMIAN GROUP
Alan ROURA: LA FABRIQUE
Thomas RUYANT: LINKEDOUT
Damien SEGUIN: GROUPE APICIL
Kojiro SHIRAISHI: DMG MORI
Sébastien SIMON: ARKEA – PAPREC
Maxime SOREL: V AND B – MAYENNE
Alex THOMSON: HUGO BOSS
Armel TRIPON: L'OCCITANE EN PROVENCE
Nicolas TROUSSEL: CORUM L'ÉPARGNE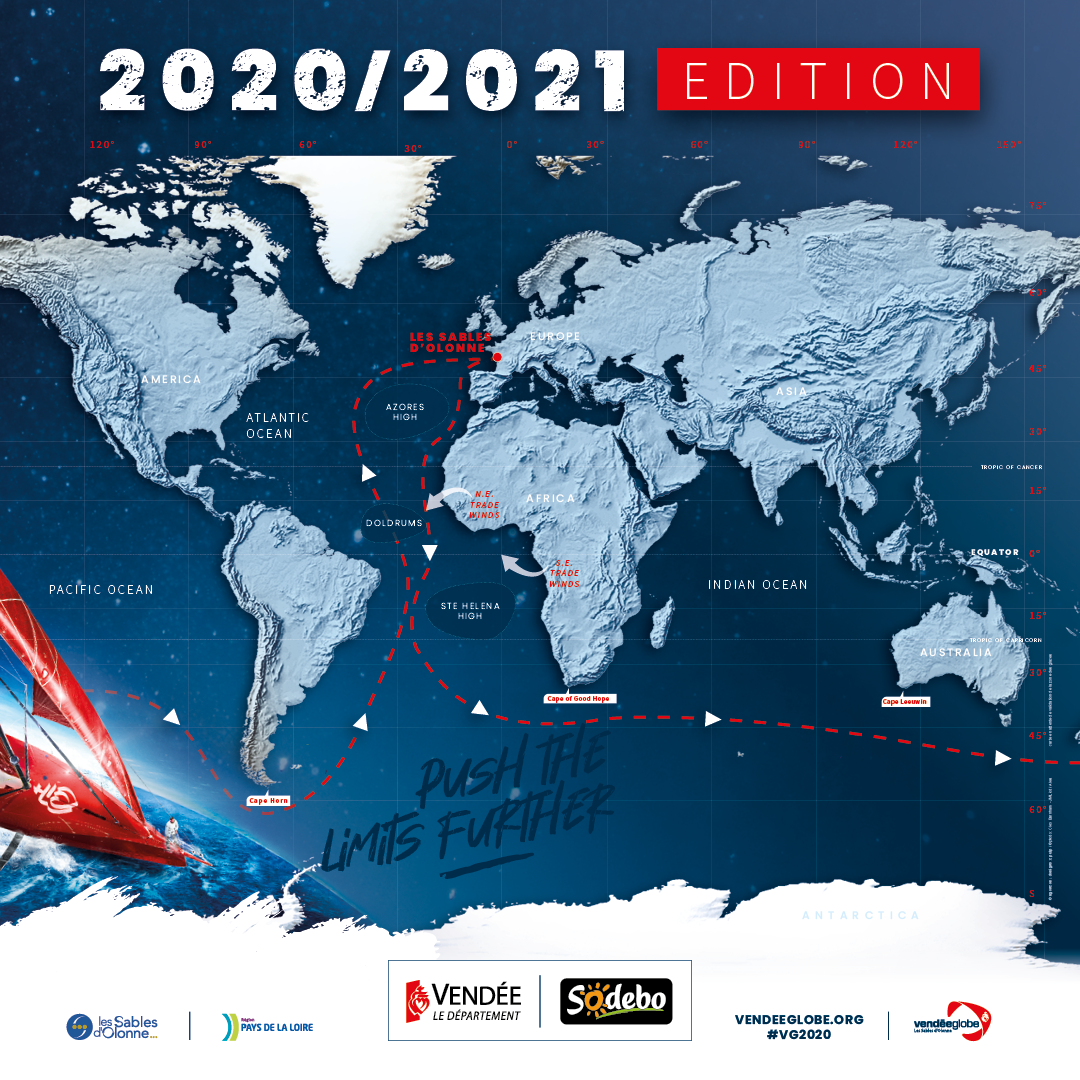 Source: Vendée Globe