Feature
Vendée Globe: Too close to call
Published on January 24th, 2021
(January 24, 2021; Day 77) – Less than 1000 nautical miles to the finish of the ninth edition of the Vendée Globe in Les Sables d'Olonne and it is still too close to call, not least as the Saint Malo maverick Louis Burton seized the race lead from Charlie Dalin in the late morning today.
As the leaders split gybes today, Yannick Bestaven (Maître Coq IV) in fifth was first to opt for a northerly route, seeking to sail up to hook into the stronger winds of a low pressure system. He will sail more miles but could come in to Les Sables d'Olonne faster from the north.
Boris Herrmann, in third, gybed around 1000hrs UTC this morning and Burton about 90 minutes later, leaving Dalin to sail slightly further east before he too turned Apivia north, finally on to his favored port gybe. For the first time in nine days or more, the race's most consistent leader will be able to lift off his fully functioning starboard foil.
Keenly focused and barely masking the obvious mounting stress as he seeks to convert the most consistent, blemish free race of the current top five to a huge race victory Dalin said this morning.

"I am looking forwards to getting on to port gybe to use by starboard foil and to make some speeds which reflect the true potential of my boat."
Bearing in mind he might take line honours but be usurped by one of the two closest skippers who are in possession of time compensations, when he was asked if his destiny was still in his hands he replied,
"It is a bit down to what the others do as well. But all I can do is sail as well as I can and we will see how it ends. Boris is very close to me but the route is still long, it is still open, but once I am on port tack I will be able to be fast again."
The suspense on shore – which will be heightened even more on the water – is all the more because there are notable differences in timings and evolution of the key weather features predicted by the main models, as expert Christian Dumard observed.
"The main weather models used by the skippers in this area (GFS, ECMWF, and Arpege) do not all give the same results. There is still significant uncertainty for the outcome of this race."
Charlie Dalin and fourth placed Thomas Ruyant both alter their routes to account for their respective damage to their port foils and others select options and angles best suited to missing or damaged sails.
The lateral separation between Bestaven and Dalin was already over 4400 nm at 21:00 UTC.
Bestaven, who led the race coming back up the South Atlantic by more than 420 miles, will sail more miles but spend more time faster in the strong winds and may yet spring a surprise return to the podium, not least as he carries 10hrs 15 mins of redress time.
Dumard concludes, "The wind will ease in the morning of the 27th on the Bay of Biscay with the passage of a small ridge and so it is still very difficult to make predictions on a possible winner or even on a precise ETA on the day of the 27th for the first boats."
In sixth position, Damien Seguin (Groupe APICIL) had elected to communicate less over recent days and focus more on his race. He managed to get around the Azores High with a very clean, smooth route before being one of the first to gybe north.
His performance on a relatively unfancied Finot Conq design from 2008, albeit carefully prepped and optimized with advice and help from Jean Le Cam and Yoanne Richomme, has been nothing short of remarkable, a mix of incredible drive and guile.
The multiple Paralympic champion who was born without a left hand has long since done enough to be proud of his performance, grinned widely this morning, saying on a dodgy video connection, "No one imagined a boat with a straight daggerboard could be in this position."
Seguin then revealed he has not had certain downwind sails since he entered the Pacific! "I'm trying to manage as best I can. It's been a month since it's been like that!"
NOTE: At 200 miles from the finish line, the race trackers will be updated every 30 minutes and then every 5 minutes from 60 miles from the crossing.
Ranking – 21:00 (GMT)*
1. Louis BURTON, BUREAU VALLEE 2 – 931.11 nm DTF
2. Charlie DALIN, APIVIA – 1.31 nm DTL
3. Boris HERRMANN, SEAEXPLORER – YACHT CLUB DE MONACO – 57.37 nm DTL
4. Thomas RUYANT, LinkedOut – 138.73 nm DTL**
5. Yannick BESTAVEN, Maître CoQ IV – 243.77 nm DTL
DTF – Distance to Finish; DTL – Distance to Lead
* Time awards given to Yannick Bestaven, Jean Le Cam, and Boris Herrmann for their participation in the rescue of Kevin Escoffier will be applied when the skippers finish. – Details
** Damaged port foil on Nov. 24 at 02:00.
Race details – Boat types – Tracker – Ranking – YouTube
The Vendée Globe is the only sailing race round the world that's solo, non-stop, and without assistance, and it was all systems go for the 9th edition on November 8. Beginning in 1989 with 13 entries, and held every four years, the start line in 2020 had 33 skippers taking off from Les Sables d'Olonne, France.
The development of the IMOCA Class toward foiling will see these boats hurl themselves around the world, teetering on carbon skates through inhospitable regions, chasing the record set in 2016-17 by Armel le Cléac'h of 74:03:35:46.
2020-21 Attrition
Nov. 16, 2020 – Nicolas TROUSSEL, CORUM L'EPARGNE – dismasted
Nov. 28, 2020 – Alex THOMSON, HUGO BOSS – rudder damage
Nov. 30, 2020 – Kevin ESCOFFIER, PRB – hull damage (sunk)
Dec. 4, 2020 – Sébastien SIMON, ARKEA PAPREC – foil damage
Dec. 5, 2020 – Sam DAVIES, Initiatives-Cœur – keel damage (collision)
Dec. 11, 2020 – Fabrice AMEDEO, NEWREST – ART & FENÊTRES – computer failure
Jan. 9, 2021 – Isabelle JOSCHKE, MACSF – keel ram failure
Jan. 16, 2021 – Sébastien DESTREMAU, MERCI – autopilot failure
Participation history:
1989-90: 13 boats at the start
1992-93: 15 boats
1996-97: 15 boats
2000-01: 24 boats
2004-05: 20 boats
2008-2009: 30 boats
2012-2013: 20 boats
2016-2017: 29 boats
2020-2021: 33 boats
2020-21 Entries
Fabrice AMEDEO: NEWREST – ART & FENÊTRES
Romain ATTANASIO: PURE – BEST WESTERN
Alexia BARRIER: TSE – 4MYPLANET
Yannick BESTAVEN: MAÎTRE COQ IV
Jérémie BEYOU: CHARAL
Arnaud BOISSIÈRES: LA MIE CÂLINE – ARTISANS ARTIPÔLE
Louis BURTON: BUREAU VALLÉE 2
Didac COSTA: ONE PLANET ONE OCEAN
Manuel COUSIN: GROUPE SÉTIN
Clarisse CREMER: BANQUE POPULAIRE X
Charlie DALIN: APIVIA
Samantha DAVIES: INITIATIVES-CŒUR
Sébastien DESTREMAU: MERCI
Benjamin DUTREUX: OMIA – WATER FAMILY
Kevin ESCOFFIER: PRB
Clément GIRAUD: COMPAGNIE DU LIT / JILITI
Pip HARE: MEDALLIA
Boris HERRMANN: SEA EXPLORER – YACHT CLUB DE MONACO
Ari HUUSELA: STARK
Isabelle JOSCHKE: MACSF
Jean LE CAM: YES WE CAM !
Stéphane LE DIRAISON: TIME FOR OCEANS
Miranda MERRON: CAMPAGNE DE FRANCE
Giancarlo PEDOTE: PRYSMIAN GROUP
Alan ROURA: LA FABRIQUE
Thomas RUYANT: LINKEDOUT
Damien SEGUIN: GROUPE APICIL
Kojiro SHIRAISHI: DMG MORI
Sébastien SIMON: ARKEA – PAPREC
Maxime SOREL: V AND B – MAYENNE
Alex THOMSON: HUGO BOSS
Armel TRIPON: L'OCCITANE EN PROVENCE
Nicolas TROUSSEL: CORUM L'ÉPARGNE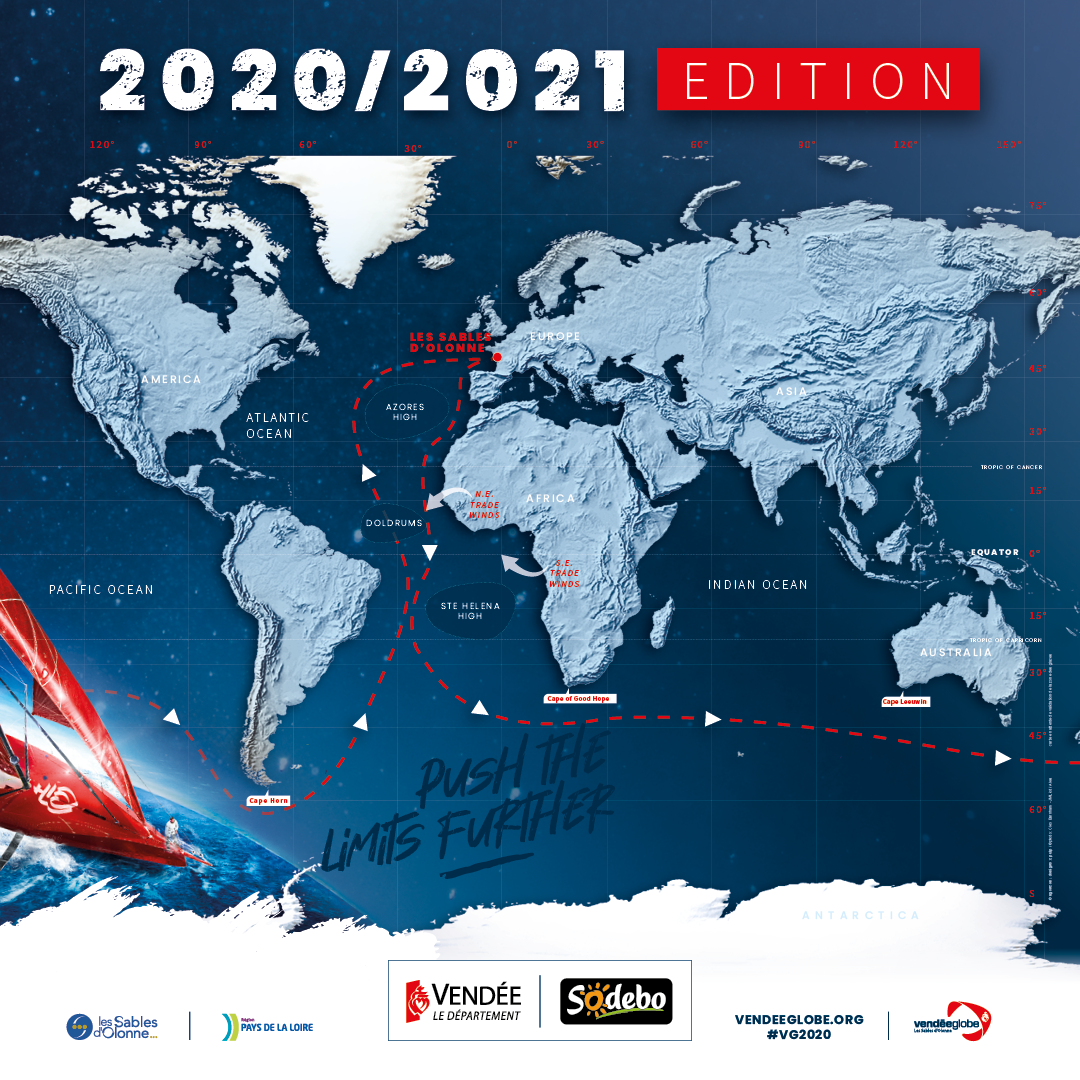 Source: Vendée Globe