Feature
First Asian ever to finish Vendée Globe
Published on February 11th, 2021
Les Sables d'Olonne, France (February 11, 2021) – Kojiro Shiraishi, the 53-year-old Japanese solo skipper of DMG MORI, crossed the Vendée Globe finish line today at 10:52:58hrs UTC to become the first ever Asian skipper to complete the non-stop solo race around the world.
Sailing his 2019 VPLP design IMOCA, which is a hull sistership to Jérémie Beyou's Charal, Shiraishi's elapsed time for his race is 94d 21hrs 32mins and he finishes in 16th place, 14d 17hrs 48m 10s behind winner Yannick Bestaven.
Completing the course is the culmination of a 34-year dream, a major triumph for Shiraishi who spent more than seven days completing major repair to a potentially race ending tear in his mainsail which occurred just six days after the November 8 start. Since then, the Japanese skipper has had to sail cautiously to look after his fragile mainsail, always sailing with one reef in the mainsail.
"It was truly wonderful, and a longer adventure than originally planned!" said Kojiro. "But arriving and seeing all these familiar faces and people here is really very heart-warming. It is a miracle.
"I really did not think that my mainsail would hold, and it is truly incredible that it pulled through and I have been able to complete this wonderful adventure. To finish was my primary object objective, but to also please my sponsor, my team, and all the fans who have encouraged me throughout is what makes me the proudest."
Shiraishi's inspiration came from the memory of his mentor, Japanese ocean racing pioneer Yukoh Tada, who won Class 2 in the 1982-1983 BOC Challenge round the world race.
As a youngster Shiraishi was so moved by Tada's exploits after finding his number in the phone directory he spent weeks trying to contact him whilst Tada was working nights as a taxi driver to pay off his racing campaigns.
Shiraishi was invited to Tada's house, the pair shared some sake and Koji's first sail was with Tada after which he went on to work as his preparateur.

But during the next BOC race after repeated capsizes and technical failures left him a long way behind the leaders. The 61-year-old Tada took his own life in Sydney in 1991. It was the young Kojiro Shiraishi who was charged with taking Tada's Okera VIII back to Japan.
This IMOCA 60 is Shiraishi's fifth Spirit of Yukoh, each named in the memory of his mentor who had dreamed of taking part in the Vendée Globe.
"For over 30 years I have been dreaming of doing this Vendée Globe, ever since Philippe Jeantot invited my master Yukoh Tada to compete in it," Kojiro explained. "It has taken 30 years to complete the circumnavigation and I am proud to have been able to fulfill what Yukoh Tada wanted to do."
Kojiro's first Vendée Globe ended prematurely on December 4, 2016 when he lost the top of the mast of his Spirit of Kukoh and had to retire into Cape Town. But even then, he had pledged to return and complete the Vendée Globe.
With the backing of DMG MORI, Shiraishi built a new IMOCA from the moulds of Charal, the program managed by Charles Euverte's organization. In the early days of the program, Kojiro's training dovetailed with Yannick Bestaven on the Maître CoQ with the help of Roland Jourdain as coach.
With his new boat only launched in September 2019, the only IMOCA Globe Series race that Kojiro Shiraishi could compete in was last summer's Vendée Arctic race. Finishing tenth, he qualified for the Vendée Globe but started the race knowing he was short on hard racing miles and experience with his boat and so remained conservative in his approach over the first week of racing.
But the damage which would affect all of his race occurs was on the fringes of the tropical storm Theta. A failure of his wind sensor caused his autopilot to stall, causing a series of unexpected gybes which resulted in the mainsail tear and four broken battens.
His race ultimately covered the 24,365 nm of the theoretical course at an average speed of 10.70 knots, traveling an actual distance on the water of 29,067.67 nm at 12.76 knots average.
Final Results (Top 10 of 33)*
1. Yannick Bestaven, Maître CoQ IV – Finished Jan. 28 (03:19:46) – 80:03:44:46
2. Charlie Dalin, Apivia – Finished Jan. 27 (19:35:47) – 80:06:15:47
3. Louis Burton, Bureau Vallee 2 – Finished Jan. 27 (23:45:12) – 80:10:25:12
4. Jean Le Cam, Yes We Cam! – Finished Jan. 28 (19:19:55) – 80:13:44:55
5. Boris Herrmann, Seaexplorer-Yacht Club De Monaco – Finished Jan. 28 (10:19:45) – 80:14:59:45
6. Thomas Ruyant, LinkedOut – Finished Jan. 28 (04:42:01) – 80:15:22:01
7. Damien Seguin, Groupe Apicil – Finished Jan. 28 (11:18:20) – 80:21:58:20
8. Giancarlo Pedote, Prysmian Group – Finished Jan. 28 (12:02:20) – 80:22:42:20
9. Benjamin Dutreux, Omia – Water Family – Finished Jan. 29 (09:05:20) – 81:19:45:20
10. Maxime Sorel, V and B-Mayenne – Finished Jan. 30 (03:50:15) – 82:14:30:15
* Time awards given to Yannick Bestaven, Jean Le Cam, and Boris Herrmann for their participation in the rescue of Kevin Escoffier will be applied when the skippers finish. – Details
Race details – Boat types – Tracker – Ranking – YouTube
The Vendée Globe is the only sailing race round the world that's solo, non-stop, and without assistance, and it was all systems go for the 9th edition on November 8. Beginning in 1989 with 13 entries, and held every four years, the start line in 2020 had 33 skippers taking off from Les Sables d'Olonne, France.
The development of the IMOCA Class toward foiling will see these boats hurl themselves around the world, teetering on carbon skates through inhospitable regions, chasing the record set in 2016-17 by Armel le Cléac'h of 74:03:35:46.
2020-21 Attrition
Nov. 16, 2020 – Nicolas TROUSSEL, CORUM L'EPARGNE – dismasted
Nov. 28, 2020 – Alex THOMSON, HUGO BOSS – rudder damage
Nov. 30, 2020 – Kevin ESCOFFIER, PRB – hull damage (sunk)
Dec. 4, 2020 – Sébastien SIMON, ARKEA PAPREC – foil damage
Dec. 5, 2020 – Sam DAVIES, Initiatives-Cœur – keel damage (collision)
Dec. 11, 2020 – Fabrice AMEDEO, NEWREST – ART & FENÊTRES – computer failure
Jan. 9, 2021 – Isabelle JOSCHKE, MACSF – keel ram failure
Jan. 16, 2021 – Sébastien DESTREMAU, MERCI – autopilot failure
Participation history:
1989-90: 13 boats at the start
1992-93: 15 boats
1996-97: 15 boats
2000-01: 24 boats
2004-05: 20 boats
2008-2009: 30 boats
2012-2013: 20 boats
2016-2017: 29 boats
2020-2021: 33 boats
2020-21 Entries
Fabrice AMEDEO: NEWREST – ART & FENÊTRES
Romain ATTANASIO: PURE – BEST WESTERN
Alexia BARRIER: TSE – 4MYPLANET
Yannick BESTAVEN: MAÎTRE COQ IV
Jérémie BEYOU: CHARAL
Arnaud BOISSIÈRES: LA MIE CÂLINE – ARTISANS ARTIPÔLE
Louis BURTON: BUREAU VALLÉE 2
Didac COSTA: ONE PLANET ONE OCEAN
Manuel COUSIN: GROUPE SÉTIN
Clarisse CREMER: BANQUE POPULAIRE X
Charlie DALIN: APIVIA
Samantha DAVIES: INITIATIVES-CŒUR
Sébastien DESTREMAU: MERCI
Benjamin DUTREUX: OMIA – WATER FAMILY
Kevin ESCOFFIER: PRB
Clément GIRAUD: COMPAGNIE DU LIT / JILITI
Pip HARE: MEDALLIA
Boris HERRMANN: SEA EXPLORER – YACHT CLUB DE MONACO
Ari HUUSELA: STARK
Isabelle JOSCHKE: MACSF
Jean LE CAM: YES WE CAM !
Stéphane LE DIRAISON: TIME FOR OCEANS
Miranda MERRON: CAMPAGNE DE FRANCE
Giancarlo PEDOTE: PRYSMIAN GROUP
Alan ROURA: LA FABRIQUE
Thomas RUYANT: LINKEDOUT
Damien SEGUIN: GROUPE APICIL
Kojiro SHIRAISHI: DMG MORI
Sébastien SIMON: ARKEA – PAPREC
Maxime SOREL: V AND B – MAYENNE
Alex THOMSON: HUGO BOSS
Armel TRIPON: L'OCCITANE EN PROVENCE
Nicolas TROUSSEL: CORUM L'ÉPARGNE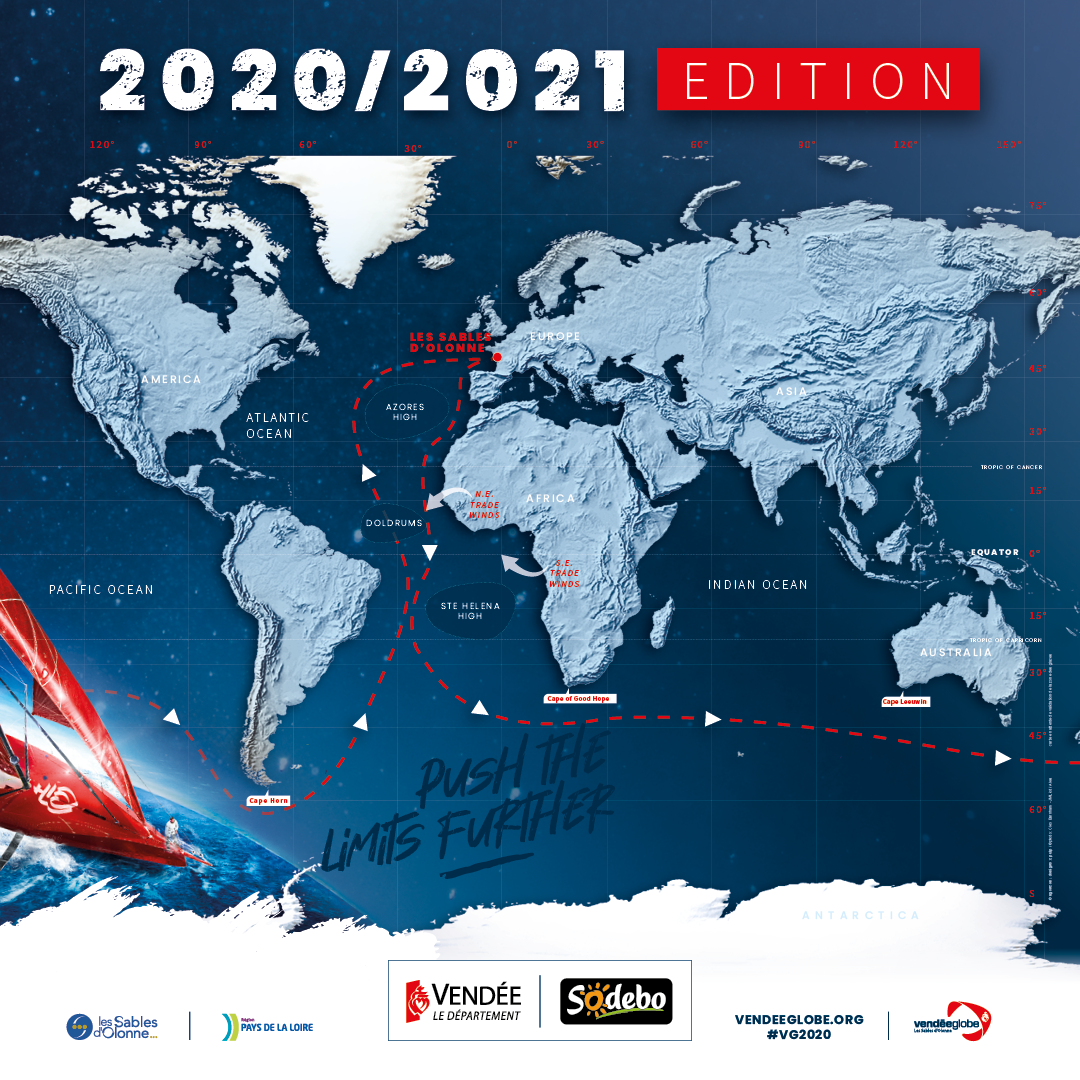 Source: Vendée Globe