Feature
Race to Alaska: Enough isn't enough
Published on May 6th, 2019
Shockingly, the Race to Alaska 2019 will be the 5th year for this foolhardy adventure along 750 cold water miles from Port Townsend, Washington to Ketchikan, Alaska. The first year it was an interesting idea, the second year it was a proven challenge, but really, enough is enough.
Apparently not, which is perhaps a reflection of how bad the winter is in this corner of the country. Dreary, drizzly, darkness for months and months can make people do crazy things. The Race to Alaska is a crazy thing.
The rules are simple. No motor, no support, through wild frontier, navigating by sail or peddle/paddle for the full distance. Massive tides halt progress and obstacles damage boats. No deaths yet by killer whale or grizzly bear, so this could be the year.
But more confusing than all that, when the 2019 edition starts June 3, the field will include its very first defending champion. And this wasn't just any team… they won like no team had won before. The race organizers at the Northwest Maritime Center offer this report:
---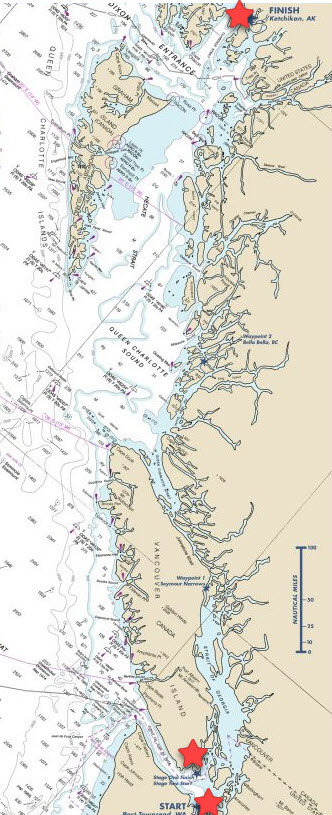 First, let's run through the obvious important stuff: First Federal Team Sail Like a Girl is the R2AK's reigning champion. Their 2018 bucket list all-women adventure turned jaw-dropping victory was a tear-jerking elation moment for just about anyone paying attention.
When they hit Ketchikan they stepped off their Melges 32 into victory, into the eye of the #MeToo storm, and instantly inspired significantly more than 51% of the rest of us to dream big, reach further, do more.
They won the R2AK by aligning themselves to each other and producing: first all-women crew to win, first all anyone crew to win it on a single hull, and lacking the criticism heatshields seemingly provided by additional hulls and/or a Y chromosome, Team Sail Like a Girl became the first team to win and immediately have their victory dissected by at least some of the 49%:
"You know what they did wrong…"
"In a different year…"
"They only won because…"
Even if the answers were: "…not enough to matter", "…comparisons would be hypothetical", and "…they were fastest", the attempts to lessen their claim on the crown still danced around the edges of deafening applause, trying to wedge into the circle as the boring kind of annoying.
Skipping past those people, we loved the hell out of their accomplishment, not to mention what it meant that they did it in the year they did. While we pride ourselves on being as woke as a gluten free millennial, we're not so whipped that we won't pile on our own bit of criticism, which is essentially this: stop hogging the throne.
Team Sail Like a Girl didn't seem to get the hint, so we'll just say it: Success is supposed to be fleeting, heroes are supposed to be disposable, and R2AK winners are supposed to take the money, realize they got at least a little bit lucky, and spend the rest of their lives in the fading echo of their R2AK glory. They are by no means supposed to foster a movement.
That's not what we do here.
From the moment they went from an all-women team hawking a cool T-shirt to being 1 of the 4 teams with the cred to justifiably look at our steak knives with disdain, Team Sail Like a Girl has been using their accomplishment to engage more people in their quest to get more women and girls on the water.
From the countless speaking engagements, to their near misses at reality TV, to teaming up with R2AK's parent non-profit, the Northwest Maritime Center, to create an all women race clinic to train up the next crop of the PNW's regatta leaders. Team Sail Like a Girl is no joke on a mission.
All of that good karma, and they've crewed up to defend the title in 2019 by cramming their Melges 32 with an all-lady A-Team of the sailing set.
R2AK never had a champ with enough gumption to return for a second swing, but Team Sail Like a Girl augmented their seasoned leadership and "I learned how to sail all the way to Alaska" enthusiasm with some new crew who offer up just about as much A-List chops as the sailing world can offer:
• Lisa Cole: USCG captain and owner of Seattle's 'She Sails' sailing school.
• Laurie Kaplan: Offshore sailor, onshore biker, and all around dynamo.
• Nikki Henderson: An all-pro sailing heavy by all accounts. At 26 she was the youngest to skipper a boat for the Clipper Round the World race… and did great; she would have won the steak knives if they weren't apparently too cheap to spring for that sort of thing. Why she's decided to slum it with the R2AK, we can only credit the gravitational pull/star power of Team Sail Like a Girl and/or the steak knives.
• Team member TBD: Shrouded in secrecy to even her own team members TBD has all the skills she does, which are likely impressive.
Full Details:
Team members: Jeanne Goussev, Aimee Fulwell, Anna Stevens, Lisa Cole, Laurie Anna (aka LA) Kaplan, Nicola Henderson
Hometown: Bainbridge Island, Washington, USA
Race vessel: Melges 32
LOA: 32′
Human propulsion: Pedal Drive
Connect: website, facebook, instagram.
Race details – Team list – Facebook – Instagram
Background:
Race to Alaska, now in its 5th year, follows the same rules which launched this madness. No motor, no support, through wild frontier, navigating by sail or peddle/paddle (but at some point both) the 750 cold water miles from Port Townsend, Washington to Ketchikan, Alaska.
To save people from themselves, and possibly fulfill event insurance coverage requirements, the distance is divided into two stages. Anyone that completes the 40-mile crossing from Port Townsend to Victoria, BC can pass Go and proceed. Those that fail Stage 1 go to R2AK Jail. Their race is done.
Stage 1 Race start: 0500 June 3rd, Port Townsend, Washington
Stage 2 Race start: 1200 June 6th, Victoria, BC
There is $10,000 if you finish first, a set of steak knives if you're second. Cathartic elation if you can simply complete the course. R2AK is a self-supported race with no supply drops and no safety net. Any boat without an engine can enter.
Last year 37 teams were accepted and 21 finished.
Source: R2AK, Scuttlebutt