Feature
R2AK: Licking the Wounds
Published on June 6th, 2019
The 5th edition of the 750 mile Race to Alaska began with a 40-mile stage from Port Townsend, WA to Victoria, BC before the entrants are permitted to continue on to Ketchikan, AK. Stage One was designed to be big enough to break teams' weakest links while they could still walk to a hardware store. It worked, again. As far as we know that was the extent, and as far as we know all critical repairs were made before the sun set in Victoria.
---
Other than a collective wide-eyed retelling of the tortured water they all just crossed, and a shared desire to rename the Strait of 'What the Fuca?', if there was a theme to Victoria's lay day it was 'repair.' Few teams sailed across the border storm unscathed.
The carnage was everywhere, and all over the docks teams were scurrying for supplies, making repairs, and trading advice and supplies to get everyone back on the water. For those with their eyes on the crown, this is less than cutthroat competition, but a win against an opponent at full fighting weight clears the room of future what ifs and yeah buts. Here's some epoxy, some help, and your ass on a platter.
While the issues were varied, the root cause could be traced to the past two days of wind-on-tide violence, and the fact that all of the teams sailed hard and then harder for 40 miles on a single port tack, and whatever part that ended up most underwater took a beating. If this was the boaty part of the CDC, we'd release a statement that the monohulls were suffering from an epidemic of forward hatch failure, for the multihulls it was an outbreak of water in the leeward ama.
Driven hard and heeled over from the force of the wind, the starboard amas submarined for most of the day, some never surfaced until they were dewatered and resealed dockside. All in all, it was a day of brisk business for the local marine store.
As far as we know, here is Stage One's butcher's bill:
Ace: Rudder, autopilot, and a $500 VHF that proved less than its marketed waterproof and stopped working when it filled with water.
Angry Beavers: Forward hatch leaked and watered the interior of their boat. Potentially related, they also lost their fuel cell for generating electricity for their canting keel.
Dazed and Confused: Broke the teak trim along their main hatch. When they found a replacement at the marine store and said they were in the R2AK, they were mocked by the staff for 'needing' teak and were refused the racer discount.
Funky Dory: A beach landing wedged a rock between the centerboard and the centerboard case jamming the centerboard in the up position. During their capsize at the harbor mouth they lost a dry bag containing flares and other distress equipment. The dry bag was recovered by Canadian customs.
Holopuni: Shipped water through 'sealed' rudder attachments. Team reported the boat handling sluggish with 200 extra pounds in stern.
Givin' the Horns: Starboard ama leaks.
MGB Racing: forward hatch leaks, and leaks along the toe rail.
Narwhal: Aft starboard ama hatch removed by seas.
Old Fart in a Windstorm: Broken rudder.
Pear Shaped Racing: Damaged their bow shifting moorage in Victoria.
Perseverance: Dagger board snapped in half due to the sheer force of Stage 1's confused and violent seas.
Pitoraq: "We broke open a sandwich or two…"
Razzle Dazzle: Aft starboard ama hatch broken. Dewatering removed a metric ton of water from the starboard ama's aft compartment.
Sail like a Girl: Blew out the foot of the mainsail.
SoggyKru: Much like Team Perseverance, confused and violent seas stressed the daggerboard but rather than it breaking off, the daggerboard held and effectively turned into a lever arm that tried to wedge open the boat's hull, and created a stress fracture from bow to stern. After dewatering, the starboard ama was lifted above the water with float bags to allow for repairs.
Try Baby Tri: No damage, but after sailing across in 20+ knots of wind in a 18' boat with full sails, Christian got a sailmaker to add reef points. His complaint: the reef points cost more than the boat he bought from Craigslist just a few weeks before.
WIP (Watertight Instant Paradise): Forward hatch opened and filled the boat. "It was like a monsoon in there." Being no longer watertight, the sea also took the liberty of removing the 'W' part of the 'WIP' graphics on the bow. The crew discussed removing the 'P.'
Ziska was unharmed, but narrowly missed breaking a dockside sea plane.
…and the media boat blew a forward hatch as it bashed into the head seas, and filled the bunk with water.
Cross your fingers, knock on wood, say your prayers as today is the big push north.
The Daily Fix by Boldly Went
The organizers had to bluff, bribe, and ransack several couches to afford it, but this year they have leveled up the coverage team with some real deal podcasters to bring you a couple weeks of all-pro audibles—straight from the racers' mouths to your ear holes. For several years Angel and Tim have gone the world over capturing the adventure stories of the dirtbag set through their podcast, Boldly Went, and for a couple of weeks they'll be wrapping their brain and microphones around the whatever the hell R2AK is/turns out to be. Actual professionals—this is a real "check out our big girl pants" moment.
Here's their first, and it spans the stories from the Soviet National Anthem to the end of Stage One.
Race details – Team list – Tracker – Facebook – Instagram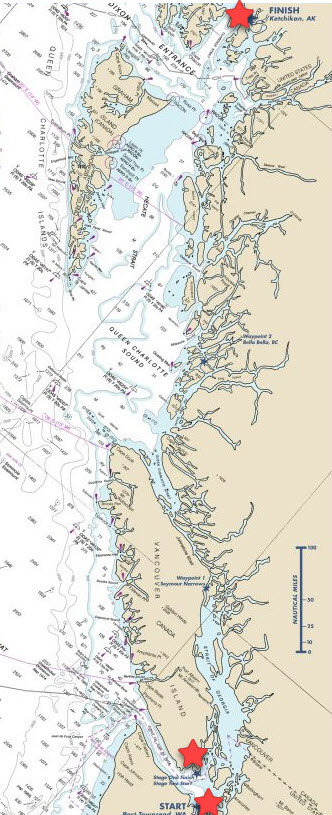 Background:
Race to Alaska, now in its 5th year, follows the same rules which launched this madness. No motor, no support, through wild frontier, navigating by sail or peddle/paddle (but at some point both) the 750 cold water miles from Port Townsend, Washington to Ketchikan, Alaska.
To save people from themselves, and possibly fulfill event insurance coverage requirements, the distance is divided into two stages. Anyone that completes the 40-mile crossing from Port Townsend to Victoria, BC can pass Go and proceed. Those that fail Stage 1 go to R2AK Jail. Their race is done.
Stage 1 Race start: 0500 June 3rd, Port Townsend, Washington
Stage 2 Race start: 1200 June 6th, Victoria, BC
There is $10,000 if you finish first, a set of steak knives if you're second. Cathartic elation if you can simply complete the course. R2AK is a self-supported race with no supply drops and no safety net. Any boat without an engine can enter.
Last year 37 teams were accepted and 21 finished.
Source: Race to Alaska