News
R2AK: We've got winners
Published on June 10th, 2019
The 5th edition of the 750 mile Race to Alaska began June 3 with a 40-mile "proving stage" from Port Townsend, WA to Victoria, BC. For those that survived, they started the remaining 710 miles on June 6 to Ketchikan, AK. Here's the finish line update:
---
In Race to Alaska's 5th year, Team Angry Beaver—Skiff Sailing Foundation won the $10,000 prize and bragging rights for being fist to Alaska.
The R2AK is about the physical endurance, saltwater know-how, and bulldog tenacity it takes to navigate the 750 cold-water miles from Port Townsend, Washington to Ketchikan, Alaska with no motors and no support.
The winning team of Matt Pistay, Gavin Bracket, Brent Campbell, Alan Johnson, Mats Elf, and Simon Miles completed the race on June 10 in 4 days 3 hours and 56 minutes aboard their Schock 40, a 40-foot performance monohull with a canting keel.
Team Angry Beaver (photos by Taylor Barly, Drew Malcolm, and Charley Starr):

Second place finishers, Team Pear Shaped Racing, put up a courageous fight, even after hitting four logs along the way and damaging their Chris Cochrane 10.6m custom trimaran, Dragon. "We worked so hard for the last 24 hours," they said. "We went faster than 18 knots. We were sending it!"'
Their second place prize for ringing the bell after 4 days 6 hours and 23 minutes? As per race tradition: A mediocre set of steak knives.
Team Pear Shaped Racing (photos by Drew Malcolm and Charley Starr):

Team Sail Like a Girl—last year's winning crew of seven women—is currently battling for 3rd place against another female-led team, Team Shut Up and Drive from San Francisco.
Representing Washington's Bainbridge Island, Team Sail Like a Girl Captain Jeanne Goussev had said they returned "not to defend a title," but rather "to represent ourselves well, compete hard, and to feel the strength that comes from challenge, fear, excitement, and love."
Check the R2AK Tracker to see racers present positions.
Race details – Team list – Tracker – Facebook – Instagram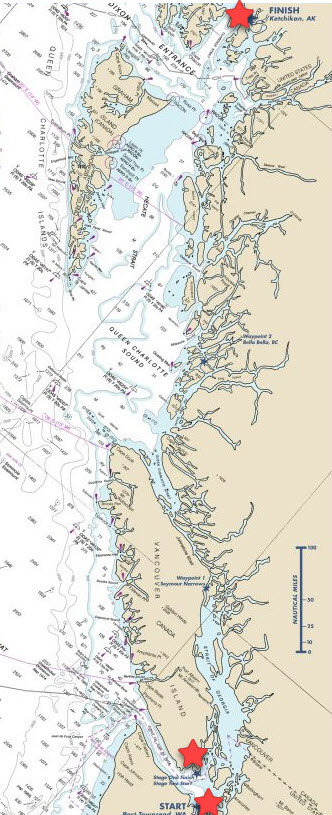 Background:
Race to Alaska, now in its 5th year, follows the same rules which launched this madness. No motor, no support, through wild frontier, navigating by sail or peddle/paddle (but at some point both) the 750 cold water miles from Port Townsend, Washington to Ketchikan, Alaska.
To save people from themselves, and possibly fulfill event insurance coverage requirements, the distance is divided into two stages. Anyone that completes the 40-mile crossing from Port Townsend to Victoria, BC can pass Go and proceed. Those that fail Stage 1 go to R2AK Jail. Their race is done.
Stage 1 Race start: 0500 June 3rd, Port Townsend, Washington
Stage 2 Race start: 1200 June 6th, Victoria, BC
There is $10,000 if you finish first, a set of steak knives if you're second. Cathartic elation if you can simply complete the course. R2AK is a self-supported race with no supply drops and no safety net. Any boat without an engine can enter.
Last year 37 teams were accepted and 21 finished.
Source: Race to Alaska