News
R2AK: Countdown to the countdown
Published on June 17th, 2019
The 5th edition of the 750 mile Race to Alaska began June 3 with a 40-mile "proving stage" from Port Townsend, WA to Victoria, BC. For those that survived, they started the remaining 710 miles on June 6 to Ketchikan, AK. Here's the June 17 update:
---
The last 48 hours of the R2AK rounded out with more finishers and calls for help than we've ever seen.
Finishers:
Teams North2Alaska, Razzle Dazzle, Seaforth Expeditions, WIP, Yankee Peddlers, SoggyKru
Rescues:
• On Sunday evening (June 16), Team You Either Do Stuff or You Don't (John Guider; 18-foot sailboat) was pulled from the water from nearby boaters following a capsize and a call for help in Johnstone Strait. The one crew member onboard was ok, and taken to a nearby resort.
• At approximately 4:20 AM AKDT today, R2AK was notified that Team Holopuni (Chris Fagan, Marty Fagan, Danny Geiger; 30-foot Hawaiian outrigger sailing canoe) had pressed their SOS button on their SPOT tracker. All three team members were picked up by the Canadian Coast Guard in Dixon Entrance and are safe ashore in Prince Rupert, BC. The team is okay and in good spirits thanks to rescue efforts. We're sending warm wishes to Team Holopuni and gratitude for the US and Canadian rescue forces that intervened.
Take a listen to Boldly Went's backstory on the hardscrabble spirit of the boats in the back of the race. They dive deep and laterally into the sidebets of the R2AK.
More finishers expected today, more of the full story tomorrow.
Race details – Team list – Tracker – Results – Facebook – Instagram
For the second year in a row, a monohull has taken line honors. Here's the history:
2015 – 5 days 1 hour 55 min – Elsie Piddock
2016 – 3 days 20 hour 13 minutes – Mad Dog
2017 – 4 days 3 hour 5 minutes – Freeburd
2018 – 6 days 13 hour 17 minutes – First Federal's Sail Like a Girl
2019 – 4 days 3 hours 56 minutes – Angry Beaver – Sailing Skiff Foundation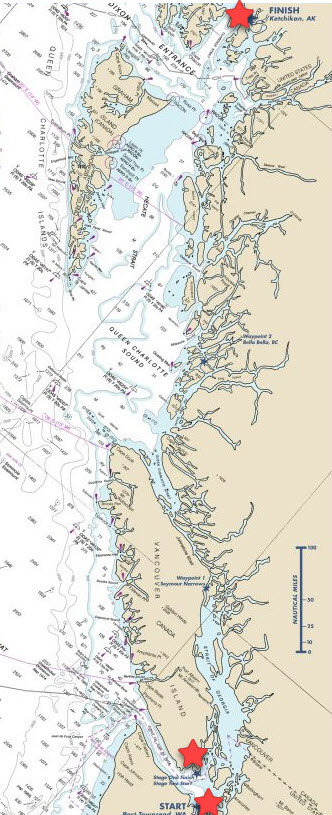 Background:
Race to Alaska, now in its 5th year, follows the same rules which launched this madness. No motor, no support, through wild frontier, navigating by sail or peddle/paddle (but at some point both) the 750 cold water miles from Port Townsend, Washington to Ketchikan, Alaska.
To save people from themselves, and possibly fulfill event insurance coverage requirements, the distance is divided into two stages. Anyone that completes the 40-mile crossing from Port Townsend to Victoria, BC can pass Go and proceed. Those that fail Stage 1 go to R2AK Jail. Their race is done.
Stage 1 Race start: 0500 June 3rd, Port Townsend, Washington
Stage 2 Race start: 1200 June 6th, Victoria, BC
There is $10,000 if you finish first, a set of steak knives if you're second. Cathartic elation if you can simply complete the course. R2AK is a self-supported race with no supply drops and no safety net. Any boat without an engine can enter.
Last year 37 teams were accepted and 21 finished.
Source: Race to Alaska