News
R2AK Time Machine Day 19/25
Published on July 4th, 2020
For five years, the Race to Alaska, a 750-mile course from Port Townsend, Washington to Ketchikan, Alaska, proved that journey trumps destination, and while COVID-19 cancelled the 2020 edition, the Organizing Authority is, for 25 days, sharing their fondest memories from the previous races. Enjoy!
---
Today is a double, double header. Two videos and two parts of a podcast.
Our first video for today is from 2019—a video that celebrates the R2AK fan. Not the 12th man, the enthusiast, the stan, groupie, smark. Not the supporter. We are not referencing the Barmy Army. We are at the source of the term 'fan.'
The R2AK fanatic….the Tracker Junkie.
Hunter and Deb, from the video, have been at the finish line since it was three headlamps and a banner made at the local printery, slowly melting in the constant rain. We are all tracker junkies at some level, and racers are often the biggest offenders; watching their screens on and off the course. It's the itch that won't scratch and habits that get created in days, but will last for years. Refresh…zoom…check their speed. Guess their finish time. Get it wrong. Rinse, repeat.
The second video is our "Nights" video. A classic look at what teams do to get through the evening of R2AK. Slippling sanity, temporary homes, and the losing battle of staying dry.
I've also cued up the two 2017 podcasts we call the Racer Roundup Parts 1 and 2. I hopped on the opportunity to interview six teams assembled together at the Ketchikan Yacht Club that represented the middle of the pack and a solid slice of R2AK racer personality.
Teams Grace B (above), North2Alaska, Rush Aweigh, Viz Reporter, and Rod Price Adventure. I'll repeat one of the racer gems right now. If you want to Race to Alaska and finish, it's not as important to consider how to make your team move quickly, but how to make your slow speed faster. Enjoy.
WATCH:
LISTEN:
2017 Day 20: Racer round table pt. 1
We've never had so many racers at the Ketchikan Yacht Club at the same time. Today's Daily Fix is part one of two of the roundtable discussion of the six teams who were willing to sit around with a couple of microphones and tell it like it was.
Recorded live at the KYC with an in-studio audience – it's a lot like Oprah but only for the internet and with burgers you cook yourself. Our some of favorite bits as the teams tell all:
"It's going well but there's a world of heartbreak a head of us."
"I've sailed her for 30 years, but we broke her in the race."
"If you're excited about days and days of maritime problems solving, this is the race for you."
"What slows you down is when you're the slowest."
Question from the audience: "Would you take the same boat?"
Answers: No, Yes, Yes with a pedal drive, yes with some modifications. It's not the perfect boat but I'm old and I want to get older.
"What kind of race do you want? The race for the five and seven day guys is completely different experience than our race."
Competition, camaraderie, post race analysis from the fleet of the everyman superheroes that finished in the last few days, and if you listen carefully you can hear people getting up for a second run at the burger bar – this Daily Fix has it all.

2017 Day 21: Racer round table pt. 2
Part two of the Ketchikan burger night roundtable with Teams Kelp, North2Alaska, Grace B, Rush Aweigh, Viz Reporter, and Rod Price. This is a tracker junkie deep dive that asks the big questions: how does the race change you? Solo vs team? Just how much content can we wring out of these folks on a single evening?
Plus, we workshop how to describe the R2AK to people and accountants…because we needed help and you needed to listen. The end of this marathon is closing in fast, this is one of those you should listen to now and then squirrel away for the months when the weather is cold and the tracker is dark. Winter is coming, and this is your Daily Fix.
Race details – Previous races – Facebook – Instagram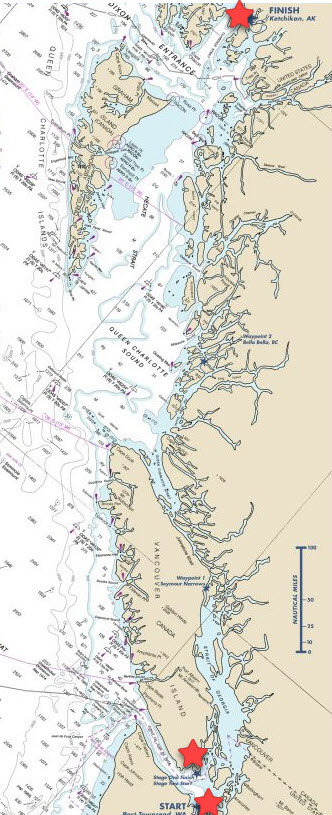 What was to be in 2020:
Race to Alaska, now in its 6th year, follows the same general rules which launched this madness. No motor, no support, through wild frontier, navigating by sail or peddle/paddle (but at some point both) the 750 cold water miles from Port Townsend, Washington to Ketchikan, Alaska.
To save people from themselves, and possibly fulfill event insurance coverage requirements, the distance is divided into two stages. Anyone that completes the 40-mile crossing from Port Townsend to Victoria, BC can pass Go and proceed. Those that fail Stage 1 go to R2AK Jail. Their race is done. Here is the 2020 plan:
Stage 1 Race start: June 8 – Port Townsend, Washington
Stage 2 Race start: June 11 – Victoria, BC
There is $10,000 if you finish first, a set of steak knives if you're second. Cathartic elation if you can simply complete the course. R2AK is a self-supported race with no supply drops and no safety net. Any boat without an engine can enter.
In 2019, there were 48 starters for Stage 1 and 37 finishers. Of those finishers, 35 took on Stage 2 of which 10 were tagged as DNF.
Source: Race to Alaska