News
Vendée Globe: Straight to the doldrums
Published on November 14th, 2020
(November 14, 2020; Day 7) – At the top of the Vendée Globe fleet, Jean Le Cam (Yes We Cam!) still holds the lead from Alex Thomson (HUGO BOSS) as the pair open the route into the Ne'ly trade winds.
"Everything is good on board with Alex," reports Ross Daniels, Alex Thomson Racing's Technical Director. "He has been resting a bit. He was quite happy through the low (Theta) really. He has seen plenty of big winds before, 50,60 knots, and so if there is a gain to be made he will go there. I think we will start to see the foilers dominate now a bit more. With the winds around 100 degrees true they should be quick for the next 4-5 days."
That has been the case as Le Cam, who held a lead of 21.49 nm at 14:00 but has been bleeding distance throughout the day.
Located furthest to the west, Charlie Dalin (Apivia) was the first to gybe to port followed by Thomas Ruyant (LinkedOut) and Kevin Escoffier (PRB), while 150 miles to the southeast of them, Le Cam and Thomson gybed to port early in the afternoon with more wind and a favorable angle in the NW trade, and therefore a slightly more direct course.
"It's going to be a long gybe straight into the doldrums and the foilers, who haven't yet had the chance to show their potential, will finally be able to do it. We should fly," noted Thomas Ruyant. "We will get good reaching angles and start to accelerate."
But vigilance will be required, explains Sébastien Josse, with three Vendée Globe's under his belt: "It will not be a cruise with the force of the wind – 20 to 25 knots – and on the crossover of a sail choice between Code 0 and fractional gennaker."
Meantime the peloton has raced off and left a group of competitors in next to no wind, Ari Huusela (Stark), Miranda Merron (Campagne de France), Alexia Barrier (TSE – 4myplanet), Clément Giraud (Compagnie du Lit / Jiliti), Sébastien Destremau (Merci), and Armel Tripon (L'Occitane en Provence).
"The corridor of wind between the depression and the front above has narrowed down, and they are in the heart of a windless zone and behind thate there is not much with either," Christian Dumard, the Vendée Globe meteorologist explained.
Mainsail Damage For Kojiro
In the middle of the afternoon Kojiro Shiraishi's DMG Mori Global One team reported a rip at the top of the Japanese skipper's mainsail and damaged battens. After a gybe to exit the Theta depression, Shiraishi, 19th at 3pm, suffered an autopilot malfunction. During a third gybe, his mainsail tore above the 2nd batten. His team commented: "The skipper is not injured and the boat is not in danger. We will be offering different solutions to repair the mainsail and continue the race."
Back but not deterred
Charal skipper Jérémie Beyou sailed up the famous Les Sables d'Olonne channel this afternoon after turning back on day three due to damage. – Full report
Ranking – 21:00 (GMT)
1. Jean LE CAM, Yes We Cam! – 22759.7 nm DTF
2. Alex THOMSON, HUGO BOSS – 6.1 nm DTL
3. Benjamin DUTREUX, OMIA – WATER FAMILY – 46.67 nm DTL
4. Damien SEGUIN, GROUPE APICIL – 87.08 nm DTL
5. Kevin ESCOFFIER, PRB – 89.9 nm DTL
DTF – Distance to Finish; DTF – Distance to Lead
Race details – Boat types – Tracker – Ranking – YouTube
The Vendée Globe is the only sailing race round the world that's solo, non-stop, and without assistance, and it was all systems go for the 9th edition on November 8, 2020. Beginning in 1989 with 13 entries, the start line this year had 33 skippers taking off from Les Sables d'Olonne, France.
The development of the IMOCA Class toward foiling will see these boats hurl themselves around the world, teetering on carbon skates through inhospitable regions, chasing the record set in 2016-17 by Armel le Cléac'h of 74:03:35:46.
Participation history:
1989-90: 13 boats at the start
1992-93: 15 boats
1996-97: 15 boats
2000-01: 24 boats
2004-05: 20 boats
2008-2009: 30 boats
2012-2013: 20 boats
2016-2017: 29 boats
2020-2021: 33 boats
2020-21 Entries
Fabrice AMEDEO: NEWREST – ART & FENÊTRES
Romain ATTANASIO: PURE – BEST WESTERN
Alexia BARRIER: TSE – 4MYPLANET
Yannick BESTAVEN: MAÎTRE COQ IV
Jérémie BEYOU: CHARAL
Arnaud BOISSIÈRES: LA MIE CÂLINE – ARTISANS ARTIPÔLE
Louis BURTON: BUREAU VALLÉE 2
Didac COSTA: ONE PLANET ONE OCEAN
Manuel COUSIN: GROUPE SÉTIN
Clarisse CREMER: BANQUE POPULAIRE X
Charlie DALIN: APIVIA
Samantha DAVIES: INITIATIVES-CŒUR
Sébastien DESTREMAU: MERCI
Benjamin DUTREUX: OMIA – WATER FAMILY
Kevin ESCOFFIER: PRB
Clément GIRAUD: COMPAGNIE DU LIT / JILITI
Pip HARE: MEDALLIA
Boris HERRMANN: SEA EXPLORER – YACHT CLUB DE MONACO
Ari HUUSELA: STARK
Isabelle JOSCHKE: MACSF
Jean LE CAM: YES WE CAM !
Stéphane LE DIRAISON: TIME FOR OCEANS
Miranda MERRON: CAMPAGNE DE FRANCE
Giancarlo PEDOTE: PRYSMIAN GROUP
Alan ROURA: LA FABRIQUE
Thomas RUYANT: LINKEDOUT
Damien SEGUIN: GROUPE APICIL
Kojiro SHIRAISHI: DMG MORI
Sébastien SIMON: ARKEA – PAPREC
Maxime SOREL: V AND B – MAYENNE
Alex THOMSON: HUGO BOSS
Armel TRIPON: L'OCCITANE EN PROVENCE
Nicolas TROUSSEL: CORUM L'ÉPARGNE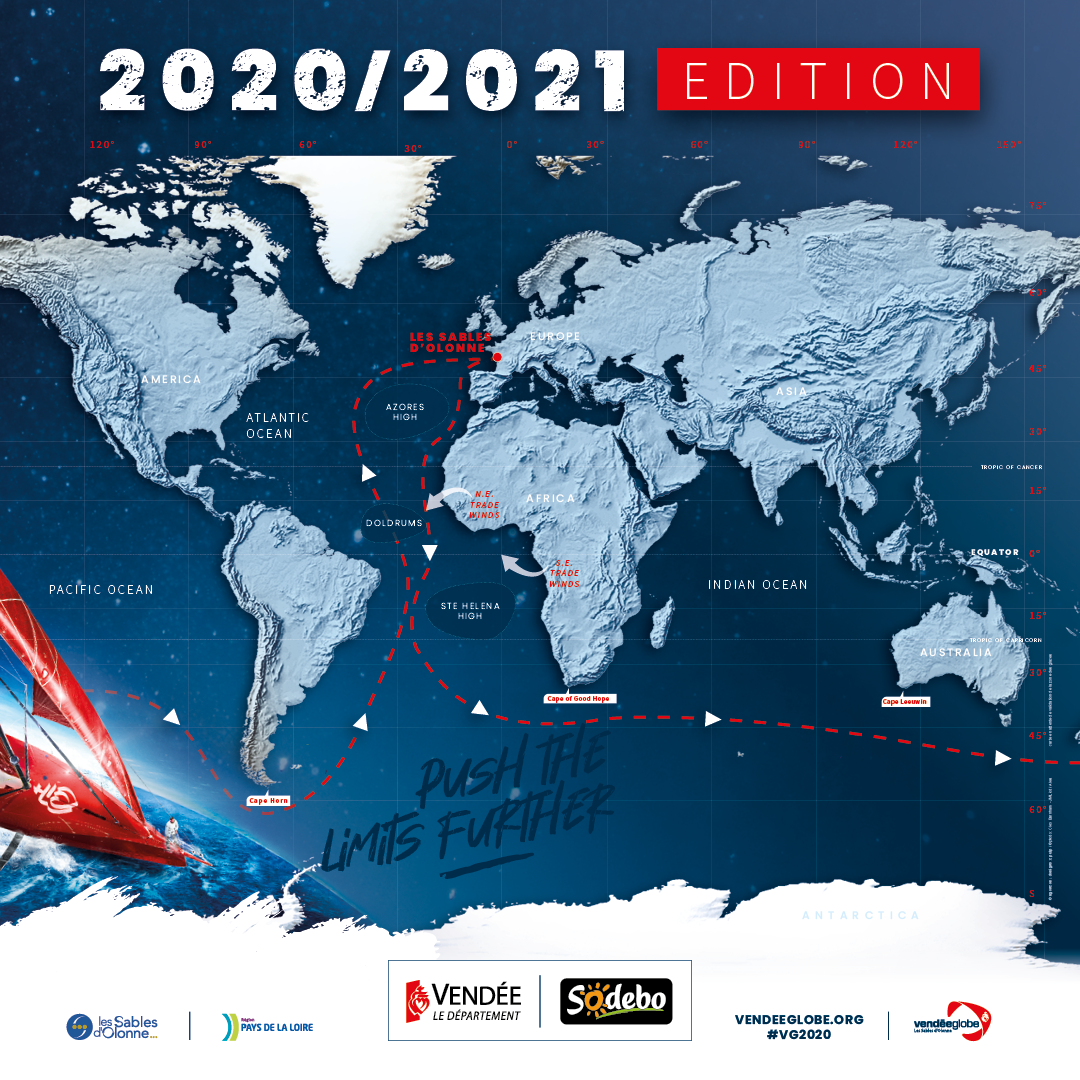 Source: Vendée Globe