News
Kevin Escoffier rescued by Jean Le Cam
Published on November 30th, 2020
(December 1, 2020; Day 24) – At 0118hrs UTC the PRB Team was informed that their Vendée Globe race skipper Kevin Escoffier (PRB) has been rescued by fellow Vendée Globe competitor Jean Le Cam (Yes We Cam!).
Escoffier had to abandon his IMOCA 60 PRB following damage yesterday afternoon around 1346hrs UTC and took to his liferaft some 840 nautical miles SW of Cape Town.
The rescue mission was coordinated from Les Sables d'Olonne by Vendée Globe Race Direction in collaboration with CROSS Griz Nez and MRCC South Africa. The President of PRB, Jean-Jacques Laurent was at the Race HQ with race director Jacques Caraës and the race direction team assisting through the entire process.
"He's on board with Jean!" These short words came as a huge relief for the whole team, for Escoffier's family and all those involved in and following the Vendée Globe
Escoffier has so far only been seen aboard YesWeCam via live video as Le Cam had his video system connected during all the search operations. No one has yet been able to talk with the PRB skipper who just appeared smiling, bundled up in his survival suit alongside Le Cam.
"We sent Jean back to a position received by the CROSS Gris Nez, the position sent by the onboard EPIRB distress beacon," explained Vendée Globe race director Jacques Caraës. "Météo France's drift simulation also delivered a trace. Jean set off at 00h15 UT (1h15 French time) on our request to reach this point at reduced speed. He found no one at the given location. He then resumed its journey southeast for three quarters for between 45 minutes and an hour – an hour.
"As he was making headway at 1.5 knots in a 20-25 knot wind under very reduced sail (3 reefs in the mainsail and no engine), he disappeared from the screen when suddenly we heard him talk. We no longer saw anyone. Then, a few minutes after 1:06 UT or 2:06 French time (time at which he had precisely to retrieve Kevin on board), Jean went back down to the chart table and then we saw Kevin arrive behind his back in a survival suit. They both appeared fit seconds before the video cut. He is fine. Everyone is well. They are recovering!"
On January 6, 2009, during the 2008-2009 Vendée Globe, Vincent Riou, the then the skipper of PRB, rescued Jean Le Cam from his upturned IMOCA 60 which capsized at Cape Horn.
This time 61 year old five times Vendée Globe racer Le Cam has reversed the roles delivering Escoffier, the 40 year old skipper from Saint Malo, from a potentially lethal situation.
The whole TEAM PRB and the Vendée Globe community sincerely thanks Jean Le Cam and the three other skippers – Boris Hermann, Yannick Bestaven, and Sébastien Simon – who have worked heroically and tirelessly to find Kevin, as well as the race director, the CROSS Gris Nez. and the MRCC Cape Town which coordinated the search.
Race details – Boat types – Tracker – Ranking – YouTube
The Vendée Globe is the only sailing race round the world that's solo, non-stop, and without assistance, and it was all systems go for the 9th edition on November 8. Beginning in 1989 with 13 entries, the start line in 2020 had 33 skippers taking off from Les Sables d'Olonne, France.
The development of the IMOCA Class toward foiling will see these boats hurl themselves around the world, teetering on carbon skates through inhospitable regions, chasing the record set in 2016-17 by Armel le Cléac'h of 74:03:35:46.
2020-21 Attrition
Nov. 16, 2020 – Nicolas TROUSSEL, CORUM L'EPARGNE – dismasted
Nov. 28, 2020 – Alex THOMSON, HUGO BOSS – damaged rudder
Participation history:
1989-90: 13 boats at the start
1992-93: 15 boats
1996-97: 15 boats
2000-01: 24 boats
2004-05: 20 boats
2008-2009: 30 boats
2012-2013: 20 boats
2016-2017: 29 boats
2020-2021: 33 boats
2020-21 Entries
Fabrice AMEDEO: NEWREST – ART & FENÊTRES
Romain ATTANASIO: PURE – BEST WESTERN
Alexia BARRIER: TSE – 4MYPLANET
Yannick BESTAVEN: MAÎTRE COQ IV
Jérémie BEYOU: CHARAL
Arnaud BOISSIÈRES: LA MIE CÂLINE – ARTISANS ARTIPÔLE
Louis BURTON: BUREAU VALLÉE 2
Didac COSTA: ONE PLANET ONE OCEAN
Manuel COUSIN: GROUPE SÉTIN
Clarisse CREMER: BANQUE POPULAIRE X
Charlie DALIN: APIVIA
Samantha DAVIES: INITIATIVES-CŒUR
Sébastien DESTREMAU: MERCI
Benjamin DUTREUX: OMIA – WATER FAMILY
Kevin ESCOFFIER: PRB
Clément GIRAUD: COMPAGNIE DU LIT / JILITI
Pip HARE: MEDALLIA
Boris HERRMANN: SEA EXPLORER – YACHT CLUB DE MONACO
Ari HUUSELA: STARK
Isabelle JOSCHKE: MACSF
Jean LE CAM: YES WE CAM !
Stéphane LE DIRAISON: TIME FOR OCEANS
Miranda MERRON: CAMPAGNE DE FRANCE
Giancarlo PEDOTE: PRYSMIAN GROUP
Alan ROURA: LA FABRIQUE
Thomas RUYANT: LINKEDOUT
Damien SEGUIN: GROUPE APICIL
Kojiro SHIRAISHI: DMG MORI
Sébastien SIMON: ARKEA – PAPREC
Maxime SOREL: V AND B – MAYENNE
Alex THOMSON: HUGO BOSS
Armel TRIPON: L'OCCITANE EN PROVENCE
Nicolas TROUSSEL: CORUM L'ÉPARGNE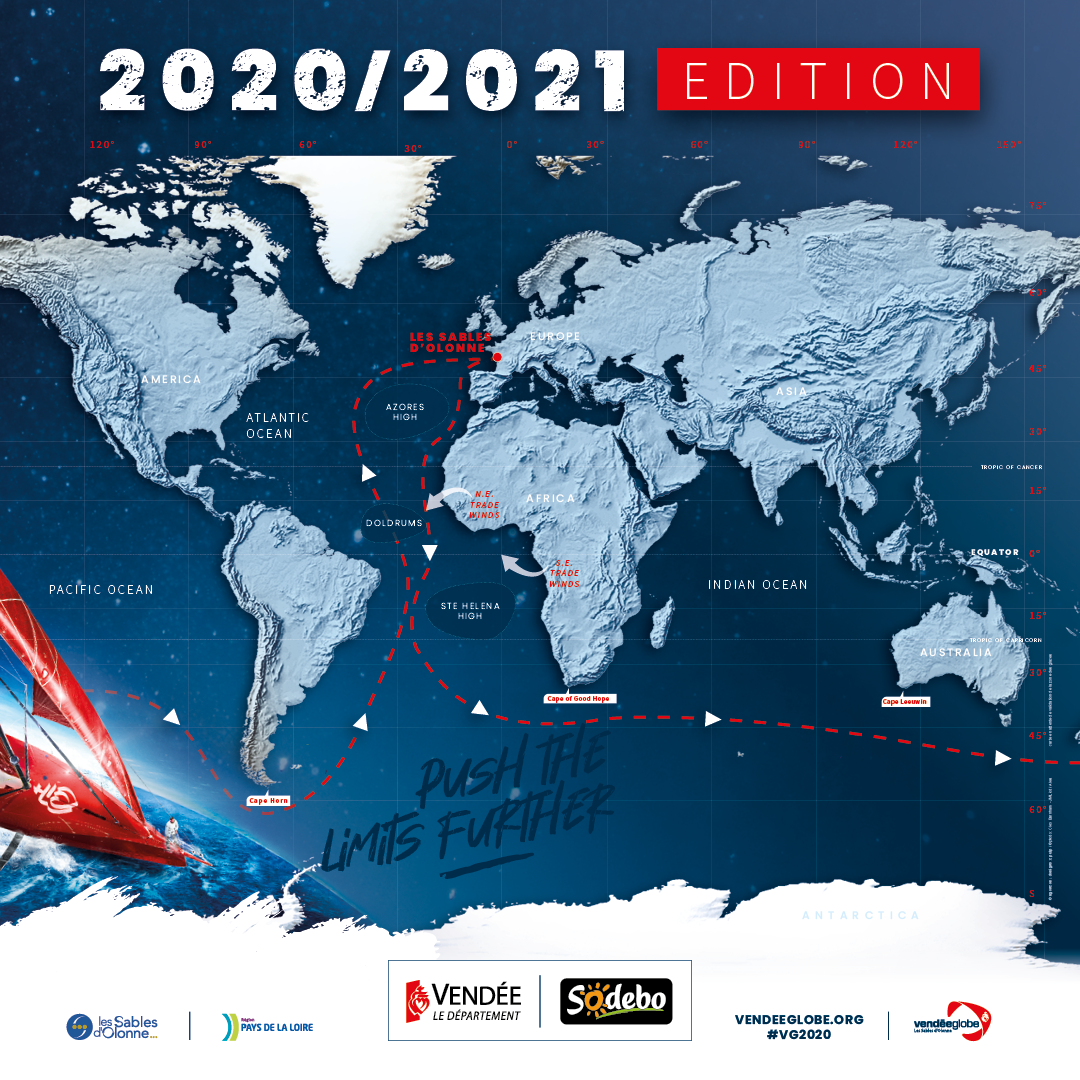 Source: Vendée Globe