Feature
Vendée Globe: Casualty count continues
Published on December 2nd, 2020
(December 2, 2020; Day 25) – The closeness of the Vendée Globe fleet was reflected today as no fewer than nine boats crossed the longitude of the Cape of Good Hope, but for Sébastien Simon on ARKEA PAPREC, his entrance into the Indian Ocean has come at a high cost.
In fourth place at the time, the 30 year old skipper ad been showing good speeds in recent days on the 2020 Juan K design, but once crossing the notable longitude did he incur substantial damage to his starboard foil and its casing after hitting an object in the water at 0820hrs UTC this morning.
By late today, he has put his race on hold, sailing under a deep reefed mainsail and the storm jib.
Given the tough sailing conditions forecast (more than 30-35 knots of wind with five metre waves), the plan is to head north to get away from the worst of the wind and the sea.
Tonight he is looking only to secure the boat as much as possible and reduce any stress on the damaged starboard foil, while tomorrow in an area which should be calmer for the IMOCA 60-footer, Simon will be able to study the repair possibilities and hopefully execute plans for him to continue in the race.

Also, British skipper Sam Davies informed her team that her IMOCA Initiatives Coeur had struck a floating object at around 1900hrs UTC this evening. She is heading north at reduced speed and will inspect her boat to assess the damage and discuss actions with her team.
The proven reliability of the 2016-17 race winning boat, now Bureau Vallée 2, and the desire and confidence to attack hard seem to be the key to Louis Burton's progress up the leaderboard to now second place. So far he has routed south, closer to the ice exclusion zone and so sailing less miles but always in stronger winds and bigger seas.
The 35 year old from Saint Malo was seventh on the last edition of the race, blessed with a passage through the southern oceans mostly in relatively benevolent conditions thanks to a high pressure system which he rode for weeks.
Rescued Kevin Escoffier and rescuer Jean Le Cam were called by Skype onboard Yes We Cam! by the President of France, Emmanuel Macron, who congratulated Le Cam on his seamanship.
"I was reassured by the news," shared Macron. " I am a fan of Jean's. So I wanted to say hats off to him. We are extremely proud of Kevin and you and for the whole 'family' and of what you did."
It is still planned to drop Escoffier on a French navy frigate the Nivose which could rendezvous with Yes We Cam near the Crozet or Kerguelens but this has not yet been confirmed by the authorities. If not, it might be New Zealand before the Escoffier could be taken off.
For all that the latest generation of high speed foiling IMOCAs are designed for top speeds of more than 30kts, now racing in the steep, short seas of the Indian Ocean, race leader Charlie Dalin has been through his biggest storm to date and today said he is having to learn how to slow his boat and manage it.
"I am discovering something I have never had to do before," said Dalin, "I have to un-trim, detune my boat. I feel now 50% of the time I am trying to trim the sails and the foils and keel to go faster, and 50% of the time I am de-tune the boat. I find myself looking for the brake pedal.
"The sea state in the Indian Ocean is really what is limiting my speed. Sometimes the boat accelerates in the surf and we go to 28-30kts and you don't know how it is going to end. It is a really weird to way to think,.
"I have this wind strength, this wind angle is this, and I have these sails up, and I have the foil set like this, but if I change all these setting I should slow the boat down, and slow the boat down. I never had to do this before in my racing career."
With a lead well over 200nm, Dalin admitted today he no longer routes his rivals Burton or Ruyant, not because he doesn't care but he considers it wasted energy when they are in different wind regimes.
"I have voluntarily stopped taking the GRIB files back to Thomas. I cannot do that. I don't want to know what conditions he is going to have. There is not much point. We have different weather systems, we are a bit more than 12 hours apart, so there is not much point. I focus on my race, my course. And we will see how it turns out. I have given up. I don't find it useful to do this."
Ranking – 21:00 (GMT)*
1. Charlie DALIN, APIVIA – 16872.2 nm DTF
2. Louis BURTON, BUREAU VALLEE 2 – 232.84 nm DTL
3. Thomas RUYANT, LinkedOut – 271.39 nm DTL**
4. Damien SEGUIN, GROUPE APICIL – 495.21 nm DTL
5. Boris HERRMANN, SEAEXPLORER – YACHT CLUB DE MONACO – 499.6 nm DTL
DTF – Distance to Finish; DTF – Distance to Lead
* Four skippers assisted in the rescue of Kevin Escoffier which began on Nov. 30. Their ranking order that day as of 14:00 was Escoffier (3rd), Jean Le Cam (4th), Yannick Bestaven (6th), Sébastien Simon (7th), and Boris Herrmann (8th). The Race Jury will now determine the credit for each skipper to reestablish their ranking in the race.
** Ruyant damaged port foil on Nov. 24 at 02:00.
Race details – Boat types – Tracker – Ranking – YouTube
The Vendée Globe is the only sailing race round the world that's solo, non-stop, and without assistance, and it was all systems go for the 9th edition on November 8. Beginning in 1989 with 13 entries, the start line in 2020 had 33 skippers taking off from Les Sables d'Olonne, France.
The development of the IMOCA Class toward foiling will see these boats hurl themselves around the world, teetering on carbon skates through inhospitable regions, chasing the record set in 2016-17 by Armel le Cléac'h of 74:03:35:46.
2020-21 Attrition
Nov. 16, 2020 – Nicolas TROUSSEL, CORUM L'EPARGNE – dismasted
Nov. 28, 2020 – Alex THOMSON, HUGO BOSS – damaged rudder
Nov. 30, 2020 – Kevin ESCOFFIER, PRB – hull damage (sunk)
Participation history:
1989-90: 13 boats at the start
1992-93: 15 boats
1996-97: 15 boats
2000-01: 24 boats
2004-05: 20 boats
2008-2009: 30 boats
2012-2013: 20 boats
2016-2017: 29 boats
2020-2021: 33 boats
2020-21 Entries
Fabrice AMEDEO: NEWREST – ART & FENÊTRES
Romain ATTANASIO: PURE – BEST WESTERN
Alexia BARRIER: TSE – 4MYPLANET
Yannick BESTAVEN: MAÎTRE COQ IV
Jérémie BEYOU: CHARAL
Arnaud BOISSIÈRES: LA MIE CÂLINE – ARTISANS ARTIPÔLE
Louis BURTON: BUREAU VALLÉE 2
Didac COSTA: ONE PLANET ONE OCEAN
Manuel COUSIN: GROUPE SÉTIN
Clarisse CREMER: BANQUE POPULAIRE X
Charlie DALIN: APIVIA
Samantha DAVIES: INITIATIVES-CŒUR
Sébastien DESTREMAU: MERCI
Benjamin DUTREUX: OMIA – WATER FAMILY
Kevin ESCOFFIER: PRB
Clément GIRAUD: COMPAGNIE DU LIT / JILITI
Pip HARE: MEDALLIA
Boris HERRMANN: SEA EXPLORER – YACHT CLUB DE MONACO
Ari HUUSELA: STARK
Isabelle JOSCHKE: MACSF
Jean LE CAM: YES WE CAM !
Stéphane LE DIRAISON: TIME FOR OCEANS
Miranda MERRON: CAMPAGNE DE FRANCE
Giancarlo PEDOTE: PRYSMIAN GROUP
Alan ROURA: LA FABRIQUE
Thomas RUYANT: LINKEDOUT
Damien SEGUIN: GROUPE APICIL
Kojiro SHIRAISHI: DMG MORI
Sébastien SIMON: ARKEA – PAPREC
Maxime SOREL: V AND B – MAYENNE
Alex THOMSON: HUGO BOSS
Armel TRIPON: L'OCCITANE EN PROVENCE
Nicolas TROUSSEL: CORUM L'ÉPARGNE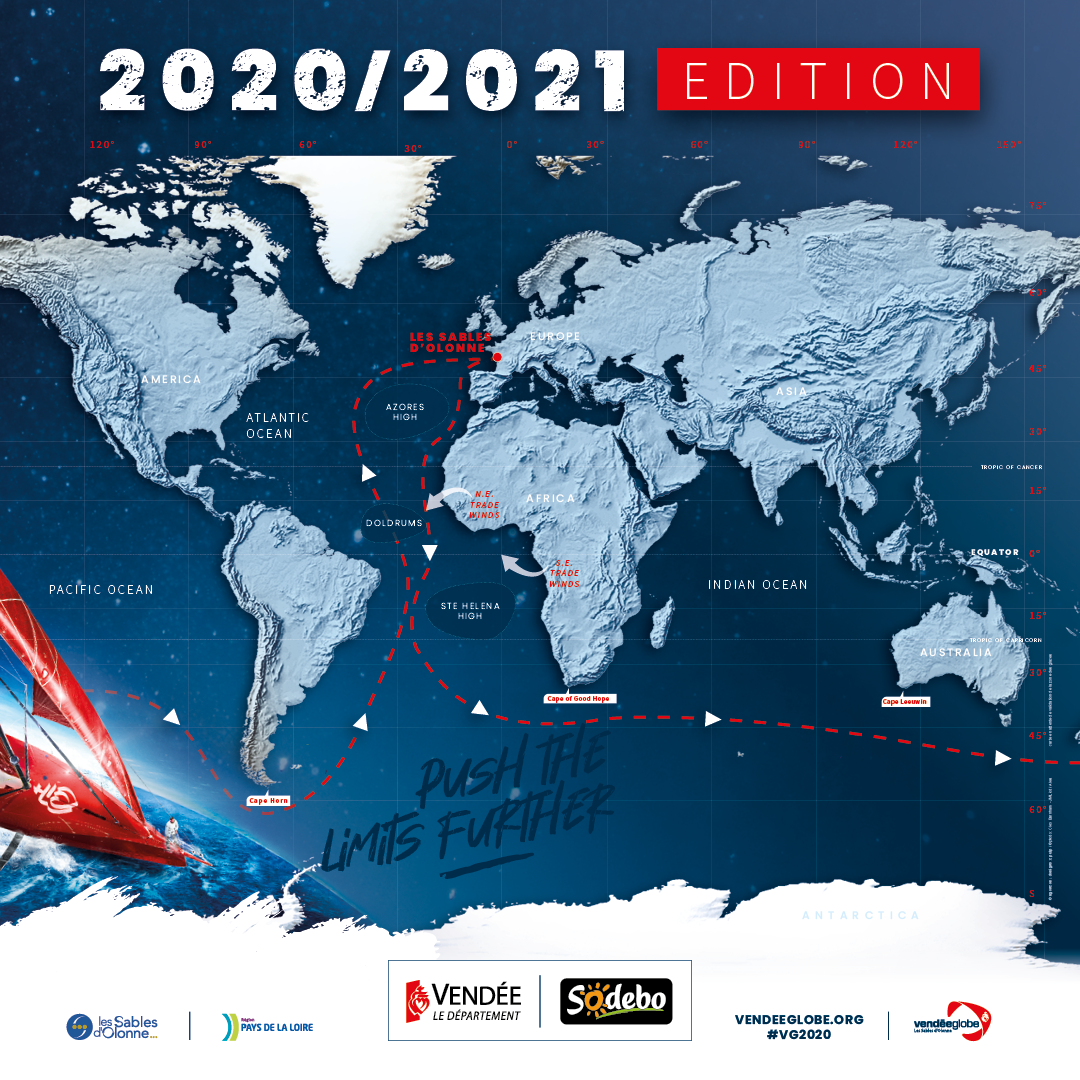 Source: Vendée Globe