News
Vendée Globe: Tight at the top
Published on December 12th, 2020
(December 12, 2020; Day 35) – With less than 200 nautical miles to make to cross the longitude of the Cape Leeuwin, Charlie Dalin's lead on the Vendée Globe fleet is a much more tenable 81 nautical miles after long periods slowed in light winds during the last three days of racing.
Quizzed early this morning he denied he has any technical issues on board his IMOCA APVIA,
"I know there is speculation about me having technical issues but my technical issue has been no wind," said Dalin. "APIVIA is going well."
The leader's elapsed time to Cape Leeuwin should be of the order of 34 ½ days, nearly six days outside of the outstanding record set on the last edition by Armel Le Cléac'h at 28 days 20 hours and 12 minutes. Le Cléac'h's passage time back in December 2016 beat the previous record by five days 14 hours.
But while the last two editions of the Vendée Globe had already been distilled down to head-to-head match races, this ninth edition is a much more open affair.
In 2012-13 at Cape Leeuwin, there was five hours and 49 minutes between the runaway duo Le Cléac'h and Francois Gabart. Alex Thomson was over one day and three hours behind. In December 2016, there was five and 16 minutes between Le Cléac'h and Thomson.
Today there are less than 100 nautical miles between leader Dalin, second placed Thomas Ruyant (LinkedOut), and third placed Yannick Bestaven (Maître Coq). Jean Le Cam (Yes We Cam!) is 130 miles behind Bestaven and he in turn has three skippers – Damien Seguin, Louis Burton, and Benjamin Dutreux – all within 40 miles.
And at current speeds there is less than a day or just over 400 miles between first and 10th.
Louis Burton, who a matter of a week ago was in second, 140 miles behind leader Dalin, admitted today that his problems are more than just the autopilot issues which he detailed a few days ago. The skipper of Bureau Vallée 2 has dropped to sixth now 246 miles behind leader APIVIA. He revealed that he has damage to his mainsail lock (hook) and to the upper part of his mast track to the point that the maximum hoist he can use the mainsail to is with one reef.
"I still have the J2 which is working fine, but the small gennaker is in bad shape so I don't have a lot of headsails," said Burton. "I also have energy problems which are holding me back quite a bit. I've got a hydro-generator stuck down which actually slows it down a lot, but I don't have much choice since I don't have enough fuel to finish the rest of the race using my engine (to generate power). That's an extra worry.
"The problem with my pilot is fixed, and I've tried to make sure all those little fragile sensors are now watertight so that the problem doesn't come back.
Comparing this race to the previous edition, Burton notes how the slower pace does not mean it's been an easier race. "There is less wind, and the sea is calmer. But in saying that up until this point, the conditions have really been boat-breaking. Four years ago, when we passed through this zone, there were really high seas and the wind was much stronger, but there'd been more extensive weather systems, so fewer maneuvers to make and therefore less danger for the boats.
"This time round, it's really not been easy to manage. We're now going to enter a zone that will be less wind between the Indian Ocean and the Pacific. It's not the Big South as I like to imagine with the usual big depressions on which you can stay a long time. Instead, the conditions are very changeable and very trying, which also explains why the boats are coming back from behind."
The Finnish airline pilot Ari Huusela was the final Vendée Globe competitor to cross the longitude of the Cape of Good Hope today, 33 days and 22 hours after the start off Les Sables d'Olonne on November 8. That he was some ten hours and eight minutes behind Sébastien Destremau mattered not at all to the 58 year old from Helsinki.
Indeed he may be the 29th racer to cross but it is doubtful if any of the 29 ahead of him have been happier to cross this first of the course's three Great Capes.
He is on the threshold to the Indian Ocean on STARK, his Owen Clarke designed IMOCA 60 which already has two racing circumnavigations under its keel, and that represents a big leap into the unknown for Huusela who has been planning his Vendée Globe for the best part of twenty years, and is in no hurry to have it finish any quicker than he would like it to.
"It feels so good to be passing this first Great Cape," shared Huusela. "It feels so good. It has been a lot of years coming since we started this project and so it feels really good. I am relieved. Next is Cape Leeuwin in two to three weeks. I am so, so happy today."
Huusela, one of the three skippers in this race who might strictly be described as amateurs, that is to say deriving their primary income from outside of sailing, along with Didac Costa who is a full time fire officer and Manuel Cousin who had a career in the automotive industry with Toyota.
Crossing Good Hope just ten and a half hours earlier than Huusela was Jérémie Beyou. The skipper of Charal, who restarted again nine days after the original start, was pleased to reach one of the little targets he had set himself, to be catching up with back of the fleet by the Cape of Good Hope.
Beyou's passage to the Cape has not been easy as neither the North Atlantic nor the South Atlantic have been kind to him. His elapsed time is 24 days 9 hours and 14 minutes, 15th fastest of the fleet.
"It is not so much about passing competitors now which finally feels good but more just to have got back in touch with the race, to have made up the miles I was behind (1250 leaving from Les Sables d'Olonne on November 17), but at least now I am in the same weather system as others and I have people around me as I head into the Big South. I wanted to be here, catching the race by Good Hope and so I have done that and I'm happy."
Ranking – 14:00 (GMT)*
1. Charlie DALIN, APIVIA – 13710.6 nm DTF
2. Thomas RUYANT, LinkedOut – 81.48 nm DTL**
3. Yannick BESTAVEN, Maître CoQ IV – 97.38 nm DTL
4. Jean LE CAM, Yes We Cam! – 222.23 nm DTL
5. Damien SEGUIN, GROUPE APICIL – 230.37 nm DTL
DTF – Distance to Finish; DTF – Distance to Lead
* Four skippers assisted in the rescue of Kevin Escoffier which began on Nov. 30. Their ranking order that day as of 14:00 was Escoffier (3rd), Jean Le Cam (4th), Yannick Bestaven (6th), Sébastien Simon (7th), and Boris Herrmann (8th). The Race Jury will now determine the credit for each skipper to reestablish their ranking in the race.
** Ruyant damaged port foil on Nov. 24 at 02:00.
Race details – Boat types – Tracker – Ranking – YouTube
The Vendée Globe is the only sailing race round the world that's solo, non-stop, and without assistance, and it was all systems go for the 9th edition on November 8. Beginning in 1989 with 13 entries, the start line in 2020 had 33 skippers taking off from Les Sables d'Olonne, France.
The development of the IMOCA Class toward foiling will see these boats hurl themselves around the world, teetering on carbon skates through inhospitable regions, chasing the record set in 2016-17 by Armel le Cléac'h of 74:03:35:46.
2020-21 Attrition
Nov. 16, 2020 – Nicolas TROUSSEL, CORUM L'EPARGNE – dismasted
Nov. 28, 2020 – Alex THOMSON, HUGO BOSS – rudder damage
Nov. 30, 2020 – Kevin ESCOFFIER, PRB – hull damage (sunk)
Dec. 4, 2020 – Sébastien SIMON, ARKEA PAPREC – foil damage
Dec. 5, 2020 – Sam DAVIES, Initiatives-Cœur – keel damage (collision)
Dec. 11, 2020 – Fabrice AMEDEO, NEWREST – ART & FENÊTRES – computer failure
Participation history:
1989-90: 13 boats at the start
1992-93: 15 boats
1996-97: 15 boats
2000-01: 24 boats
2004-05: 20 boats
2008-2009: 30 boats
2012-2013: 20 boats
2016-2017: 29 boats
2020-2021: 33 boats
2020-21 Entries
Fabrice AMEDEO: NEWREST – ART & FENÊTRES
Romain ATTANASIO: PURE – BEST WESTERN
Alexia BARRIER: TSE – 4MYPLANET
Yannick BESTAVEN: MAÎTRE COQ IV
Jérémie BEYOU: CHARAL
Arnaud BOISSIÈRES: LA MIE CÂLINE – ARTISANS ARTIPÔLE
Louis BURTON: BUREAU VALLÉE 2
Didac COSTA: ONE PLANET ONE OCEAN
Manuel COUSIN: GROUPE SÉTIN
Clarisse CREMER: BANQUE POPULAIRE X
Charlie DALIN: APIVIA
Samantha DAVIES: INITIATIVES-CŒUR
Sébastien DESTREMAU: MERCI
Benjamin DUTREUX: OMIA – WATER FAMILY
Kevin ESCOFFIER: PRB
Clément GIRAUD: COMPAGNIE DU LIT / JILITI
Pip HARE: MEDALLIA
Boris HERRMANN: SEA EXPLORER – YACHT CLUB DE MONACO
Ari HUUSELA: STARK
Isabelle JOSCHKE: MACSF
Jean LE CAM: YES WE CAM !
Stéphane LE DIRAISON: TIME FOR OCEANS
Miranda MERRON: CAMPAGNE DE FRANCE
Giancarlo PEDOTE: PRYSMIAN GROUP
Alan ROURA: LA FABRIQUE
Thomas RUYANT: LINKEDOUT
Damien SEGUIN: GROUPE APICIL
Kojiro SHIRAISHI: DMG MORI
Sébastien SIMON: ARKEA – PAPREC
Maxime SOREL: V AND B – MAYENNE
Alex THOMSON: HUGO BOSS
Armel TRIPON: L'OCCITANE EN PROVENCE
Nicolas TROUSSEL: CORUM L'ÉPARGNE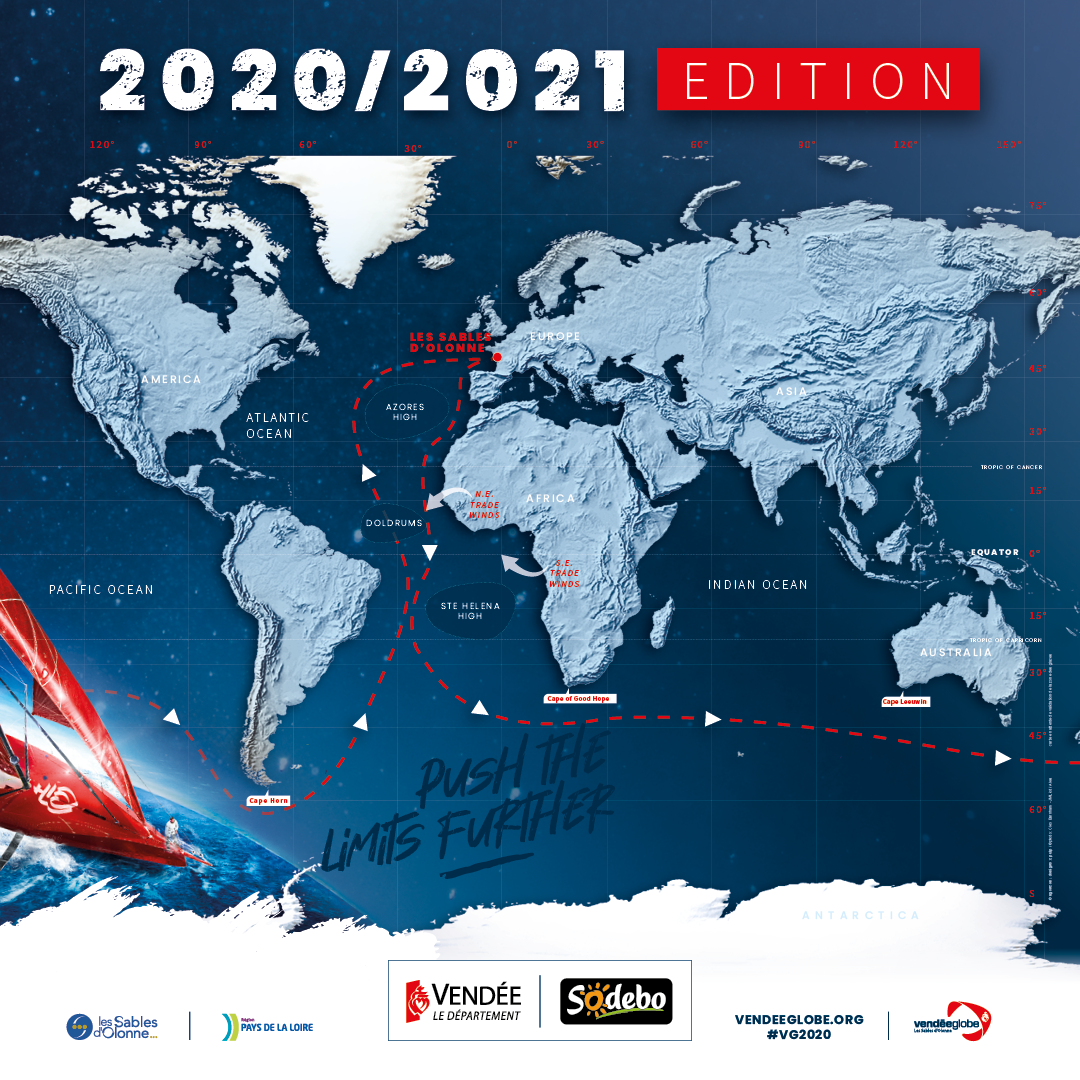 Source: Vendée Globe