Feature
Vendée Globe leaders reach Australia
Published on December 13th, 2020
(December 13, 2020; Day 36) – As if to prove to that his slow speeds were indeed down to a prolonged dose of light winds and not any technical problems, Vendée Globe race leader Charlie Dalin lit the afterburners on APIVIA this afternoon and enjoyed his fastest spell of his time in the last 1000 miles of the Indian Ocean, making sustained averages of more than 24 knots
Dalin crossed the longitude of Cape Leeuwin at 1125hrs UTC this morning, leading at the second of the solo round the world race's three great capes as he also did at the Cape of Good Hope 12 days and 7 hours previously. Thomas Ruyant (LinkedOut) crossed Leeuwin some 3 hours and 9 minutes later with Yannick Bestaven (Maître CoQ) only nine minutes after second placed Ruyant.
The top ten solo racers may be closer than in any previous Vendée Globe but this ninth edition is substantially slower than the 2016-17 edition. Dalin's elapsed time from Les Sables d'Olonne is 34 days and 20hrs which is 6 days 1 hour and 53 minutes slower than Armel Le Cléac'h's race record pace set en-route to winning the last Vendée Globe four years ago.
In fact, even with the leap in foiling technology, Dalin's time to Cape Leeuwin today is the same elapsed time as Alex Thomson made in 2012 when he was in third position on his Farr designed former HUGO BOSS daggerboarder, then chasing Le Cléac'h and François Gabart.

Racing on the back of a depression under Australia, Dalin, Ruyant, and Bestaven all had a spell of high speed sailing this afternoon as they try to win back miles.
Bestaven has been outstanding in the Indian Ocean, making up more than 300 miles to be virtually alongside Ruyant this afternoon.
After his first attempt ended after just over 24 hours into the Bay of Biscay in the 2008 race when his mast snapped, Bestaven, 47, from La Rochelle has waited 12 years to come back to the Vendée Globe. He and Kito de Pavant – who also dismasted within the same hour – can now just about smile about theirs being the shortest Vendée Globe races in history.
In their misery back in Les Sables d'Olonne they bonded and have since enjoyed a history together including racing in the colours of Bastide Otivio (formerly Initiatives Coeur and originally PRB) to fifth in the 2017 Transat Jacques Vabre. Bestaven has two Class40 victories to his name on that transatlantic race.
Almost as impressive in the Indian Ocean so far has been Isabelle Joschke lying ninth on MACSF, with offshore icon Loick Peyron noting her ability to make consistently high average speeds and smooth trajectories.
"It is interesting to analyze the track the boats leave and they are not all the same," said Peyron. "The foilers tend to accelerate quite suddenly and this then imposes quite sudden radical changes in the course to try and slow them. It is easier to change and modify slightly the course than it is to change the sails.
"So, you do see very rough tracks, but Isabelle does very smooth and beautiful lines as does Jean Le Cam. It is interesting that those with the most experience of ocean racing tend to have more smooth trajectories.
"You do not show your talent purely by the trace you leave from your trajectory, but it is a sign. It is not the skipper who goes the fastest, that wins, it is the one who maintains the best average and consistency. It is true to win a race you have to finish it."
To which Joschke responded, "Sometimes it goes fast and then it stops for a bit because you have to repair something or because the sea state is really hard to sail in and then it takes off all over again. It has been like that for a week. Quite frankly I do not know what is going to happen tomorrow and just try to manage things on a day-to-day basis.
"If it possible to go fast I do, but I also know that it is very wearing on myself and on my boat. I need to preserve my boat. I would say that preservation is the one word to keep in mind on this round the world race.
"Initially I was scared, really scared of the cold, of having problems in the cold and not having the resources to fix them. I have also found a sea that is much more uncomfortable than I had expected. I thought I would have more moments of enjoyment. I have had moments, but it has been very difficult and challenging, particularly mentally. The seas have been truly chaotic and irregular. It is quite incredible.
"But I have discovered some stunning landscapes and a real sense of solitude. The fact that it is hard, it makes the solitude even more pronounced and the feeling of being all alone at the end of the earth. That is something that is not easy to live with but at the same time it is just so beautiful."
Peyron spoke warmly of Le Cam and Seguin, racing side by side in fourth and fifth places. "Damien Seguin and Jean Le Cam know how to perfectly compensate for any deficits they might have in terms of physically or of age," observed Peyron. "They exploit, not by going fast all the time, but by using an economy of approach and looking after their material.
"That's what is so beautiful about this Vendée Globe is that there are so many different ways of expressing themselves so differently, with different boats and different sailing styles."
The decisions of the five strong International Jury regarding time compensations for Jean Le Cam, Yannick Bestaven, and Boris Herrmann who were all involved in the rescue mission for Kevin Escoffier will be published on December 16, 2020.
Ranking – 21:00 (GMT)*
1. Charlie DALIN, APIVIA – 13206.4 nm DTF
2. Thomas RUYANT, LinkedOut – 60.06 nm DTL**
3. Yannick BESTAVEN, Maître CoQ IV – 82.06 nm DTL
4. Jean LE CAM, Yes We Cam! – 271.24 nm DTL
5. Damien SEGUIN, GROUPE APICIL – 272.1 nm DTL
DTF – Distance to Finish; DTF – Distance to Lead
* Four skippers assisted in the rescue of Kevin Escoffier which began on Nov. 30. Their ranking order that day as of 14:00 was Escoffier (3rd), Jean Le Cam (4th), Yannick Bestaven (6th), Sébastien Simon (7th), and Boris Herrmann (8th). The Race Jury will now determine the credit for each skipper to reestablish their ranking in the race and reveal their decision on December 16, 2020.
** Ruyant damaged port foil on Nov. 24 at 02:00.
Race details – Boat types – Tracker – Ranking – YouTube
The Vendée Globe is the only sailing race round the world that's solo, non-stop, and without assistance, and it was all systems go for the 9th edition on November 8. Beginning in 1989 with 13 entries, and held every four years, the start line in 2020 had 33 skippers taking off from Les Sables d'Olonne, France.
The development of the IMOCA Class toward foiling will see these boats hurl themselves around the world, teetering on carbon skates through inhospitable regions, chasing the record set in 2016-17 by Armel le Cléac'h of 74:03:35:46.
2020-21 Attrition
Nov. 16, 2020 – Nicolas TROUSSEL, CORUM L'EPARGNE – dismasted
Nov. 28, 2020 – Alex THOMSON, HUGO BOSS – rudder damage
Nov. 30, 2020 – Kevin ESCOFFIER, PRB – hull damage (sunk)
Dec. 4, 2020 – Sébastien SIMON, ARKEA PAPREC – foil damage
Dec. 5, 2020 – Sam DAVIES, Initiatives-Cœur – keel damage (collision)
Dec. 11, 2020 – Fabrice AMEDEO, NEWREST – ART & FENÊTRES – computer failure
Participation history:
1989-90: 13 boats at the start
1992-93: 15 boats
1996-97: 15 boats
2000-01: 24 boats
2004-05: 20 boats
2008-2009: 30 boats
2012-2013: 20 boats
2016-2017: 29 boats
2020-2021: 33 boats
2020-21 Entries
Fabrice AMEDEO: NEWREST – ART & FENÊTRES
Romain ATTANASIO: PURE – BEST WESTERN
Alexia BARRIER: TSE – 4MYPLANET
Yannick BESTAVEN: MAÎTRE COQ IV
Jérémie BEYOU: CHARAL
Arnaud BOISSIÈRES: LA MIE CÂLINE – ARTISANS ARTIPÔLE
Louis BURTON: BUREAU VALLÉE 2
Didac COSTA: ONE PLANET ONE OCEAN
Manuel COUSIN: GROUPE SÉTIN
Clarisse CREMER: BANQUE POPULAIRE X
Charlie DALIN: APIVIA
Samantha DAVIES: INITIATIVES-CŒUR
Sébastien DESTREMAU: MERCI
Benjamin DUTREUX: OMIA – WATER FAMILY
Kevin ESCOFFIER: PRB
Clément GIRAUD: COMPAGNIE DU LIT / JILITI
Pip HARE: MEDALLIA
Boris HERRMANN: SEA EXPLORER – YACHT CLUB DE MONACO
Ari HUUSELA: STARK
Isabelle JOSCHKE: MACSF
Jean LE CAM: YES WE CAM !
Stéphane LE DIRAISON: TIME FOR OCEANS
Miranda MERRON: CAMPAGNE DE FRANCE
Giancarlo PEDOTE: PRYSMIAN GROUP
Alan ROURA: LA FABRIQUE
Thomas RUYANT: LINKEDOUT
Damien SEGUIN: GROUPE APICIL
Kojiro SHIRAISHI: DMG MORI
Sébastien SIMON: ARKEA – PAPREC
Maxime SOREL: V AND B – MAYENNE
Alex THOMSON: HUGO BOSS
Armel TRIPON: L'OCCITANE EN PROVENCE
Nicolas TROUSSEL: CORUM L'ÉPARGNE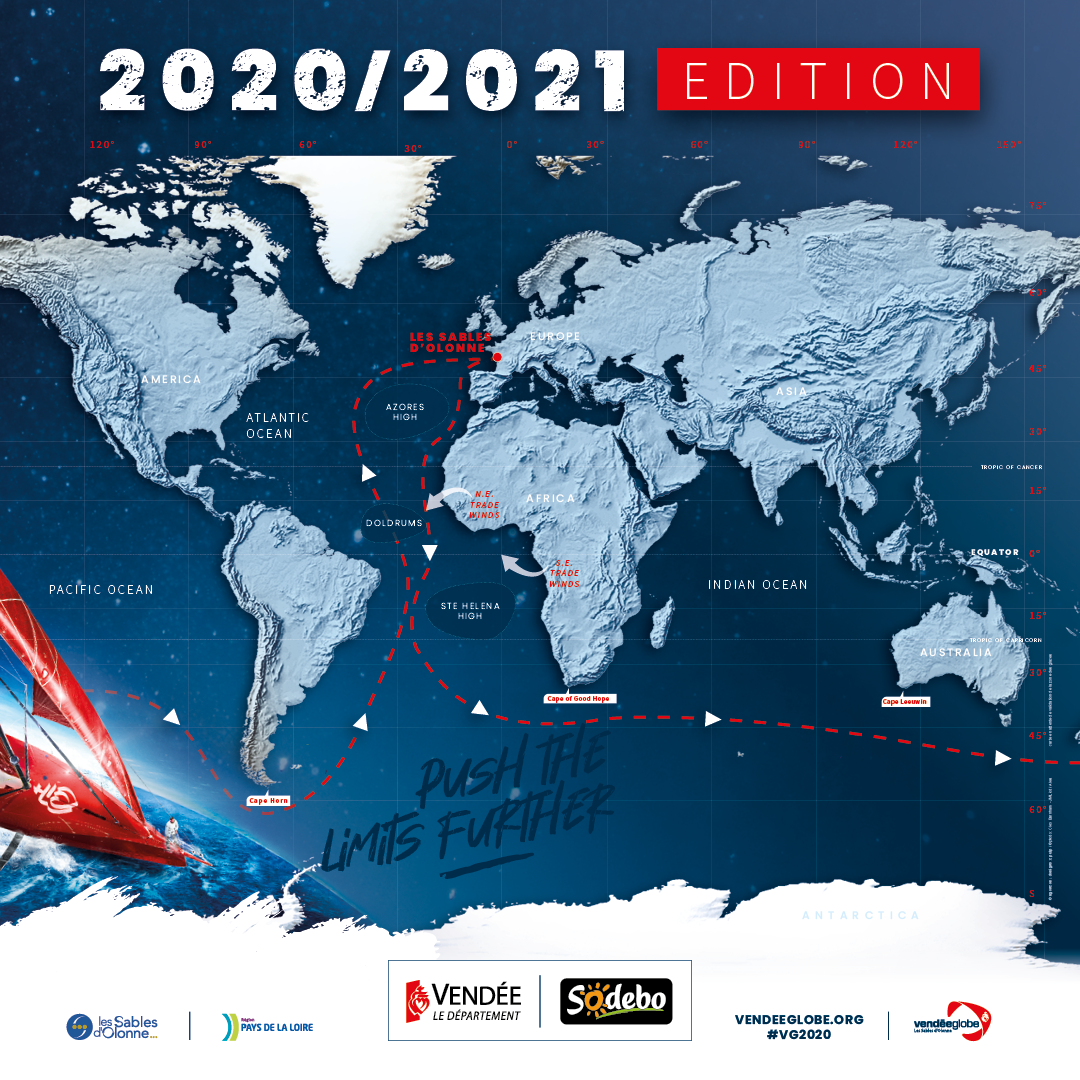 Source: Vendée Globe